Après un mois sur place, le suédois Said Belhaj vient de réaliser son projet automnal avec la 19ème ascension du mythe "Action directe" 9a à Neuhaus dans le Frankenjura.
""En 1992 j'ai acheté un poster avec un grimpeur. Je collectais toutes les choses autour de l'escalade à cette période là car il n'y en avait pas beaucoup. Sur le poster c'était Wolgang Güllich dans "Action directe". Je n'avais aucune idée de qui il était ni de ce qu'était "Action Directe" mais le poster a été suspendu au-dessus de mon lit pendant de nombreuses années.
La première fois que je suis allé au Frankenjura c'était en 1996 mais Action Directe n'était pas une fantaisie à grimper à cette époque. En 2015 je suis allé checker les mouvements pour la première fois. Tout me semblait possible excepté le jump start. Ce printemps j'ai essayé une semaine et j'ai réussi tous les mouvements. Sur ce trip, après un mois de préparation j'étais de retour. Je me suis senti plus faible qu'au printemps et les progrès ont été fluctuants sur une période de 3 semaines. Il faisait aussi étonnamment chaud pour la saison ce qui ne rendait pas l'affaire facile pour moi, certains mouvements étant à ma limite physique. Après un break de 5 jours où je suis allé à Margalef, j'étais de retour. Les températures sont tombées et je me sentais bien reposé. J'ai réussi la voie à mon deuxième essai de la journée. Pour être honnête, je n'avais jamais pensé pouvoir le faire cette saison, mais j'espérais que le repos et de meilleures conditions feraient des miracles, et cela s'est finalement produit.
Cette voie et son histoire ont été la seule vraie raison de ma motivation et ont toujours fait partie de ma vie depuis que j'ai commencé à grimper. Un film approfondi de Hannes Huch / Café Kraft sur l'histoire d'Action Directe, le pan Gullich et Wolfgang est à venir, on me verra dans la voie en compagnie d'autres acteurs comme Norbert Sandner, Thomas Ballenberger, Jerry Moffat, Milan Sykora, etc."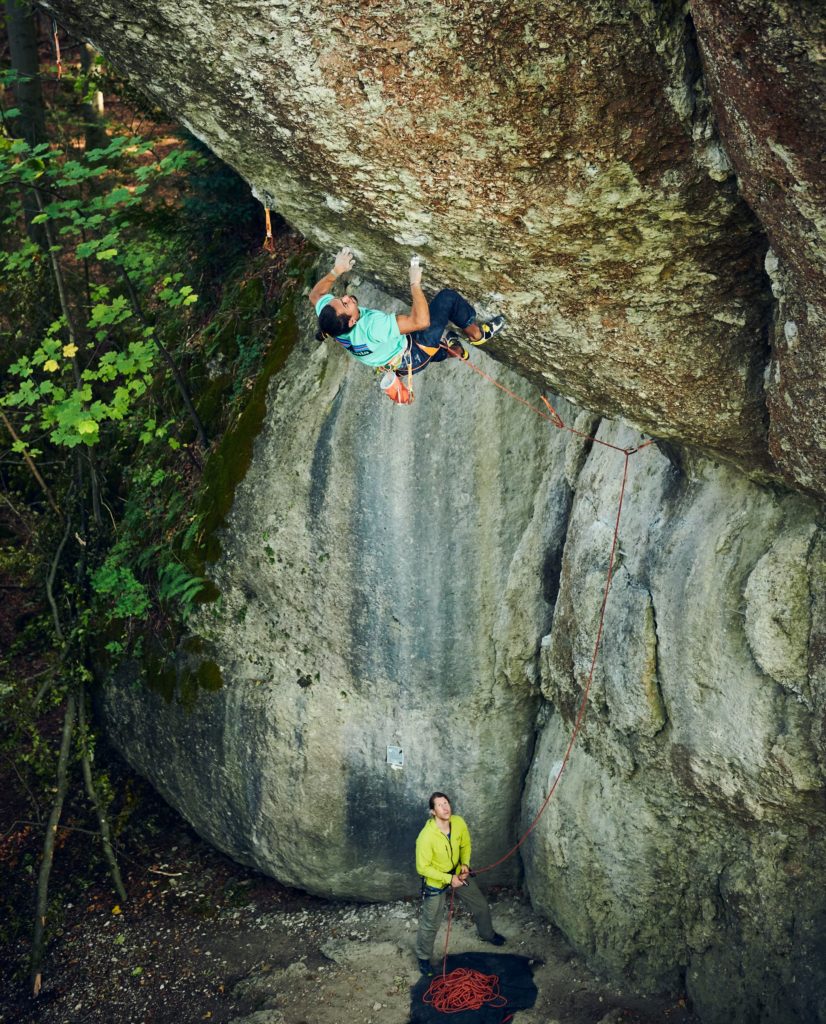 After one month of work in the route, Swedish top climber Said Belhaj just did his fall project with the 19th ascent of historical "Action directe" 9a in Neuhaus, Frankenjura.
"Back in -92 I bought a poster with a climber on it. I would get everything and anything that was climbing-related at that time as there was so little out there. On the poster it said Wolfgang Güllich and Action Directe. I had no clue who he was or that AD was the route but it hung above my bed for many years. After some time I got to know who this legend was, about the route and that the poster was a promotion for his slideshow tour. He had been in my hometown but I had no clue… I also got to know about his death and watched the intro of his siluhette climbing in Cliffhanger about 1000.000 times.
First time I went to the Frankenjura was in -96 but AD was not even a fantasy to climb at the time.
Then in -15 I went up to check the moves for the 1st time. Everything seemed possible exept the jump in the start. This spring I tried for 1 week and managed all the moves. On this trip, with 1 month of preparation I was back. I felt weaker than in the spring and the progress went backwards in the end during a 3 week period. I was also very warm for the season which didnt make it easier for me as some moves were in my limit. After a 5 day break from AD, climbing in Margalef, I came back. The temps had dropped and I felt well rested. I sent the same day on my 2nd go. To be honest I never thought I would do it this season but hoped that resting and better conditions would make miracles -and so they did.
The route and its history was the only true reason I wanted to do it as its somehow been a part of my life since I started climbing.
An in depth movie by Hannes Huch / Café Kraft about the history of Action Directe, the Campus board and Wolfgang Güllich, me climbing the route coming out soon featuring Norbert Sandner, Thomas Ballenberger, Jerry Moffat, Milan Sykora etc."
Photos : Ray Demski – RayDemski.com