Alex Totkova, jeune compétitrice bulgare de 15 ans, vient de créer la sensation cette semaine à Margalef avec la première féminine de "Victimes del futur", un 8c+/9a situé au secteur de la Finestra. Alex a réalisé la voie au dernier essai de sa dernière journée de séjour ! La voie, très déversante sur trous, propose un 8b+ suivi d'un repos un repos, puis d'un crux sommital autour du 7C+ bloc sur deux mouvements.
Elle déclare sur le site 8a.nu : " Au début je prenais le trou du crux main droite mais à mon dernier jour sur place j'ai ré-essayé la méthode originelle et j'ai aussi réussi la séquence. Je ne savais donc pas quelle méthode était la meilleure. L'essai avant la croix j'ai essayé main gauche, j'étais très proche mais j'ai malheureusement zippé. J'étais nerveuse car je savais qu'il me restait uniquement un essai…et boom !"

C'est la première voie dans ce niveau d'Alex, et une des performances les plus élevées réalisé par une fille si jeune. On rappelle qu'Ashima Shiraishi avait réalisé des voies dans le 9ème degré à 13 ans et Brooke Raboutou du 8c+ à 15 ans.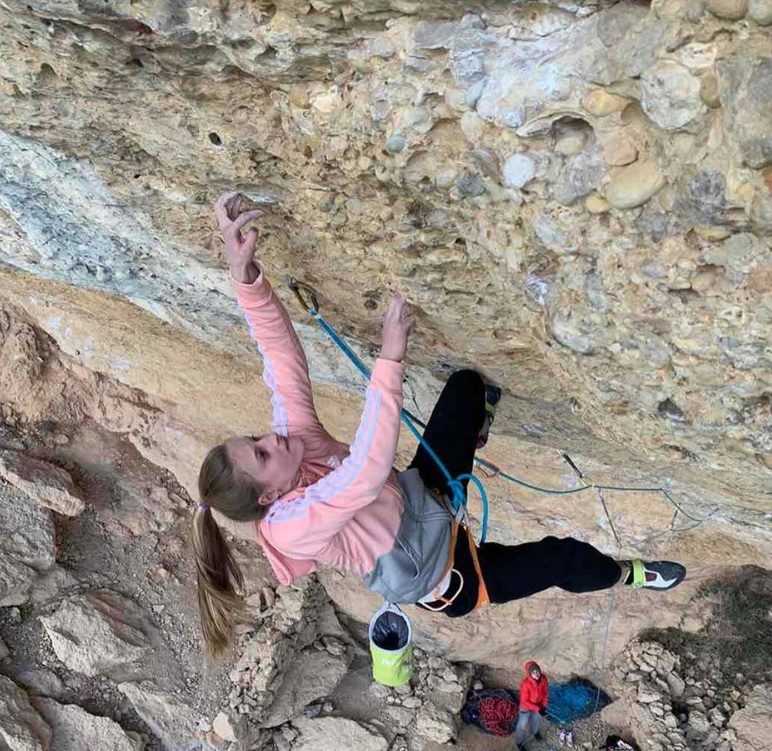 Alex Totkova, young Bulgarian female climber aged 15 just stroked in Margalef with the first female ascent of "Victimes del futur" 8c+/9a. The route located in the centre of Finestra sector is very overhanging with an 8b+ approach followed by a 2 moves 7C+ boulder crux.
She comments on 8a website: "At the beginning I was taking the crux pocket with right hand but one day before going home I tried the original (left hand) beta and did it too. On the last day of our trip I did't know which beta was the best. The try before I send it I was so close with the original (left hand) but my foot slipped. I was nervous because I knew that I have only one more go… booom 🙂"
It's Alex's first route of this grade and one of the hardest young female ascent. Notice that Ashima Shiraishi climbed some 9a's aged 13 and Brooke Raboutou some 8c+'s aged 15.