Il y a quelques jours, Clément Lechaptois réalisait son second 8C bloc avec l'énorme plafond de "Foundation's Edge à Fionnay en Suisse. Retour sur cette réalisation qui a eu lieu quelques jours après son retour d'un séjour au Colorado.

Que retiens-tu de ton trip au Colorado ? Est-ce un spot de renommée internationale ?
J'en retiens qu'on a beaucoup aimé avec Marine. En fait on y est allé sans trop savoir à quoi s'attendre à la base. J'avais principalement envie d'aller découvrir un peu la culture du bloc là-bas, et d'aller voir en vrai à quoi ressemblaient ces panneaux de granite.
Déjà il faut savoir que c'est immense. En fait une partie des secteurs se trouve dans le parc national des montagnes rocheuses (RMNP) mais il y a plein d'autres secteurs à d'autres endroits de l'état du Colorado. La plupart des secteurs sont à plus de 2500m d'altitude et certains sont entre 3000 et 3500.

Pour ce trip on a principalement grimpé autour de Chaos. On a aussi visité Wild Basin et d'autres petits secteurs proches de Boulder.
Je dirais que c'est un paradis du bloc dur, il y a énormément de passages difficiles en dévers, donc assez physiques. J'ai le sentiment que c'est quand même un spot plus adapté à des grimpeurs avertis car il y a régulièrement pas mal de marche pour atteindre les secteurs (30min-1h, des fois plus). Les approches sont magnifiques avec des lacs et des paysages incroyables et on voit pas mal d'animaux donc ça les rend vraiment cool.
Les blocs durs sont vraiment beaux et valent le coup sans hésiter.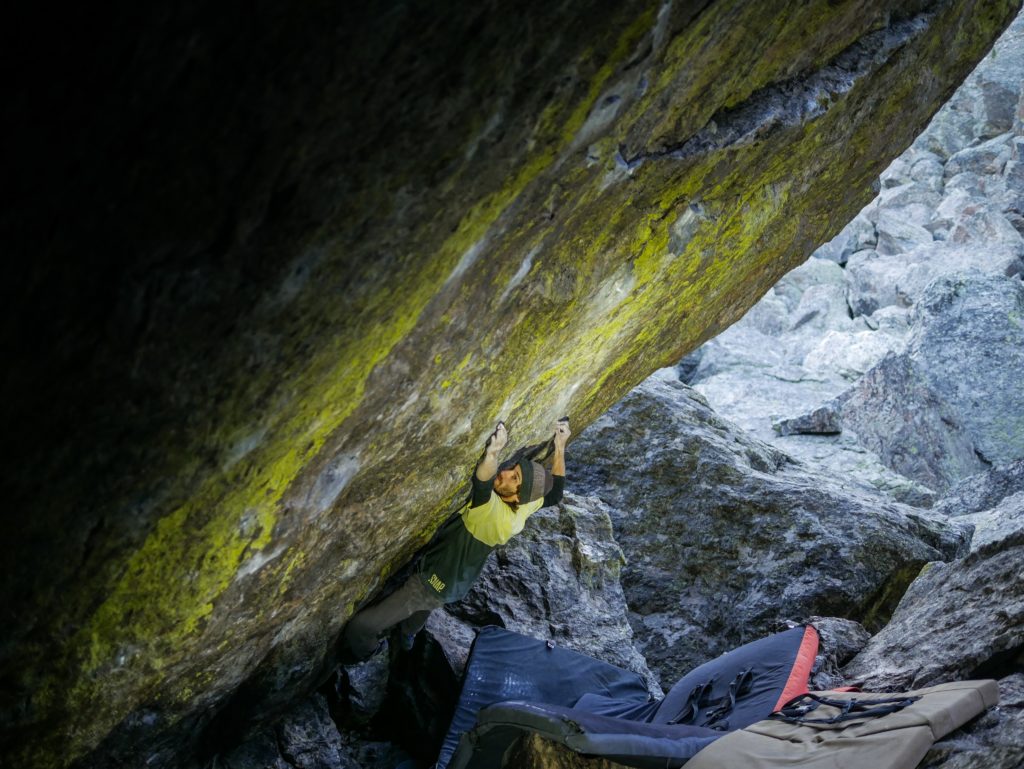 Comment est le caillou ? Des trucs du même type en Europe ?
Le caillou est du granite ou du gneiss. Il change selon l'altitude du secteur. Dans les secteurs bas (Wild Basin par exemple) le granite a un grain assez épais et il y a plus de prises arrondies, l'escalade y est plus technique.
Dans les spots d'altitude (Chaos) le rocher est plus lisse est les prises sont majoritairement des réglettes et les blocs sont physiques.
Je n'arrive pas trop à identifier des spots que je connais qui y ressemblent en Europe finalement (peut-être Silvretta mais je n'y suis jamais allé).

Tu étais très proche de "Foundation's Edge" il y a un an. Qu'est-ce qui a fait la différence cette année ?
L'an dernier j'ai pas mal essayé au début de la saison (jusqu'à fin Septembre) et je faisais bien les mouvements mais j'avais quand même du mal à les empiler et c'est ça qui m'a freiné. Avec du recul je ne sais pas si j'étais si proche que ce que je pensais de faire le bloc.
J'ai eu beaucoup de boulot pour terminer mes études et développer la SmartBoard tout au long de l'année mais en parallèle je me suis aussi pas mal entraîné et notamment j'ai cherché à améliorer mes points faibles dans certaines préhensions (tendu, prises ouvertes…).
Finalement cet été je suis retourné au bloc 2 ou 3 fois et malgré la chaleur j'ai cherché à optimiser les liens entre les séquences du bloc, ce que je n'avais pas forcément bien fait la saison d'avant.
Du coup quand je suis rentré des US en forme et que les températures étaient plus fraîches et que tout était calé j'ai directement enchaîné le bloc sans les 3 premiers mouvements durs, à partir de là je savais que je pouvais le faire. Ça a marché à la 2ème séance de l'automne.

Ce bloc est particulier car il est exigeant au niveau de ses déplacement de pieds. Quel travail as-tu mis en oeuvre expérience as-tu acquise dans ton "footwork" pour vaincre ce bloc?
C'est vrai que les déplacements de pieds sont exigeants, durs en gainage. J'ai pas mal bossé mon gainage principalement en faisant des planches, exos suspendus ou anneaux. Après comme je disais avant j'ai aussi pas mal cherché à optimiser ces déplacements et placements de corps en travaillant le bloc dans des conditions moyennes cet été. Finalement je ne me focalisais que sur quelques mouvements et pas le bloc entier et ça m'a permis de mieux faire cette séquence du milieu.

Tes projets du moment pour cet hiver ?
Cet hiver j'ai envie d'aller au Tessin un maximum. Il y a vraiment beaucoup de blocs durs incroyables là-bas et je suis motivé pour aller y essayer quelques bases.
Sinon je viens aussi d'attaquer un mi-temps à Marseille donc j'aimerai grimper à Buoux et essayer d'y plier quelques bêtes noires…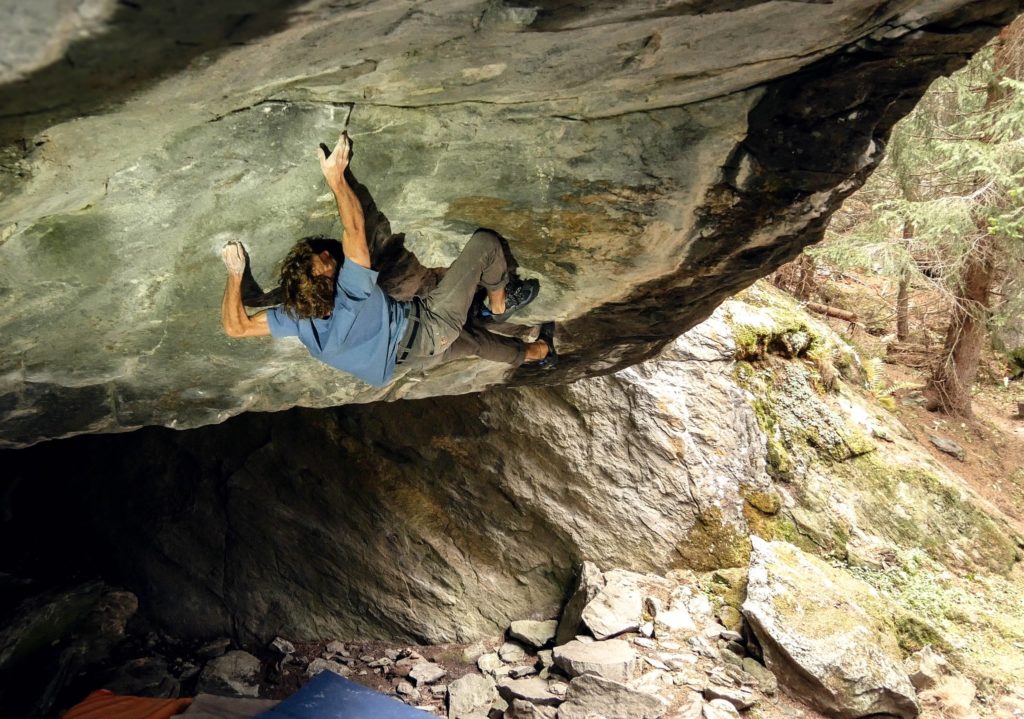 Few days ago, French gun Clément Lechaptois climbed his second 8C with the massive roof of "Foundation's Edge" 8C located in Fionnay, Switzerland. Talk with images with some new bouldering videos as illustrations.
How was your trip in Colorado?
We enjoyed it with Marine. We didn't know how it will be before booking our flights. We first wanted to understand the bouldering culture here and to have a look to these massive granite boulders.
Its huge. SOme part of the sectors are located in Rocky Mountain National Park and others areas in other parts of Colorado. Most of the places are located quite high, around 2500m high. Some boulders are located between 3000 and 3500m!

For this travel, we chose to climb arounc Chaos Canyon. We also visited Wild Basin and other places close to Boulder. I would say it's the hardcore bouldering paradise, with numerous boulders overhanging, physical. I think it's better for experimented fanatic climbers because there is a lot of walk (during 30 minutes and one hour, sometimes more). The approachs are often beautiful and you can see tons of wild animals. And the hardest boulders are so nice!
How was the rock?
The rock is granite or gneiss. It can change with the altitude of the area. In the low sectors (Wild Basin for example) th granite is very thick and the holds are more flat, climbing is more tehnical. In the highest places, rock is more smooth and holds are often crimps for physical challenges.
I dunno with which place I can compare in Europe, I've never been there but I would say maybe Silvretta can be similar.
You was close to climb "Foundation's Edge" last year. Which details make the difference this year?
Last year I tried a lot at the beginning of the season. I was feeling ok in the moves but I struggled to link all together. I dunno if I wasn't close last year. After I had a lot of work for finishing my studies and developing a news training board, Smart Board but I trained a lot and tried to improve my weaknesses in climbing like open hand sticking.
Finally, I returned on the boulder this summer during 2/3 sessions despite the heat. I searched to improve the link between the moves, one thing I didn't manage to do well last year. When I came back from US I was i shape and the temps started to be low so all was ok and I climbed the boulder without the 3 first hard moves. The second session this Fall it went quickly!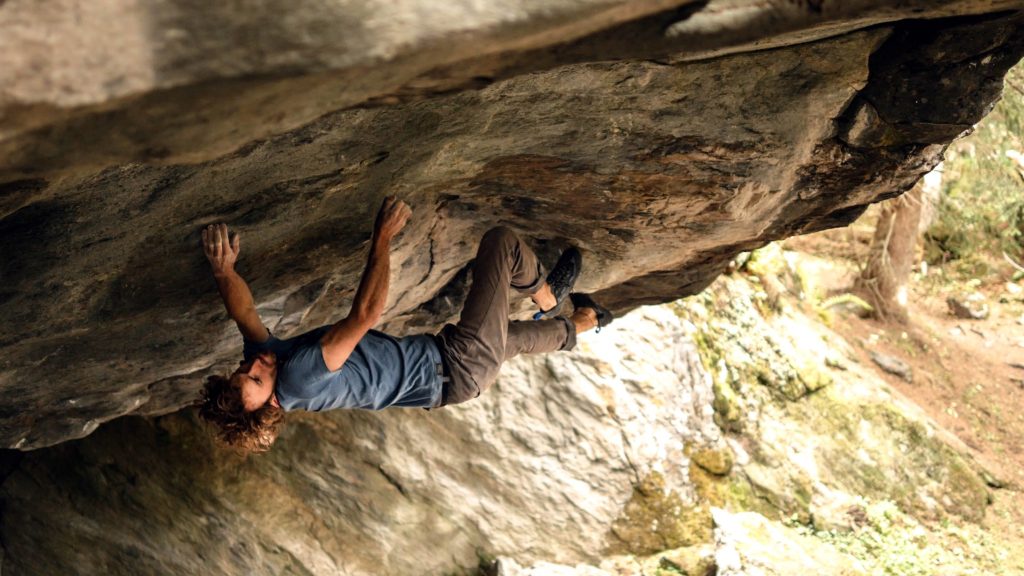 This boulder is special because it requires a lot of footwork. How did you deal with?
It's true the feet sequences are complex and hard because you need a lot of body tension. I worked a lot my body tension with planks, some hanging exercices or rings. I tried to optimize my feet betas this summer, focalizing myself on few moves for climbing them perfectly, especially the middle section.
What about your projects for this winter?
This Winter I wnat to come in Ticino, Switzerland. There are a lot of incredible hard boulders I want to try. And I just start an half time job in Marseille, France so I want to go rockclimbing in Buoux and to try to conquer some old nemesis…