Hier, le village Aragonais de Rodellar a vécu une journée historique avec la réalisation de deux premières ascensions en 9b par les deux grimpeurs ibériques en forme du moment, Jonatan Flor et Jorge Diaz-Rullo!

Quelques semaines après la réalisation de son premier 9b dans la grotte d'Ali Baba de Rodellar, Jonatan Flor remet le couvert à Rodellar. Le champion d'Espagne de bloc en titre vient de réaliser la première ascension de "Apocalipsis de la Gioconda" et propose 9b. Cette voie est située dans un nouveau secteur "El Museo" situé non loin de la Glacière (Alcanadre) qui a été principalement développé à l'automne dernier par Tom, Renaud Moulin , Dani Andrada et Jose Luis Palao. "Apocalipsis de la Gioconda" correspond à l'extension de "Apocalypto" 8c+/9a, voie dont Jonatan avait également signé la première ascension il y a quelques jours. La voie remonte la grotte sur près de 60 m de long et propose 25 mètres de prolongation très résistants à la première partie en 8c+/9a. L'ensemble lui aura demandé un mois de travail.

Pour la seconde ascension phare d'hier, c'est au secteur de Ventanas que Jorge Diaz-Rullo a décidé de sévir en libérant une vieux projet de Beto Nasarre, "Patanics" 9b. Comme son nom le laisse suggérer, la voie est une connexion entre le 8c classique de "Pata Negra" qui emprunte le crux de de "No pain no gain" 9a+ pour finir dans "Botanics" 8b+ pour 60 mètres d'escalade en gros dévers. C'est le 3ème 9b en 3 mois pour le madrilène après "Ali hulk total extension" et "La Planta de Shiva". Des 3 voies, "Patanics" est la voie la plus dure que Jorge ait réalisé selon ses dires.

Photo de couverture : Javi Pec – JaviPec.com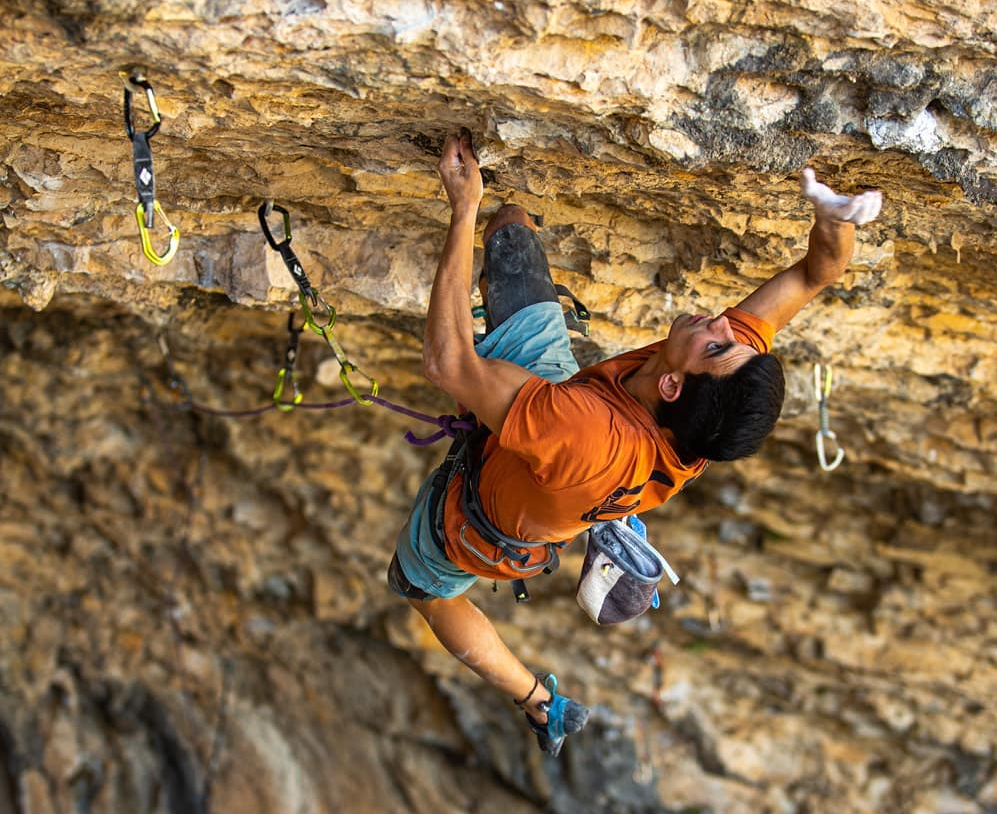 Yesterday, Rodellar was the theater of a double strike with 2 first ascents in the 9b grade climbed the same day by the Spanish climbers Jonatan Flor and Jorge Diaz-Rullo!
Few weeks after the send of his first 9b in the Ali Baba Cave, Jonatan Flor climbed another extreme route in Rodellar. The Spanish bouldering champion just did the first ascent of "Apocalipsis de la Gioconda" and proposes the 9b grade. This route is located in El Museo sector which is a new sector developped last fall close to Glacière sector (Alcanadre) by Tom, Renaud Moulin, Jose Luis Palao and Dani Andrada. This route is the extension of "Apocalypto" 8c+/9a whose Joanatan did the first ascent few days ago. It adds 25 meters of resistant climbing after the first part for a 60 meters roof climbing. It took to Jonatan a month of work before the send.
Jorge Diaz-Rullo striked yesterday in Ventanas sector, freeing an old project of local Beto Nasarre, "Patanics" 9b. The route is a link between the classical 8c "Pata Negra", the crux of "No pain no gain" 9a+ and the end of "Botanics" 8b+ for 60 meters of overhang. It's the 3rd 9b in 3 months climbed by Jorge after "alai Hulk Total extension" and "La Planta de Shiva". According to his thoughts, "Patanics" is the hardest route he has climbed.

Cover Pic : Javi Pec – JaviPec.com