Cédric Lachat a fait un pas en avant dans sa quête du 9b. Après des ribambelles de 9a en 2 coups de cuillères à pot, le grimpeur pro Suisse qui n'était clairement pas à ses limites a décidé l'an dernier de se tourner vers le travail de voies plus dures. Après "La Rambla" cet automne, Cédric récidive dans le mur central d'Oliana avec la réussite ce week-end de "Pachamama" 9a+. Mais ce n'est qu'un premier pas dans sa démarche puisque ce dernier projette de répéter "Mami chula" 9b libéré par Adam Ondra en 2017 (1ère répétition par Seb Bouin il y a un an) qui démarre dans "Papi chulo" (9a+) et termine dans "Pachamama". Retour avec l'intéressé !
"Je voulais faire enfin essayer un 9b. Du coup "Mami chula" m'a paru la voie la plus abordable pour moi car c'est long et moins dépendant des conditions parfois difficiles d'Oliana. "Fight or Flight" demande plus de conditions donc j'ai fait au plus simple. Faudrait quand même que j'y fasse une montée pour comparer.
Pour "Mami chula" on commence dans "Papi chulo" et on finit dans "Pachamama" donc en commençant par cette voie c'est un moyen de bosser la deuxième partie difficile et de se préparer pour le 9b. Enfin c'est ma théorie, Seb et Adam ont d'ailleurs fait de même.
Maintenant il va falloir que j'essaie le 9b. J'ai déjà fait "Papi chulo", il faut que je me recale dedans. Mais la traversée (le crux du 9b) me semble compliquée…
Sinon dans "Pachamama" il y a 3 gros cruxs. La première partie que j'ai assez vite calé. Après quelques mouvements durs sur croûtes, il faut envoyer en jetant dans un gros trou (vidéo ci-dessous). Mais un fois calé, je ne tombais pas là.
Ensuite il y a la section du milieu. Après un repos de merde sur des inversées faut aligner des mouvements difficiles sur petites prises verticales à serrer fort. C'est un méga combat de rési. Je suis toujours tombé dans cette section. J'ai commencé à douter de mes compétence à y arriver. (vidéo ci-dessous)
Ensuite tout à la fin sous le relais, il y a un crux vraiment difficile et le faire après toute la voie me semblait compliqué. C'était déjà difficile de l'enchaîner tout seul avec du repos.
Dans l'enchaînement quand j'ai passé la section du milieu, c'était hors de question de tomber en haut et recommencer alors j'ai fait l'effort dans ma tête. Mais ça m'a demandé de me reposer partout, rester rester et encore rester alors que j'étais mal. Se refaire sur des croûtes avant un crux quand t'es mort et que tu sais que tu arrives une fois sur deux à ce passage, c'est pas facile à gérer mentalement ! Mais c'est aussi pour cela que c'est excitant ces voies !
Finalement je pensais mettre du temps pour faire ce 9a+ et c'est allé assez vite. Je suis venu une première fois avec Kathy Choong 10 jours. Puis là, je suis revenu 10 jours et c'est fait. Il me reste plein de temps pour le reste du coup. Mais je dois me reposer quelques jours avant de continuer.
Je trouve "Pachamama" plus difficile que tous les autres 9a+ que j'ai fait. Plus dur que "la Rambla" aussi. Donc gros 9a+ bien tassé. Je comprends pourquoi Patxi a dit 9a+/b.
C'est mon 6ème 9a+ après : "Chaxi", "La Cène du Lézard", "La Rambla", "Papichulo" et "Sweet Neuf"."
Photo de couverture : Julia Cassou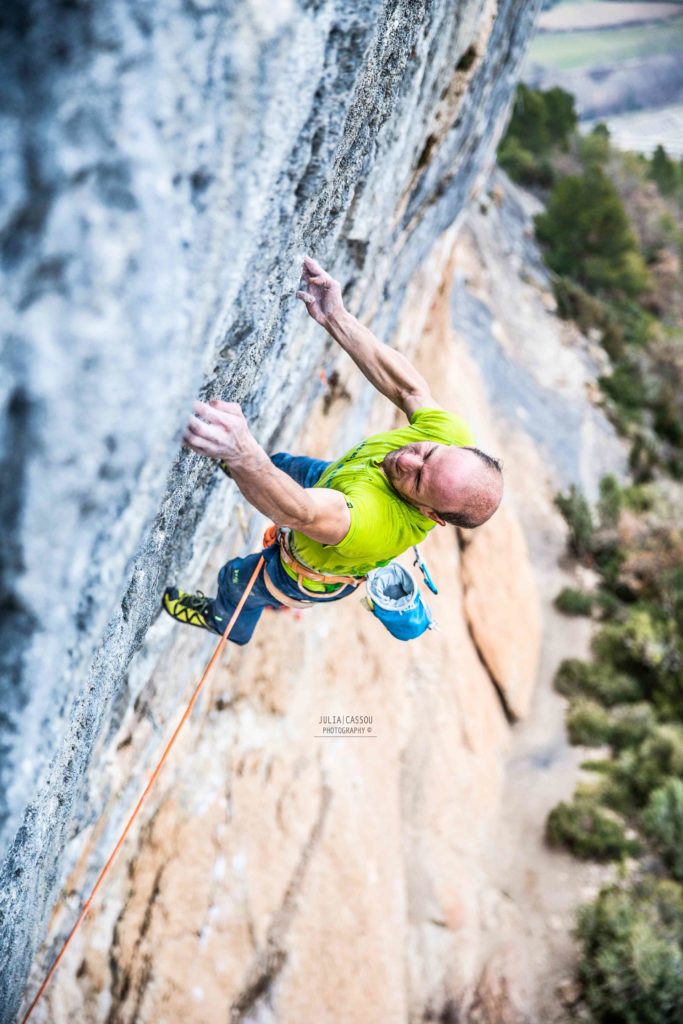 Cédric Lachat did a step forward in his current 9b quest. after numerous 9a's in a very short time, the Swiss pro climber decided at the end of last year to focus on harder routes. After his repeat of mythical "La rambla" this Fall, Cédric just sent another king line in the central part of Oliana with "Pachamama" 9a+. But it's just the beginning, because Cédric is projecting "Mami chula" 9b, a link between "Papi chulo" and "Pachamama" first ascended by Adam Ondra in 2017 (and first repeated by Seb Bouin last year). Some words by Cédric about the process!
"I wanted to try an 9b. After receiving some infos about the routes, I decided to try "Mami chula" because it's long and less complicated with conditions. Finish "Pachamama" is the first step, Adam and Seb also completed this one before trying the 9b. I ever climbed "Papi chulo", so I just need now to refresh my betas. And I need to fight a lot in the traverse crux which is very hard…
In "Pachamama" there are 3 big cruxs. the first part with crimps and a jump in a hole (video above). After a poor rest in underclings, the middle section on tiny vertical holds is very sustained. I was falling here all the time. And there is a crux under the anchor which causes me troubles because it was hard for me to climb it. Fortunately, I didn't fall there during my send go but it was an epic battle, a huge mental game!
At the end, I sent "Pachamama" quite quickly. I went 10 days with Kathy Choong and at my second 10 days trip I could clip the anchor. I need to rest a little bit but now I have time for trying seriously the 9b and testing my limits. "Pachamama" is my 6th 9a+ after "Chaxi", "La Cène du Lézard", "La Rambla", "Papichulo" 9a+ and "Sweet Neuf". For me it's the hardest 9a+ I have done, I can understand why Patxi was giving the 9a+/b grade for this one."

Cover Pic: Julia Cassou