*** Kathy CHoong rempile !
Après "La cabane au Canada" à l'été 2018, la suissesse Katherine Choong a coché mercredi son second 9a avec la première féminine de "Jungfrau Marathon" sur le site de Gimmelwald, toujours en Suisse. En attendant la vidéo de l'ascension qui sera mise en ligne fin novembre, Kathy nous en dit plus sur cette voie, sa découverte et son travail.
"Après avoir fait ma première 9a en Valais en 2018, je voulais absolument réitérer cette performance. Il s'agit avant tout d'un challenge personnel, de dépasser mes limites à nouveau, mais cette fois de sortir un peu plus de ma zone de confort et de me lancer dans une voie qui n'est pas dans mon style de prédilection et qui n'avait pas encore été faite par une femme. Gimmelwald est un endroit magique. Entouré de montagnes enneigées, un gros devers surplombe une vallée qui, à part quelques beuglements de vaches ou le cri de quelques grimpeurs qui tombent le nez sous le relais, est un endroit extrêmement paisible. Une cascade se déverse à quelques mètres en dessus de nos têtes, c'est presque too much tellement c'est beau ! C'est donc tout naturellement que j'ai choisi cet endroit pour investir du temps et de l'énergie dans un nouveau projet.

La voie est relativement courte (une vingtaine de mètres), bien déversante (35/45 degrés), mêlée de mouvements durs sur mauvaises prises parfois éloignées. Après un passage avec de mauvaises inverses qui te crament comme il faut, tu arrives au crux qui consiste à tenir une mauvaise prise en épaule pour aller chercher loin une pince en inverse. Depuis l'année passée, je tombais dans ce mouv' de la voie qui consiste pour les naines comme moi à un mouvement très dynamique et aléatoire.

Je m'y suis mise l'année passée en octobre. J'ai rapidement trouvé mes méthodes et je tombais déjà dans le mouvement dynamique du crux. Très proche de l'enchaîner, la neige m'a contrainte à stopper mes essais fin novembre 2018. La mauvaise météo du printemps ne m'a laissée y retourner qu'en début juin 2019. Les plus forts diront que ce sont des excuses mais les grandes chaleur de l'été n'étaient vraiment pas favorables à l'enchaînement dans cette falaise où les condis peuvent vraiment faire la différence. À mon retour il y a quelques semaines, je m'entêtais dans ma méthode dans le crux et je commençais vraiment à avoir des doutes sur mes capacités à sortir la voie un jour. Aucune grande croix dans l'année, des résultats pas terribles en compet, ça devenait très difficile mentalement de garder la motiv' et la confiance en moi, et ça se ressentait clairement dans mes essais dans la voie. La semaine passée, pas même capable d'atteindre le crux, un ami me suggère finalement d'essayer la méthode des mecs qui implique de monter le pied plus loin latéralement. 100% sûre d'avoir essayé cette méthode l'année d'avant et qu'elle ne me convenait pas, je tente quand même le coup et là miracle, je peux faire le mouvement quasiment en statique, un soulagement pour moi qui ne suis toujours pas fan des mouv' dynamiques ! Là ce fut le déclic et le mental a repris le dessus. La session suivante la voie était pliée au 1er essai de la journée ! Je me sens vraiment un peu bête de m'être obstinée sur ma méthode, persuadée que celle des mecs était trop morpho pour moi.
C'était une journée mémorable, entourée de plein d'amis qui m'ont encouragée, partager ce moment avec eux a rendu cet instant encore plus spécial.
Quand j'ai clippé le relais, c'était tout d'abord une explosion de joie. La joie d'avoir à nouveau dépassé mes limites physiquement mais surtout mentalement. Tous les efforts, le temps investi, la sueur, la frustration prenaient enfin du sens. "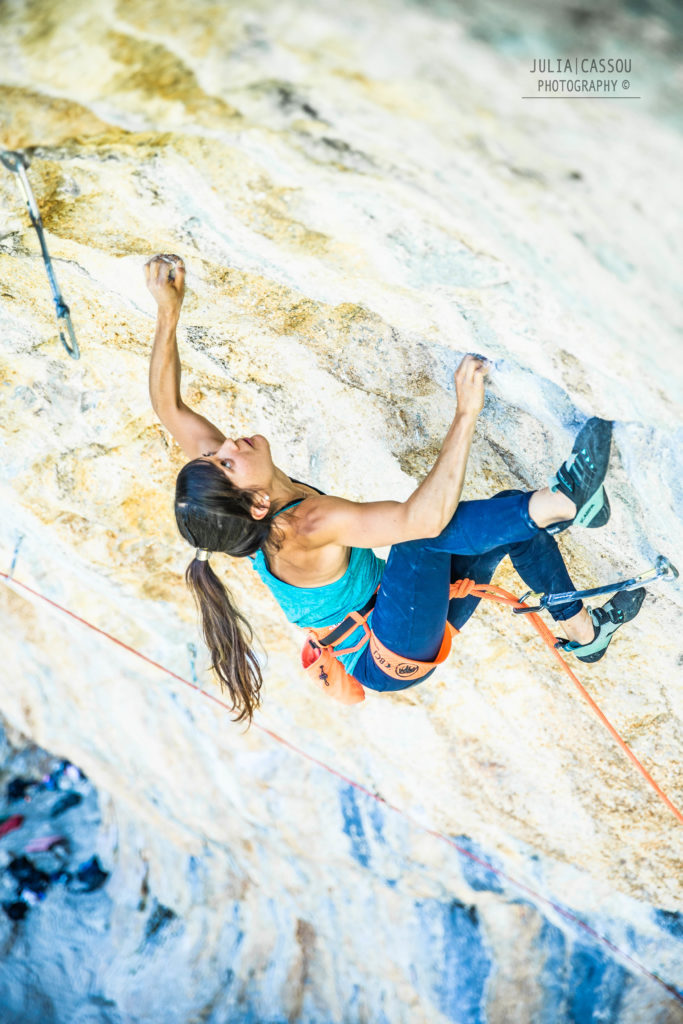 *** Premier 9a pour Matilda Söderlund, coché de manière imprévue !
Un peu plus au Nord, c'est la sensation dans le Frankenjura avec le second 9a féminin local par la Suédoise Matilda Söderlund. Matilda a en effet répété "The Elder Statesman", une voie ouverte par Markus Bock en 2011 qui propose 30 mouvements sur réglettes microscopiques. En juin dernier, Chiara Hanke avait déjà vaincu une voie du même niveau avec "Severed the wicked hand" pour le premier 9a féminin allemand et aussi des lieux. Après un premier séjour ce printemps où elle avait aussi réalisé quelques 8c (cf vidéos ci-dessous) et bosser un projet, Matilda est revenue depuis quelques jours dans le Frankenjura pour essayer de finir le 8c+ de "Last rites". Revenue très forte, le 8c+ n'a été qu'une banalité, avalé en une bouchée et c'est donc naturellement que Matilda s'est tournée vers la directe de départ, empochée en seulement 4 sessions pour décrocher son premier 9a de manière assez inattendue !

Photo de couverture : Julia Cassou
*** A new one for Kathy Choong!
After her ascent of "La cabane au Canada" in August 2018, Kathy just ticked last Wenesday her second 9a with "Jungfrau marathon"'s first female ascent, a route located on Gimmelwald, Switzerland. Kathy gives her opinion:

"After my first 9a in Valais in 2018, I wanted to try hard again. It was a personal challenge, a game where I need to push my limits further, getting out of my comfort zone, and to try an hard route not in my style, never climbed by a woman. Gimmelwald is a magic place with lot of mountains around, the cows, very quiet with the waterfall just up to the crag. So nice! A perfect place for a project.

The route is short, 20 meters long, 35 degrees overhanging with hard moves and bad feet. After a bad undercling section this a the crux, from a gaston to a undercling pinch. Since last year I'm falling at this move, hard for small people like me, I d'ont arrive to stick the move from the ground.
After some tries last Fall and a bad weather wait this Spring, I returned in the route in June but skipped this summer because conditions were too hot. After a reorganization of my plan in the crux, trying a foot hold like the men method where I was thinking first as morpho, I succeed in the crux beta and felt finally very confident. The session after at my first try, the route was done! A pure moment of joy after all this work and tries in this route! "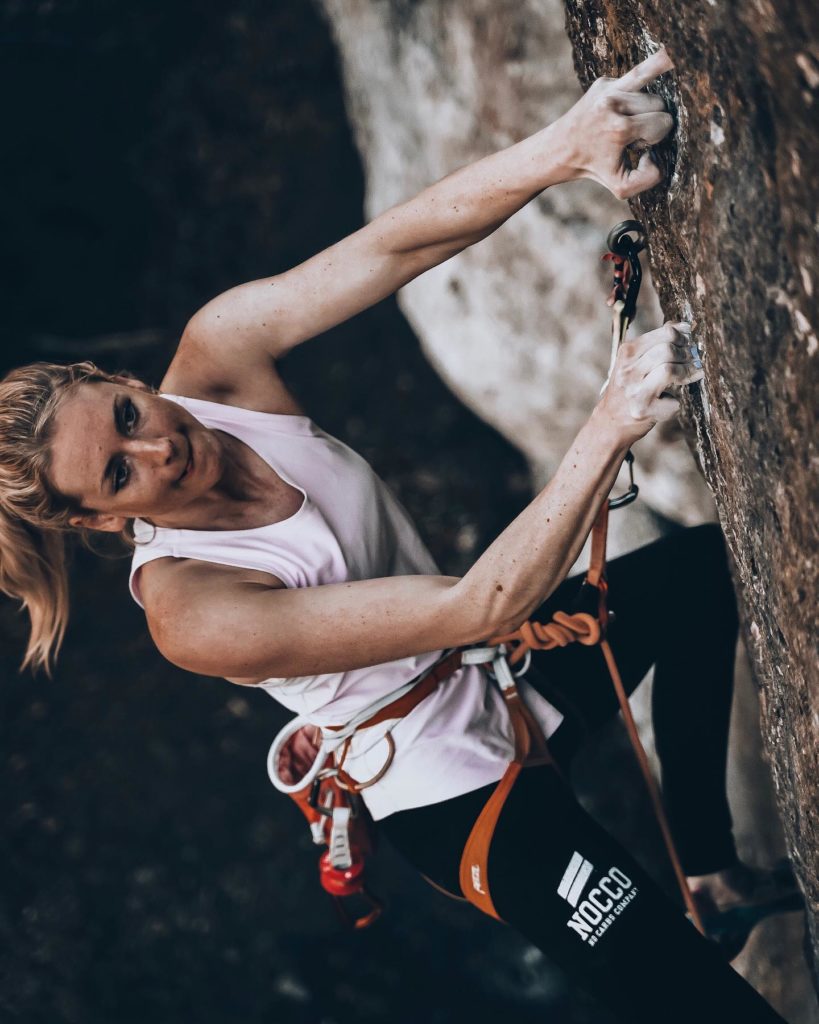 *** First 9a by Matilda Söderlund, ticked in an unexepected way!
After Chiara Hanke in June, Matilda Söderlund is the second girl to climb 9a in the Frankenjura with "The Elder Statesman". This route first ascended by local Markus Bock in 2011 proposes 30 moves on tiny holds. After a trip this Spring where she crushed some 8c's (watch the videos up), Matilda was back since few days in her project "Last rites", 8c+. In a very good shape, she sended the 8c+ and 4 sessions later, climbed the direct start version for her first 9a, an unplanned moment! Crazy!

Cover Pic : Julia Cassou