Rencontre avec Jonathan Siegrist, un des falaisistes américain les plus actifs de ces dernières années sur le plan des réalisations en milieu naturel. Ce printemps, Jonathan est devenu le 5ème américain dans le 9b avec la 3ème ascension remarquée de "Jumbo love" à Clark Mountain. 
Peux-tu te présenter pour ceux qui ne te connaissent pas ?
J'ai 33 ans, je suis un grimpeur américain, je vis à Las Vegas et j'essaie de voyager le plus que je peux. Merci pour l'interview !
Quand et comment as-tu démarré la grimpe ?
J'ai commencé la grimpe à l'âge de 18 ans lors d'une année sabbatique après le lycée. Ensuite, j'ai obtenu un diplôme de sciences environnementales à Boulder dans le Colorado, et durant mes années de fac j'ai passé tout mon temps libre à grimper et ouvrir pour me faire de l'argent de poche.
En plus de l'escalade sportive, tu fais beaucoup de trad. Peux-tu nous parler de ton affection pour cette pratique ?
J'ai commencé cette pratique très tôt avec mon père. Tout ce que nous grimpions était en trad donc j'avais de bonnes connaissances, mais je n'étais pas vraiment intéressé par l'escalade avant de devenir adulte. Au moment où j'ai réellement commencé à grimper, et à être beaucoup plus passionné, je me suis remémoré mes premières sensations en trad et j'ai voulu les revivre ! Dans les années à venir, j'aimerais me concentrer sur davantage de trad que d'escalade sportive.
Le truc qui t'a propulsé sur le devant de la scène est la première réalisation de "Pure imagination" à Red River Gorge. Quels souvenirs en gardes-tu ?
Je me rappelle vraiment bien de cette période où je faisais de très gros progrès en escalade et où je suis tombé complètement amoureux du style et de l'ambiance à Red River Gorge. J'ai réalisé des premières ascensions assez spéciales ici. C'est vraiment intéressant de constater l'attention que ces voies ont concentrées ces dernières années – avec beaucoup d'ascensions à la clé ! C'est comme avoir un enfant et le voir évoluer et grandir dans le monde. Cela m'a aussi donné envie de m'investir beaucoup plus dans le développement de voies d'escalade.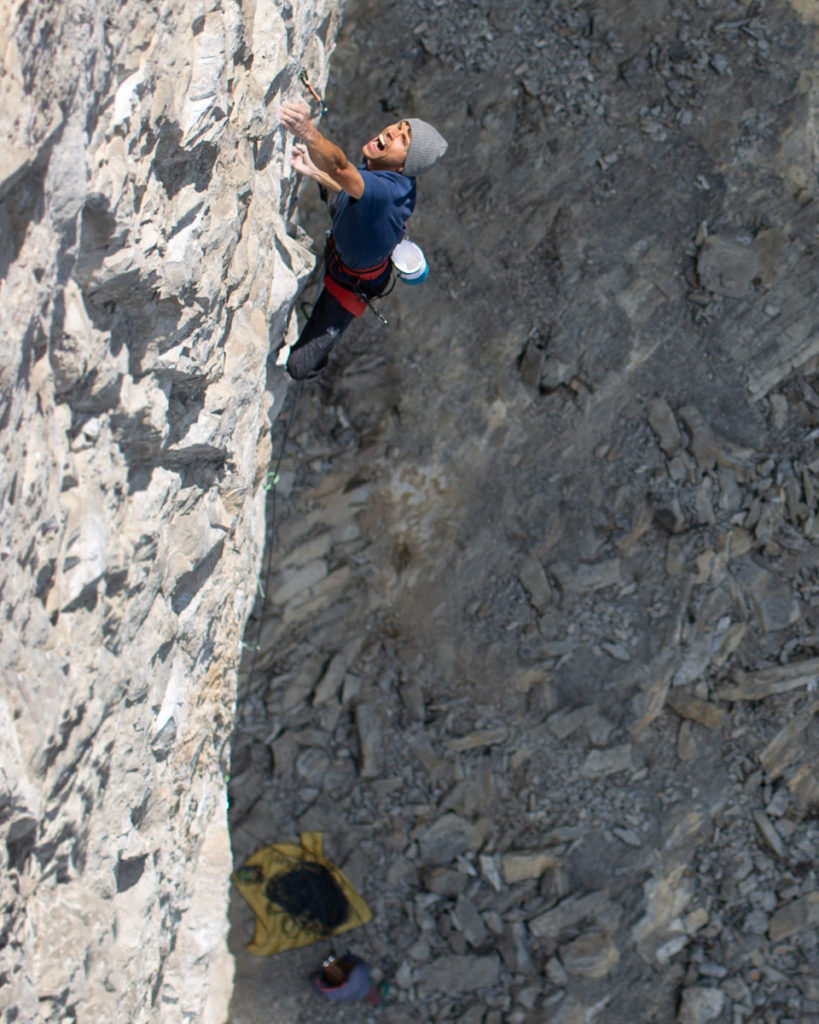 Et la compétition, cela ne t'a jamais tenté ?
Non, je ne suis pas un compétiteur dans l'âme. Certains de mes pairs excellent dans le domaine mais généralement je produis ma pire escalade en compétition. C'est vraiment une histoire de une bataille avec soi-même. Ma vrai passion est d'être dehors et pour être bon en compétition de nos jours, tu dois de dévouer à grimper beaucoup sur résine.
Parle-nous de ton quotidien de grimpeur pro.
Chaque jour est différent ! Pendant les périodes d'entraînement, je me focalise sur mon hygiène de vie et mon entraînement est l'absolue priorité. Je travaille vraiment dur pendant ces périodes pour être certain d'être suffisamment préparé pour un projet ou un voyage. Quand je suis en train d'essayer un projet ou quand je suis en trip, je me concentre sur ma grimpe mais j'essaie de laisser la place aux autres choses dans la vie. J'aime bien prendre du temps en dehors de la grimpe pour explorer et apprécier de beaux endroits que je visite pendant les jours de repos. Il y a aussi des moments de l'année où je ne mets pas l'escalade au centre de mes priorités afin de passer du temps avec mes amis et ma famille et aussi répondre présent pour des choses importantes et évènements majeurs de la vie ou du travail. Ces différents styles de vie sont primordiaux pour mon équilibre et garants de mon niveau de performance.
Tu voyages beaucoup, cela semble être ton mode de vie. Raconte-nous !
Voyager est peut-être ma première passion. Je pense souvent que si je ne pouvais grimper que dans un seul endroit le reste de ma vie, j'arrêterais probablement l'escalade pour faire autre chose. Je vois l'escalade comme une incroyable motivation à voir et essayer des choses nouvelles. Dans l'avion, dans mon camion, j'aime absolument tout. Donc oui, je dirais bien que c'est mon mode de vie !
Quelle destination t'a réellement marqué ?
Wow, beaucoup d'endroits m'ont beaucoup touché. Je pense qu'un endroit qui ressort du lot pour moi est la Catalogne. J'ai passé beaucoup de temps à grimper là-bas et explorer, j'ai vraiment apprécié la culture et les paysages. J'ai reçu beaucoup de soutien de la communauté là-bas et quand j'arrive à Barcelone c'est comme si j'arrivais à la maison.
Tu as réalisé pas mal de voies extrêmes depuis "Biographie" en 2014. Peut-on dire que cette voie a été un tournant dans ta quête de voies dures ?
Oui c'est vrai cela a été un grand tournant. Je ne pensais pas dans mes rêves les plus fous que je pourrais atteindre un jour un tel niveau de difficulté, mais la beauté et l'importance de cette voie m'ont conduit à m'entraîner jusqu'à un nouveau niveau et à me préparer comme jamais avant. J'ai beaucoup appris de ce processus et cela m'a ensuite aidé dans pas mal de voies dures depuis.
T'entraînes-tu généralement pour tes projets ? Avec une méthode précise ? Ou tu ne fais juste que grimper dehors la majeure partie du temps ?
Oui je m'entraîne spécifiquement. Je ne suis pas assez talentueux pour arriver non-préparé. J'ai besoin d'être prêt pour le style d'escalade dans lequel je veux performer. Certains grimpeurs sont toujours forts dans tous les domaines mais moi je dois bosser dur dans une discipline pour y réussir. Quand je monte à un secteur de voies dures sans préparation, je suis quelques niveaux en-dessous de mon maximum.
Ce printemps, tu as réalisé "Jumbo love", ton premier 9b. Que retiens-tu de cette ligne fantastique ?
Déjà, cela a été un processus incroyable d'essayer pour la première fois la voie en 2016. J'ai trouvé ça très, très dur, honnêtement impossible. J'ai appris beaucoup ces deux dernières années et ma grimpe a évolué. "Jumbo" est juste si spécial car c'est au milieu de nulle part et c'est si beau, le massif comme ligne. De ce qu'il m'a été donné de voir comme lignes c'est de loin le 9b le plus inspirant du monde. Je suis très fier de mon ascension.
Quels sont les grimpeurs qui t'inspirent ?
Tommy Caldwell a été ma première inspiration et un grand mentor à mes débuts en escalade. Je respecte aussi beaucoup Ramonet, Babsi, Ethan Pringle, Margo, Nina Caprez, Randy Leavitt, Bonne Speed et plein d'autres. Beaucoup de personnes m'ont inspiré à travers les années.
Que penses-tu de la gestion des sites naturels aux US avec l'Access Fund ?
Je pense que l'Access Fund fait un boulot incroyable et j'ai été honoré de travailler avec eux au fil des années. Aux US, on a vraiment besoin d'une organisation comme cela car nous avons une obsession des terres privées et de l'idée de propriété. Comme l'escalade est en train de se développer je voulais vraiment être partie prenante dans la préservation des sites naturels et de leurs accès.
Que penses-tu de la grimpe en France ?
Que puis-je dire ? C'est absolument incroyable ! Céüse offre la meilleure escalade au monde. Le Verdon a quelque chose de magique. Buoux est aussi un standard pour l'escalade old school et exigeante. Cela fait quelques années que je ne suis pas venu grimper en France, j'aimerais vraiment reprogrammer un trip ici.
Quels sont tes projets futurs ?
Bientôt je vais démarrer un nouveau cycle d'entraînement et me préparer pour un trip en Andalousie pour la fin du printemps. Il y a de très belles voies dures proches de ma maison à Las Vegas. D'ici là, mais mon principal objectif sera de me préparer pour l'Espagne.
Photo de couverture : Jonathan dans "Jumbo Love" 9b – crédit : Cameron Maier – Bear Cam Media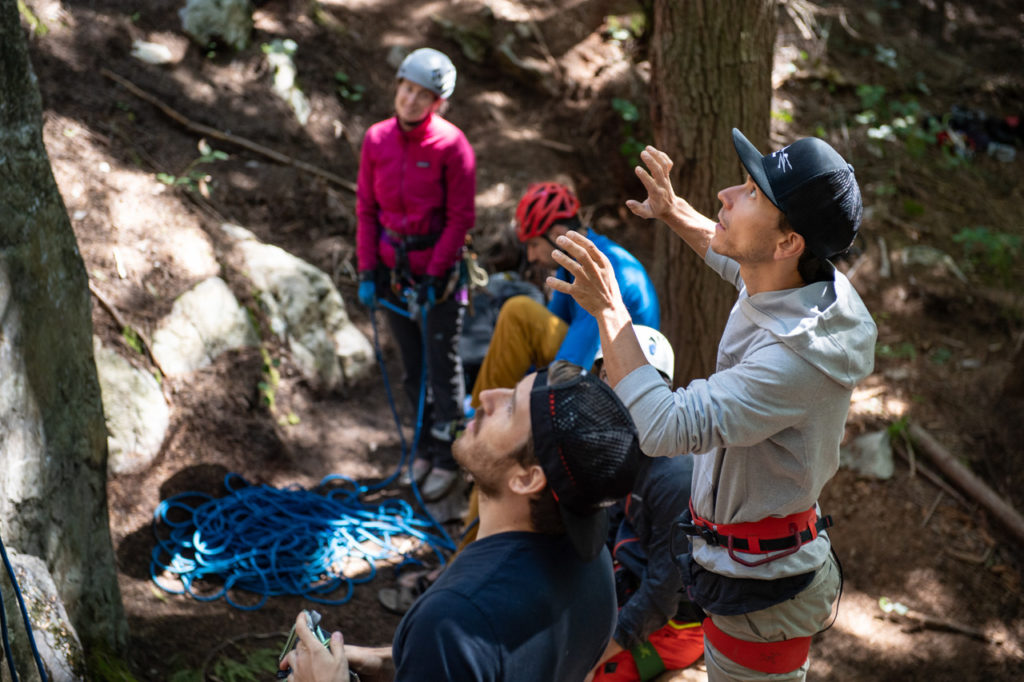 Talk with Jonathan Siegrist, one of the most active american climbers regarding the outdoor realizations. This Spring, Jonathan became the 5th American in the 9b with the 3rd ascent of "Jumbo love" in Clark Mountain. 
Can you introduce yourself? Where do you live?
I'm 33 years old. I am an American climber living in Las Vegas and also traveling as much as I can. Thanks for the interview!
Where and how did you start climbing?
I started climbing when I was 18 years old on my year off after I finished high school. I then got a degree in Environmental Science in Boulder, Co and during my college years I spent all of my free time climbing and route setting for some money.
It seems that in addition to sports climbing you do a lot of trad, tell us a little about all that.
I was first introduced to climbing by my father when I was very young. Everything we did together was trad climbing and so I knew a lot about it but I was not really so interested in climbing until I grew up. Once I really started climbing, and became super passionate about it, I also remembered my first impressions of traditional climbing and really wanted to revisit it! Actually I would like to gradually transition to more trad climbing and less sport climbing over the next few years.
The thing that propelled you into the sport climbing spotlight is the first ascent of "Pure Imagination" at Red River Gorge. What memories do you hold onto of that?
I can really clearly remember this time as I was making a lot of progress in my climbing and I totally fell in love with the style and also the scenery of the Red River Gorge. I made some really special first ascents there. It is really cool to see how much attention those routes have gotten over the years – so many ascents! – I feel it's like having a child and letting them go to the world. It also inspired me to do a lot more route development since.
And competition doesn't tempt you?
No, I am really not an outwardly competitive person. I see some of my peers they really excel when they are competing but for me I usually do my worst when I feel in competition. It's really a game of internal battle for me. Also my real passion is to be outside and to do well in competition now-a-days you have to dedicate yourself to indoors I think.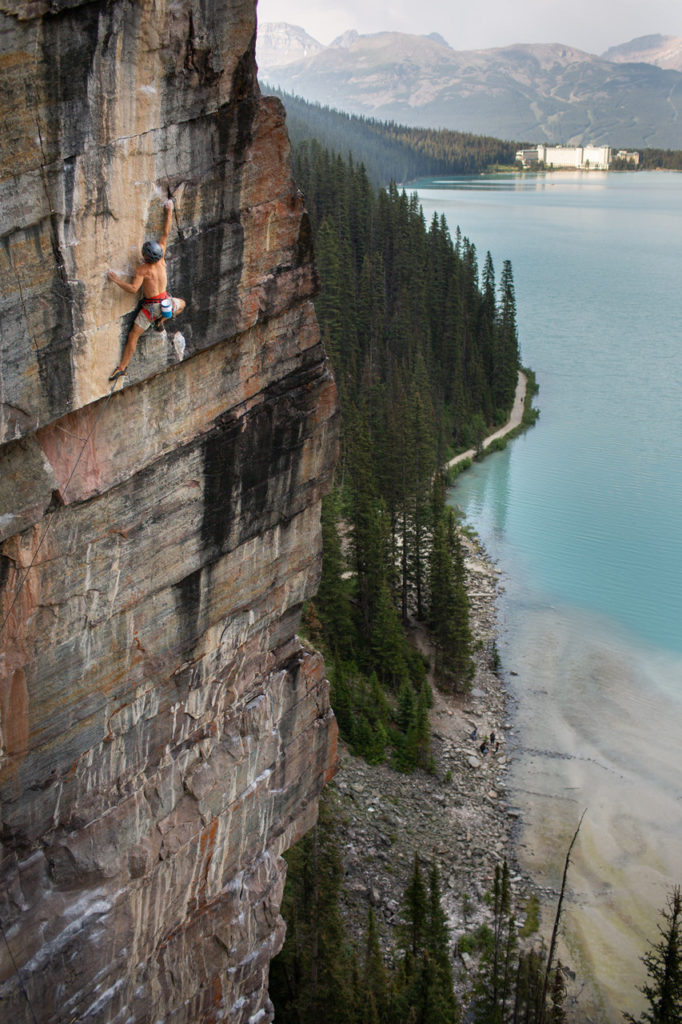 Tell us about your daily life as a pro climber.
Well everyday is different! During periods of training I am really focused on my health and my training is absolutely the priority. I work really hard during these times to make sure I am prepared for a project or a special trip. When I am trying a project or on a trip I focus on my climbing but also try to allow for the other elements of life. I really like to take time away from climbing to explore and really enjoy the beautiful places I am visiting on rest days. There are some times during the year when I make sure climbing is not my priority and spend time with friends and family and also take care of some important life stuff or events and work related things. All of these different methods of living are important for my sanity and my performance.
You travel a lot, is it your way of life? Explain to us!
For me traveling is maybe my first passion. I often think that if I had to climb in only one area for the rest of my life I would probably quit climbing for something else. I see climbing as an incredible motivation to always see and try new things. On the plane, or in my truck, I absolutely love it all – So yes, I would say it is my way of life!
What destinations have you visited and which have marked you? 
Wow, so many places have really touched me. I think one place that really stands out to me is Catalunya. I have spent a lot of time climbing there and exploring and I really grew to love the culture and the landscape. I feel a lot of support from the community there and it always feels like somehow I am going home when I arrive in Barcelona.
You have gotten a lot of hard routes under your belt since you sent Biography in 2014. Can we say that that route was a turning point in your quest for extreme sports climbing?
Yes for sure it was a huge turning point. I never dreamed that this difficulty of a route would be possible for me, but the beauty and the significance of this climb drove me to train on a new level and really prepare myself like I never had before. I learned a lot from that process that has helped me during many hard routes since.
Do you train specifically for your projects? Do you follow a generalized training method? Or do you just climb outside?
Yes I definitely train specifically for my projects. I am not quite talented enough to just arrive unprepared. I need to be ready for the type of climbing I want to succeed in. Some climbers are just always strong at everything but for me I really need to work hard in one discipline if I want to success. When I show up to a hard sector without any preparation my level is a few notches below my maximum.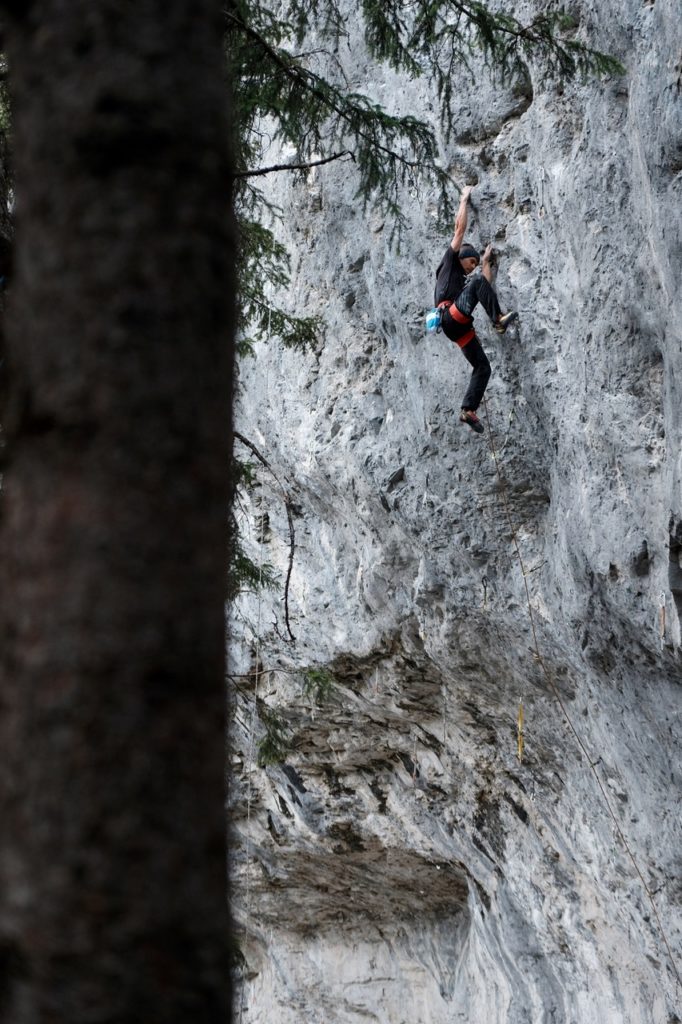 This Spring you did "Jumbo love", your first 9b. What about this fantastic route?
Well it was an amazing journey to first try the route in 2016 and it felt so, so, so hard – impossible honestly. I learned a lot in the last two years and my climbing has also improved. Jumbo is just so special because it is in the middle of nowhere and it's so beautiful and so massive. From what I have seen so far it is definitely the most inspiring 9b in the world. I am very proud of this ascent.
The climbers who inspire you?
Tommy Caldwell was my original inspiration and he was a huge mentor for me during the beginning of my climbing. I also really respect Ramonet, Babsi, Ethan Pringle, Margo, Nina Caprez, Randy Leavitt, Boone Speed, and many many more. I have looked up to many climbers over the years for inspiration.
What do you think about the management of natural sites in the US with the Access Fund?
I think the Access Fund does an incredible job and I have been honored to work with them over the years. In the US we really need an organization like this to help because we have an obsession with private land and the idea of 'ownership'. As climbing grows I really want to be even more involved with the preservation of areas and access to those areas.
What do you think of climbing in France?
Well, what do I say! It's absolutely incredible! Ceuse is the best sport climbing in the world. Verdon is like some kind of magic. Buoux is the standard for hard and old school. It has been some years since I was climbing in France but I would really love to do another trip there.
What are your future projects?
Soon I will start a new training cycle and start preparing for a trip to Andalucia, Spain in the late spring. There are some great, hard climbs close to my home in Las Vegas for the meantime but my main focus will be to get ready for Spain.
Cover Pic : Jonathan in "Jumbo Love" 9b – credit : Cameron Maier – Bear Cam Media