Le 9a+ semble en train de se banaliser chez les hommes, doucement mais sûrement ! Nous partagions déjà ce constat d'accélérations des performances à la vue de réalisations successives dans le 9b début 2018. En février, c'est Adam Ondra qui inventait le 9a+ flash. Ce phénomène d'accumulation des performances extrêmes est encore d'actualité ces derniers jours. Ainsi en moins d'une semaine, nous avons eu droit à :
la première répétition et la confirmation de le voie de Joe Kinder "Bone Tomahawk" au niveau de 9a+ dans l'Utah par Jonathan Siegrist
une répétition éclair de "Catxasa" en 3 jours à Santa Linya par Piotr Schab à son premier essai réel après deux jours de montées de travail. A noter que cette voie est la bête noire d'Adam Ondra !
l'annonce de la première répétition de "Sachidananda" à Orgon par le jeune Loic Zehani qu'il estime plutôt 9a+. et la place comme la voie la plus dure qu'il ait réalisé.
A noter que l'an dernier, les féminines s'étaient également invitées de manière plus régulière dans le très haut niveau. En effet, pas moins de 3 9a+ et  un 9b ont été réalisés par des grimpeuses en 2017 (sans compter les 9a), et les meilleures filles sont désormais aussi fortes que les garçons !  Encore un exemple de cette augmentation de la densité dans l'extrême. Selon le très bon site web Escalade 9 qui recense les ascensions dans le 9ème degré, pas moins de 390 grimpeurs évoluent dans le 9ème degré et il existe à l'heure actuelle pas moins 25 challenges en 9b et 73 en 9a+ ! Ce qui commence à générer une bonne liste de voies dures ! Mais à l'instar de Stefano Ghisolfi qui gigote bien actuellement dans le projet de Chris Sharma à Margalef "Perfecto mundo" (autour du 9b+) ou de Seb Bouin qui s'est collé le super projet avec "Move", peu de grimpeurs osent vraiment s'investir dans des voies au dessus du 9b. Seuls Adam Ondra et Chris Sharma ont émis des propositions, et à part "La dura dura", aucune n'a connu de répétition parmi les 5 voies existantes de ce niveau. La question que l'on pourrait se poser au vu du nombre conséquent de grimpeurs professionnels très forts actuellement (c'est à dire capables de réaliser du 9a+ en quelques essais-jours comme relaté souvent dans les news) est double. D'abord est-ce que ces derniers n'ont pas les moyens physiques et psychologiques de faire plus dur et de repousser leurs limites ? Plafonnent-ils ? Ou alors n'ont-ils pas envie de s'investir dans des choses extrêmes de peur de l'échec, de la charge d'investissement et de la blessure ou de procéder à d'incertains sacrifices financiers, de sortir de son style de prédilection et de sa zone de confort, préférant alors répéter des wagons de voies moins dures sans être réellement dans le rouge et prendre de risque, afin de parler régulièrement de soi dans les médias et auprès des sponsors ? Cependant le nombre et le niveau des performeurs de voies dures augmente sensiblement ces derniers temps… Le débat mérite d'être soulevé.
Citius Altius Fortius !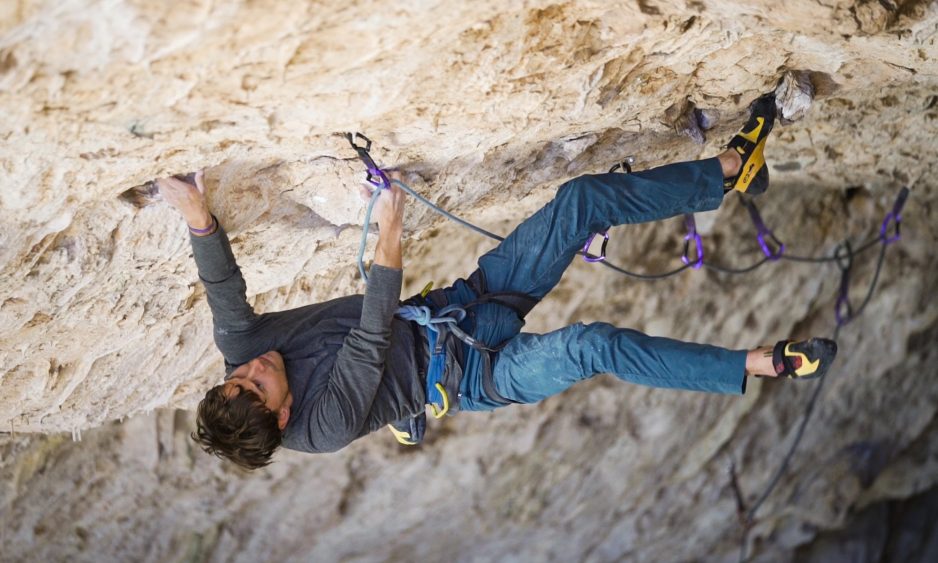 9a+ seems to be more and more common these days! Slowly but surely it's the sign of performance acceleration that we were sharing at the beginning of the year while reporting several 9b ascents and the very first 9a+ flash last February by Adam Ondra. It's with this phenomenon of accumulated extreme performances these last days that things became very obvious.
In just a week, we had :
the first repeat and confirmation grade of Joe Kinder's « Bone Tomahawk » as 9a+ by Jonathan Siegrist
a quick ascent of « Catxasa » 9a+, Santa Linya in 3 days by Piotr Schab at his first real go in the route. This route is Adam Ondra's nemesis !
the claim of first repeat of « Sachidananda » and an upgrade to 9a+ by Loic Zehani (14 years)
Take note that last year, we could notice that female climbers joined the fest with more regular extreme performances. Without the 9a, it's 3 9a+ and 1 9b that have been climbed by the girls in 2017, reaching quite the same level as the boys. Again an example of this raising and spreading of high-performance concentration. According to Escalade 9 , very good website that collects all routes in the 9th grade, 390 climbers are in the 9th grade, 73 are in the 9a+ grade and 25 in the 9b grade, which offers a more broader possibilities in style and type of climbing for hard routes. But except Stefano Ghisolfi looking solid in Sharma's project « Perfecto mundo » (around 9b+) in Margalef and Seb Bouin who is attempting seriously « Move », but very few climbers are pulling hard up to 9b. Only Sharma and Ondra have made propositions, and except « La dura dura » no one of the 5 ascents up to 9b have been reclimbed. Now the question is while we can witness more and more pro climbers and a lot of daily 9a and 9a+ ascents very recently, the question is double! First, does those climbers have or not the physical and mental abilities for pushing further their limits? Are they at their top and are they hitting the ceiling roof? Or do they skip to touch extreme routes by fear of failure or injury, dedication effort (changing style and moving out their comfort zone) or financial sacrifices, preferring to do quick repeats of standards in the 9a-9a+ range, taking fewer risks, and creating a more easily regular audience and media-sponsors attention?
But the number and level of performers of hard routes are slowly broadening just very few are pushing it further…
The discuss is on.
Citius Altius Fortius !
Photo de couverture-Cover pic :  Piotr Schab, "Catxasa" 9a+ – Lena Drapella photography