Le grimpeur Valentinois Arthur Guinet alias "Vertaco, le grimpeur de l'extrême" a de nouveau été efficace cet été en falaise avec la répétition éclair et la proposition de décotation de "La cabane au Canada" au Rawyl (Suisse) de 9a à 8c/c+ et la récente répétition du 9a du rocher des Brumes (Briançonnais) "La prophétie des grenouilles" pour sa 7ème voie en 9ème degré. Retour avec l'intéressé.

Décris "La prophétie des grenouilles".
La "Prophétie des grenouilles" commence dans la section dure du 8c "Une arquée pour le criquet", traverse dans le toit pour rejoindre un pas de bloc, puis traverse encore pour rejoindre la fin du 8b de "La croix de Toulouse". De la conti.

Combien de temps cela t'a pris, comment s'est passé le processus ?
L'été dernier après avoir fait "la croix de Toulouse" et l' "arquée pour le criquet", j'ai passé 3 séances à travailler le pas de bloc dans le toit qui fait la connexion, mais ça bougeait pas suffisamment donc j'ai laissé tomber pour aller me dorer la pilule dans le Yucatan (si si!!!). Cette année ça m'a pris 2 séances : une pour recaler, le lendemain une montée de recalage, un bon run et après un gros repos, la croix !

Un mot sur ta décote de "La cabane au Canada" ?
Pour la cabane au canada j'ai fait une montée de repérage et j'ai enchaîné au run suivant après un bon fight ! Ce qui me fait penser que cela ne vaut pas 9a :
1-Les conditions étaient loin d'êtres optimales avec de la chaleur et sans vent.
2-J'ai pas le niveau de faire du 9a au premier essai et encore plus dans ces conditions là.
3-En comparant avec sa voisine de gauche "Super Finale" qui je trouve est vraiment plus dure et exigeante.
Pour la faire ça m'a coûté une bonne dizaine d'essais répartis sur plusieurs séances. "La cabane au canada" si on décompose c'est un 8b/b+ résistant sur les 20 premiers mètres. Un bon repos. Une section qui vaut 8a/a+. Une section facile avec un très bon repos juste avant d'attaquer une dernière section qui vaut 8a/a+. (Bref au final ça fait un petit 8c+ ou un gros 8c. C'est une voie à calage, donc très dure de faire à vue. Par contre une fois que tu à calé ça change vraiment la difficulté.
Les projets du moment du grimpeur de l'extrême ?
Je ne manque pas de beaux projets dans le Vercors ("Sweet Neuf" à pierrot Beach, "le champs des muses" à Romeyer), à St léger ("Super Crackinette"). J'ai toujours en tête d'aller au Pic st loup et de faire des sessions à Bleau autant que possible… Avec toi ?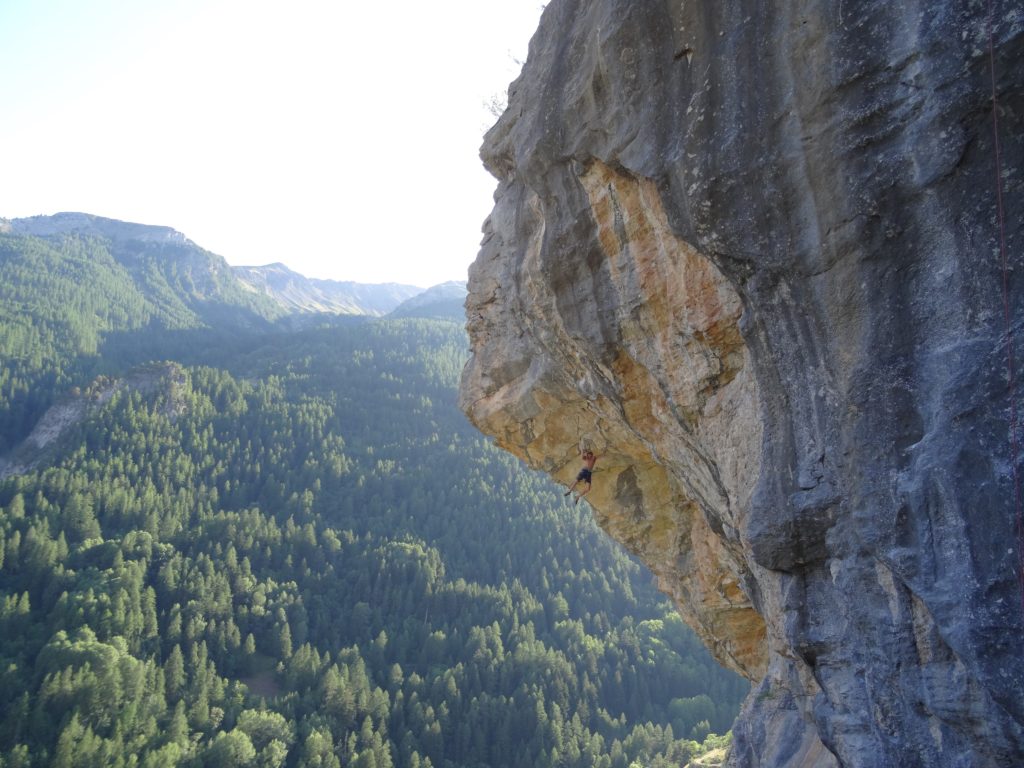 Arthur Guinet from Valence, France alias "Vertaco the extreme climber" has known a prolific summer with a quick repeat and downgrade proposition of "La cabane au Canada" 9a to 8c/c+ and the recent send of "La prophétie des grenouilles" 9a in Briançonnais, France for his 7th 9th grade route. Some words with him.

Describe "La Prophétie des grenouilles".
It's starting with the crux of the 8c "Une arquée pour criquet", traversing in a roof into a bouldery crux and ending in the 8b "La croix de Toulouse". A stamina route.

How it worked? What about the process?
Last summer after having done "La croix de Toulouse" and "Arquée pour criquet" I spent 3 sessions on it, working the boulder section in the roof but I was not able to link it so I skipped it for taking the sun in Yucatan (!). This year it took me only 2 sessions, one for working the boulder, and the second day after a good go and a long rest, the send!

A word about your downgrade of "La cabane au Canada"?
I did a check go and I did it the next try at my second go after a fight. It's not 9a because:
1- Conditions were bad with heat and no wind
2- I have not the level to send 9a at my second go, even more with bad conditions.
3- The route just at the left "Super Finale" is for me harder. I climbed it after 10 tries and several sessions. La "cabane au Canada" is a 20 meters resistant 8b/b+, a rest, a 8a/a+ section, and easy setion and another good rest before a last 8a/a+ part. Finally I think it's an hard 8c or easy 8c+, but hard to onsight. But when you have your betas the difficulty changes a lot.

Your current projects?
A lot of routes in the Vercors, "Sweet neuf" in Pierrot Beach, "Le chant des muses" in Romeyer, "Supercrackinette" in St-Léger. I would like to come in Pic St-Loup and also in Font this winter. With you?