Lucien Martinez vient de réaliser ce jeudi la première ascension d'un vieux projet du secteur Supermanjoc de St-Antonin Noble Val (Occitanie), "A la limite de la rupture". Cette voie équipée par Didier Raboutou en 1991 dans la belle planche sur la droite de la conque propose un dévers régulier à 30° pour environ 20-25 mètres de long et un effort très résistant. Malgré les efforts de certains mutants locaux comme Eric Siguier au début des années 2000, la voie demeurait invaincue et la casse d'une prise clé rendant le crux encore plus dur n'a pas permis d'accroître le nombre de prétendants. Et ce jusqu'à ce que Lucien qui l'essayait irrégulièrement depuis quelques années en fasse un de ses principaux objectifs cette saison ! C'est la seconde voie en 9ème degré du secteur après "FFF" libéré en 2015 par Manu Lopez, une voie que le montalbanais exilé en région parisienne avait aussi déjà coché. C'est la 5ème voie dans le 9ème degré De Lucien et déjà sa 3ème cette année, ce qui en fait un des grimpeurs français parmi les plus prolifiques cette année en matière d'extrême. Retour sur cette nouvelle réalisation.

Depuis quand t'es-tu lancé dans ce projet ?
Il y a 5 ans j'ai commencé à monter occasionnellement dans la voie, mais on ne peut pas dire que je me la suis mise sérieusement en projet à ce moment, il me manquait plein de mouvs. Je me suis vraiment mis à essayer sérieusement il y a trois ans, juste après avoir réussi FFF, l'autre 9a de la falaise.

Qu'est-ce qui t'a donné particulièrement envie de t'investir dans cette voie ?
Tout. C'était un projet mystérieux au pied duquel je passais depuis mes 14 ans. J'ai passé des années à lorgner la ligne en me demandant si c'était possible, alors ça avait forcément du sens d'essayer à un moment ou à un autre ! En plus, la voie est naturelle, et quand les méthodes ont pris forme, je me suis aperçu que l'effort était superbe et la gestuelle incroyable.

Décris "A la limite de la rupture", ses principales difficultés ?
Ça commence par un 7B bloc pour lever les pieds du sol. Là, 5 ou 6 mouvs moins dur sur une colo plate emmènent à un repos genou. Il faut perdre le moins d'énergie possible dans ces premiers mètres car la voie n'a pas commencé : ça repart avec 24 mouvements (en comptant les relances) très intenses dont deux particulièrement durs au milieu de la section. Ce qui rend cette séquence majeure, c'est qu'il n'y a pas un seul ramené de main, il faut s'engager sur chaque mouvement avec pas mal de très fines colos à pincer du bout des doigts et d'autres préhensions pas évidentes. Ce qui la rend dure, c'est qu'il n'y a presque aucune possibilité de se relâcher dedans et que les placements, tout comme les préhensions, sont complexes et exigeant. À la fin de cette section, on arrive sur deux bonnes prises où il faut se refaire tant bien que mal pour un 8a de trois dégaines pas si faciles avec les bras explosés.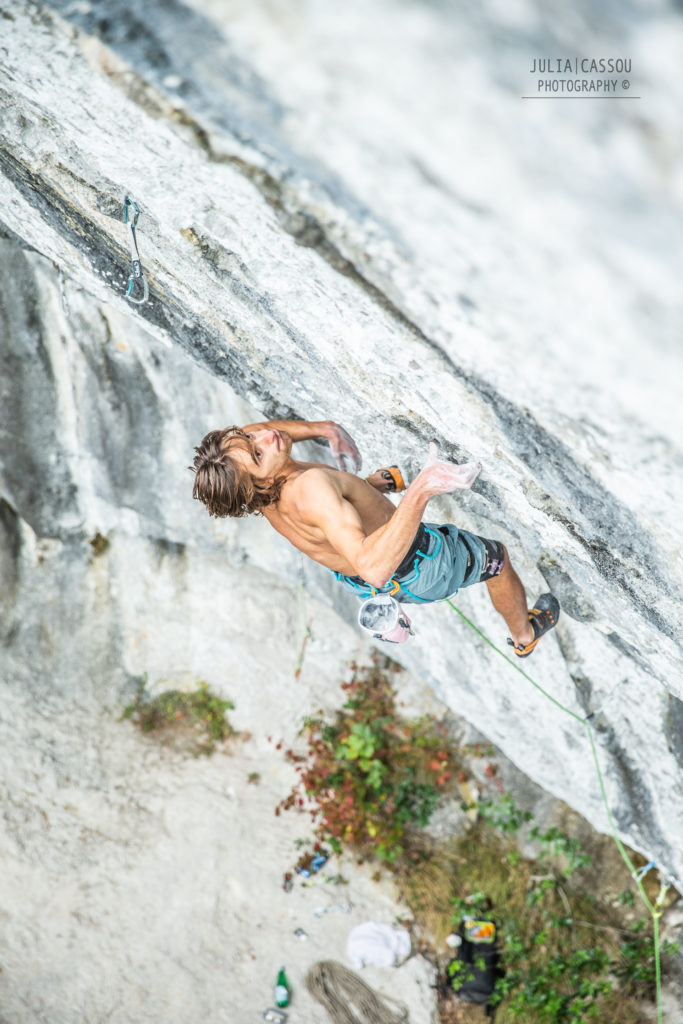 Parle nous du processus, les séjours, les sessions, les essais clés ?
Quand j'ai commencé à essayer, la voie était en friche, sans la moindre trace de magnésie et avec pas mal de lichen. Je voyais qu'il y avait des aspérités par-ci par-là mais je n'avais aucune idée desquelles prendre ni de la difficulté de la voie. En revanche, même si je ne faisais pas les mouvements, j'ai très vite compris qu'elle était possible. J'ai passé énormément de temps pendant et autour de l'été 2017 pour trouver toutes les méthodes, en particulier une séquence de deux mètres au milieu que je n'arrivais toujours pas à faire après peut-être 20 séances dans la voie. Mais j'ai insisté et j'ai fini par trouver quelque chose de fonctionnel. Là, j'ai pu rapidement mettre des essais, et j'ai encore passé au moins 15 séances disséminées sur un peu plus de deux ans à tomber toujours dans cette section médiane. Et finalement ça a fait.

Par rapport aux autres voies dans le 9ème degré, que penses-tu de la difficulté de celle-ci ?
Pour la cotation, je propose 9a, tout ce qu'il y a de plus 9a : ni un dur, ni un facile. Lors l'enchaînement, je pense avoir sorti une sorte de run parfait et je suis allé au bout de moi-même, mais en même temps il devait faire entre 15 et 20 degrés ce qui est très loin des conditions d'adhérence optimales, alors je pense vraiment que ça ne peut pas valoir 9a+. Après c'est toujours incertain d'évaluer une voie ou vous avez été seul à trouver les méthodes, alors on n'est jamais à l'abri d'une décote pour cause de séquences plus efficaces… Mais j'espère que ça n'arrivera pas !

Pour ce qui est de la comparaison avec les autres voies en 9 que j'ai réussies, je pense, sans être sûr, que c'est un tout petit poil plus dur que "Beyond" au Pic Saint Loup, plus dur aussi que la voisine "FFF" et "Descente en terre inconnue" en Ariège, mais en revanche moins dur que "3 Degrees of Separation".
Tu affirmes souvent que Supermanjoc est une de tes falaises préférées. Pourquoi ?
C'est totalement subjectif. Je m'y sens bien, c'est là ou j'ai découvert l'escalade extrême, c'est là où j'ai bâti mes premiers rêves de grimpeur, c'est probablement là où j'ai mes meilleurs souvenirs… Mais il y a aussi une autre raison. Je ne sais pas si c'est une illusion parce que c'est la falaise que je connais le mieux, mais je trouve que c'est le spot où les prises sont le plus intéressantes (si l'on excepte les quelques (rares) voies taillées). Les préhensions sont souvent complexes, et elles sont très très variables, il n'y en a pas deux qui se ressemblent : c'est comme si les prises avaient une personnalité et qu'il fallait les apprivoiser.

Photo de couverture : Lucien dans "A la limite de la rupture" 9a – Supermanjoc – crédit : le célébrissime et inoxydable Sam Bié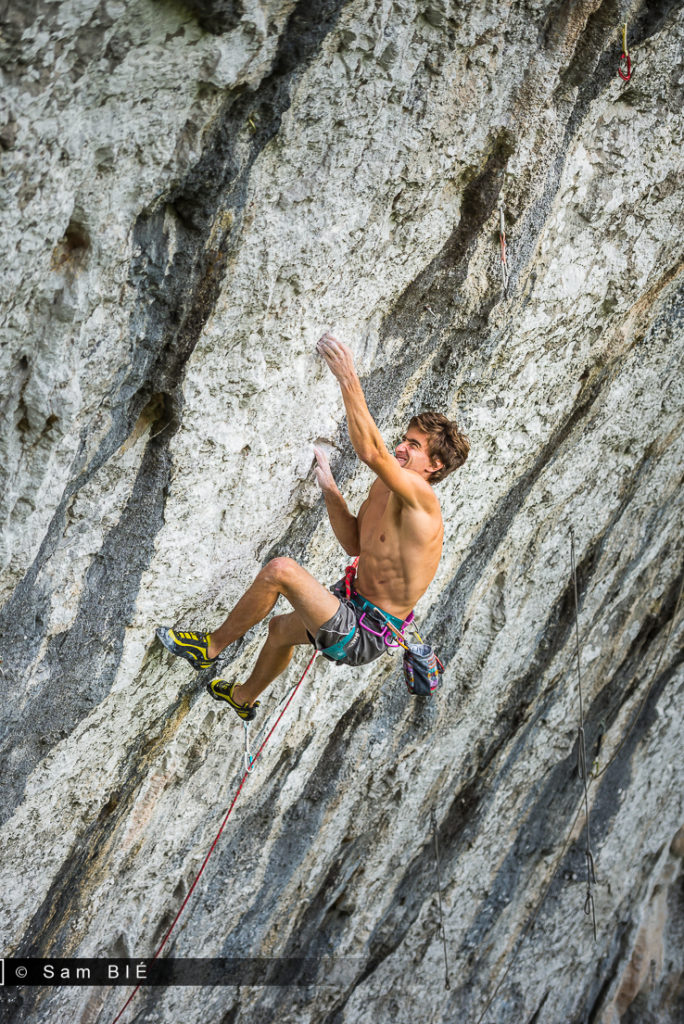 On Thursday Lucien Martinez just freed an old project of Supermanjoc sector, Saint-Antonin Noble Val, France (South West) named "A la limite de la rupture". This route bolted by Didier Raboutou in 1991 is located in the perfect straight 30° overhang on the right part of the cliff is around 20-25 meters long for a very sustained effort. Despite some attempts by strong locals like Eric Siguier in the beginning of the 2000's, the route remained unclimbed and the split of one key hold has put it abandoned. Lucien was trying it sometimes since few years and decided to project it seriously this year for one of his main goal for 2019. It's the second 9a route of the sector after "FFF3 freed in 2015 by Manu Lopez, a route also repeated by Lucien some years ago. It's his 5th route in the 9th grade and already his 3rd this year, one of the French gun the most active concerning hardcore climbing in 2019.
When did you start projecting this route?
5 years ago I started to attempt this line but it was not serious, just some check goes, it missed me a lot of movements. I tried it more frequently 3 years ago when I climbed "FFF" the other 9a of the crag.
Describe the route, how is the challenge?
It's starting with a 7B boulder just at the ground followed by 5/6 moves easier on a slopy tyfa into a kneebar rest. You need to keep your energy in these first meters because the buisiness if after: 24 very intense movements with 2 moves harder in the middle (the crux). It's very beautiful because you can't match on the holds, you climb a muerte with the power on thin tufas and other tricky holds. It's impossible to relax here and the body positions are quite complex and demanding. At the end, you arrive into 2 good holds. From there you need to rest and to climb a 3 quickdraws 8a for ending, not easy with the pump.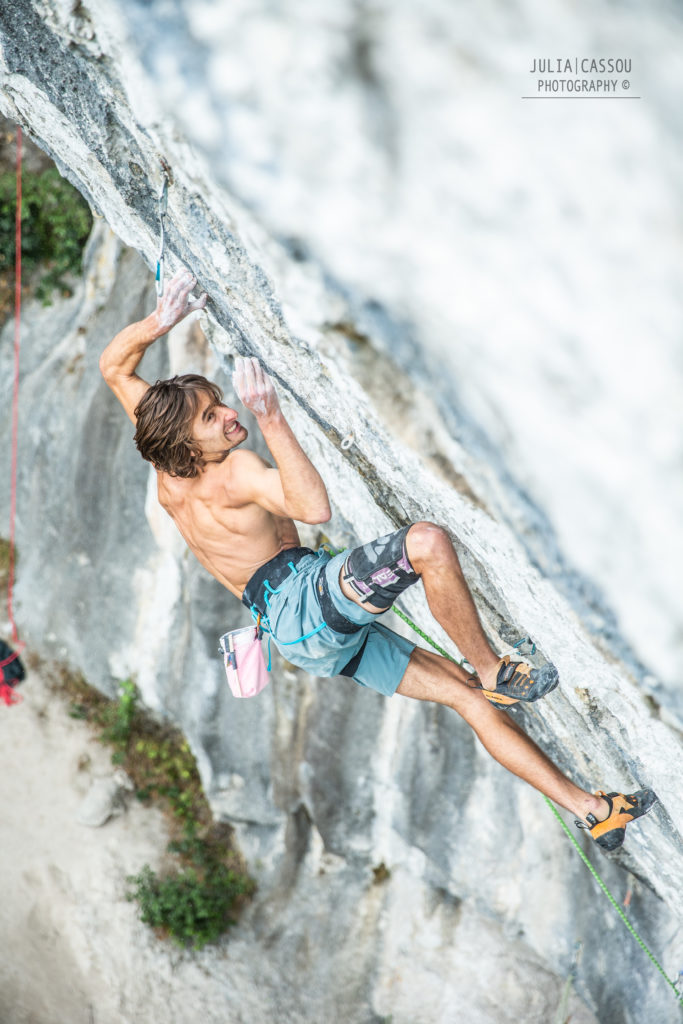 What about the process?
When I started to try it, the route was abandoned, without any chalk and with a lot of moss. I found some piece of rock to stick but I had no idea how could work the sequences and what about the difficulty of the challenge. But even I was not able to catch all the moves, I knew it was doable. I spent a lot of time during the summer in 2017 to figure out the moves, find the good betas, but I didn't arrive to understand the 2 meters section in the middle after 20 sessions! Bu I didn't give up and finally arrived to climb it. From this point I could quickly attempt the route from the ground, and I spent 15 sessions more during 2 years to attempt. And finally, all went well this week!
What about the level of this one?
About the grade, I think it's not even hard or soft for 9a, just normal 9a. During my send, I climbed perfectly and I struggled a lot, but in an other hand the conditions were quite warm, around 15-20 degrees, far from the ideal friction, so I don't think it's 9a+. After it's not easy to grade a first ascent, may be my betas are not the best and it will be downgraded. But I hope it will not happen!
As comparison with other 9th grade routes I have climbed, it's harder than "Beyond", "FFF" and "Descente en terre inconnue" but easier than "2 degrees of separation".

You are sometimes saying that Supermanjoc is may be your favourite crag. Why?
It's very personal. I'm feeling well here, it's the place where I discovered extreme climbing, where I started to built my first climber dreams. It's probably here I had my best climbing memories… But there is also another reason. I dunno if because I know very well the crag but I find the holds here the quality of the holds (despite some are chipped routes). The holds are very different and you need to undestand how you can hold them. It's like they have a personality and you need to tame them.

Cover Pic : Lucien Martinez – "A la limite de la rupture" 9a – Supermanjoc – credit: the one and famous Sam Bié