A l'instar de Greenspits chez nous, "Projekt OSP" est une initiative créée par des grimpeurs locaux sous l'égide de l'Association Alpine de Slovénie. Le but principal est de soulever des fonds pour ré-équiper les voies, entretenir les chemins d'accès et les parkings et d'aider à résoudre les problèmes d'accès qui peuvent survenir concernant les falaises du pays : "une incitation à l'implication des grimpeurs pour une escalade plus responsable et aussi sécurisée." La communauté escalade est en train de grandir énormément et l'impact de notre pratique sur les sites naturels est visible un peu partout." Le besoin de préservation du travail des légendes slovènes des années 80 et 90 (comme Tadej Slabe ou Jure Golob) ont donné naissance à un Access Fund pour garder des falaises (comme Misja Pec,  Bohinjska Bela, Kotecnik et plein d'autres) sécurisées et ouvertes à tous.  En effet, malgré la réputation internationale de la Slovénie, les falaises du pays sont régulièrement soumises à des problèmes d'accès et d'équipement vieillissant et il était devenu primordial de se fédérer  et d'agir autour de ce sujet. Les grimpeurs, entreprises et associations peuvent se porter volontaire ou effectuer des dons pour rejoindre la cause et faire en sorte que l'escalade ici soit meilleure ! Le problème commence donc à être pris en charge et avec "Projekt OSP" le futur de la grimpe slovène s'annonce du coup radieux !
Stefan Wraber, qui mène le projet ajoute : "Notre organisation nationale Association Alpine de Slovénie est derrière le projet. Du coup, "Projekt OSP" n'est pas une organisation indépendante, c'est un projet du comité executif de l'association. Ils nous aident via des fonds du Ministère des Sports et aussi leurs fonds propres, comme ils avait déjà commencé depuis 1999. "Projekt OSP" ne s'occupe pas uniquement de la gestion des falaises d'Osp et de Misja Pec comme son nom pourrait laisser le penser, c'est un projet qui concerne toutes les falaises de Slovénie, OSP un diminutif de "Opremimo Slovenska Plezališča", qui veut dire équiper les falaises slovènes."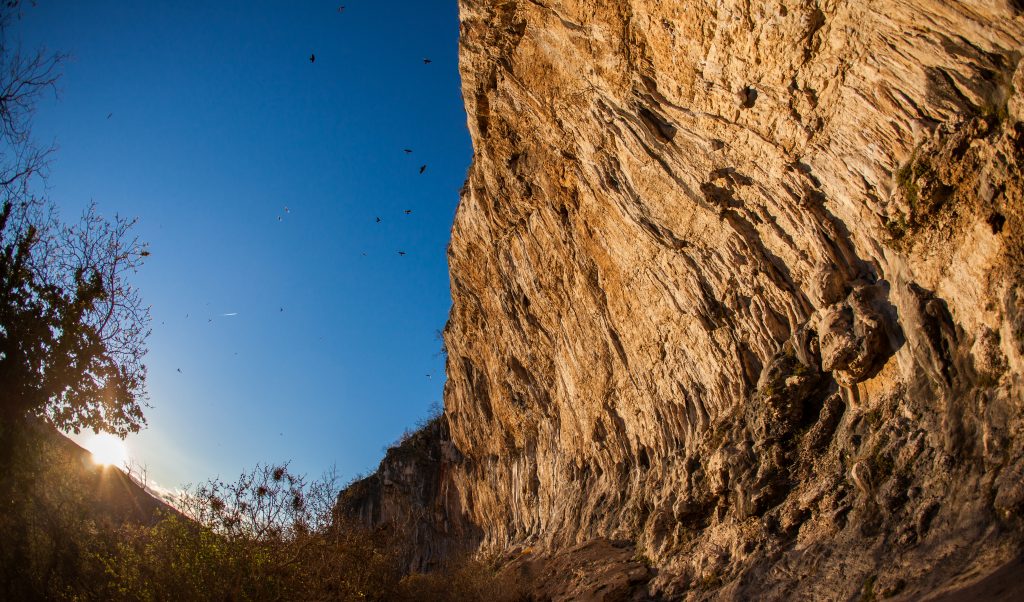 "Projekt OSP" is a donation based non-profit created by climbers and equippers under the mantle of Alpine Association of Slovenia. Its main goal is to raise funds to re-bolt old routes to modern standards, to take care of trails and parkings and to help resolving the access issues in all Slovenian crags. The climbing tribe is growing fast and the impact on the natural crags is visible everywhere. The need to preserve the work of legendary Slovenian climbers from 80's and 90's gave birth to a version of the Access Fund, to keep crags like Misja Pec, Bohinjska Bela, Kotecnik and many others safe and open to public. Projekt OSP aims to achieve maximum impact through systematic and transparent use of the donations for the most critical spots. Climbers, enterprises and associations can volunteer or donate funds to join the cause and make climbing in Slovenia safer and better.
Stefan Wraber, the leader of the project adds: "Our national organization, Alpine Association of Slovenia is behind this project. In fact, Projekt OSP is not an independent organization, it is a project of Executive Board of Association. They are helping us with the funds from the ministy of sports and their own funds, as they are taking care of the slovenian crags since 1999. "Projekt OSP" is not meant for Osp and Misja Pec only, it's a project for all the crags in Slovenia. With a special focus on a most important, of course. Its name Projekt OSP is short for Opremimo Slovenska Plezališča, or Equipping Slovenian Crags."