Le weekend dernier a eu lieu comme chaque année la Fête du Spit, organisée par l'association Greenspits.
Après 4 premières éditions du côté du Mont Ventoux et la mise en valeur de plusieurs spots du coin (Entrechaux, Mollans sur Ouvèze, les Gorges du Toulourenc), cette année l'association avait décidé de poser ses bagages dans l'envoûtante Vallée de l'Ubaye et plus particulièrement le site des Herbez, à Méolans-Revel.
Perchés à 1400 mètres d'altitude et encerclés par des montagnes majestueuses comme la fameuse Tête de Louis XVI, plusieurs centaines de grimpeurs se sont réunis pour un programme chargé mais toujours aussi varié.
Malgré une météo dantesque le vendredi soir pour l'ouverture du festival (blizzard, neige et pluie mêlées…), les participants ont notamment pu visionner en avant-première, sous le grand chapiteau de cirque dressé pour l'occasion, Le Jardin Des Spits, un documentaire sur les équipeurs en France.
Quelques accords d'un mandoliniste endiablé pour réchauffer la foule masquée, une interview croisée entre Alex Chabot, Hugo Parmentier et Vincent Albrand ont complété le tableau de cette 1ère soirée.
Sur les journées du samedi et du dimanche, où le soleil était de nouveau de sortie, les participants ont pu profiter de divers ateliers qui ont fait le succès de l'événement : rééquipement, trucs et astuces en grandes voies, assurage dynamique côté falaise, mais aussi visualisation mentale, naturopathie, InnerDance ou encore yoga côté chapiteau. Le tout encadré par des professionnels et passionnés !
Bien entendu, l'escalade était la star de la journée avec la découverte du spot des Herbez, en grande partie équipé par Laurent Perez (d'ailleurs protagoniste du "Jardin des Spits") le local de l'étape qui œuvre sur la vallée depuis de nombreuses années.
Pas moins de 11 secteurs pour 180 voies entre le 5c et le 8c ! Du penché et du beau caillou pour tous les niveaux, avec notamment quelques beaux combats de Thomas Joannes et Hugo Parmentier dans "Complètement de collection" (proposé 8c). D'autres projets comme "La Mascarade des Masqués" ou encore "Palmier percé d'Amazon" attendent encore leur FA… Avis aux amateurs !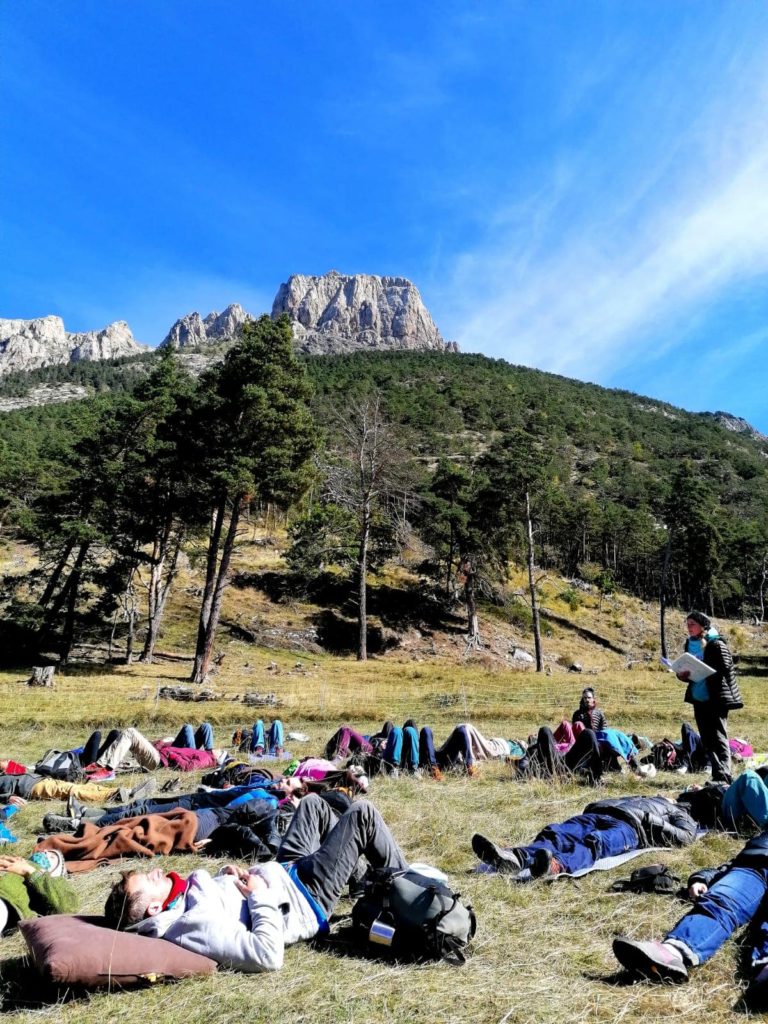 Samedi soir, après la projection du docu Métrophobia d'Antoine Moineville sur une expé kayak/grande voie au Groenland , les participants ont pu apprécier la musique de plusieurs DJs venus pour l'occasion, avant de profiter d'un dimanche tranquille, agrémenté cette année de bonnes galettes bretonnes pour se requinquer et d'un vide dressing à prix mini au profit de Greenspits et de l'association Escalothérapie.
Un vrai succès à nouveau pour cet événement qui permet à l'association Greenspits de lever des fonds pour soutenir les projets d'équipement, rééquipement et entretien des falaises en France pour l'année à venir.
Pour en savoir encore plus, rendez vous sur le site de Greenspits pour un compte rendu encore plus complet et un portfolio de qualité tout prochainement.

Photos : Marion Faille et Roxane Durand


Last weekend took place like every year La Fête du Spit in France, event organized by the Greenspits association. After 4 editions close to Mont Ventoux and the enhancement of several places in the area (Entrechaux, Mollans sur Ouvèze, Gorges du Toulourenc), this year the association decided to step foot in the enchanting Vallée de l 'Ubaye and more particularly the Herbez crag, in Méolans-Revel, Alps.

At an altitude of 1,400 meters high and surrounded by majestic mountains such as the famous Head of Louis XVI, several hundred climbers gathered for a busy but still varied program.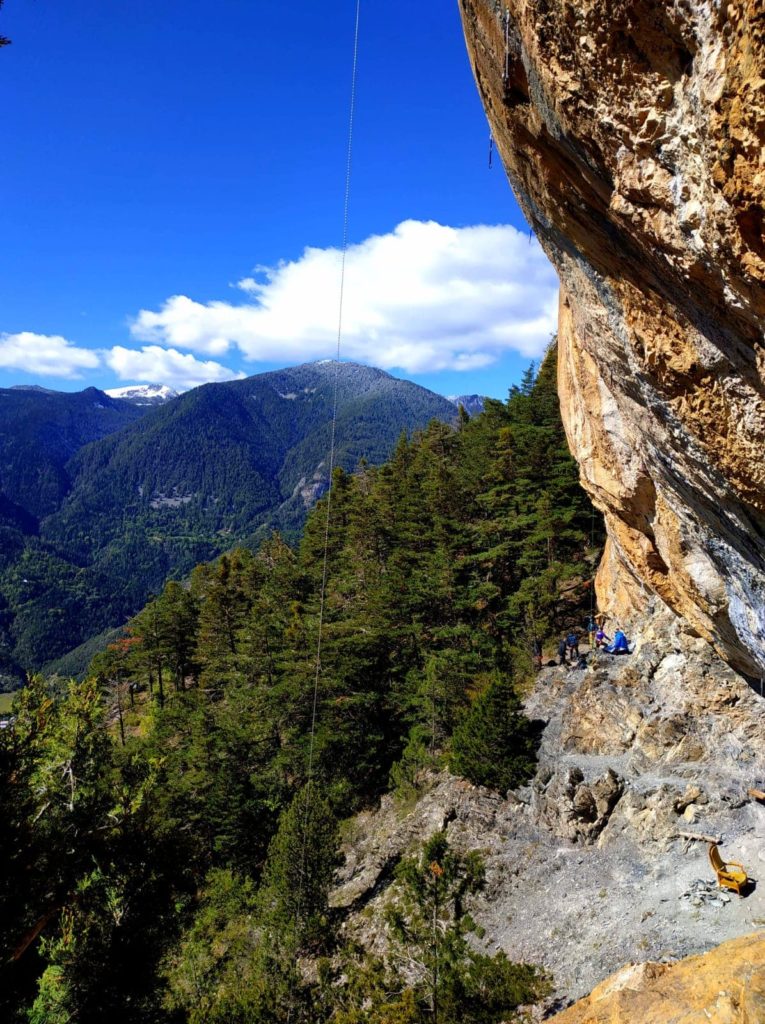 Despite the terrible weather on Friday evening for the opening of the festival (blizzard, snow and rain mixed …), the participants were able to watch a preview, under the large circus canopy set up for the occasion, "Le Jardin Des Spits", a documentary about French bolters in France.
A few chords from a frenzied mandolinist to warm up the masked crowd, a crossover interview between Alex Chabot, Hugo Parmentier and Vincent Albrand completed the picture of this first evening.

On Saturday and Sunday, when the sun was out again, participants were able to take advantage of various workshops that made the event a success: re-bolting, tips on multi-pitch routes, dynamic belaying on the cliff side, but also mental visualization, naturopathy, InnerDance or even yoga on the marquee side. All supervised by professionals and enthusiasts!
Of course, climbing was the star of the day with the discovery of the Herbez crag, mainly bolted by Laurent Perez, the local of the stage who works on the valley since many years.
No less than 11 sectors for 180 routes between 5c and 8c! Overhanging and beautiful rock for all climbers, with in particular some beautiful fights by Thomas Joannes and Hugo Parmentier in "Complément de collection" (around 8c). Other projects such as "La mascarade des masqués" or "Palmier percé d'Amazon" are still awaiting their FA … Notice to amateurs!

Saturday evening, after the screening of the Metrophobie, a documentary by Antoine Moineville on a kayak/multi-pitch experience in Greenland, the participants were able to enjoy the music of several DJs who came for the occasion, before enjoying a quiet Sunday, embellished with this year of good Breton pancakes to recover and a clothes fair trade at a mini price for the benefit of Greenspits and the Escalotherapie association.

A real success once again for this event which allows the Greenspits association to raise funds to support projects for bolting, re-bolting and cliff preservation in France for the coming year.

To find out more, visit the Greenspits website for an even more complete report and a quality portfolio soon!

Photos: Roxane Durand and Marion Faille