On vous avait déjà parlé il y a quelques mois du jeune grimpeur toulonnais Maho Normand, 14 ans féru de falaise. Ce dernier vient de compléter son projet de l'été avec le célèbre "San Ku Kai" à Entraygues (Briançonnais) pour son premier 8c+. Retour avec l'intéressé.

Pourquoi avoir choisi "San Ku Kai" comme projet ?
Au début je ne voulais pas du tout essayer cette voie mais mon mentor Thomas Reymonenq (grimpeur prof) m'a fortement recommandé cette ligne aux mouvements incroyables, j'ai dû mettre entre 10 et 15 séances.
Comment s'est passé le travail de la voie ?
Au début des séances je n'arrivais pas à faire les mouvements bloc et au fur et à mesure, j'ai réussi à trouver des calages et je commençais à bien bouger mais les seuls problèmes étaient le mental et les chaussons ! Durant beaucoup de séances, j'ai dû chercher quelle paire de chaussons serait la meilleure pour pouvoir tenir ces 3 talons bien complexes. Et après réflexion on a acheté une paire de chaussons (mais pas assez rigide pour le 2e talon de la voie). Du coup j'ai dû en racheter une autre un peu plus rigide et bingo ! à la 3ème séance avec "la paire parfaite", c'est passé ! Pour ce qui est du mental, ce même Thomas Reymonenq a eu l'idée folle de m'offrir une amulette de perf au marché de Vallouise, village situé en bas de la falaise. Aussi ridicule que cela puisse paraître cette amulette a bel et bien fonctionné, canalisant mes essais hasardeux !
On te sent plein d'enthousiasme. Qu'est-ce qui te motive à grimper dehors ?
Je ne sais pas trop se que signifie "enthousiasme" mais le fait de clipper les relais de voies de plus en plus dures me procure vraiment du bonheur ; les différentes falaises, les différents styles de grimpe sont vraiment cool à appréhender ! Tout ce que je recherchais en escalade depuis que j'ai commencé c'était de trouver des voies de plus en plus dures pour moi avec de gros doutes physiques et physiologiques, pour pouvoir s'acharner au max et trouver un maximum de bonheur en clippant le relais ! Eh bien ça c'est fait ! "San Ku Kaï" était la voie parfaite !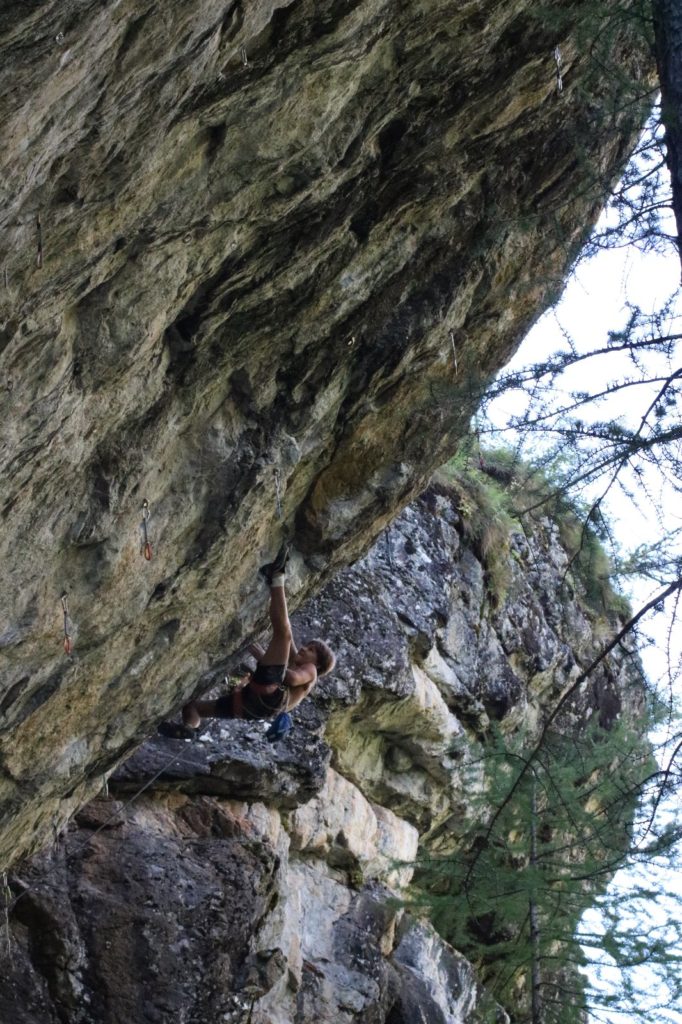 We had ever noticed him few months ago, Maho Normand, 14, from Toulon, France is on fire. He just completed his summer project with "San Ku Kai" in Entraygues for his first 8c+.

How did you choose this project?
At the beginning, I didn't want to try this route by mo coach Thomas Reymonenq adviced me this one with these incredible moves. I did about 10-15 sessions.

How was the process?
At the beginning I didn't manage to stick the hard moves but I finally found my betas and made good links. The only problem was my climbing shoes for the 3 key heelhooks. I changed twice my climbing shoes for optimazing the betas and it worked! My coach Thomas Reymonenq offered me a lucky amulet. It could sound ridiculous but it hleped me to focus on the route.

You looks very psyched. What's your motivation in climbing?
What makes me psyched is to redpoint hard routes, it's so cool to have all of this diversity of crags and routes to attempt. Since I start climbing I try to push my limits in the hardest routes. It's done! "San Ka Kai" was the perfect route.