Scalatabel, c'est le nom d'un festival de grimpe sur une falaise éphémère qui avait déjà été organisé en 2006 et 2007 dans les gorges du Thaurac (34), une fête de l'escalade en falaise qui avait remporté un énorme succès. A l'époque Chris Sharma, Lynn Hill, Dave Graham, Said Belhaj, Daniel Du Lac et plein d'autres cadors avaient assuré le show à la frontale dans des voies ultimes devant des centaines de personnes avec de gros concerts le soir en guise de convivialité. Un peu plus de 10 ans plus tard, les clubs organisateurs Escalabel et Scalata, et le Comité Territorial FFME Hérault ont eu envie de remettre le couvert ! Le festival se déroulera donc du 14 au 17 juin.
Une partie "Contest Ephémère » est de nouveau organisée, se déroulant sur une falaise en temps normal interdite. L'autorisation à la grimpe est délivrée uniquement pour la durée du festival, ensuite la barre sera déséquipée. C'est une occasion unique de grimper sur une vingtaine de voies au rocher top qualité, avec les dégaines en places et allant du niveau 7a à 8?, le tout dans une ambiance muy muy caliente ! Le Sud en juin quoi !
A coté de cela, vous trouverez des challenges amateurs pour les enfants, les jeunes et les adultes qui n'ont pas le niveau d'aller dans les voies de la falaise éphémère (7a à vue comme pré-recquis) sur des secteurs périphériques.
La nuit, le mur éphémère sera éclairé pour les démos d'escalade par les grimpeurs invités. On attend de bon gros combats à la frontale pour libérer les derniers projets ! Pour les invités : Seb Bouin, Caroline Ciavaldini, James Pearson, Florence Pinet, Gérôme Pouvreau, Daniel Du Lac et Carole Palmier sont entre autres annoncés ! Enfin, pour les fêtards, 2 soirées de concerts gratuits sont prévues.
Infos et inscriptions concernant le Scalatabel 2018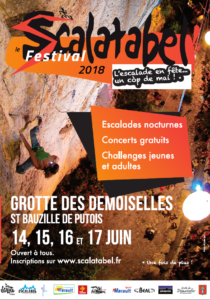 Scalatabel, it's the name of a French climbing festival which took place in 2006 and 2007 in Thaurac gorges, Hérault. It was a huge success with Chris Sharma, Lynn Hill, Dave Graham Said Belhaj or Daniel Du Lac who were there and did the show by climbing with headlamps on ultimates routes with a large crowd as support, followed by great music lives. 10 years after, local clubs Escalabel and Scalata are joining their forces for a new edition! It wiil be on 14th-17th of June! A part "Ephémère contest" is again organized, in a forbidden crag. The autorization to climb here will be delivered only for the time of the festival, then the crag will be cleaned. It's an unique occasion to climb on around 20 new routes of top quality rock from 7a to 8? in a very friendly and warm atmosphere… The South in June!
Besides this contest, you will find challenges for amateurs, children and youths on other close sectors.
The night, the Ephémère wall will be illuminated by spots with climbing demos by special guests: Seb Bouin, Caroline Ciavaldini, James Pearson, Florence Pinet, Gérôme Pouvreau, Daniel Du Lac and Carole Palmier. And for those who like partying, 2 music shows nights are scheduled.
Photo: Sam Bié