Avec 700 longueurs sur l'ensemble de sa dentelle, pas moins de 150 nouvelles voies réparties dans presque tous les secteurs, et de nombreux ré-équipements, la falaise de Céüse dans les Hautes-Alpes demeure indémodable en 2018, un must pour les falaisistes ! Le nouveau topo d'une des plus célèbres falaises de France vient de sortir et s'apprête à devenir un incontournable pour tous les amoureux du coin. Dans ce nouvel ouvrage vous trouverez aussi des nouveaux secteurs récemment développés comme le secteur "Papillon", à droite de la grande face, orienté Est, avec des voies allant de 6a à 7c et notamment des 6c/7a d'anthologie ou encore le secteur "Plein sud", un secteur de voies de niveau plutôt facile à intermédiaire (5c à 6c) pour se dorer la pilule.
Une grosse attention a été apporté sur l'historique de la falaise où vous retrouvez voie par voie le nom des ouvreurs et la date du ré-équipement éventuel. ainsi que des encarts sur les légendes locales. Côté pratique, un mot sur le style de la voie, les orientations, une description détaillée des accès et une traduction en anglais des textes a été opérée. Bravo à Laurent Girousse pour la coordination et la publication de ce travail considérable !
Histoire de fêter cela, l'italien Stefano Carnati vient de répéter la mythique voie des lieux, "Biographie", empochant la 17ème ascension de la King Line. C'est la seconde réalisation de "Biographie" cette année après le polonais Piotr Schab en juin.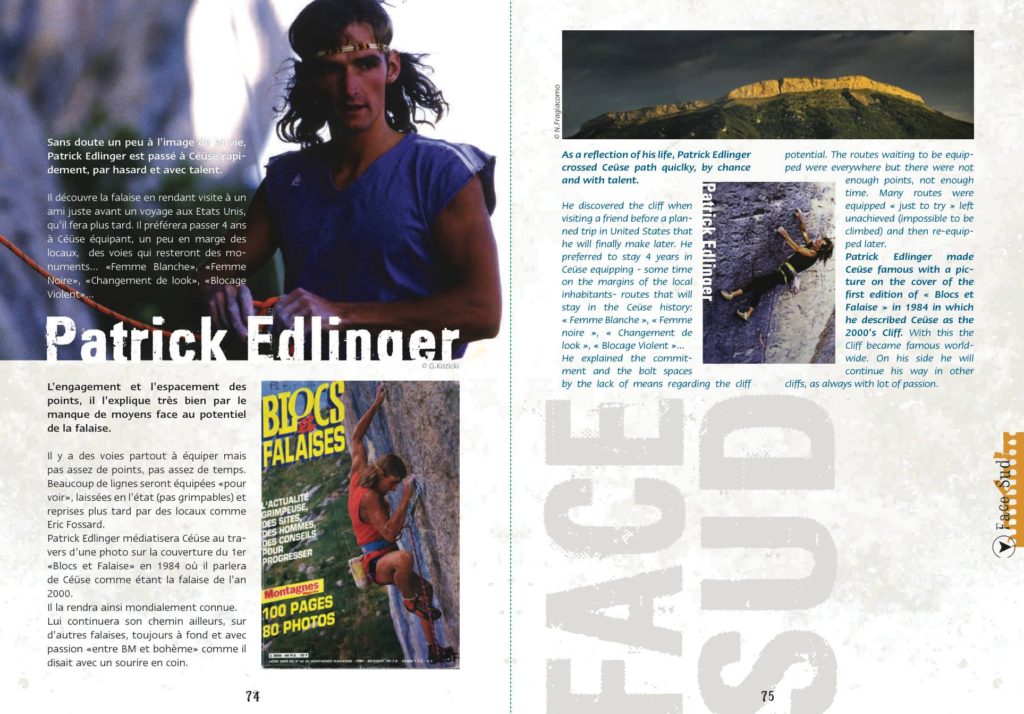 With more than 700 routes, 150 new routes in all sectors of the cliff, numerous rebolting, Céüse crag stays famous! The new guidebook of one of the most famoust cliff in France is now available et will be a must for all the lovers of the place. In this new guide, you will find new sectors like "papillon" sector right of East face (6a to 7c, with nice 6c/7a's) or "Plein Sud" sector with nice easy and intermediar routes in the sun (5c to 6c).
A big attention has been made on local history with the name of bolters and some writings about local people. You will also find orientations of the faces, approach description, and an english translation. Congrats to Laurent Girousse for leading this long work and publication!
And a good news never arriving alone, the Italian top climber Stefano Carnati did yesterday the 17th ascent of mythical "Biographie" 9a+. It's the second ascent this year after Piotr Schab last June.