"Mingus" (300m, 12 longueurs, 8a, équipée en 1986) est réputée être une des grandes-voies les plus difficiles de la célèbre paroi de l'Escalès en rive droite des gorges du Verdon. C'est un mythe du coin, complètement démodé, réalisé à vue en 1994 par Lynn Hill, une perf de premier ordre à l'époque, complètement passée sous silence ! Présente dans les gorges depuis quelques jours, Nina Caprez s'était mise dans l'idée de s'y frotter.

"J'ai croisé là-bas Benoit (mon ex) qui en revenait, m'a motivé à essayer. Il m'a confié que cela serait vraiment une belle perf de la faire en libre. Quand j'ai lu la description dans le topo et que Lynn l'avait fait à vue, je me suis dit que c'était un peu le destin ! Le Verdon c'est ça aussi. J'ai toujours quelques belles lignes en tête que j'ai envie de grimper, mais je ne force pas les choses. Je regarde ce qui est sec, je m'adapte par rapport à mon partenaire et aux envies. Mais j'avais jamais entendu parler de "Mingus" ! C'est elle qui est venue me chercher !"

Mais tenter cette voie engagée, technique complètement tombée dans l'abandon avec l'équipement d'époque semblait dangereux. Un des gourous des lieux, Bruno Clément alias Graou lui conseilla de rééquiper la ligne avant de l'essayer.

"Il m'a vendu le truc comme ultra dangereux. Mais je crois qu'il avait surtout envie que quelqu'un d'autre que lui prenne un peu le perfo en main. Et il avait bien envie d'aller essayer cette voie lui aussi ! Du coup cela m'a bien motivé, afin de lui rendre un tout petit quelque chose pour tout ce qu'il a fait dans le Verdon et ailleurs."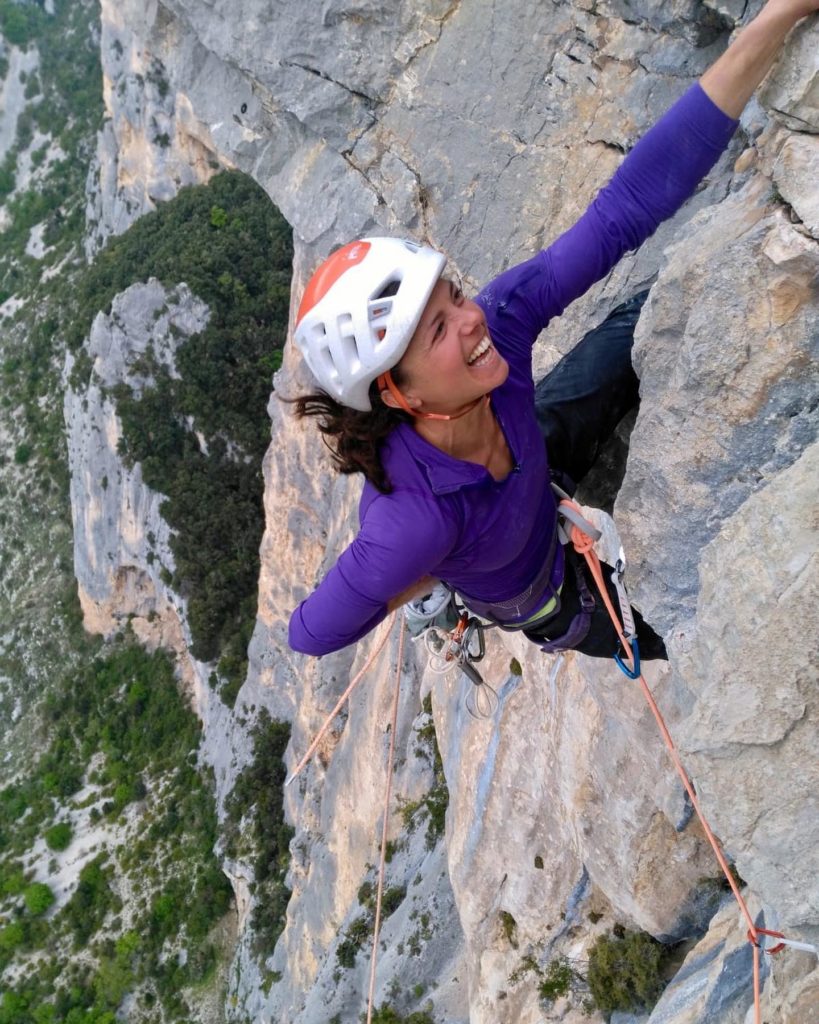 Trois jours de rééquipement plus tard, la classique est rééquipée, plus safe.
""On a réequipé en 3 jours, Donc 4 longueurs par jour. On a bétonné les relais ensuite on a grimpé chaque longueur en moulinette et ensuite en tête pour réellement voir les zones où un nouveau point était nécessaire. Mais comme dit plus haut, j'adore quand une voie a du caractère et quand il faut s'engager un peu. Alors j'avais vraiment pas envie d'enlever cela. Mais aujourd'hui l'escalade libre est plus commode. On n'a plus envie de mourir dans ces belles lignes, mais un peu de piment ne fait pas du mal. J'ai vraiment fait attention à ne pas changer le caractère de la voie. Elle est formidable avec du piment et la roche très diverse. Je voulais rajouter un point au relais et ensuite voir l'état des spits. Toute la voie a été équipée en tamponnoir à l'époque! Avec des petits goujons de spéléo en 8mm et 1cm de profondeur et des pitons. Je connais très bien les goujons de spéléo et ca tient assez bien sur des charges statiques. Mais ce n'est pas fait pour prendre des chutes et certaines étaient vraiment noirs… Alors j'ai changé seulement les goujons dans les endroits où on tombe. J'ai retapé les pitons mais ils étaient tous bons. J'ai rajouté seulement un point dans une longueur ou pendant 4 mètres l'itinéraire en libre passait un peu plus à droite que la voie originale. Et puis j'ai rajouté deux points pour débuter la voie car le socle est vraiment pourri… Au total, j'ai changé entre 1 et 3 spits par longueur. Soit aux endroits où on chute ou aux endroits où la qualité de la roche laissait vraiment à désirer."

Après un jour de repos, Nina libère peut gravi la voie en libre. La boucle est bouclée. "Rééquiper une si belle voie m'a vraiment plu et Ann était fantastique. C'est du boulot, certes, mais je suis sur que cela motivera plein de grimpeurs d'aller la grimper et cela fera hommage à l'ouvreur Christophe Froifond (Il l'a ouvert dans l'année ou je suis née, 1986) !"

Plus de détails sur cette belle aventure sur son site internet !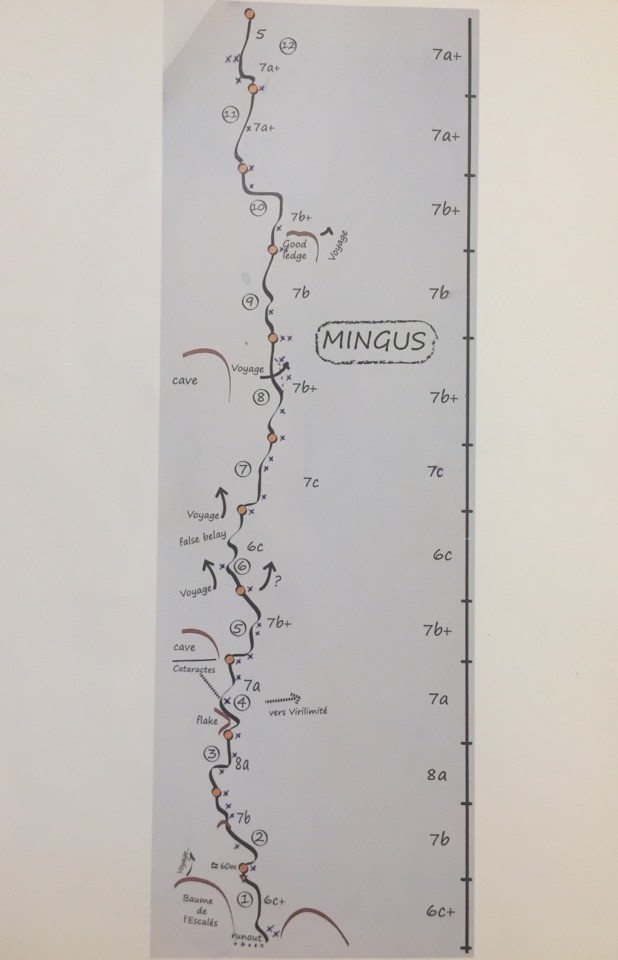 "Mingus" (300m, 8a, 12 pitches, bolted in 1986) is known has one of the hardest multi-pitch routes of the famous wall of Escalès (Verdon). It's a local myth, onsighted by Lynn Hill in 1994, a performance under the radar for the period! Present in the place since few days, Nina Caprez decided to focus on this route.

"I met my ex-boyfriend Benoit who was trying the route and he told me it will ba a good challenge to free it. When I read the description of the route in the guidebook and the note about Lynn Hill, I understood it was my destiny! When I climb here, I have in my mind some routes to try but I'm not narrow-minded. I look which route is dry, I deal with the desires of my partner, all is not alreay decided. i never heard something about "Mingus" before!"
But attempting this old technical abandoned line with the old bolting seems dangerous. Famous local climber Bruno Clément aka Graou adviced to Nina ta rebolt it.
"He told me it was very dangerous. But I think he wanted someone else took the drill. he wanted to try too! So I was full of motivation for a rebolting and I decided to give to him a little bit of things he has done in Verdon gorge and everywhere."
3 days of rebolting later, it was done.
"We rebolted the line during 3 days, 4 pitches each day. We first rebolted the anchors then we tried the route toprope, then in lead for having an idea of the zones where a bolt should be necessary. We conserve the run-outs and the spirit of the route. In total, we changed the bolts where you were falling and where the rock looked suspicious. Between 1 and 3 bolts per pitch.
After a day rest, Nina could free the route. "Rebolting a so nice line gave me a lot of pleasure, it was a fantastic experience with my friend Ann. It's an hard work, but I'm sure it will give some ideas to other climbers to try it. It's also a kind of tribute to Christophe Froitfond who bolted it in 1986, my birth year!"
Read the full story on Nina's website!
Cover pic: Sam Bié