L'américain Joe Kinder a réalisé hier la première ascension de son projet à la Hurricave dans le Sud de l'Utah, "Life of villains" qu'il annonce 9a+. C'est la voie la plus difficile gravie par Joe, lui qui a déjà réalisé une dizaine de voies dans le 9ème degré et des premières ascensions dans le coin avec notamment "Bone Tomahawk" en 2016. C'est un bel accomplissement pour Joe qui avait equipé la voie il y a 6 ans et commencé à mettre des essais dedans il y a 4 ans. L'américain nous donne son ressenti à chaud:
– Fanatic Climbing :Peux-tu nous décrire la voie ? Quel a été le processus pour arriver à cet enchainement ?
– Joe:  La voie est très conti avec plus de 50 mouvements et une sortie bloc en 7C/V9. Ce qui fait au final un 9a plus un 7C/V9 et cela sans repos. Le processus pour enchaîner cette voie a généralement été des périodes d'essais dans la voie de deux semaines au cours des trois dernières années. Cette année, j'étais à la grotte pour un total de 2 mois et 2 jours. Le processus est un peu compliqué à expliquer. D'habitude, j'aime juste essayer un peu une voie et puis faire des sessions dans d'autres voies d'un niveau moins élevés dans la grotte. Cette année je me suis entrainé spécifiquement avec l'aide de Eric Horst et je suis revenu avec une approche différente. Le but était de voir si c'était vraiment possible que j'enchaîne la voie. La première semaine où j'ai tenté l'enchainement j'ai réussi à atteindre le même endroit que lors de mes tentatives durant les 4 dernières années puis la chute … Ensuite la machine c'est mis en marche et j'ai commencé à tomber de plus en plus haut …. j'ai mis tellement d'essais et tellement de dévouement dans cette voie …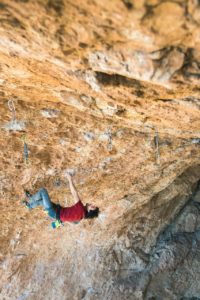 – C'est un bon come-back après ta blessure au doigt l'année dernière, non ?
– Joe:  Oui en effet, je m'étais blessé au doigt il y a presque un an. Ca a été dévastateur, mais ce n'était pas une blessure horrible. J'étais sûrement paranoïaque à l'idée de devoir tout recommencer à zéro. Depuis cette blessure au doigt, j'ai fait 2 9a et beaucoup d'autres voies difficiles, preuve que je m'en suis remis.
– Qu'est ce que cela signifie pour toi ? As-tu d'autre rêve d'escalade ?
– Joe:  C'est un exploit ENORME pour moi et je suis vraiment vraiment heureux d'avoir eu ce moment dans mon histoire de grimpeur. La cotation et tous les autres petites reconnaissances importent peu pour le moment. Quand je pense à cette expérience, je suis rempli d'émotions. Je suis heureux que ce projet soit derrière moi, mais j'ai aussi envie de savourer d'autre moment comme celui la. T'imagine même pas à quel point j'adore l'escalade …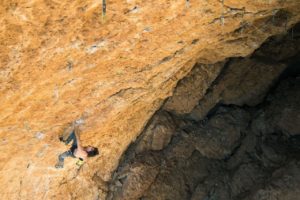 The American Joe Kinder realized yesterday the first ascent of his project at the Hurricave in the South of Utah, "Life of villains" that it announces 9a +. This is the hardest route climbed by Joe, who has already made some routes in the 9th degree and FA around the area including "Bone Tomahawk" in 2016. This is a big achievement for Joe, who had equipped "Life of villains" 6 years ago and started trying the route 4 years ago.The American gives us his feeling in the heat of the moment:
– Fanatic Climbing : How is the route ? How about the process on it?
– Joe: The route is a strength endurance climb of 50+ moves with a V9 exit. Something like 9a-V9 and no resting. The process was usually 2 week stints over the past 3 years. This year I was here a total of 2 months and 2 days. The process was complicated to explain. Usually I would just try it a little and then session on other routes in the cave that were more attainable. This year I trained beforehand with the aid of Eric Horst and came back with a different approach. Mainly to see if it was possible to send. week one of attempts I made a highpoint which was a move I tried to for 4 years and then a one hang. Then the process took over and I fell higher and higher and higher… jeezez… so many tries and so much devotion.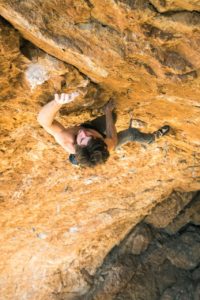 – Fanatic Climbing : It's a nice come-back after your finger injury last year?
– Joe: The finger injury was almost one year ago. That was devastating, but It wasn't a horrible injury. I am surely paranoid about ever doing it again. Since that finger injury I've climbed 2 9a's and many other hard routes, so I'm good.
– Fanatic Climbing : What does it mean? Other dreams in climbing?
– Joe: Its a HUGE achievement for me and I am really REALLY happy to have had this moment in my climbing. The grade and all the other petty titles matter very little at the moment. When I think about this experience so many emotional words come to mind. I am happy it is behind me, but also eager to relish in another moment like this again. I fu**ing love climbing man…. dang.