Afin de faire suite à ses récents faits d'armes à Oliana, la top grimpeuse Belge Anak Verhoeven est allée explorer un peu plus haut la vallée de Segre en Catalogne. Objectif : se frotter à la King Line d'"Esclatamasters" 9a, une proue déversante qui surplombe le village de Perles, juste à côté d'une arche naturelle esthétique. Après quelques jours de travail, Anak a réussi la voie, et fait intéressant et particulièrement insolite, a réalisé l'enchainement par deux fois dans la même journée en une heure d'intervalle, avec et sans les genouillères. Nous sommes allés lui demander pourquoi, tout en lui demandant aussi des précisions sur le processus. Voici son retour.

"Esclatamasters est une voie de 35 mètres constituée de 2 parties différentes, une traversée déversante sur des colos et une partie sommitale plus verticale et technique. Cette dernière est la plus difficile et donne à la voie sa cotation de 9a. C'est une ligne incroyable située dans un très beau cadre.
J'ai passé 2 jours assez relax à caler la traversée. La 3ème session j'ai travaillé la partie du haut : j'y suis allée 2 fois et réussi tous les mouvements. J'aurai préféré connaitre davantage la voie précisément en détails, mais la fin de mon trip était très proche, et si je voulais me donner la chance de la faire avant mon départ, je devais faire un essai le jour suivant. Et du coup je me suis préservée et le lendemain j'ai pu réaliser la voie à ma première tentative ! (avec un annulaire en sang, pas le mieux pour l'escalade sommitale qui est délicate avec des mouvements puissants sur tridoigts.
Après la réussite j'ai eu une idée : pourquoi ne pas essayer de regrimper la voie, mais cette fois sans les genouillères ? J'ai donc décidé d'y retourner sur un coup de tête, juste afin de me fixer un challenge personnel.
Quand je travaillais la voie, je n'avais pas pris le temps de regarder les méthodes sans les genouillères en raison de la pression du retour à la maison, sinon j'aurai su que pour cette voie particulière, de mon point de vue, il n'y avait pas beaucoup de différences à la grimper avec ou sans les genouillères et ma première tentative aurait alors été sans les genouillères.
J'ai donc recommencé à grimper la voie, en essayant de pas trop penser à me refrapper la partie sommitale, mais plutôt en voyant cela comme un jeu. En même temps je voulais donner tout ce que j'avais. J'avais pris seulement une heure de repos après ma réussite car le soleil déclinait et il allait bientôt faire sombre et froid. Très tôt dans la voie, mon saignement a repris au doigt de manière importante. Je me suis alors dit que j'avais réussi à grimper avec un cut la première fois, alors pourquoi pas deux. Cela a alors tourné en un gros combat ! Je ne pensais pas que cela deviendrait si dur ! Juste au moment où j'en avais besoin, un local m'a encouragé. Mouvement après mouvement, je devais continuer à me battre, rester précise, et bourrer ma coupure avec de la magnésie pour que cela saigne moins… jusqu'à ce que je clippe le relais de nouveau ! Quelle expérience ! Une journée merveilleuse pour laquelle nous devons être reconnaissants."

Il semble désormais évident que la miss a une marge assez importante dans le 9a, capable de réalisations très rapides et se payant le luxe de réitérer les ascensions comme si elle faisait des doublettes d'entrainement ! Nous serions curieux de la voir évoluer dans des voies plus difficiles, mais quelque chose nous dit que c'est pour bientôt ! A suivre !

Photo : Ramon Pujol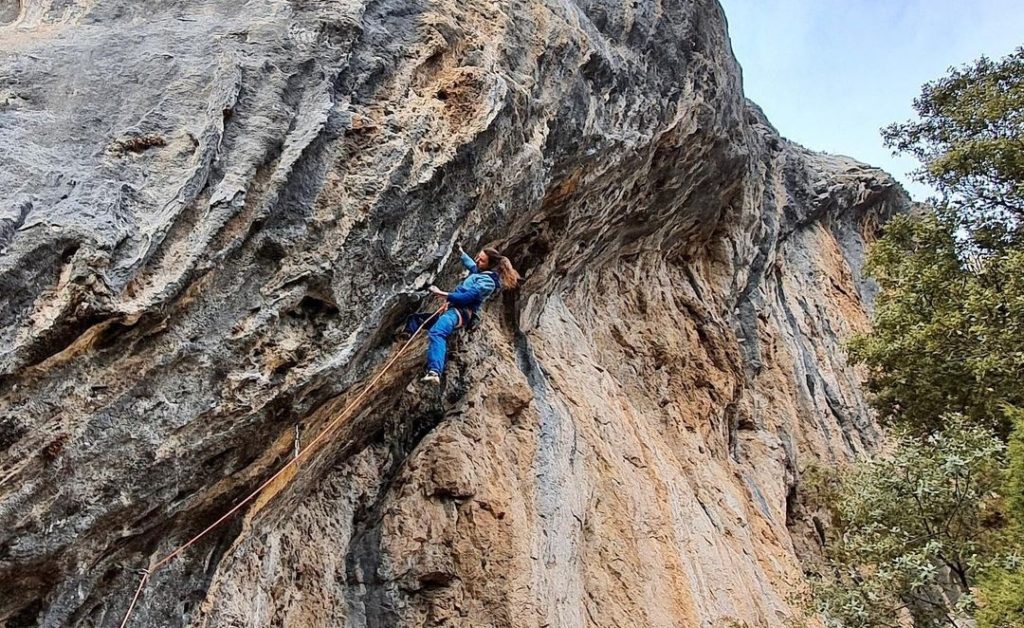 After her rampage in Oliana, Belgian top climber Anak Verhoeven went exploring the Segre valley in Catalunya. Next goal: "Esclatamasters" 9a, an overhanging prow just above Perles village, with a superb nearby natural arch as backdrop. After a few days of work the route went down, but Anak didn't stop there, she repeated the line once more, without kneepads this time. We asked her for more details.
"Esclatamasters is a route of about 35 meters and is made up of 2 very distinct parts: an overhanging traverse on tufas and a more vertical, technical top part. This last one is the most difficult and gives the route its 9a grade. It's an amazing line situated in a beautiful landscape.
I first spent 2 pretty relaxed days working the traverse. The third session I worked the upper part; I went up twice and managed to do all the moves. I would have preferred to know the route a bit more into detail, but the end of the trip was drawing near and if I still wanted to have a chance of climbing it, I had to do an attempt the next climbing day. So that's what I did and I topped it in my first redpoint try! (With a bleeding ring finger – not ideal for delicate climbing and deadpoint moves on 3-finger edges, haha)
After the send, I had an idea: what if I tried to reclimb the route, but this time without kneepads? I decided to go for it, just as a completely unplanned, personal challenge.
While working the route I had not taken the time to figure out the without-the-kneepads-beta because of the time pressure of having to go back home, otherwise I would have known that there isn't that much of a difference between climbing it with or without pads (for this particular route, in my opinion) and my first attempt would probably already have been without pads.
So I started climbing the route again, trying not to think too much about having to climb the top part again, but rather seeing is as a playful challenge. Yet at the same time I wanted to give it all I had. I'd only had one hour of rest after my previous send, because the sun was going down and it would soon be too dark and cold.
Early on in the route, my finger started bleeding heavily again. But I told myself that I had managed to climb with a bloody cut the first time and that I could do it again. It turned into a huge fight! I had not expected it to become this hard! Right at the moment I needed it, a local climber cheered me on. Move after move I had to keep fighting, stay precise, keep going and stuffing the cut with chalk so it would bleed less… until I clipped the chains again! What an experience! A wonderful day to be grateful for."

It's quite obvious now that 9a doesn't trouble Anak much, as she is able to send those routes at a canter as well as repeat them like some do reps during training! We are eager to see her try more difficult routes, and a little bird actually tells us it may not be too long before that happens: To be continued!

Photo : Ramon Pujol