Seb Bouin a réalisé cette semaine une rare répétition du premier 8c de France "Azincourt" (nommée "Agincourt" en Angleterre) à Buoux, après 6 ou 7 séances de travail. Cette voie, située sur la vire des dévers au dessus de la voie classique des "Barouilles", avait été vaincue par Ben Moon en 1989, pour le second 8c mondial — après "Wallstreet" libéré par Güllich en 1988. Didier Raboutou a  ensuite répété la voie, devant le premier français dans le 8c, immédiatement imité par Marc Le Ménestrel. En attendant d'apprécier cette ascension dans la vidéo de Raph Fourau (Seb s'est permis de ré-enchaîner la voie le week-end dernier en faisant les images !), nous avons tenu à réunir les souvenirs des légendes Ben Moon et Didier Raboutou, près de 30 ans après !
Ben Moon : "Agincourt" est une voie spéciale pour moi pour différentes raisons. J'ai des souvenirs heureux de grimpe en France et plus spécialement à Buoux, un endroit spécial qui est un de mes préférés au Monde. La répétition de Seb Bouin arrive au bon moment car ce sera le 30ème anniversaire de ma répétition en janvier ! J'avais grimpé le « big 3 » : "La rage de vivre", "Le minimum" et "Le spectre du surmutant" qui étaient les voies les plus dures du monde à l'époque. Après avoir gravi ces voies, Laurent Jacob me parla de cette longueur sommitale des Barouilles. J'ai commencé à l'essayer en novembre 1988 et j'ai passé 2 semaines à bosser les séquences. À l'origine j'avais trouvé une séquence à droite des points, mais finalement j'ai trouvé une meilleure séquence par la gauche. C'est une voie super sympa dans un endroit superbe, sur ce caillou buouxien parfait. Un style très bloc avec des grands mouvements entre trous crochetants éloignés dans un dévers prononcé ; très typique du style local. J'ai été très proche fin 88 mais je pense que mentalement et physiquement j'étais cuit, j'avais besoin de rentrer à la maison et recharger les batteries. J'ai passé un mois à faire du bloc sur le Gritstone du Peak District et je suis retourné à Buoux en janvier, pour finalement réussir la voie à mon premier ou second jour sur place. J'étais très heureux. J'estimais la voie un cran au dessus des voies des Big 3, du coup je l'ai proposé à 8c.
Durant cette période, je grimpais avec un grimpeur japonais qui a pris quelques beaux clichés qui immortalisent ce moment. J'ai nommé la voie "Agincourt", d'après la fameuse bataille où une petite armée britannique avait défait une bien plus grosse armée française. C'était juste pour le fun, j'ai beaucoup de grimpeurs français parmi mes amis. Heureusement ils ont pris cette boutade au second degré !"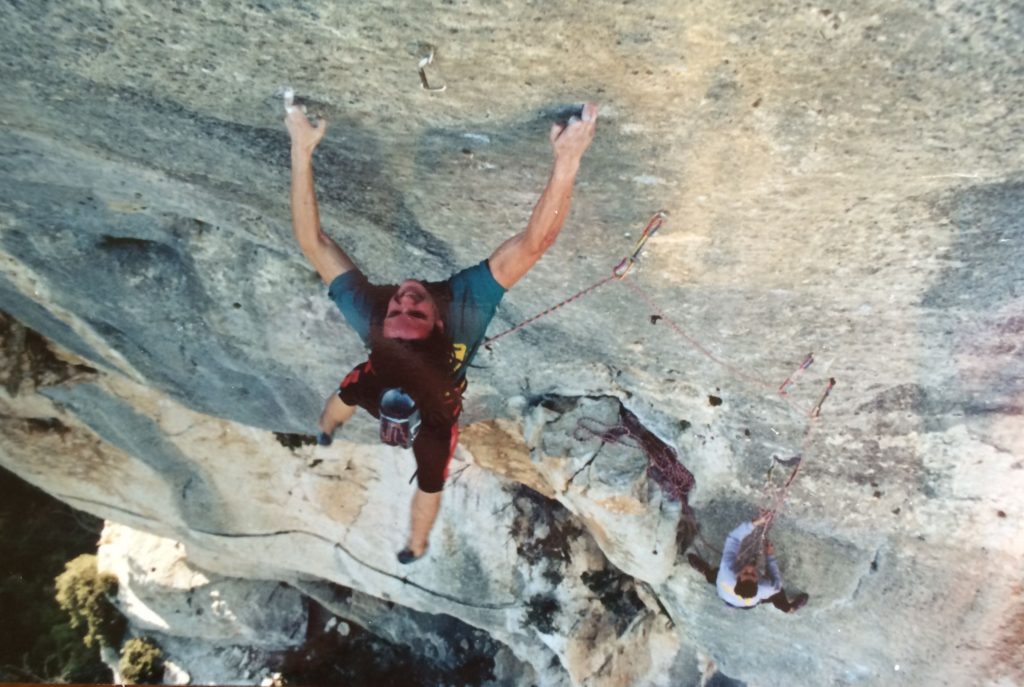 Didier Raboutou : "Azincourt", je peux dire que cela a été court pour moi ! Une journée de travail et un enchaînement le deuxième jour dans la voie, une semaine plus tard ! Mise à part une cupule infâme, ce sont les seuls faits dont je me souvienne. La date… autour de 1990, avec François Dreyfus à l'assurage le jour de ma croix."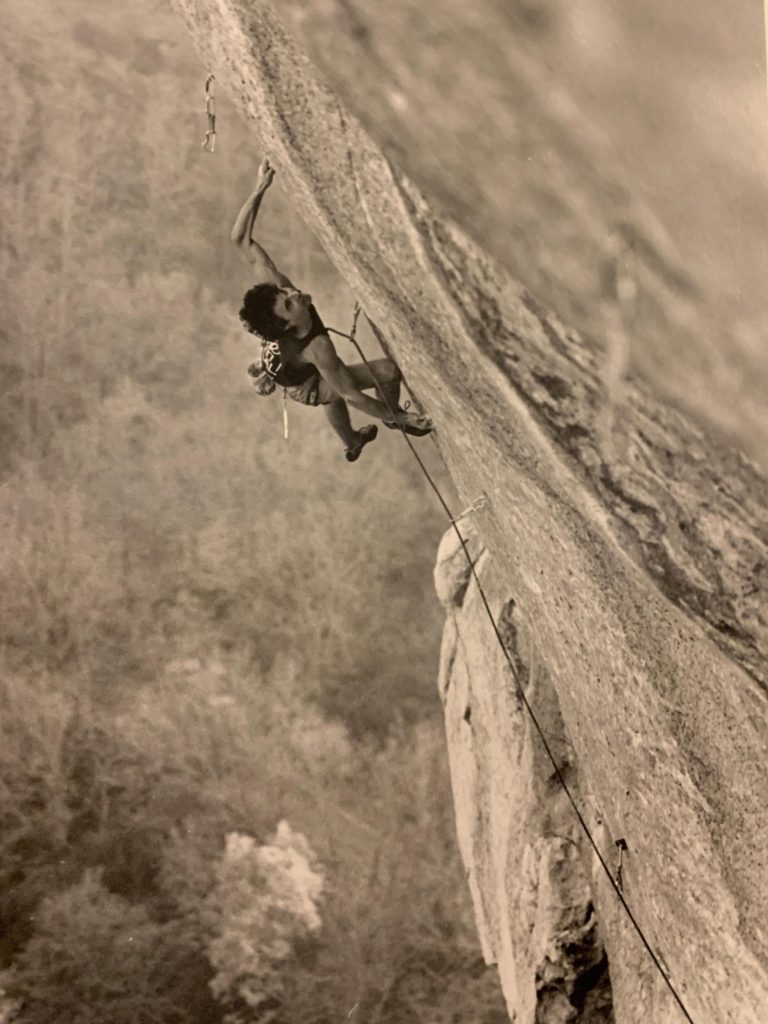 Seb Bouin : "Cette voie est vraiment atypique de part l'effort qu'elle propose et sa situation. En effet, Il y a une dizaine de mouvements durs, ce qui est très court pour une voie. De plus, le crux est très "buouxien": il faut tirer très fort sur un monodoigt pour s'étendre au maximum afin d'aller chercher un bidoigt plat main gauche afin de dynamiser dans un autre bon bidoigt main droite. Le problème de ce crux est qu'il est très traumatisant pour la peau et les tendons des doigts. Cela est fâcheux car on ne peut pas le travailler "longtemps", sinon on steake où on se tire les tendons. Il faut donc être efficace, et juste mettre des essais qualitatifs. Il faut aussi et surtout savoir se préserver pour éviter ces steaks et quelconques blessures. Cette voie est perchée dans le bombé des dernières longueurs dures de Buoux (à côté de "la chiquette du Graal", "Le spectre…",…). Cela rajoute un peu de gaz sous les pieds quand on grimpe.
L'objectif de ce Vintage Roc Tour est de répéter les voies historiques de France de 7a à 9a. L'idée finale est de présenter les voies historiques et l'évolution qu'il y a eu entre le premier 7 et le premier 9. Je voudrais apporter une réflexion sur ces voies qui ont fait notre histoire, et qui ont façonné l'escalade de nos jours."
Nous souhaitons à Seb bien du courage pour la suite de son parcours "vintage", avec pourquoi pas dans le futur des ascensions comme "La rage de vivre", "Hugh", "Biographie", et… "Akira" ?!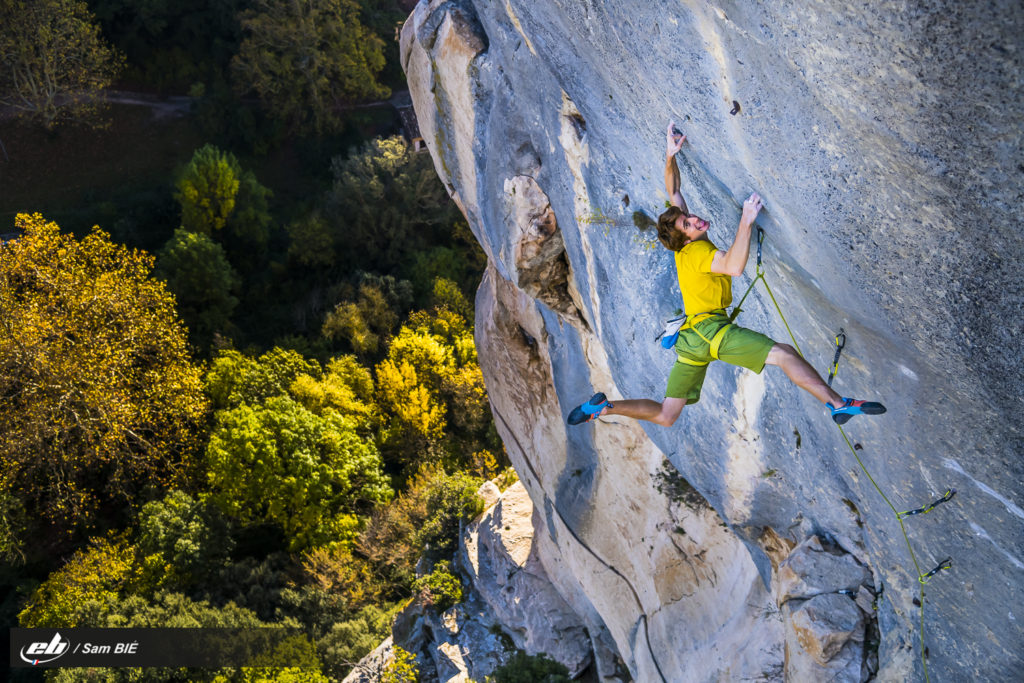 Seb Bouin gave this week a rare repeat of first French 8c with "Azincourt" (named "Agincourt" in England) in Buoux. This route located on the edge of a overhang sector in Buoux, just above the classic "Barouilles" was first ascended by British Ben Moon. It became the second 8c in the world after "Wallstreet" by Wolfgang Güllich in 1988. Didier Raboutou did the first repeat of the route, becoming the first French guy in the 8c range. While we wait for the vid of Seb in the route, coming soon, we are pleased to talk about this challenge and this piece of history with climbing legends Ben Moon and Didier Raboutou. 
Ben Moon: "Agincourt is a very special route for me for a number of reasons. I have very happy memories of climbing in France and especially at Buoux which is a special place and one of my favourite places in the world. Seb Bouin's ascent comes at a good time because it's the 30th anniversary of my ascent in January! I climbed the big 3 in Buoux, La Rage Du Vivre, Le Minimum and La Sprectra which were probably the hardest routes in the world at that time. After I climbed these route I was looking for another route to do and Laurent Jacob told me about the top pitch of Barouilles. I started trying it in November 1988 and spent about 2 weeks working out a sequence. Initially I found a way to the right of the bolts but then found a better sequence to the left of the bolts. It's a super cool route in a great location on immaculate Buoux rock. A very bouldery style of climbing with big moves between quite good pockets on steep rock. Pretty typical of the Buoux style. I got quite close at the end of 1988 but I think I was mentally and physically burnt out and need to go home and recharge my batteries. I spent a month bouldering on the Peak District gritstone and returned to Buoux in January and did the route on my 1st or 2nd day. I was super happy. I thought the route was a step up in difficulty from the big 3 and therefore graded it 8c.
I was climbing with a Japanese climber at the time who got some really cool photos which captured the style of the route. I named it Agincourt after the famous battle where a small English army defeated a much bigger French army in France! It was only meant as a bit of fun and I am good friends with lots of French climbers. Hopefully they can see the funny side!"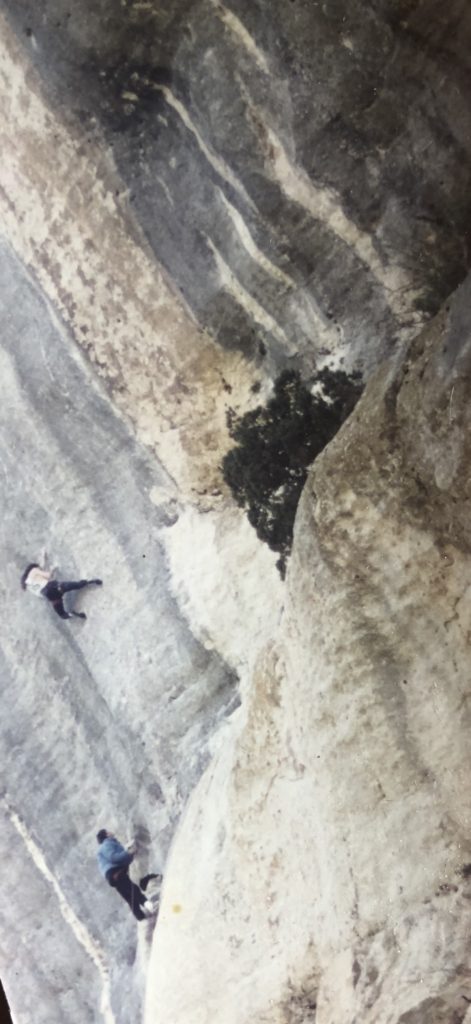 Didier Raboutou: "Azincourt, I can say it went very quick for me! A day of work, and the send for the second day in the route, a week later! Except for that horrible-to-hold pocket, I don't remember anything. The date…around 1990, with François Dreyfus belaying for the send!"
Seb Bouin: "This route is really special, for the effort it requires and also for the location. It's a sequence of 10 hard moves—very short for a route. And the crux is very "Buoux style", you need to pull very strong on a mono to get far to a sloppy two-finger pocket for the left hand, before going to another good two-finger pocket with the right hand. The problem is that the crux is very painful for the skin and the tendons. It's irritating because you can't work on it for very long. So you need to be efficient and just do good tries. You especially need to be careful of injuries and flappers. This route is located in an overhang, very high in the crag, in the last pitch of a multi-pitch route. It adds a great atmosphere when you are climbing. 
The goal of the vintage tour I'm doing is to repeat all the historical routes in France from 7a to 9a. The final idea is to give a presentation of these routes and the evolution between the first 7 and the first 9. I would like to reflect upon these masterpieces as part of our history, and which shaped the climbing of today."
We wish Seb a lot of courage for his quest, with in the future some climbs to plan like "La rage de vivre", "Hugh", "Biographie" or why not "Akira"!