Avant l'arrivée des mauvaises conditions en Suisse ce week-end, la collante était de mise cette semaine et des protagonistes en ont profité. Après sa coche dans "La cène du lézard" (9a+), Cédric Lachat est retourné à Gimmelwald et empoche son second 9a en deux semaines là-bas avec "Alpenbitter". La semaine précédente c'est "Jungfraumarathon" qu'il avait plié en 4 essais. Au programme maintenant pour lui cette fin d'année, les faces Sud et un retour dans "La Rambla". "Je ne pars pas de Siurana sans avoir plié l'affaire !" a t-il annoncé !
Seb Bouin revient lui du Rawyl avec "La cabane au Canada" 9a et effectue un point sur son séjour :
"Après avoir passé 3 journées dans la mythique falaise de Buoux pour mon "Vintage rock Tour", je suis monté faire un tour en Suisse, à la falaise du Rawyl (Valais). Nous avons été assez chanceux pour avoir 4 journées d'escalade ensoleillées. J'ai enchaîné "La cabane au Canada", supposé 9a, au deuxième essai. Je suis tombé au premier essai au dernier mouvement de la voie à cause d'une erreur de pied. Le plan été d'essayer cette voie flash, mais je n'ai trouvé personne pour m'expliquer les méthodes. C'était un super moment dans une super voie, une super falaise et un super lieu ! What else ? À propos de la difficulté de la voie, pas de commentaire public ! J'ai aussi réalisé la méga classique "Le voile de Maya" 8c au premier essai. J'ai essayé à vue mais je suis tombé au crux sur réglettes !
J'ai aussi essayé "Hyper finale" 9a+ et "Super finale" 9a, mais j'ai besoin de plus de jours et de meilleures conditions pour enchaîner ces voies-là…"
Photo de couverture : Cédric Lachat dans "Alpenbitter" 9a, Gimmelwald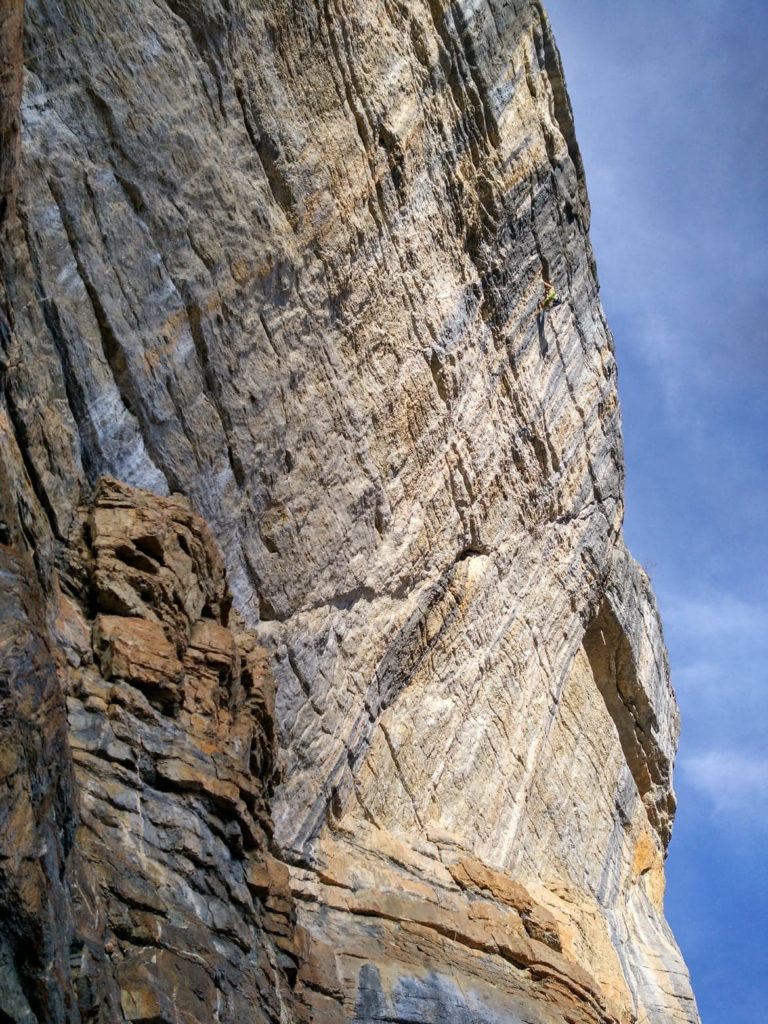 Before the arrival of bad conditions this week-end, dry and cold conditions were in Switzerland this week and some climbers took advantage of this window. After his send of "La cène du lézard" 9a+, Cédric Lachat is back in Rawyl, sendind "Alpenbitter", his second 9a in 2 weeks in the same crag. Last week, it was "Jungfraumarathon" which was repeated in 4 tries. Next step? Climbing in the sun and coming back in "La Rambla". "I will not leave Siurana without sending!" he stated ! 
Seb Bouin is also back from Rawyl with "La cabane au Canada" 9a and gives his feedback about his trip: 
"After spending 3 days in the mythic Buoux in France for my "vintage rock tour", I came to the nice and beautiful crag of "Rawyl" in Switzerland (Valais). What a place! We were Lucky enough to climb with the sun during 4 days. I sent "La cabane au Canada" supposed 9a – 5.14d in my third go. I felt on the last move in the second go because of a foot mistake… The plan was to try it flash, but I didn't find someone able to flash the moves. Anyway it's an amazing route, an amazing crag, in an amazing place.
No public comment about the grade of this route!
I also did the mega classic "Le voile de Maya" 8c – 5.14b in my second go. I try it onsight but I felt with a wrong beta in the crimpy crux. Next time 😉
I also try "Hyper finale" 9a+ – 5.15a and "Super finale" 9a, but I need more days and better conditions to do these ones."
Cover pic: Cédric Lachat, "Alpenbitter" 9a, Gimmelwald