Une voie de 9ème degré au Frankenjura réalisée par un français, en voilà une info peu courante ! Ce n'est que la seconde fois que cela arrive alors que le massif franconien regorge de voies dures avec plus de 2000 voies en 8a et plus. Melissa Le Nevé avait ouvert le bal avec sa répétition d' "Action Directe" 9a en mai, voici qu'Arthur Guinet, le grimpeur de l'extrême lui embraye le pas avec "Der Heilige Graal" ! Nous sommes allés à sa rencontre.

"J'étais déjà venu au Franken 2 fois auparavant sur de courts trips, mais là c'est différent : je ne bosse pas et j'ai décidé de passer du temps dans le coin. Concernant "Der Heilige Graal", en fait c'est un peu par hasard que je me suis retrouvé à essayer cette voie. Un grimpeur Autrichien m'en avait parlé et m'avait dit que ça me plairait. C'est la voie de conti sur une arche assez surprenante au secteur Kolosseum : 3 sections qui font 8b+, un repos total, un pas de bloc, un autre très bon repos et une fin autour de 8b (10 mouvements physiques suivis d'un réta sur plats avec un talon aux oreilles). Ces dernières semaines j'ai déjà fait bien mes gammes dans quelques 8c et 8c+ teigneux dans le Zillertal et au Franken. Là du coup c'est une voie bien dans mon style plutôt continue. Cela m'a pris 3 séances. Je l'ai fait au 4e. Mais bon faut être honnête c'est pas le même sport que de faire "Action directe" ou d'autres 9a courts du coin qui pour moi sont infiniment plus durs !"

Défi à relever alors !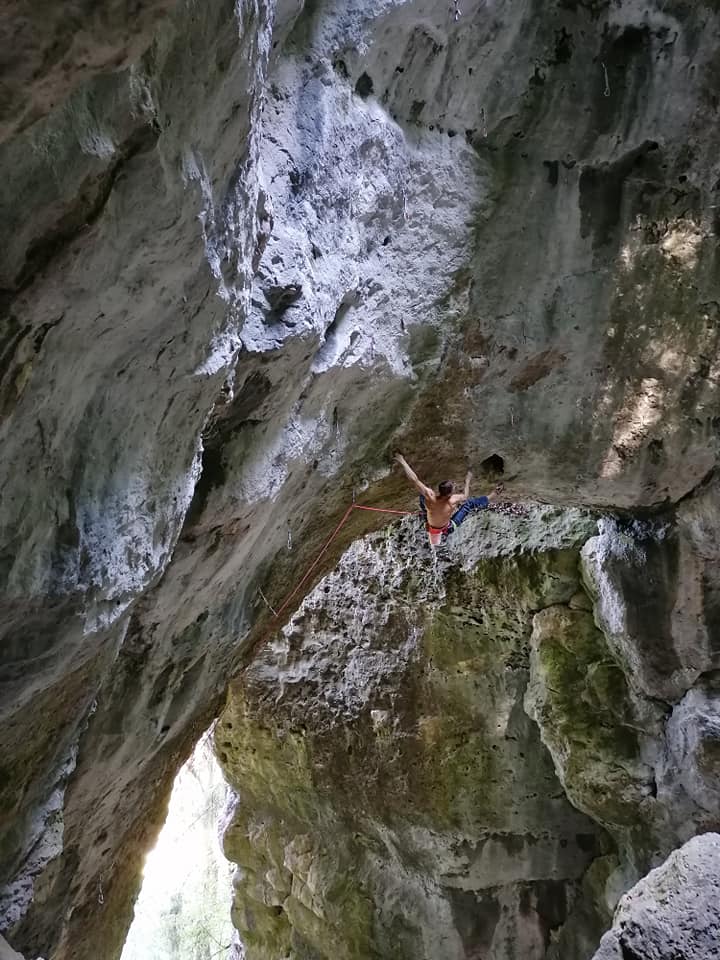 A route in the 9th grade in Frankenjura sent by a French climber is not very common! It's just the second time after the notable repeat of "Action directe" by Melissa Le Nevé in May. Arthur Guinet just did "Der Heilige Graal" the major arch first ascended by Adam Ondra in Kolosseum. Here are Arthur's thoughts.
"It's my third time here, but the 2 past times it was short trips. Here it's different, I'm not working and I have some time! ABout "Der Heilige Grall", I tried it because an Austrian climber adviced me this route. It's more a stamina route in a suprising arch in Kolosseum which can be divided in 3 parts : an 8b+, a good rest, a boulder problem, another good rest and an 8b 10 moves end with a mantle on slopers with an huge heelhook. These past weeks I sent some routes in the 8c – 8c+ range in Zillertal and Frankenjura, and this route suits me well. It took to me 2 sessions. I did it in my 4th real try. To be honest, it's not the same to send some short and powerful 9a routes here like "Action directe", it's harder!"
Let's see if Arthur will try seriously something short and hard in Frankenjura these next days !