En Catalogne depuis quelques semaines, le brésilien Felipe Camargo vient de réaliser son objectif du séjour avec la 3ème ascension de "El Bon Combat" à la Cova del Ocell proche de Barcelone. Cette ligne qui avait été libérée par Chris Sharma au printemps 2015 remonte un mur déversant de conglomérat sur près de 25 mètres : une escalade très complète avec des mouvements et des prises variées et des difficultés discontinues proposant des pas de bloc très marqués donc certains avoisinant le 8A bloc, se terminant par un dynamique en croisé des plus compliqués sur un gros plat. Chris avait proposé 9b/b+ lors de la première alors que Jakob Schubert avait signé la seconde ascension cet automne et suggéré 9a+. Felipe propose 9b, cette voie étant la plus dure qu'il ait réalisée jusqu'à présent. Nous sommes allés lui poser quelques questions sur cette réalisation.

Pourquoi avoir choisi cette voie, toi qui es plutôt adepte des toits?
J'ai choisi cette voie car l'an dernier j'ai eu l'occasion de l'essayer après avoir fait "Gancho perfecto" (9a/a+ de la Finestra, Margalef), et j'ai adoré ! C'est aussi mon style : des arquées et des mouvements puissants… et pas trop long ! La voie est vraiment belle, une des meilleures de Catalogne pour sûr !

Comment s'est passé le processus jusqu'au succès?
Je l'ai essayé pendant 2 semaines en novembre/décembre. Puis je suis rentré à la maison et je me suis entraîné spécifiquement pour ce trip, et à mon 9ème jour de grimpe je l'ai faite. J'ai décidé de ne grimper qu'un jour sur deux ce séjour, donc cela a fait au total 18 jours ici dont 9 de grimpe.
Comment as-tu abordé les principales difficultés de la voie?
La principale chose pour moi a été d'avoir l'endurance de force nécessaire pour arriver au crux depuis le sol… Tu grimpes un 8c jusqu'à un mauvais repos et ensuite tu grimpes un truc comme un long 8A+ bloc. Réussir cette partie après avoir déjà enchaîné le bas a été pour moi le principal crux !
Et la cotation ? Chris a dit 9b/b+, Jakob 9a+, toi 9b ?
Je ne peux pas vraiment comparer car je n'ai pas essayé beaucoup de 9b. Mais c'est de loin ma voie la plus dure ! Ethan Pringle et Sean Bailey qui l'essayent pensent aussi que c'est 9b. Le temps nous dira !
La suite pour toi ?
J'aimerai aller essayer "Biographie" cette année ! Et aussi aller découvrir Rocklands !
Photos : Jan Novak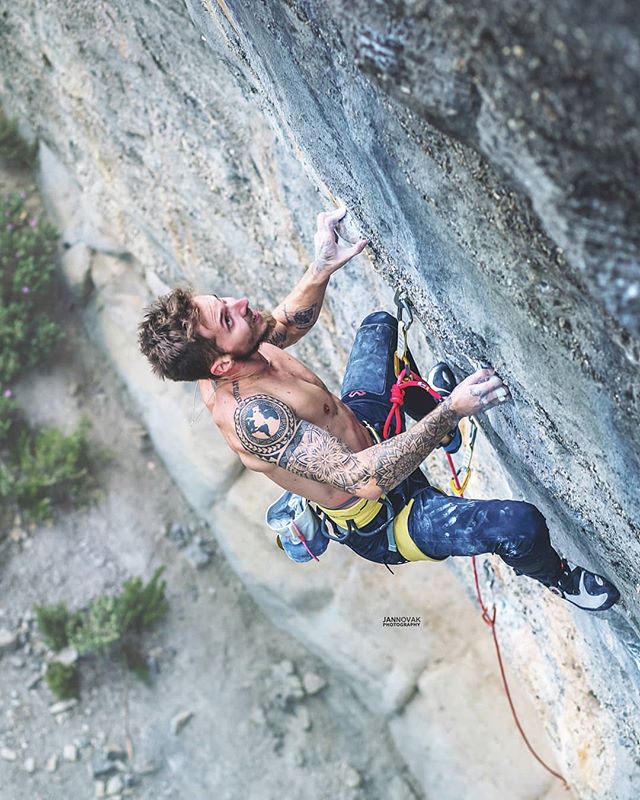 In Catalunya since few weeks, Brasilian climber Felipe Camargo just realized his goal of the trip with 3rd ascent of "El bon Combat" in Cova del Ocell close to Barcelone. The route has been freed by Chris Sharma in Spring 2015: it goes throw a conglomerate overhanging wall 25 meters high: a very complete climbing with various moves and holds and several very hard crux sections in the 8A boulder range. The final dyno cross on a sloper looks insane. Chris suggested 9b/b+ for this line and Jakob Schubert who did the second ascent last Fall said 9a+. Felipe suggests 9b for his hardest route ever. We asked him few questions.
Why did you choose to work this route? Aren't you more a roof addict?!
I choose it because I tried it last year after doing "Gancho perfecto" (9a/a+) and I totally loved it!! Is really my style too…crimps and powerfull moves…not too long! And the route is just really really beautiful! One of the best in Catalunya for sure!

How was the process until the success?
I tried for 2 weeks last year in november/december! Then, I went back home, I trained specifically for it and on this trip i did it on my 9th climbing day on it! I had to always climb one day and rest one day. So 18 days and 9 climbing.

What about the main difficulties of the route for you?
The main thing for me was the power endurance to make trough the first red point crux from the ground…You climb like an 8c to a bad rest…And after you do like a long v12 boulder problem…To send this boulder after climbing the bottom was the main crux for me!

What about the grade? Chris Said 9b/b+, Jakob 9a+? You said 9b?
I can't really compare much cause i haven't tried many other 9bS! But it's my hardest climb by far! Ethan Pringle and Sean Bailey seem to think it is 9b as well…But only time will tell!

What's next for you?
I would love to go try "Biographie" this year! And also check out Rocklands for the first time!
Photos: Jan Novak