"Voies féminines" est un documentaire co-réalisé par le photographe et vidéaste brésilien Francisco Taranto Jr et sa compagne Sandra Ducasse. Présenté depuis ce début d'année dans plusieurs festivals du film de montagne, "Voies féminines" propose 3 portraits de femmes passionnées d'escalade et de montagne. Martina Cufar-Potard, une ancienne championne du monde d'escalade et maintenant, grimpeuse, ouvreuse et maman toujours aussi boulimique d'escalade, Liv Sansoz qui nous explique son style de vie après un lourd accident et la gloire en compétition d'escalade. Pour finir, Marion Poitevin, une grimpeuse et alpiniste qui bouscule les codes du milieu très masculin de la montagne.
Martina Cufar-Potard, ancienne championne du monde d'escalade est une des première femme à avoir fait un 8c. Dans ce film, elle nous montre qu'il est possible de vivre et d'être maman sans se passer de l'escalade. Au cours de son témoignage et de celui de ses proches, on se rend compte à quel point elle est forte et déterminée. Sa motivation à grimper tous les jours et sa belle longévité dans le haut-niveau en escalade inspirent.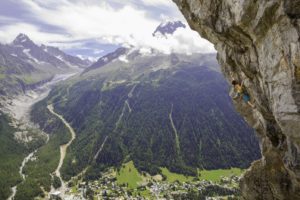 De son côté, Liv Sansoz nous montre à quel point il est important de vivre et de profiter de chacun de ces instants. Elle le fait très bien depuis son double titre de championne du Monde d'escalade et l'arrêt de la compétition, en touchant à toutes les facettes des activités de montagne : escalade, alpinisme, ski, parapente,.. Sa quête : renouveler sans cesse sa motivation, et mettre en exergue les deux valeurs qu'elle a tissées de ses expériences, le dépassement et la confiance en soi.
Quand à Marion Poitevin, on se rend compte au fil du film qu'elle a un très fort caractère et a réussi à trouver sa place dans les montagnes afin de pratiquer ce qu'elle aime. Marion est guide de haute montagne et fut la première femme au GMHM en plus d'avoir fait partie de l'équipe féminine d'alpinisme. Elle est l'illustration qu'une femme peut parfaitement réussir dans ce milieu et remet en cause les jalons culturels et sexistes de l'alpinisme.
Rafraîchissant et atypique "Voies féminines" dresse de manière sincère et authentique 3 portraits de grimpeuses chevronnées, qui continuent à vivre pleinement leur passions en dehors des radars. Ce film est un message pour tou(te)s : vous pouvez le faire, alors foncez !
Pour voir le Film en VOD ou trouver un lieu de projections: http://www.fotovertical.com/fr/films/voies-feminines.html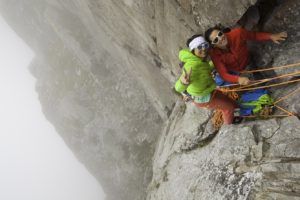 "Voies féminines" or "Women's Way" is a documentary directed by Brazilian photographer and videographer Francisco Taranto Jr and his wife Sandra Ducasse. Presented in several mountain film festivals since the beginning of this year, "Voies féminines" shows 3 portraits of women who are passionate about climbing and mountain climbing. Martina Cufar-Potard is a former sport climbing world champion and a climber, routes setter and a mother, still hungry for climbing. Liv Sansoz explains her lifestyle after a heavy accident and past glory in competition climbing. Finally, Marion Poitevin, a climber who changes the codes of the very masculine world of the mountaineering.
Martina Cufar-Potard, former world champion in climbing and one of the first women to have made an 8c, shows us that it is possible to be a mother without giving up on climbing. During her testimony and the ones of her relatives, we realise how strong and determined she is. Her motivation to climb every day and her impressive longevity in the top-level climbing are inspiring.
Liv Sansoz shows us how important it is to live and enjoy every moment. She has done very well since her double title of world champion in sport climbing and stopping the competition, touching all facets of mountain activities: climbing, mountaineering, skiing, paragliding, …. Her quest: to always renew her motivation, and follow values that she has gained from these experiences: surpassing herself and self-confidence.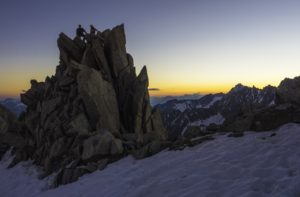 For Marion Poitevin, we realise throughout the film that she has a very strong personality. She managed to find her place in the mountaineering world to practice what she loves. Marion is a mountain guide and was the first woman at Groupe Militaire de Haute Montagne while being part of the women's alpine team. A demonstration that a woman can perfectly succeed in this environment and question cultural and sexist milestones of the mountaineering world.
"Voies féminines" is an atypical documentary that portraits in a very sincere and authentic way 3 experienced women climbers, who continue to live their passions without being noticed. This film is a message to all women: you can do it, so go for it!
To watch the movie  http://www.fotovertical.com/fr/films/voies-feminines.html
Photo: FotoVertical