Mattéo Soulé monte en puissance. Il y a quelques jours en compagnie de son père il cochait "3 pattes dans le plâtre" 8c, conjurant le sort après le terrible accident de Pierre dans la voie il y a une décennie.
Cette semaine, c'est toujours aux gorges du Tarn au célèbre secteur Tennessee que le jeune prodige de 13 ans s'illustre avec la première ascension d'un projet très dur de la falaise, "Dieu Merci". Cette voie de 50 mètres, sortie directe du 8a classique des "ailes du désir", a été équipée par Ivan Sorro il y a environ 15 ans. Essayée par quelques cadors au travers des années la voie était restée invaincue, proposant un monstrueux pas de bloc sur prises minuscules. En effet, après le 7b+ d'approche et deux dégaines dans le 8a classique en extension (pour une approche estimée à 7c/c+), "Dieu merci" continue tout droit dans le fabuleux mur de dolomie sculpté avec un crux très dur estimé autour du 8A bloc qui propose un croisé décroisé depuis un monodoigt en main gauche vers une fourchette en bidoigt main droite très difficile à tenir (cf photo) et une double relance sur des prises pourries en guise de décroisé jusqu'à une alvéole plate où il ne faut pas perdre les pieds. S'ensuit une fin pas facile tout en gestion qui vaut intrinsèquement 8a+/b avec un dernier mouvement aléatoire sur plat tout en haut …

Mattéo a passé en tout 6 séances dans la voie dont 2 pour défricher et arriver à faire tous les mouvements. Après avoir buté dans le pas de bloc à de nombreuses reprises, Mattéo aura eu la qualité de ne pas tomber dans la suite de la voie qui propose un final dont la gestion est compliquée juste après avoir enfin réussi le crux dans l'enchaînement. Preuve de sa maturité et de son talent ! Pour le niveau, n'ayant aucune expérience dans le domaine, Mattéo préfère ne pas se prononcer, mais la proposition est plus dure que tous les autres voies dures des gorges ("Adieu Wolfgang", "Antithèse") ou que "Meh power" (8c/+) et est estimée par les locaux entre 8c+ et 9a, à confirmer… Si la difficulté de cet itinéraire venait à être confirmée "Dieu merci" deviendrait la ligne la plus dure des gorges. Avis aux répétiteurs !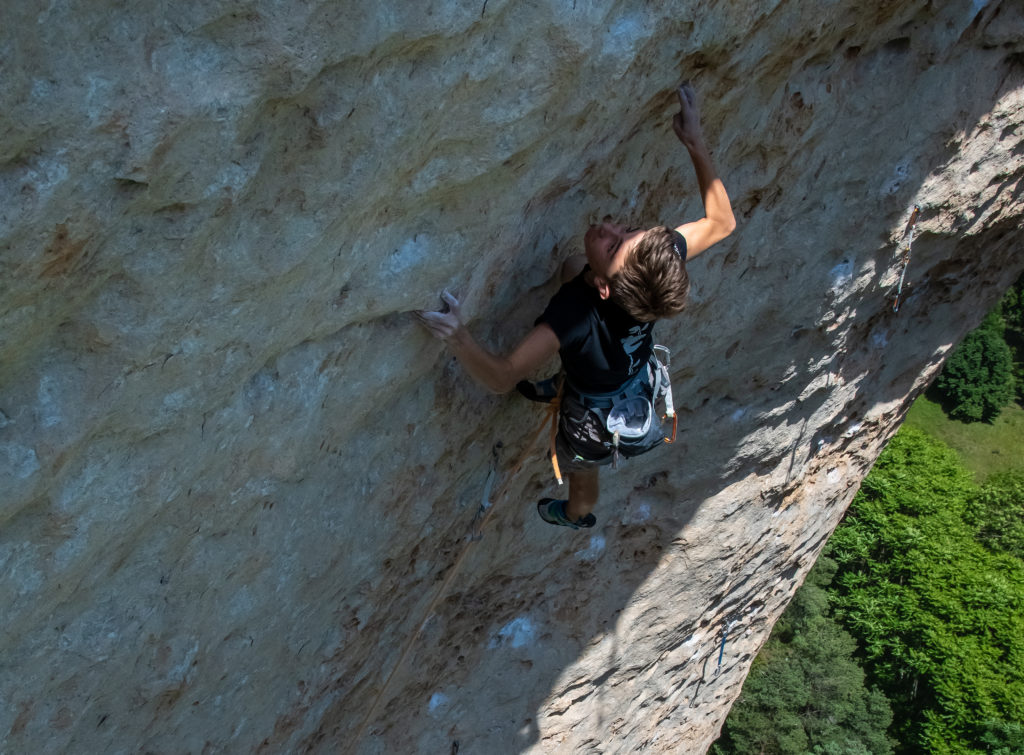 Young French gun, Mattéo Soulé, 13, is in shape! Fews days ago he ticked with his father "3 pattes dans le plâtre" 8c, a nice story/ happy end after the accident of his father in this route a decade ago. This week, it is at an other sector of gorges du Tarn, Tennesse where the young talent striked again! Mattéo did the first ascent of an old project of the crag "Dieu Merci". This line bolted by Ivan Sorro 15 years ago is the direct exit of famous 50 meters monster ultraclassical 8a "Les ailes du désir". Some top climbers have tried it through the years but the line remains unrepeated… After having climbed 2 bolts in the 8a extension, instead of turning left in "Les ailes" you continue straight in the headwall until a rest (7c/+ until this point). Then the crux came, an 8A boulder cross move from a mono until a tiny and fingery twofinger pocket, and after you need to go far on the left and go again on poor pinches until a flat hole where you need to keep the balance for staying on your feet. After that an 8a+/b finish is remaining with again a tricky move with sloper at the top.

Mattéo spent 6 days trying the route, 2 for catching the betas and 4 for the tries. He was quite efficient because he climbed the route the first time he succeed to climb the crux from the ground. No mistakes in the last part, proof of his maturity and talent!

For the grade, he prefers not to give his opinion but the proposition is harder than other hard routes of the gorge, 'Adieu Wolgang", "Antithèse" (8c) or Meh Power" (8c/+), around the 8c+ or 9a range… If the difficulty of the route is confirmed "Dieu merci" will become the hardest line of gorges du Tarn! Next repetitors will decide!

Photo : Mélanie Cannac