La présidente de l'association Greenspits Carole Palmier est de retour aux affaires en falaise avec la réussite du 8c classique de la célèbre falaise d'hiver de l'arrière pays Montpellierain, Claret, la proue de "Guère d'usure" marquée par une section de résistance courte sur des prises plates en compression, le tout les pieds à plat.
"J'ai effectué quelques séances isolées entre décembre et janvier sans concrétiser, puis je me suis dit qu'il fallait que je m'investisse un peu plus alors je suis revenue 2 fois 2 jours la même semaine et j'ai acquis la résistance nécessaire pour venir à bout de la bête ! C'était un gros combat pour moi, la rési longue n'est pas mon fort avec mon training boulot/soirées… J'ai trouvé de bonnes méthodes dans l'approche et le crux en essayant avec d'autres grimpeurs, dont un genou droit qui m'a permis de me mettre en place sans trop forcer juste avant la "claque" (ndlr : le crux de la voie, en photo de couverture), puis là haut je me suis donnée au max en criant à chaque mouvement.
Ce que je retiens de cette coche c'est qu'il n'y a qu'en forçant qu'on apprend à forcer !
J'ai pris beaucoup de plaisir à essayer et réessayer et encore essayer car la gestuelle est magnifique ! J'ai aimé la précision que la voie demandait, il faut savoir doser l'intensité et rester concentré tout le long car les mouvements sont plutôt aléatoires. Cette voie m'a motivé à essayer des projets plus "rési", c'est trop bon d'aller au bout du bout à chaque essai !"
Photos : Franck Andolfatto – Bartas Productions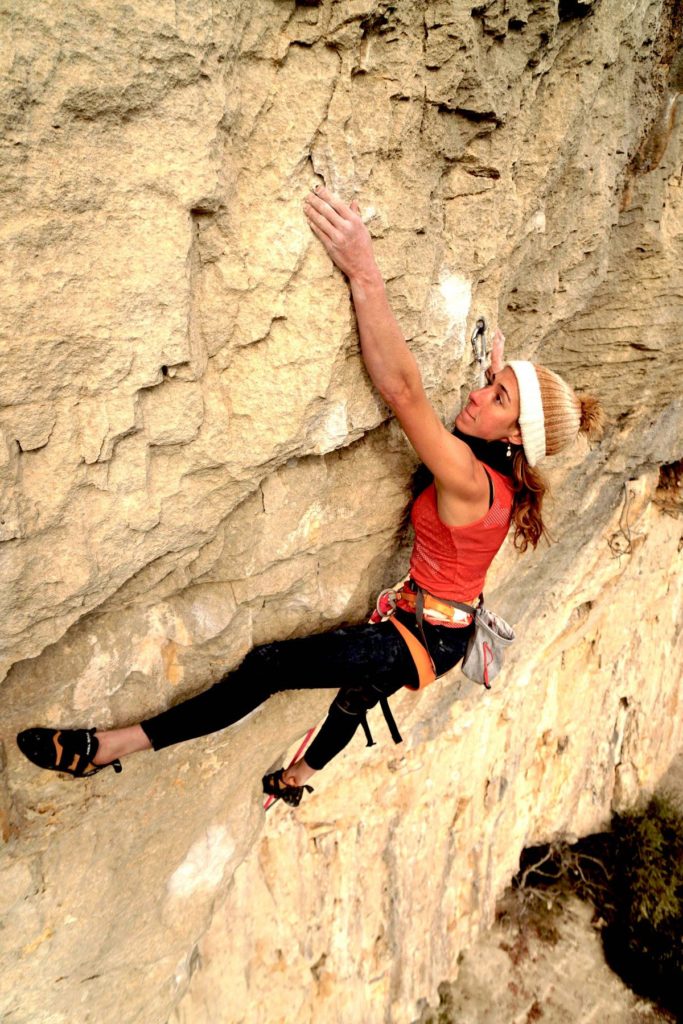 President of Greenspits association (dedicated to crag preservation in France) Carole Palmier is back in business with a repeat of classic 8c of the winter crag near Montpellier, France: the nice prow of "Guère d'usure" in Claret. The route proposes a tricky resistance section on slopers and very bad feet. 
"I did some isolated sessions between December and January, but I understood I needed to climb more on the route to have a chance of sending it. I finally did two days in a row twice a week to get the resistance required. Long resistant routes are hard for me, even without specific training. I found good betas in the approach and the crux, with a good kneebar which helped me to be more solid just before the slap (ndlr : the crux here in cover pic)  then I was in a muerte mode, screaming in every movement. 
What I could say about this send is this: without climbing a muerte you learn to test your limits! I liked the precision required by the moves. You need to feel the movements and stay focused because some of them are uncertain. This route motivated me to try more resistant routes, it's so good to give everything you have in every try!"