Au début de l'année, Hugo réalisait son premier 9b à St-Léger avec "Eagle-4". Deux mois plus tard, le revoici sur le lieux pour un séjour express de 4 jours où il a répété "Le Cadafist" 9a. Ce départ direct de "Rêve de poutre" (8c) empile deux sections très résistantes qui valent chacune un gros 8c. La partie du bas est notamment très dure, suite à la casse d'une prise clé par Adam Ondra lors d'un essai à vue. C'est la 3ème ascension de la voie après Gérome Pouvreau et David Firnenburg.

"Avec plein de choix de lignes à essayer, j'ai décidé de suivre Elie Morieux dans "Le Cadafist". Il m'a donné tous les détails et servi des méthodes parfaites sur un plateau. J'étais vraiment loin de le faire, j'étais juste en train de grimper dans cette ligne incroyable et je commençais à envisager de revenir pour revenir jouer dedans. Le dernier jour il y avait de très bonnes conditions avec un fort Mistral. j'ai mis un essai après la chauffe. Cette fois, j'ai passé le premier move après l'arbre et j'ai continué dans le crux. Sans arrière pensée, j'ai passé le verrou et le dunk pour arriver au repos. Je me suis bien reposé 20 minutes, pensant caler dans la 2ème partie de la voie, qui est la partie dure de "Rêve de poutre" 8c. Finalement j'ai quitté le repos assez frais et j'ai réalisé facilement les 5 mouvements suivants, puis j'ai abordé bien pété les 6 derniers. Avec l'impression que je ne pourrais jamais le faire, j'ai réalisé le dernier mouvement d'allonge et attrapé le bac final.

Tout cela pour dire que j'ai eu la sensation la plus forte et la plus intense que j'ai jamais ressentie en escalade. C'était incroyable et fou. Merci Elie et toute l'équipe pour les bonnes vibrations de ce week-end. "

Photo: Jan Novak Photography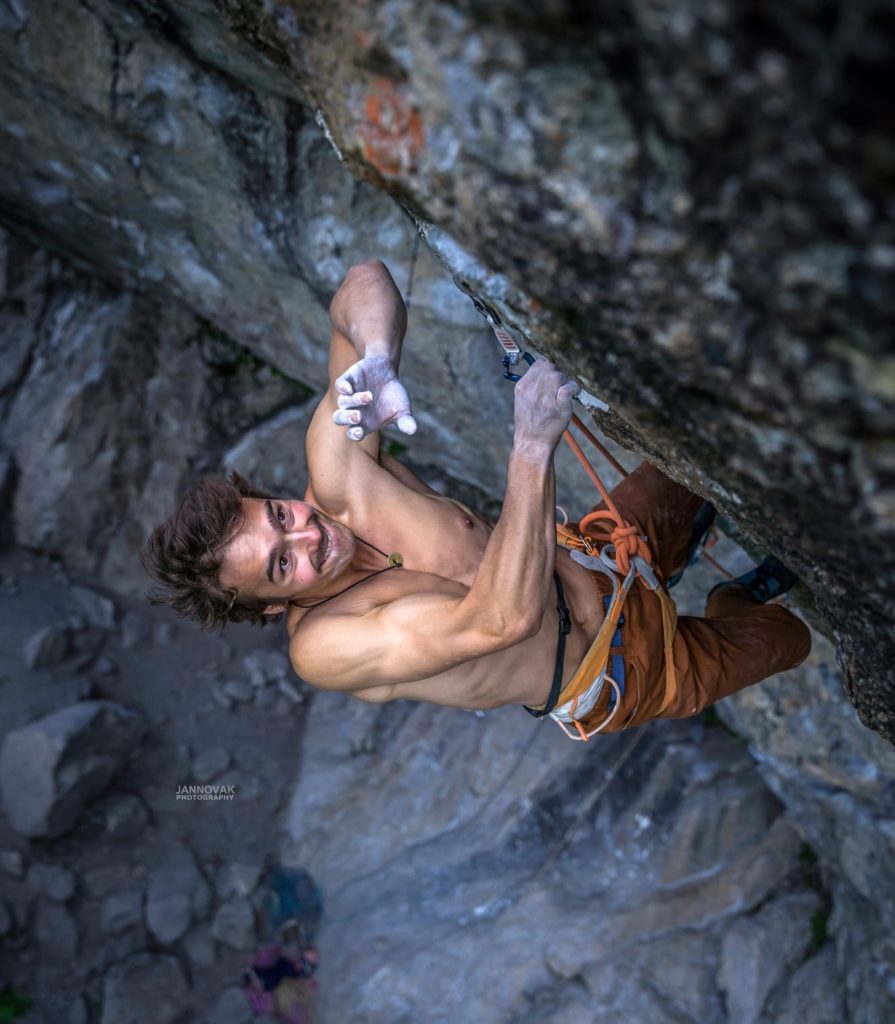 At the beginning of the year, Hugo completed his first 9b with "eagle-4". Two months later Hugo is back in this place for a 4 day trip where he could send "Le Cadafist" 9a. This direct start of "Rêve de poutre" combines 2 very resistant sections (given around 8c each one). The lower part is harder since a broken key hold by Ondra during an onsight attempt. It's the 3rd ascent of the route after Gérome Pouvreau and David Firnenburg.

"With plenty of choices, I decide to follow Elie Morieux in "Le Cadafist". He gave me all the tricks and helped me find the perfect beta. I was really far from doing it, I was just climbing on this amazing line and started to feel that I would love to come back for it. The last day there were crazy good conditions with the famous Mistral blowing strongly. I just gave it a go after warming up. This time I passed the first move after the tree and continued to the crux. With nothing on my mind I passed the fist and the dunk move and reached the rest. I must have stayed there more than 20 minutes, completely pumped, knowing that I would fall in the last section (which is the hard part of Rêve de Poutre, 8c). Finally I left the rest pretty fresh and did the first 5 moves quite easily but too tired to do the last 6. With the impression I could never to it, I barely stuck the reachy move and grabbed the final jug.
All of this to say that I've had the strongest and most intense feeling I ever experienced in climbing. It was unbelivable and crazy. Thanks Elie and all the team for the good vibes this week end."

Photo: Jan Novak Photography