Interview exclusive avec la championne d'Europe en titre, la belge Anak Verhoeven qui a profité d'un court break falaise au début du mois pour libérer "Sweet neuf" 9a+. Si la cotation est confirmée la voie deviendrait le second 9a+ mondial féminin. Les photos et la vidéo qui illustrent sont l'oeuvre de Seb Richard.
– Fanatic Climbing : L'été s'est bien passé ? Satisfaite de tes prestations sur la première partie de la saison internationale ?
– Anak : Cette année, la saison de difficulté a démarré avec 5 compétitions d'affilée. Cela a été un délicat mélange de compétition, de voyage et des courtes périodes d'entrainement entre. Mais après une victoire aux championnats d'Europe, je peux dire que ça s'est bien passé. J'ai aussi gagné les Jeux Mondiaux en Pologne et je suis très fière de ces 2 titres. Nous sommes maintenant à la moitié de la saison. Les 4 premières coupes du Monde n'ont pas été parfaites avec une médaille d'argent et 2 de bronze. Il me reste encore beaucoup à faire pour m'améliorer!
– Fanatic Climbing : Raconte-nous en quelques mots ton titre européen et ce que tu en retires !
– Anak : Je m'étais bien préparée pour cette compétition. Je ne me sentais pas très bien en phase de qualification mais j'ai été soulagée le lendemain quand les sensations sont revenues. Mon run de demi-finale était bien, mais très long par rapport à la limite temporelle des 6 minutes. J'ai sorti la voie une seconde et demi avant le gong ! Fiou ! Après avoir réalisé le mouvement qui me fait gagner en finale, les 2 speakers locaux ont commencé à compter les mouvements jusqu'en haut, démarrant un décompte à chaque mouvement supplémentaire que je faisais. Grâce à cela je me suis sentie des ailes et j'ai compris que j'avais gagné.
Une chose qui m'a frappé (à nouveau) est le fait que le gagnant prend tout. Quand tu gagnes une compétition, tu es temporairement célèbre et tout le monde veut te rencontrer. Il y a plus d'une compétition où je n'ai pas gagné et je sais aussi ce qu'on ressent.
– Fanatic Climbing : Si tu peux revenir en quelques mots sur ta réalisation de "San Ku Kai" à Entraygues en août ?
– Anak : Je suis venue à Entraygues juste après la coupe du Monde de Briançon. En m'échauffant je me suis blessée légèrement au coude et je me sentais fatiguée de la compétition, mais j'avais un jour en falaise et je voulais en profiter pleinement. J'ai d'abord essayé tous les mouvements de « San Ku Kai » et fait un essai, où je suis tombée au crux. D'habitude je n'essaie jamais de réaliser des voies dures avant d'avoir trouvé et complètement mémorisé les méthodes qui marchent le mieux pour moi. Mais comme nous étions plusieurs grimpeurs à essayer et que je ne voulais pas passer trop de temps à caler dans le crux de la voie.
Il s'agissait de trouver les bons pieds et de choisir en séquence de pieds entre une lolotte ou une grosse carre externe. Décider quelle méthode adopter m'a coûté plus ou moins 3 essais : finalement j'ai opté pour la carre externe, en plaçant mon pied plus haut qu'avant. En même temps il a commencé à pleuvoir et la fin commençait à mouiller. C'était la fin de journée et il ne restait peu de temps avant que ça devienne sombre. Je n'attendais pas grand chose de cette dernière tentative. Je me suis rappelée une situation similaire plus tôt cette année, à St-Léger du Ventoux, où j'avais enchaîné « Le concept » sous l'orage, avec de la pluie, des coups de tonnerre et des éclairs à tout va. Je me suis dit : « Si je n'essaie pas, c'est sûr que je ne pourrai pas réussir. Mais si j'essaie et que je donne tout malgré la fatigue, ma peau des doigts broutée, mon coude douloureux et la pluie, il reste une chance ! Je vais la faire. » J'ai donc fait cette dernière tentative et j'ai clippé le relais !
– Fanatic Climbing : Tu viens de réaliser une première ascension à Pierrot Beach une voie qui était essayée par les locaux depuis 2 ans. Dis-nous en plus.
– Anak : En avril 2016, quand j'avait réalisé la première ascension de "Ma belle, ma muse" 8c+, (ou 8c+/9a à confirmer) j'avais essayé "Sang neuf" 9a pendant 3 jours. Malheureusement j'avais dû abandonner le projet à cause du mauvais temps.
Malgré que la voie soit déversante, les mouvements sont très techniques avec des mauvais pieds. Le mouvement entre la seconde et troisième dégaine est très loin et si tu n'as pas un bon assureur tu peux terminer par terre si tu voles à cet endroit. Au milieu de la voie il y a une section assez marrante où tu dois faire pas mal de mouvements juste pour avancer d'un mètre. Le crux principal est sous la chaîne. Tu dois faire un mouvement d'épaule extrême et garder ton gainage avec les pieds haut pour attraper une petite verticale, re-bouger les pieds encore plus haut et dynamiser dans un plat. Ces derniers mouvements étaient si durs que je me suis demandé si je serai capable de les empiler après avoir fait le début de la voie. Avant de quitter la falaise, ma mère avait filmé toutes les séquences pour conserver un souvenir des méthodes si je voulais revenir dans e futur, histoire de ne pas repartir à zéro.
Pendant mon récent trip ce mois de septembre, j'ai pris une journée pour recaler tous les mouvements encore une fois jusqu'à ce que je sois sûre de connaître chaque séquence et chaque prise de pied par cœur. Ensuite, le jour suivant, j'ai enchainé « Sang neuf » à la première tentative ! Ma vision du après-travail est tout le temps comme cela. Je ne fais pas d'essais avant que je sente que j'ai une réelle chance de faire la voie. C'est pour cela que j'ai grimpé « La Reina Mora » 8c+/9a ou d'autres voies dures dans ma première tentative.
Vu que « Sang neuf » rejoint « Home sweet home » 8c/c+, Sébastien Richard, un fort grimpeur local et photographe me suggéra de tenter l'intégrale de l'extension. J'ai donc bossé ces 25 mètres avec des mouvements puissants sur des réglettes et des trous, notamment à la fin.
Après un jour de repos, je me suis lancée dans ce nouveau défi : connecter « Sang neuf » 9a et la seconde partie de « Home sweet home » 8c/c+ (la première longueur de cette dernière est 8a+). J'ai réussi à refaire « Sang neuf » de nouveau, et après un court délayage au relais du 9a avec un petit genou, j'ai réussi à me refaire sur des prises correctes. J'ai continué dans « Home sweet home » déterminée à résister. Et ça l'a fait de nouveau ! J'étais si heureuse de clipper le relais. J'ai appelé Quentin Chastagnier qui avait équipé "Sang neuf" et on a décidé d'appeler l'intégrale "Sweet neuf" 9a+.
– Fanatic Climbing : Et niveau cotation ?
-Anak : L'ouvreur et les locaux qui l'essayaient sont à peu près sûr que « Sang neuf » est 9a. « Sweet neuf » rajoute la partie la plus dure de « Home sweet home » à "Sang neuf" sans réelle grosse décontraction (comme des gros bacs ou un repos sans les mains). Donc ça me fait dire que « Sweet neuf » est 9a+. J'espère que d'autres grimpeurs vont essayer cette voie et vont donner leur avis sur la cotation.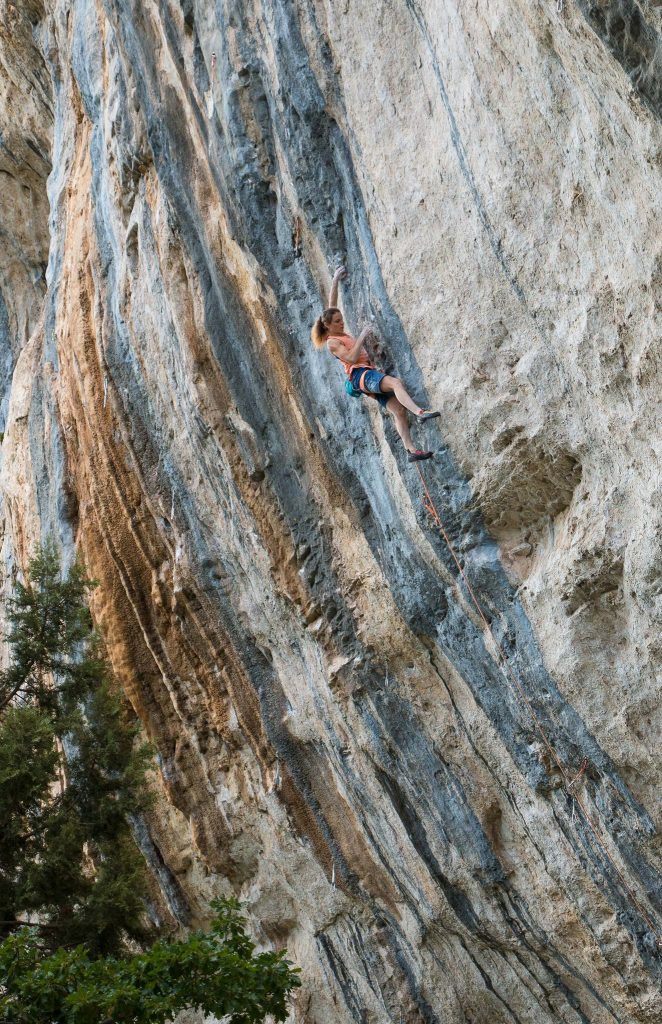 – Fanatic Climbing : Parmi les voies extrêmes que tu as enchaîné, quelle voie es-tu la plus fière d'avoir gravie ?
– Anak : Je ne suis pas fière d'avoir enchainé une voie en particulier, mais plusieurs voies m'ont demandé beaucoup de persévérance. Une de celles-ci est « Philippe cuisinier » à Rodellar, un 8b/b+ que j'avais réalisé à l'âge de 15 ans. J'ai dû chuter 8 fois au même mouvement, très haut dans la voie, un mouvement qui était extrêmement loin pour moi à l'époque. Mais je n'ai jamais songé abandonner et j'ai fini par réaliser ce mouvement et plier la voie !
– Fanatic Climbing : Un peu plus tôt avant cette croix dans le Vercors, tu étais dans le Verdon ? Les gorges et la Ramirole t'ont plu ?
– Anak : Le Verdon est une régions vraiment terrible. Magnifique. La marche d'approche de la Ramirole n'est pas confortable. J'étais heureuse d'avoir mon casque et de pouvoir m'encorder sur la via ferrata, plus précisément le dernier jour quand il a fallu remonter tout notre barda sous un vent d'enfer. La falaise entière est géniale, la vue est superbe et les routes sont excellentes. J'ai adoré « Spanish caravan » un 8c de 45 mètres qui traverse sur des colos. Mais il y a plein d'autres voies que j'aimerai essayer ici un jour !
– Fanatic Climbing : Penses-tu à l'avenir passer plus de temps en falaise pour faire des croix, car tu sembles assez loin de tes limites dans ce domaine ! Ou priorité à la compétition ?
– Anak : Oui, j'aimerai bien passer plus de temps en falaise dans le futur ! Mais tant que je fais de la compétition, j'aimerais le faire sérieusement. Cela veut dire pas trop de temps disponible pour le milieu naturel. Mais je serai heureuse quand dans le futur, j'arriverai au moment où je pourrai profiter du rocher.
– Fanatic Climbing : On parle rarement de tes entraînements. Tu as un coach ? Où t'entraînes-tu ?
– Anak : C'est mon père qui m'entraîne. Je m'entraîne environ 5 fois par semaine à la salle Klimax de Puurs, là où il y avait la coupe du Monde jusqu'en 2015. Mon père m'a aussi conçu un mur d'escalade à la maison pour que je puisse faire mes entraînements de force à domicile. Quand je me déplace sur les compétitions internationales, c'est ma mère qui vient avec moi en tant que coach.
– Fanatic Climbing : Comment cela se passe au quotidien niveau organisation ? Tu fais des études ou tu travailles à côté ?
– Anak : En ce moment je n'étudie pas et je ne travaille pas. Si je ne suis pas à l'entraînement je suis occupée avec des tâches secondaires concernant la compétition. Les jours de repos j'essaye de sortir et de faire du vélo et aussi des étirements.
– Fanatic Climbing : Comment analyses-tu ton style de prédilection, tes points forts ? Tes faiblesses ?
– Anak : Avant de faire un essai dans une voie dure, je me remémore les mouvements dans tous les détails. Parfois, je passe deux heures dans une voie (merci papa pour l'assurage patient !), oblige d'enlever les chaussons plusieurs fois avant de voir le relais. Je veux connaître chaque prise de main, de pied, chaque mouvement, chaque clip par cœur avant de pouvoir envisager une ascension. Le perfectionnisme peut aider pour un athlète, mais il peut être aussi une faiblesse dans le fait de tout vouloir contrôler. C'est un aspect sur lequel je dois progresser.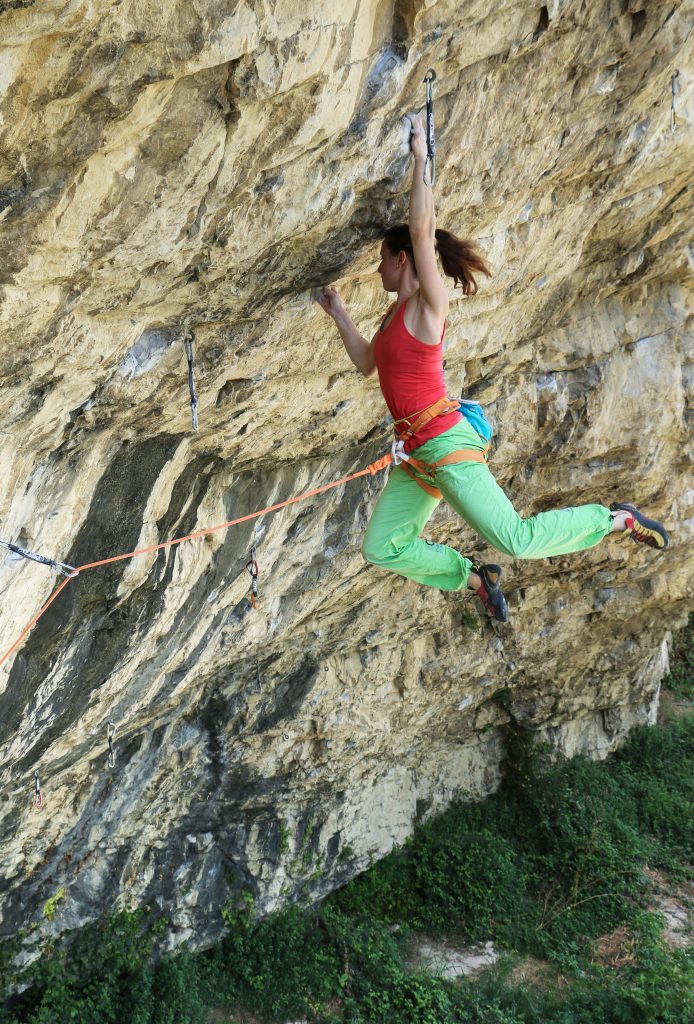 – Fanatic Climbing : Sur ton site web, il y a la mention "Climbing for Jesus". Si tu peux décrire en quelques mots ta foi et ton engagement.
– Anak : Ce que je crois, ou actuellement je suis certaine à 100% : C'est que Dieu a créé et possède ce Monde. En tant qu'humains, nous ne voulons pas être dépendant de notre Créateur, nous sommes des rebelles. Et parce que nous ne vivons pas selon sa volonté, nous ne pouvons pas rentrer dans la vie réelle après notre mort. En fait, notre désobéissance à Dieu fait que nous méritons d'être séparé de lui pour toujours. Cependant, je crois que Jésus (de son vrai nom Yeshua en hébreux) est le fils de Dieu, qu'il est venu dans notre monde pour supporter le poids de nos fautes. Il a donné sa vie sur une croix afin que nos fautes puissent être pardonnées et pour que nous puissions accéder à la vie éternelle dès à présent. C'est ce qu'on appelle la grâce, une faveur imméritée. Ce que nous, en tant qu'êtres humains, pouvons faire, c'est reconnaître que nous sommes des pécheurs et demander pardon. C'est une vraie bonne nouvelle et c'est pourquoi je veux la partager avec les gens qui m'entourent. Et mes jours de repos ou d'entraînement, j'aime parler quotidiennement à mon Créateur, lire Ses conseils et Ses promesses dans la Bible.
– Fanatic Cimbing : Quelles sont tes attentes concernant la fin de saison internationale ? La bagarre pour le classement final de la coupe du Monde s'annonce rude !
– Anak : J'ai eu quelques déceptions sur les premières coupes du Monde où plusieurs fois je n'ai pas réussi à donner le meilleur de moi-même. Je vais continuer de faire de mon mieux cette saison. Mon but est de gagner le classement final de la coupe du Monde même si je sais que sera très difficile.
– Des objectifs ou des envies pour cet hiver ou l'année prochaine ? Un rêve caché ?
– Anak : Après les compétitions j'espère dégager du temps pour aller grimper dehors mais je n'ai pas encore décidé où et quand. J'espère qu'un jour viendra où j'équiperai une voie pour ensuite essayer de la libérer. Mais ce ne sera pas facile, habitant en Belgique.
– Fanatic Climbing : Un truc à rajouter ?
– Anak : Je voudrai remerciermes deux parents chéris pour leur aide et leurs encouragements permanents. Sans leur support il me serait impossible d'avoir accompli toutes ces choses en escalade. Je voudrai aussi dire que j'adore la France et que c'est un peu comme être à la maison quand je voyage dans ce pays. Le langage, le paysage, la nourriture, les vilages, les rivières et les lacs…et bien-sûr es superbes falaises. Les grimpeurs français que j'ai rencontré en falaise sont super accueillants et motivants !
Interview and video : Anak Verhoven, Sweet neuf 9a+
Interview with Belgian european champion Anak Verhoeven about her first ascent of "Sweet neuf" 9a+ in Pierrot Beach, France, which could be the seconde female 9a+ if the grade is confirmed. A very nice performance !
– Fanatic Climbing : How was your summer? How has your competition season been so far?
– Anak : This year's Lead season started in July with 5 competitions in a row. It was a delicate mixture of competing and traveling with some training squeezed in between. But with a win at the European Championship, it started off very well. I also won the World Games in Poland and I am grateful for these 2 titles. We are now halfway the world cup season. The first 4 world cups weren't perfect and with a silver medal and 2 bronze medals there is still room for improvement.
– Fanatic Climbing : Can you talk to us about your European title. What's your best memory of the event? And what did you take away from it?
– Anak : I was well prepared for this competition. During the qualification round I didn't feel very well but I was glad that I felt much better the next day. The semifinal route was nice, but very long for the 6-minute time limit. I topped it with 1,5 seconds left on the clock. Phew! After I did the winning move in the final route, the 2 local speakers started counting the holds at every extra move I made. Because of that I knew I was doing well and that I had probably won the competition.
One thing that struck me (again) is that the winner takes it all. When you win a competition you are 'temporarily famous' and many people want to meet you. I've had more than one competition when I was not in the winner's seat and I also know how that feels.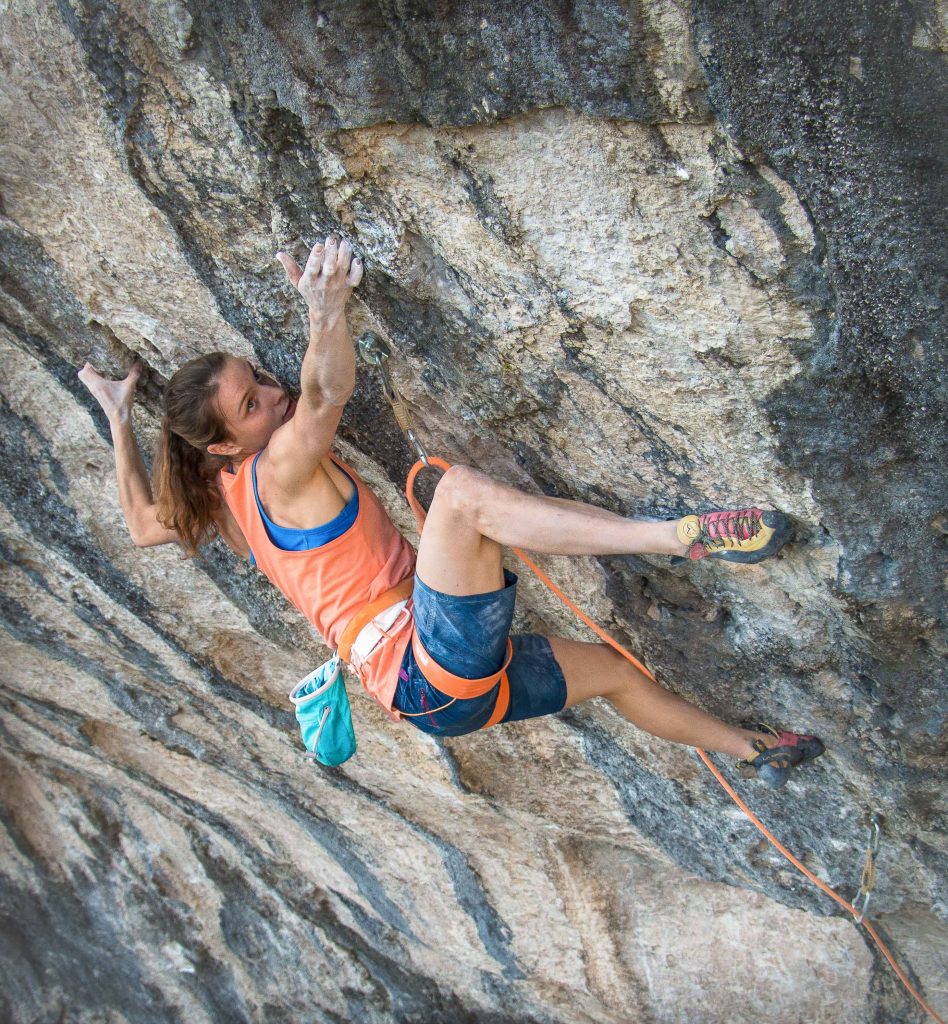 – Fanatic Climbing : Can you tell us about your repeat of "San ku kai" in Entraygues in August?
– Anak : I went to Entraygues after I had done the world cup in Briançon. While warming-up I hurt my elbow a little bit and I still felt tired from the competition, but I had only 1 day on rock, so I wanted to take full advantage of it. I first tried all the movements of San ku kai and then I did an attempt and fell in the crux. Usually I don't try to top a hard route until I find the methods which work best for me and until I know I have memorized all the moves. But since there were more climbers doing attempts I didn't want to spend too much time working out the crux of this route.
It seemed to be a matter of finding the right footholds and choosing between a kneedrop or going diagonally. It cost about 3 more tries (I haven't really counted them) to decide about the right method: diagonally, but placing my feet very high and closer than before. In the meantime it had started to rain and the last part of the route was wet. There was little time left and it would soon be dark. But there was just enough time for one last try. I wasn't looking forward to this last attempt at all. But I remembered a similar situation earlier this year when I had topped Le concept, an 8b+ in Saint Léger du Ventoux, with rain, thunder and lightning sheering me on. And I knew: if I don't try, I'm sure I won't succeed. But, if I try to give all I have despite of the fatigue, my painful skin, the elbow and the rain, there is still a chance I will make it. So I did this last attempt and topped the route ! ?
– Fanatic Climbing : You just did the first ascent of a very hard route, that had been tried by locals for 2 years. What is the route like? Could you describe the crux? How was the process of working -and eventually sending- the route?
– Anak : Last year in April, after I had done the first ascent of Ma belle Ma muse-8c+ (or 8c+/9a, still to be confirmed), I had been trying Sang neuf-9a for about 3 climbing days. Unfortunately I had to abandon the project due to extremely bad weather.
Although the route is overhanging, the moves are very technical with bad footholds. The move between the second and the third quickdraw is pretty far and if you don't have a good belayer you will hit the ground when you fall. In the middle of the route there is a section where you have to do quite a number of moves just to gain 1 vertical meter. The real crux is right before the chain. You have to do an extreme shoulder move and keep your body tension to move your feet up, then grab a tiny vertical hold, move your feet up once more and go dynamically to a sloper. These last moves felt so hard that I wondered if I would ever be able to do them after I had already climbed the rest of the route.
Before leaving the crag, my mother had filmed all the sequences so that, in case I would come back, I would remember the moves and not have to spend too much time working out the route again.
During my recent trip in September I took 1 day to try all the moves again until I was sure I knew every sequence and every tiny foothold by heart. Then, the next day, I did Sang neuf-9a in the first attempt. My way of redpointing is exactly that. I won't start doing attempts until I know I've got a fair chance to climb the route. That's why I've also climbed La Reina mora-8c+/9a and other hard routes in my first attempt.
But since Sang neuf joins Home sweet home-8c/+, Sébastien Richard, a local climber and photographer, suggested that I could try to link Sang neuf with the remaining 25 meters of Home sweet home. So I worked out the last 25 meters of Home sweet home with its deadpoint moves on crimps and pockets and some reachy moves near the end.
After I rest day I launched myself into this new challenge: connecting Sang neuf-9a with the second pitch of Home sweet home-8c/+ (the first pitch of Home sweet home is an 8a+). I managed to climb Sang neuf again, after a short shake-out at the belay with a small kneebar. The holds there are good enough for resting, but there are no real jugs. I continued into Home sweet home not wanting to give up. I was very happy when I clipped the chain. I had just been able to climb a new link-up! I called Quentin Chastagnier who had bolted Sang neuf and we decided to call the link-up Sweet neuf-9a+.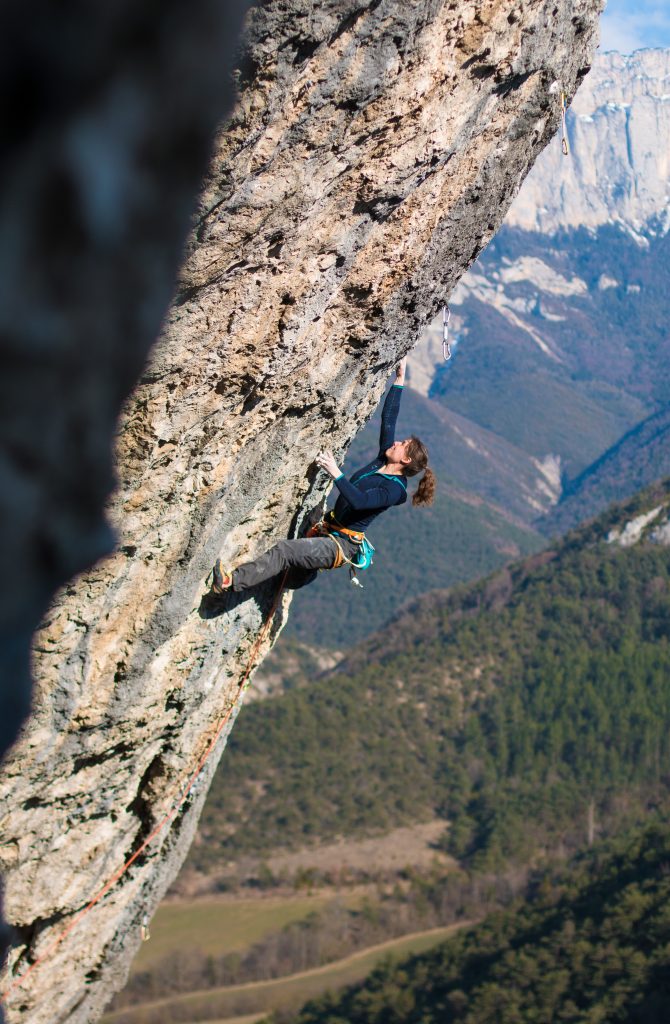 – Fanatic Climbing : Any thoughts about the grade ?
– Anak : The bolter and the locals who have been trying the route are sure that Sang neuf is 9a. In the guidebook it is also graded 9a.
Sweet neuf is adding the hardest part of Home sweet home 8c/+ to Sang neuf-9a (without real jugs or a something like a no-hands rest at the first chain). This makes me think that Sweet neuf is 9a+. I really hope that other climbers will try Sang neuf and Sweet neuf and give their opinion about the grade.
– Fanatic Climbing : Of all the hard routes you have sent, which one are you the most proud of?
– Anak : I don't have a particular route where I'm most proud of. But there are several routes which have taught me a lot about perseverance. One of these is a route in Rodellar, Spain, which I did when I was 15 years old. It is an 8b/+ called Philipe Cuisinière. I must have fallen about 8 times at the same move high up in the route – a move which was extremely far for me then, being much younger and shorter. But I didn't think about giving up and in the end I stuck the move and climbed the route.
– Fanatic Cimbing : Before the route in the Vercors, you were in the Verdon. What do you think of the Ramirole cave?
– Anak : The Verdon region is absolutely great. So beautiful. The approach to La Ramirole is not easy and I was happy we had helmets and via ferrata sets, especially on our last day there when we had heavy backpacks and the wind was blowing extremely hard. The crag itself is beautiful, the view is superb and the routes are great. I liked Spanish caravan-8c, a 45 meter traverse on tufas. But there are still many more routes out there that I would like to try one day!
– Fanatic Climbing :Do you think in the future spending more time rockclimbing, because it seems your limits are far in this way ! Or you give the priority to competition ?
– Anak : Yes, I would love to spend more time climbing on rock in the future! As long as I'm competing, I want to do it seriously. And that means there isn't a lot of time left for rock climbing. But it would be really nice if at some point in the future, I could spend more time on rock.
– Fanatic Climbing : Can you talk about your training? Do you have a coach? Where do you train? How many times a week?
– Anak : My father is my trainer. I train about 5 days a week and mostly in Klimax, the gym where there used to be World Cups until 2015. My father also made a training wall at home where I mostly do the power training.
When I go to international competitions, my mother comes with me as my coach.
– Fanatic Climbing : What are your daily routines as top climber? Do you study or have a job?
– Anak : At present I do not study or have a job. If I don't train I am busy with so many other side tasks which have to do with competition climbing. On rest days I try to get away on my mountain bike and do some stretching.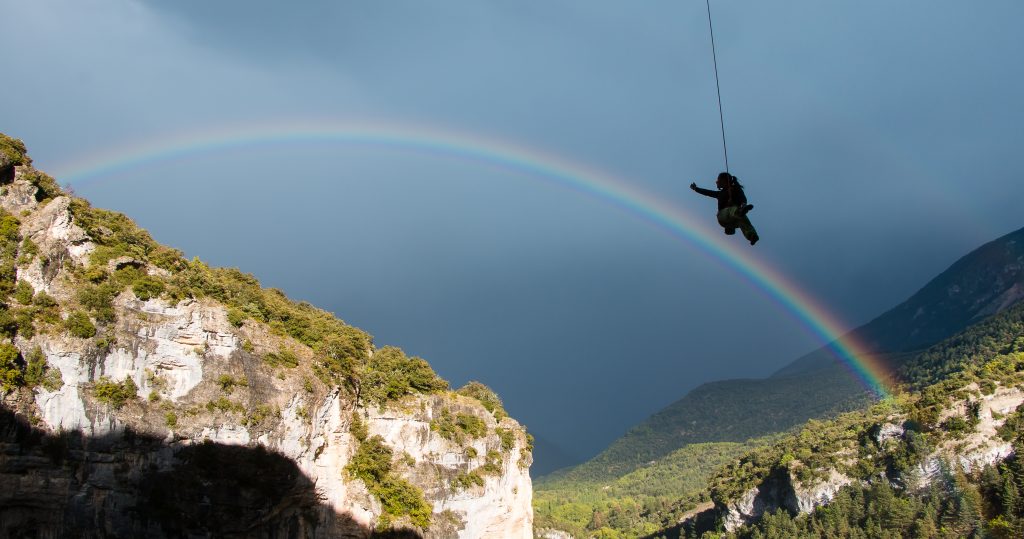 – Fanatic Climbing : How would you describe your climbing style? Do you have any weaknesses and strengths?
– Anak : Before I do an attempt in a hard route, I work out the moves into every detail. Sometimes I spend 2 hours in a route (thanks dad for being so patient with me) having to take off my shoes several times while being up there. I want to know every handhold, every foothold, every move and every clip by heart before even thinking of doing an attempt.
Perfectionism can be a helpful thing as an athlete, but it can also be a weakness when it turns you into a person who wants to control everything. That is something I need to fight against.
– Fanatic Cimbing : On your website, we can read about "Climbing for Jesus". Could you describe in few words your faith and your commitment.
– Anak : I believe, or actually I am a hundred percent certain, that God created and owns this world. As humans we fail to live according to His instructions, and consequently we cannot be allowed to enter real life after we die. In fact, our disobedience to God makes that we deserve to be separated from Him forever. However, I believe that Jesus (His real name is Yeshua in Hebrew) is the son of God who came to our world to carry the punishment for our disobedience. He gave His life for us on a cross so that our sins can be forgiven and we can have eternal life. That is called grace. What we as humans have to do is confess that we are sinners and ask for forgiveness and for Gods help. Then God can wash us clean. This is real good news and that's why I want to share it with people around me.
And, rest day or training day, I like to talk to my Creator daily and read His advice in the bible.
– Fanatic Climbing : The fight for the world cup title will be tough! Do you have any expectations or goals for the rest of this climbing season?
– Anak : I've had some disappointments on the first World Cups where several times I wasn't able to give it my all. I will continue to do my very best this season. My goal is still to win the World Cup title although I know that it will be very difficult.
– Fanatic Climbing : Do you have any goals and motivations for next winter and next year? Do you have any travel plans? A hidden dream?
– Anak : After the competition season I hope to spend some time on the rocks but I haven't decided when or where. I hope there will come a day when I will bolt a hard route myself and then of course try to climb it. But that won't be easy, living in Belgium.
– Fanatic Climbing : Anything to add ?
– Anak : I would like to thank both of my lovely parents for constantly helping and encouraging me. Without their support it would have been impossible to climb everything I've climbed so far.
I must say that I absolutely love France and it always feels a bit like being home when I travel around this country. The language, the landscape, the food, the villages, the rivers and lakes…and of course the superb crags. And the French climbers I meet at the crags are very friendly and supportive.