(English below)
Nous nous sommes entretenus avec le talentueux couple Babsi Zangerl-Jacopo Larcher. Depuis 7 ans, Babsi et Jacopo parcourent le monde pour grimper et réalisent ensemble des projets de rêve : grandes parois au Yosemite et fissures à Indian Creek, trad au Canada, grandes voies alpines, King lines des musts de l'escalade sportive et plein d'autres choses encore… Une vision de la vie et de la grimpe assez simple pour un duo polyvalent et inspirant !
Pouvez-vous vous présenter rapidement pour ceux qui ne vous connaissent pas ? Où habitez vous ?
Babsi : J'ai grandi dans le Tyrol, dans un petit village près d'Arlberg. Actuellement, je vis toujours dans cette région. Je travaille à temps partiel dans un hôpital de Bludenz en tant qu'assistante aux rayons X.
Jacopo : Ciao, j'ai 30 ans et j'ai grandi à Bolzano (Tyrol du Sud, Italie). J'ai déménagé en Autriche après la fin de mes études et j'ai tellement aimé l'endroit que je vis toujours ici 🙂 Je suis actuellement basé à Bludenz, où je vis avec Babsi… même si je dois admettre que nous ne passons pas beaucoup de temps à la maison ! Lorsque je ne voyage pas, je travaille à temps partiel en tant qu'ouvreur dans les salles d'escalade et en tant que photographe. J'aime skier, courir et passer beaucoup de temps dans les montagnes. Je suis accro au café.
Depuis quand grimpez-vous ? Et comment avez-vous commencé ?
Babsi : J'ai commencé à grimper lorsque mon frère nous a emmenés, ma sœur et moi, au gymnase d'à côté. A partir de ce moment, j'ai continué à grimper régulièrement. Tout d'abord, j'étais une fanatique de bloc, les 6 premières années, j'ai investi la plupart de mon temps libre à faire du bloc dans différents endroits en Europe. Et après une blessure au dos (hernie discale), j'ai commencé à grimper avec une corde. D'abord comme thérapie et plus tard c'est devenu ma nouvelle passion d'aller me frotter aux plus grandes parois dans les montagnes.
Jacopo : J'ai commencé l'escalade à l'âge de 10 ans, grâce à un cours d'escalade dans le petit gymnase de ma ville natale (Bolzano). Enfant, j'ai toujours passé beaucoup de temps dans les montagnes avec mes parents et, je ne sais pas pourquoi, j'ai toujours été attiré par l'escalade. Je me souviens encore de ce sentiment de liberté que j'ai ressenti la première fois que j'ai grimpé, c'était le coup de foudre!
Je faisais de la compétition depuis près de 10 ans (bloc et voie), jusqu'à ce que je réalise que je cherchais quelque chose de différent, quelque chose de plus aventureux. C'est comme ça que j'ai commencé à grimper en trad et en bigwall.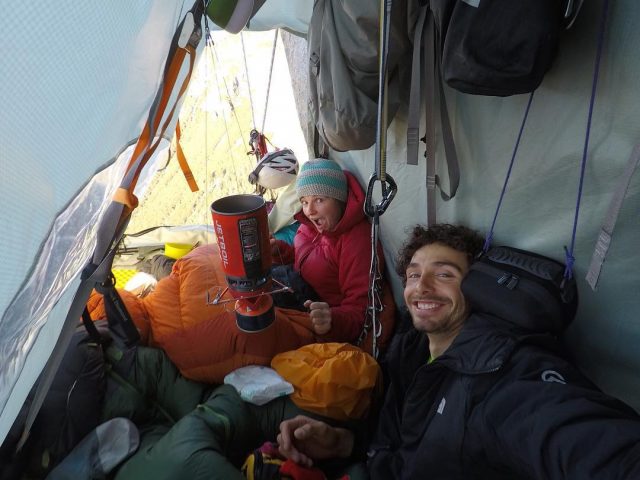 Comment vous êtes-vous rencontrés?
Babsi : Nous nous sommes rencontrés il y a 7 ans lors du rassemblement de bloc Melloblocco. Je connaissais déjà un peu Jacopo. Mais c'était la première fois que nous nous parlions plus de 5 minutes :-). Il y a définitivement des difficultés de communication… Ahahhah ! Mais ça a rendu ça encore plus intéressant.
Jacopo : Nous nous sommes rencontrés il y a 7 ans lors d'un Mellolocco. Eh bien, la communauté d'escalade est assez petite et je connaissais Babsi avant… mais nous avons commencé à passer du temps ensemble pour la première fois là-bas et nous avons immédiatement ressenti une connexion profonde.
Depuis des années, quelle que soit la discipline (trad, big wall, escalade sportive) vous avez souvent les mêmes projets? Comment décidez-vous ensemble d'un objectif principal? Vous choisissez à la courte paille ?
Babsi : Nous sommes donc tous les deux vraiment mauvais dans la planification des projets. Donc, la plupart du temps, nous visitons un endroit et tombons amoureux d'une jolie ligne ou d'une idée et on investit du temps dans un nouveau projet. L'inspiration vient toujours d'images, de visites de nouveaux endroits ou d'histoires que nous entendons d'autres grimpeurs / amis. Tout d'abord, nous ne savons jamais à quoi nous attendre si nous commençons à essayer un projet ensemble. La plupart du temps, nous allons essayer quelque chose, et si c'est sympa, si c'est une belle ligne, si les mouvements sont difficiles et le rocher est génial, alors nous sommes d'autant plus motivés pour nous investir dans le projet. C'est formidable d'avoir un partenaire pour partager tous ces grands moments sur la paroi. Je pense que nous sommes une très bonne équipe et la plupart du temps nous sommes motivés pour les mêmes aventures. Il est facile de maintenir l'équilibre humain dans la vie avec Jacopo et c'est certainement une vie très aventureuse. Nous sommes très heureux de cela !
Jacopo : Je pense que Babsi l'a parfaitement expliqué. Normalement, nous ne planifions pas tellement et nous suivons simplement le "flow". Il est naturel que nous ayons des objectifs communs ; en couple, nous voulons simplement profiter de la vie et de notre passion ensemble. Néanmoins, parfois, nous avons des objectifs différents, ou nous voulons simplement faire un voyage seul avec des amis. Il est également important de prendre un peu de temps pour ses propres projets ou passions. Après un voyage seul, vous profitez encore plus du temps passé ensemble !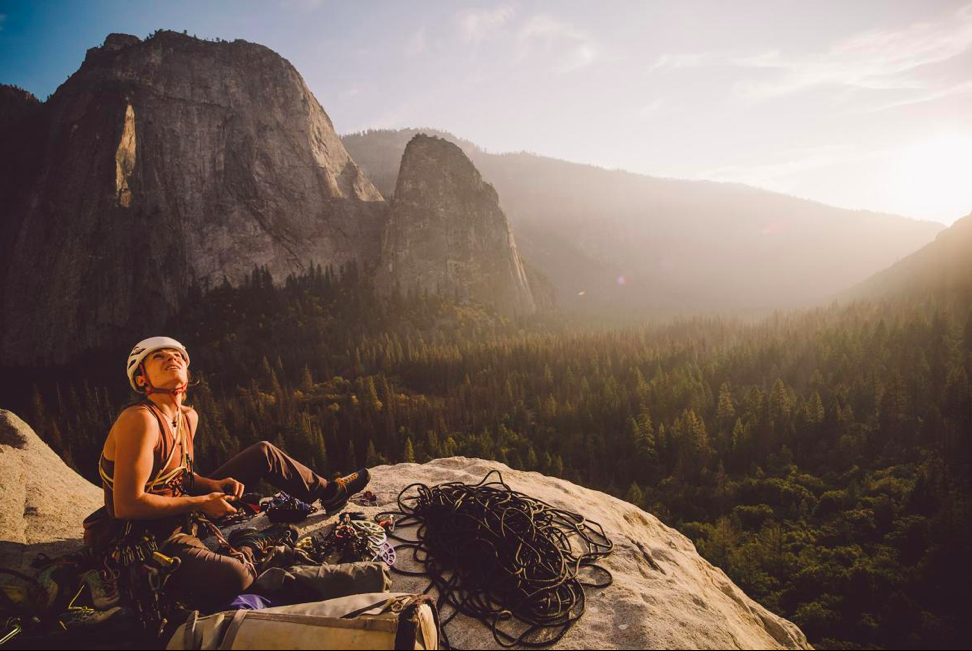 Vous grimpez beaucoup ensemble, qu'est-ce qui amène l'un à l'autre? Comment vous soutenez vous ?
Babsi : Nous essayons de nous entraider sur la paroi. Tout le monde fait de son mieux et la motivation est toujours à 100%. Cela aide beaucoup à se pousser mutuellement. La plupart du temps, nous passons un bon moment sur la paroi et nous ne nous embêtons jamais vraiment, même si nous vivons sur 2m² très proches les uns des autres (sauf pour certaines choses comme la mise en place du portaledge ou la gestion du sac de hissage). À la maison, je suis la personne la mieux organisée. Mais en paroi, c'est définitivement Jacopo. Je suis gênée si le sac de hissage n'a pas assez d'espace pour tout et je commence à accrocher des choses à l'extérieur. Et Jacopo se plaint toujours des trucs qui s'emmêlent autour du sac de hissage. De plus, tout le matériel doit être bien trié et accroché à côté du portaledge avant de dormir sur la paroi (sinon, il ne peut pas dormir !). Je ne me soucie pas tellement de choses comme ça. À la maison, cela peut être l'inverse. Ce +/- est quelque chose dont nous avons probablement besoin.
Jacopo : Hé, je suis super organisé aussi à la maison! 😉
Vous êtes tous les deux talentueux dans différentes disciplines, comment gérez-vous pour jongler avec le trad, l'escalade sportive et le bigwall pendant l'année? Avez-vous des périodes prévues par type de pratique?
Babsi : Pour nous, c'est l'équilibre parfait en escalade. Cela nous maintient motivés pendant toutes les années. En changeant d'une discipline à l'autre, nous apprenons toujours quelque chose de nouveau et devenons bien équilibrés et plus expérimentés dans toutes ces disciplines de l'escalade. Bien sûr, il est difficile de maintenir un niveau toujours élevé. Par exemple, si tu pars grimper pendant un mois, tu rentres chez toi et tu peux à peine tenir une arquée. La grimpe c'est comme çà. Ce n'est pas comme le ski où si tu ne skie pas pendant 4 semaines, tu es toujours dans la même forme qu'avant. Mais avec toutes ces différentes approches de l'escalade, cela ne devient jamais ennuyeux. Mais toutes ces facettes de l'escalade font qu'on ne s'ennuie jamais. Nous gérons donc l'année principalement pour faire de l'escalade sportive au printemps, pendant l'été, ma discipline préférée est le big wall, et à l'automne le Yosemite ou les voyages de grimpe. En hiver, nous allons skier, nous entraînons en salle (pour nous remettre en forme) et passons presque pas de temps sur le caillou. Si c'est possible, on va grimper dehors sur le rocher et on s'entraîne tout en pratiquant ces différentes disciplines.
Jacopo : Pour le moment, l'une des choses que j'aime le plus dans l'escalade est sa variété; vous pouvez vivre le même «sport» sous différents points de vue. Ceci, combiné avec les voyages, est ma principale source de motivation. Je ne peux pas imaginer passer 2 ans à faire exactement la même chose; J'ai besoin de changer et de changer constamment de discipline.
Nous n'avons pas vraiment de plan annuel. Nous passons normalement l'hiver à nous entraîner et à skier à la maison ; pendant cette période, nous grimpons simplement en salle et profitons du temps passé à la maison, car nous voyageons beaucoup pendant le reste de l'année. Au printemps, nous pratiquons principalement l'escalade sportive ou du trad (voie d'une longueur), tandis qu'en été et en automne, nous passons plus de temps dans les montagnes. À la fin de l'année, nous sommes super faibles, alors nous recommençons à nous entraîner…
Mais, comme je l'ai déjà dit, nous aimons suivre le flow et n'avons pas de plan trop structuré!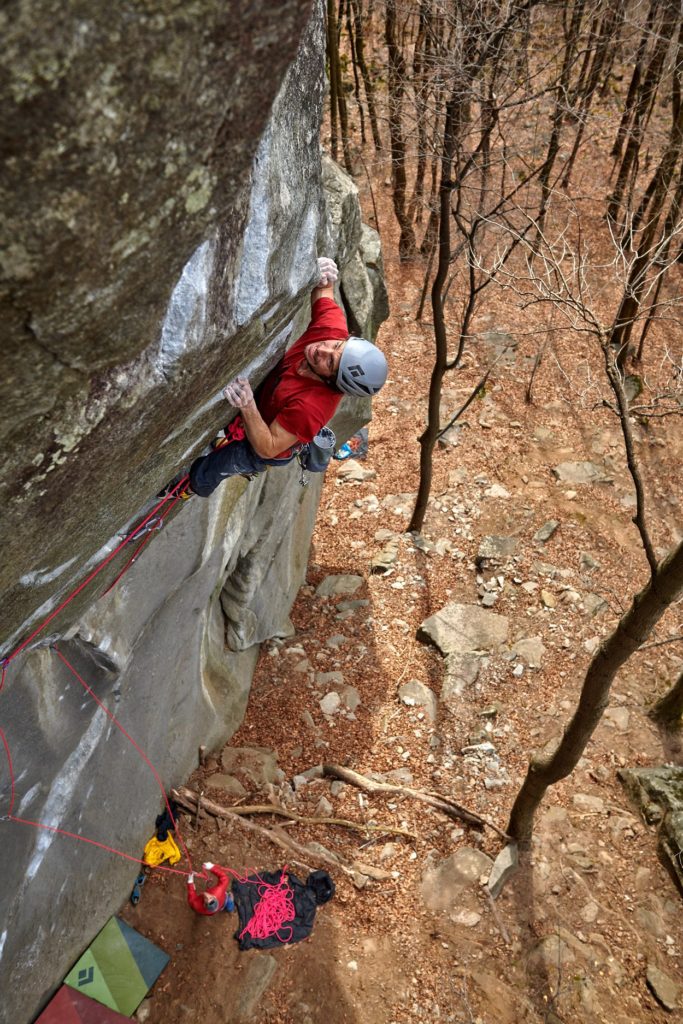 Comment vous êtes-vous préparés pour vos projets, en particulier les big wall ou le trad ? Avez-vous un entraînement spécifique ? Des voyages ou des jours pour checker ? Ou vous y allez au feeling, en suivant votre votre instinct et selon le flow ? Quelle est votre stratégie?
Babsi : Mon sentiment principal est que la plupart du temps, nous n'avons pas vraiment de stratégie. En hiver, nous nous entraînons sur une longue période de 2 à 3 mois pour nous mettre en forme de manière générale, mais pas spécifiquement pour un type de projet. Ensuite on va dehors et si on découvre des falaises ou des voies qui nous attirent, cela devient parfois de nouveaux projets et nous commençons à essayer quelque chose de nouveau et le tour est joué. Je pense que si tu passes beaucoup de temps dans une voie c'est une sorte d'entraînement. Tu commences à te souvenir de tous ces mouvements différents, des nouvelles méthodes. Tu grimpes beaucoup, des séquences dures, tu lies les moves et puis tu essaies d'enchaîner toute la ligne de bas en haut. Tu travailles aussi la force mentale de la meilleure façon possible. C'est pour moi personnellement le meilleur type d'entraînement et aussi le plus amusant.
Jacopo : Je pense que Babsi a très bien expliqué notre «tactique». La seule fois où je me suis entraîné pour un voie spécifique, c'était quand j'essayais "Tribe".
Vous avez fait plusieurs voyages ces dernières années au Yosemite. Expliquez votre motivation à vous coller des défis extrêmes sur El Cap?
Babsi : El Capitan est l'un des meilleurs morceaux de caillou que tu puisses trouver. Si tu est au pied d'El Cap, c'est vraiment très satisfaisant. Chaque voie sur ce gros caillou est différente et toujours une nouvelle aventure. C'est très facile à planifier avec les conditions météorologiques. C'est en Californie, les prévisions météorologiques sont assez solides là-bas, c'est une face Sud, l'approche est inexistante et quand tu es là-haut (peut-être pas sur le "Nose") tu te sens seul, dans ta propre bulle. Se défier soi-même, vivre cette vie simple, oublier tout le reste et tout ce qui stresse dans la vie normale. C'est une aventure facile d'accès. Nous y sommes devenus accros 🙂 Et le rocher est tellement solide, des lignes pures partout, rien d'autre que ce que tu puisses souhaiter !
Jacopo : Le Yosemite est la «Mecque» de l'escalade. J'ai toujours rêvé de visiter cet endroit et de grimper en libre El Cap au moins une fois dans ma vie… Eh bien, quand tu as essayé une fois, tu ne peux tout simplement pas arrêter de l'essayer ! El Cap est tout simplement l'un des meilleurs morceaux de rocher que tu puisses trouver ! C'est le terrain de jeu parfait pour tous les accros aux bigwalls et il propose de nombreuses voies différentes. Le temps est normalement très stable, l'approche est super courte et le rocher est tout simplement incroyable. Chaque voie est une aventure complètement différente, il est donc difficile d'arrêter d'y retourner !
Parlez-nous du trad que vous pratiquez beaucoup !
Babsi : On n'en a pas fait tant que ça l'an dernier comparé au big wall. Mais tu as besoin de tes qualités en trad aussi en big wall. Donc nous essayons de tout faire. Et nous étions dans la vallée au moins une fois par an ces 4 dernières années. Nous avons passé beaucoup de temps à Cadarese en Italie pour faire des couennes en trad, ce qui était super fun. Mais maintenant je pense que c'est le moment de trouver un nouveau terrain de jeu en trad. Ou de retourner à Indian Creek. On verra !
Jacopo : Le trad et le bigwall sont mes deux activités préférées en escalade. J'aime bien l'importance des aspects mentaux dans le trad, le fait de surmonter mes peurs et de me concentrer uniquement sur mon escalade. Pour moi, c'est un jeu plus complet comparé à l'escalade sportive. C'est aussi un moyen de mieux respecter le rocher, tu dois t'adapter au caillou et décider si tu veux prendre des risques (dans certains cas) pour grimper la ligne telle quelle est, sans l'aménager pour tes besoins (placer des points par exemple).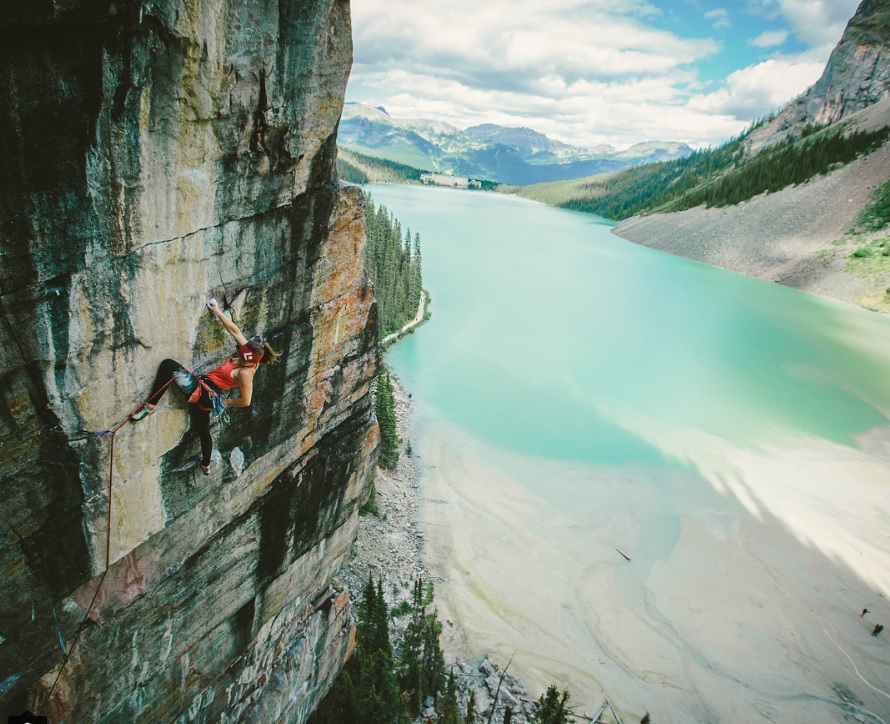 Vous touchez à plein de choses en escalade. Avez-vous une préférence ?
Babsi : Le big wall m'offre les meilleures aventures.
Jacopo : Le big wall et le trad. C'est dur de choisir, mais le big wall gagne probablement le match, car c'est quand même une aventure plus complète.
Vous voyagez beaucoup aux 4 coins du globe. Quel voyage vous laisse un souvenir impérissable ?
Babsi : L'Eiger avec Jacopo, c'était l'expérience la plus aventureuse que j'ai vécu. Dormir dans des duvets mouillés, avoir froid, grimper des longueurs mouillées, avoir peur dans le tunnel pour train qui sert d'approche, et de façon inattendue atteindre le sommet d'une des plus belles voies de l'Eiger après un challenge de 4 jours en paroi.
Ma première expérience au Yosemite en 2010 avec Hansjörg Auer aussi. C'était un trip très fun et je n'avais aucune expérience en fissure. J'ai pris une baffe mais c'était super sympa d'apprendre à apprivoiser les fissures. Ma première fois sur El Cap (seulement la première moitié avant de prendre le but). C'était définitivement un voyage fou qui a fini avec une chute de 20 mètres et un poignet pété pour Hansjörg.
South Africa (Waterval Boven) avec mes sœurs a été aussi un super trip d'escalade sportive en famille. "Magic Mushroom", mon plus long séjour en paroi, 11 jours, et mon plus gros challenge en big wall, le bonheur du sommet, ma voie préférée, où j'ai failli avoir une défaillance 60 mètres sous le sommet. La célébration au sommet, tous les deux avec Jacopo, est inoubliable.
"Le Nose", un rêve que je voulais accomplir.
Jacopo : Il y en a tellement, c'est difficile de choisir ! Je vais faire une petite liste.
La Sibérie, "Magic Mushroom", l'Inde, notre premier trip à Indian Creek, Rocklands,…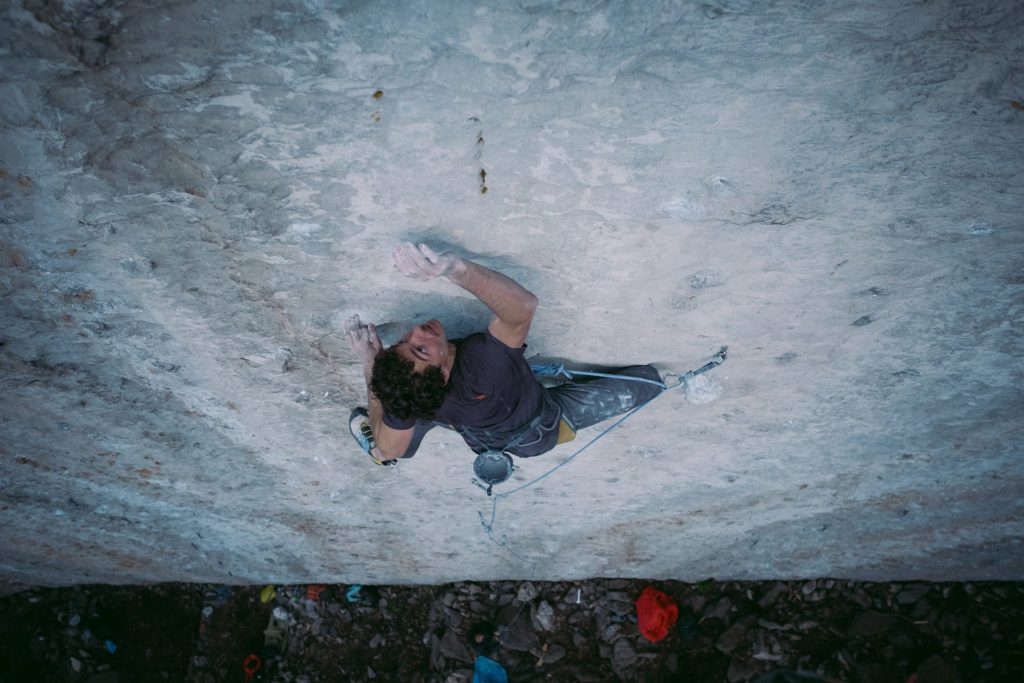 Êtes-vous grimpeurs pro ? Parlez nous de votre quotidien, comment cela se passe ?
Babsi : Je travaille aussi dans un hôpital comme radiologue. La plupart du temps nous sommes sur la route pour grimper, et après ces voyages je bosse à l'hôpital.
Jacopo : J'ai l'énorme chance de vivre de ma passion, mais je n'aime pas me voir comme un grimpeur pro, mais simplement comme un grimpeur. Je bosse aussi à temps partiel comme ouvreur, donc ma vie quotidienne change beaucoup pendant l'année. Quand on ne bosse pas, nous sommes généralement en train de voyager et de poursuivre l'ascension de nos voies de rêve. En hiver, on passe pas mal de temps à la maison, on s'entraîne et on skie dans l'arrière pays. De manière générale, être professionnel ne veut pas dire que tu fais que grimper, mais tu as aussi beaucoup de boulot autour (présentations, travail sur l'ordi, événements, planifications, …).
Avec l'arrivée de nouveaux grands coinceurs mécaniques, l'escalade en offwidth sera plus sûre. Vous seriez tentés d'essayer des challenges durs dans ce style ?
Babsi : Pas vraiment car je suis vraiment pas très bonne dans ce style. Mais maintenant avec ces coinceurs ce sera au moins en sécurité, tu n'as plus à risquer ta vie.
Jacopo : Le offwidth m'inspire vraiment. Je pense qu'ils ont voulu inventer quelque chose de plus sûr, mais aussi de plus facile à utiliser. Donc je vais peut-être songer à essayer plus d'offwidths !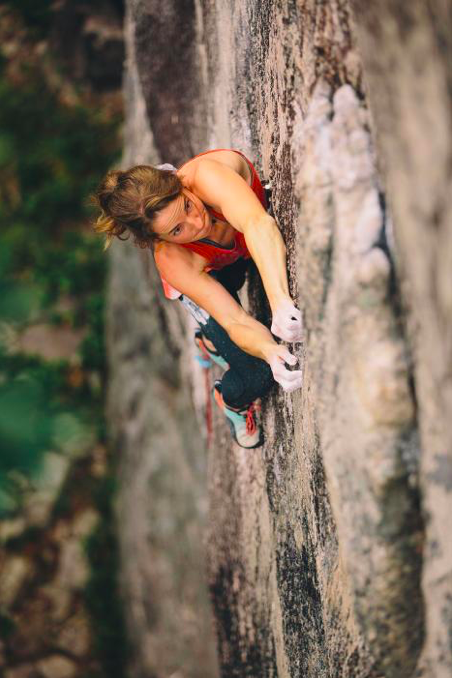 Jacopo, je sais que tu es assez sceptique concernant l'importance des cotations en escalade. Explique nous ton point de vue. Babsi, partage ta vision.
Babsi : Je pense que les cotations sont importantes pour avoir une référence ou une orientation. Par exemple, pour savoir si je peux atteindre le relais, (faisable ou trop dur), ou pour prendre la décision d'essayer quelque chose ou pas. Parfois, les cotations deviennent trop importantes pour les grimpeurs, et pour nous tous. Nous avons le sentiment qu'on devrait plus s'attacher à la beauté en premier, pas au chiffre associé à la voie. Donc cela devrait compter si vous décidez ce que vous voulez essayer en fonction de la ligne. Parfois, il serait intéressant de coter avec une gamme plus large comme par exemple 5.13, 5.14, 5.15 ou facile, moyen, dur, très dur.
Jacopo : Je ne suis pas contre les cotations. Comme l'a dit Babsi, c'est important d'avoir une idée de la difficulté d'une voie afin d'être en mesure de savoir si tu peux ou pas y arriver (notamment en trad). Juste je n'aime pas quand certains grimpeurs brandissent la cotation comme le but ultime. Alors l'expérience, le beauté de la ligne, l'histoire,… ont perdu l'importance. Je trouve cela triste, car à la fin de la journée, nous nous rappellerons l'expérience, pas le chiffre à côté ! C'est un peu comme avec l'argent… De quoi te rappelleras-tu à la fin de ta vie ? Des chiffres de ton compte en banque ou de ce que tu as vécu ?
Quelles sont les voies que vous rêveriez de gravir ?
Babsi : Il y en a dans tellement d'endroits. Ce serait un rêver que d'essayer "Eternal Flame" au Pakistan ou de coller à une nouvelle expé pour une voie, en Patagonie ou à Madagascar par exemple, ou dans plein d'autres endroits…
Jacopo : Il y a beaucoup d'endroits que j'aimerai visiter avec des voies à grimper ! "Eternal Flame", "Riders on the storm", "Biographie", "Tom Egan Memorial Route", Pakistan, Patagonia, Greenland, Australia, South America,… Je pourrais continuer à l'infini !
Vous n'abusez pas des réseaux sociaux comme d'autres forts grimpeurs. Quelle est votre opinion là-dessus ?
Babsi : Les media sociaux sont devenus une partie intégrante du métier de grimpeur professionnel… Mais parfois nous avons aussi besoin d'un peu de temps. C'est facile de rester actif sur les media sociaux quand tu es en trip. Mais de retour à la maison on essaie de les minimiser…
Jacopo : Les réseaux sociaux prennent une très grande place dans l'activité des grimpeurs professionnels aujourd'hui. J'aime bien les voir comme une opportunité de partager nos aventures avec la communauté, mais je crois que cela ne doit pas devenir un but en soi pour un athlète. Je suis un grimpeur, pas un influenceur. Pour moi c'est plus facile de partager mon quotidien pendant mes trips car j'ai du mal à poster quand je suis à la maison. J'aimerais que les réseaux sociaux aient moins d'importance dans notre vie.
Qui sont les grimpeurs qui vous ont influencé et qui continuent à vous influencer le plus ?
Babsi : Lynn Hill et "Le Nose" est des plus beaux accomplissements en escalade pour moi. Très inspirant. Et cela commence à dater. Je suis une grosse fan. Tommy Caldwell est aussi un grand héro pour moi !
Jacopo : Peter Mair, Sonnie Trotter et Tommy Caldwell.
Avez-vous d'autres passions en dehors de l'escalade ?
Babsi : Faire des balades dans les montagnes avec notre chien Olli, regarder des films, juste buller…
Jacopo : La photo, le ski, le running, passer beaucoup de temps en montagne et dans mon van.
Quels projets aimeriez-vous accomplir dans le futur ? Des choses qui vous inspirent ?
Babsi : J'aimerai réaliser une réelle expédition dans un endroit sauvage. Essayer d'ouvrir une nouvelle voie avec Jacopo. C'est mon grand rêve.
Jacopo : Je rêve de trouver mon propre « Dawn Wall » . Une ligne qui propose un challenge qui inclurait tous les aspects que j'aime en escalade : trad, big wall, endroits perdus,…
Comment gérez-vous cette période de confinement à la maison ? Est-ce que Babsi a bossé comme infirmière à l'hôpital ?
Babsi : Oui, j'ai dû travailler à l'hôpital. Mais la situation n'est pas trop mauvaise en Autriche.
Le travail à l'hôpital est même inférieur à la normale. On reste beaucoup à la maison… Et nous sommes chanceux car en Autriche car nous pouvons aller dehors pratiquer du sport.
Jacopo : Je me suis blessé au genou en faisant du ski juste avant le début des restrictions donc pour moi cela a été facile de gérer la situation. J'ai fait pas mal de poutre, pas mal de travail sur l'ordi, j'ai rangé les désordres causés par notre chien et planifié des prochains séjours. Heureusement la situation en Autriche n'est pas trop critique et nous sommes autorisés à aller dehors, au moins pour une balade en forêt.
Un message à partager pour la fin ?
Babsi : Jacopo est en train de faire son premier pain… Je dois le sortir du four. Donc j'arrête ici !
Jacopo : Restez positifs, après chaque tempête le soleil revient toujours !

Photo de couverture : Thomas Senf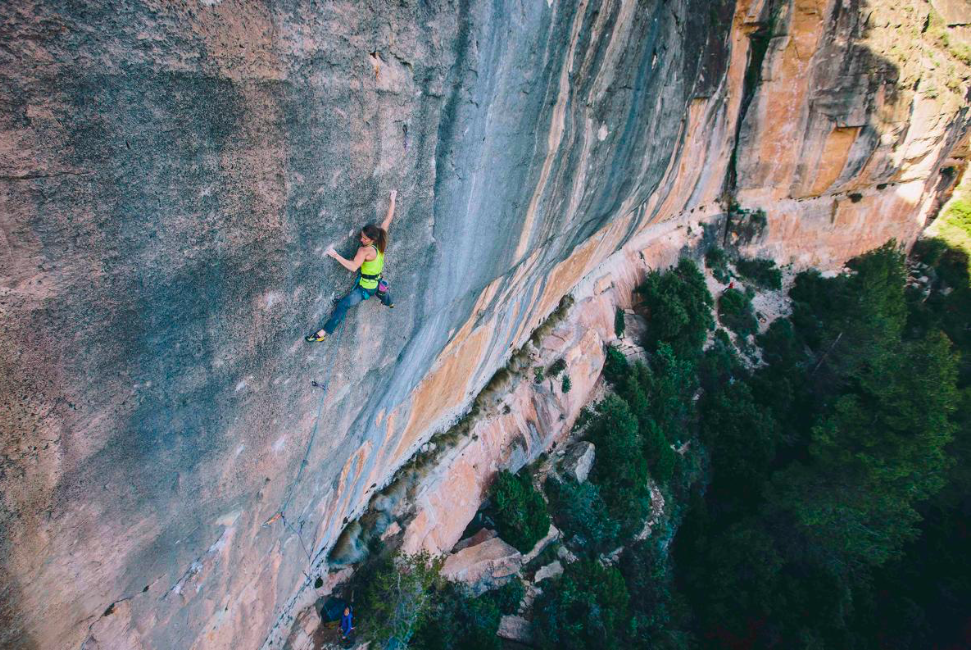 We met the talented couple Babsi Zangerl and Jacopo Larcher. For 7 years, Babsi and Jacopo have been traveling the world to climb and to try dream projects together: big walls at Yosemite, cracks at Indian Creek, trad in Canada, alpine multi-pitchs, major King lines of sport climbing and many others things… A fairly simple vision of life and climbing for an inspiring duo!
Can you introduce yourself quickly for those who don't know you? Where do you live ?
Babsi: My name is Babsi Zangerl, I grew up in Tirol, in a small village at the Arlberg region. Currently I live and work in Bludenz. I am working part time in a hospital in Bludenz as an x-ray assistant.
Jacopo: Ciao, my name is Jacopo (Larcher), I'm 30-years old and I grew up in Bolzano (South Tyrol). I moved to Austria after finishing school and I liked it so much, that I still live here 🙂 I'm currently based in Bludenz, where I live with Babsi…even if I've to admit that we don't spend so much time at home!
When I'm not traveling, I work part time as route setter and photographer. I like to ski, run and spend a lot of time in the mountains. I'm a coffee addict.
Since when have you been climbing? How did you start?
Babsi: I got into climbing when my brother took my sister and me to the gym close by. From that moment on I kept on climbing regularly. First I was a boulder fanatic, the first 6 years I invested most of my free time going bouldering in different places in Europe. And after a back injury (herniated disc) I started to climb with a rope. First as a therapy and later it got my new passion to try also the bigger walls in the mountains. 
Jacopo: I started climbing when I was 10-years old, thanks to a climbing course in the small gym of my hometown (Bolzano). As a kid I always spent a lot of time in the mountains with my parents and, I don't know why, I'd always been attracted by climbing. I still remember that feeling of freedom I experienced the first time I climbed, it was love at first sight!
I'd been competing for almost 10 years (bouldering and lead), until I realized I was looking for something different, something more adventurous. That's how I got into trad- and bigwall climbing.
How did you meet?
Babsi: We meet 7 years ago at the Melloblocco bouldering meeting. I already knew Jacopo a bit. But it was the first time we talked to each other more than 5min :-). There where definitely some communication struggles…ahahhah But that made it even more interesting.
Jacopo: We met 7 years ago during one Mellolocco. Well, the climbing community is quite small and I knew Babsi before… but we started to hang out together for the first time there and we immediately felt a deep connection.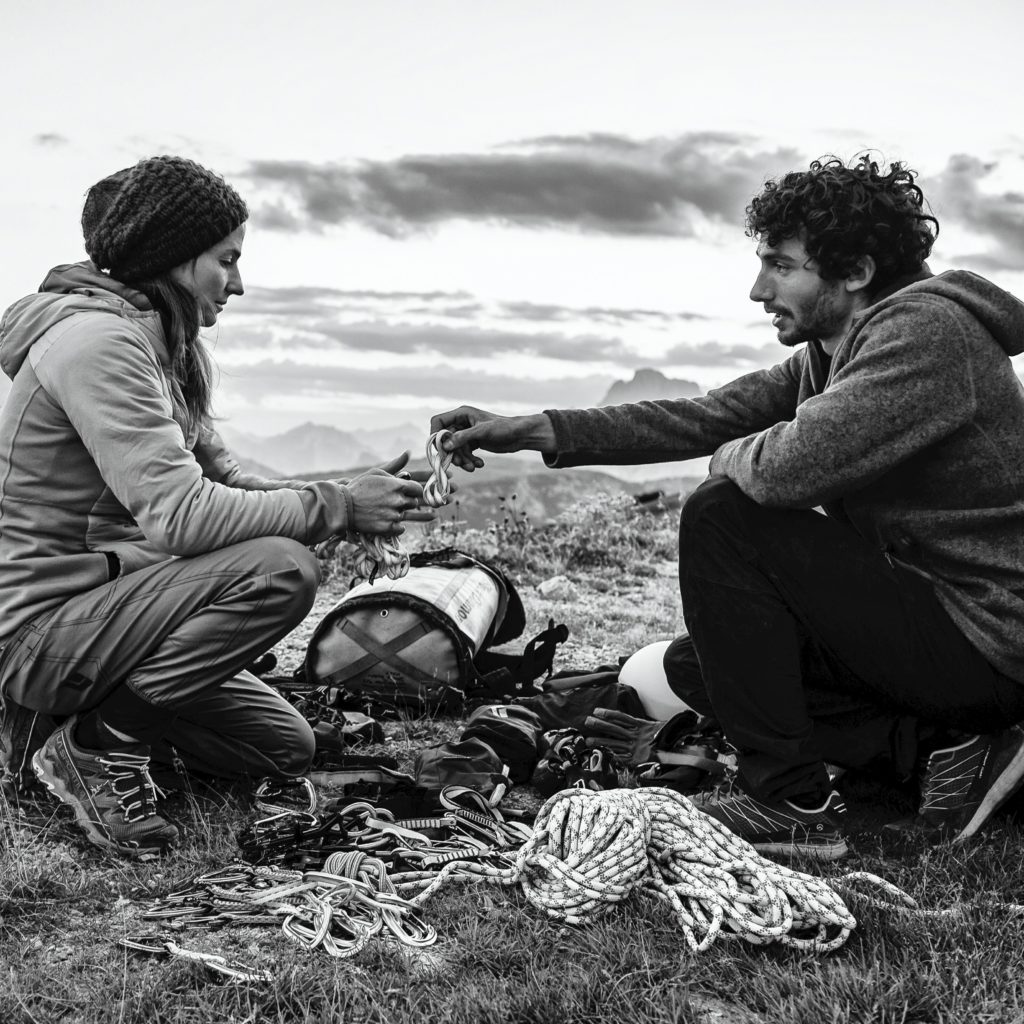 Since years, whatever the discipline (trad, big wall, sportclimbing) you often have the same projects ? How do you decide a main goal together? You draw with short straw? 
Babsi: So we both are definitely really bad in planning projects. So most of the time we visit a place and fall in love with a nice line or idea to invest some time in a new project. The inspiration always comes from pictures, visiting new places or from stories we hear from other climbers/friends. First of all we never know what to expect if we start to try a project together. Most of the time we go and try something out, if it feels great, it is a nice line, the moves are challenging and the rock is great—then we get more and more motivated to complete something we have started to put work in. It is great to have a partner to share all those great moments on the wall. I think we are a very good team and most of the time we are motivated for the same adventures. It is easy to keep the human balance in life with Jacopo and it is definitely a very adventurous life for what we are very thankful.
Jacopo: I think Babsi explained it perfectly. We normally don't plan so much and we just "go with the flow". It's natural for us to have common goals; as a couple, we simply want to enjoy life and our passion together. Nevertheless sometimes we also have different goals, or we simply want to make a trip alone with some friends. It's important to also take some time for his/her own personal projects or passions. After a trip alone, you enjoy the time together even more!
You climb a lot together, what brings the one to the other? How did you support your partner?
Babsi: We try to help each other on the wall. Everybody gives his best and the motivation is always 100% there. This helps a lot to push each other. Most of the time we have a pretty good time spending days on the wall and we never really bother each other even if we live on 2m2 very close together. (except of some things like putting up the portaledge; or the haulbag management)
At home I am the better organized person. But on the wall definitely Jacopo. I get bothered if the haulbag doesn't have enough space for everything and start to hang stuff on the outside of it. And Jacopo is always complaining about the stuff tangling around the haulbag. Also all the gear should be well sorted and hanging next to the portaledge before we go to sleep on the wall. (Otherwise he can't sleep.) I don't care so much about things like that. At home it can be the other way around. This +/- is something which we probably need.
Jacopo: Hey, I'm super organized also at home! 😉
You are both talented in different disciplines, how you deal to juggle with trad, sportclimbing and bigwall during the year? Did you plan some periods with some kind of practices?
Babsi: So, for us this is the perfect balance in climbing. It keeps us motivated during all the years. Changing from one discipline to the other- we always learn something new and get well-rounded and more experienced in all those climbing disciplines. Of course it is hard to keep the level always high. For example if you go on a crack-climbing trip for a month—you come back home and barely can hold a crimp anymore. That's climbing. It is not like skiing where you don't ski for 4 weeks and you are still in the same shape than before. But with all those different approaches to climbing it never gets boring. Somehow it is kind of cool to suck and learn and get better in something. So we manage the year mostly like going sport climbing in spring, over the summer my favorite discipline is big walls, and in fall Yosemite or crack-climbing trips. In winter we go skiing and training in the gym (to get back in shape) and barely spend time on the rocks. If it is possible we spend time outdoors on the rock and train while practicing those different disciplines.
Jacopo: At the moment, one of the things I like the most about climbing is its variety; you can experience the same "sport" from many different point of views. This, combined with traveling, is my main source of motivation. I can't immagine spending 2 years doing the exact same thing; I need to change and constantly switch discipline.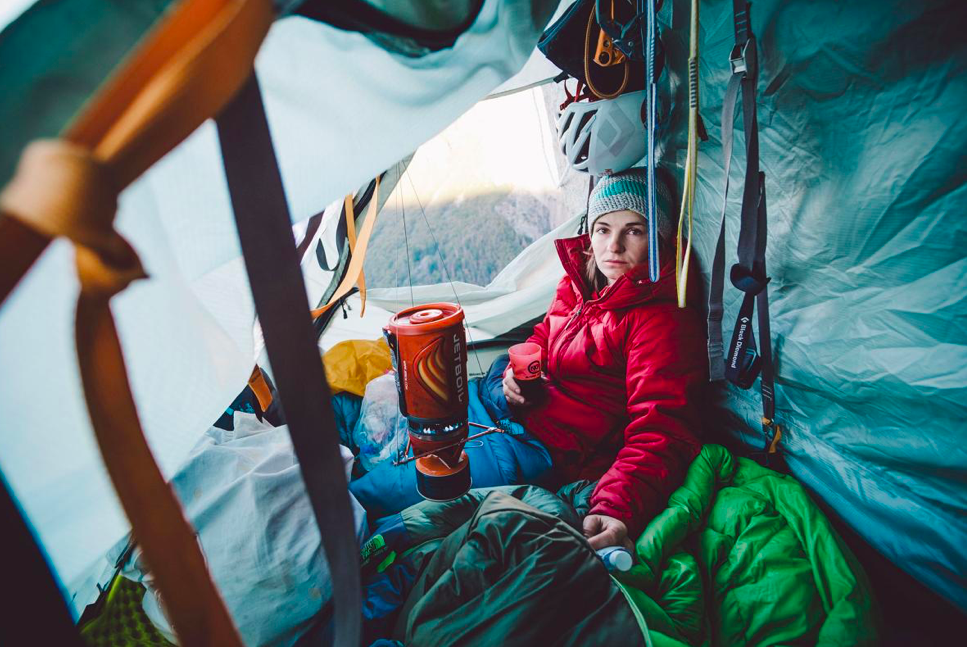 We don't really have an yearly plan. We normally spend the winter training and skiing at home; during this period we basically just climb inside and enjoy the time at home, as we are mostly traveling a lot during the rest of the year. In spring we mostly sport – or trad climb (single pitches), while in summer and in the fall we spend more time in the mountains. At the end of the year we're super weak, so we start to train again…
… but, as I said before, we like to go with the flow and don't have a too structured plan!
How did you prepare for your projects, especially big wall or trad? Did you set some specific training? Some trips or days for scoping? Or you run with the feeling, you follow your instinct and you will see with the flow? What about your strategy ?
Babsi: We run with the feeling, most of the time we don't really have a strategy. In winter we train over a longer period of 2-3 month to get in shape in general but not specific for any kind of projects. After this training season we spent most of the time outdoors. If we are visiting climbing crags we sometimes scope for new projects and start to try something new and voila we are right into a new journey/project. I think if you spent a lot of time on a wall—-it is kind of a training. You start to remember all those movements different holds, new beta. You climb a lot, bouldering on hard sequences, connecting single pitches, then trying to finish the whole line from bottom to the top, and you train your mental strength in the best possible way. This is for me personally the best kind of training and the most fun.
Jacopo: I think Babsi explained our "tactic" really well. The only time I trained for a specific route was while I was trying "Tribe".
You made several trips since years in Yosemite. Explain your motivation to put etablish some extreme challenges on El Cap?
Babsi: El Capitan is one of the best pieces of rock you can find. If you stand in front of El Cap it is just really satisfying. Every route on this big stone is different, always a new adventure. It is very easy to plan with the weather conditions. It is in California, the weather forecast is pretty solid there, it is a south face, the approach is nothing and if you are up there (maybe not on the Nose) you feel alone in your own bubble. Challenging your self, living this simple life, forgetting about everything else what stresses you out in the normal life. It is an easy approachable adventure. We got addicted to it 🙂 And the rock is so solid, pure lines all over, nothing else what you can wish for.
Jacopo: Yosemite is the "Mecca" of climbing. I'd always dreamt to visit that place and to free climb El Cap at least once in my life… well, when you try it once, you simply can't stop trying it!
El Cap is simply one of the best pieces of rock you can find! It's the perfect playground for all the bigwall- addicts and it offers so many different routes. The weather is normally very stable, the approach is super short and the rock is simply amazing. Every route is a completely different adventure, so it's hard to stop going back there!
What about trad climbing that you practice a lot?
Babsi: Not so much compared to big wall climbing especially the last year. But you need trad climbing skills on most of the big walls as well. So we try to do everything. And we were in the valley at least once a year the last 4 years. We have spent a lot of time in Cadarese (ITA) to climb trad single pitches there, which is super fun. But now, I think it is time to find a new playground for trad climbing. Or going back to Indian Creek. We will see!
Jacopo: Trad- and Bigwall climbing are my favorite aspects of climbing. I like the importance of the mental aspect in trad climbing, the fact I've to overcome my fears and be able to focus just on the climbing. For me it's a more "complete game", compared for example to sport climbing. It's also a way to respect more the rock; you have to adapt your self to it and decide if you want to take the risks (in certain cases) to climb a line how it is, without adapting it to your needs (placing bolts for example).
You are doing many different things in climbing. Which discipline do you prefer?
Babsi: big wall climbing offers the greatest adventure to me.
Jacopo: Bigwall- and trad climbing. It's hard to choose, but bigwall climbing probably wins the match, as it's an (even) more complete adventure.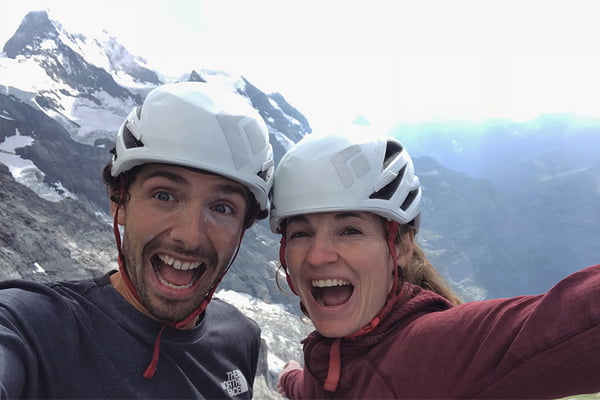 You traveled a lot around the planet. What trip is for you an unforgettable memory?
Babsi: The Eiger with Jacopo —that was the most adventurous experience so far. Sleeping in wet sleeping bags, having cold, climbing wet pitches, being scared in the train-tunnel approach, and reaching unexpected the top of one of the best climbs on the Eiger, (4 day challenge on the wall)
Yosemite valley the fist time ever in 2010 together with Hansjörg Auer. That was a really fun trip without any experience in crack climbing. That was a slap in my face but so much fun to learn crack climbing. First time up on El Cap (only half way up before we baild) Definitely a crazy trip which ended with Hansjörg's 20m fall and a broken wrist.
South Africa (Waterval Boven) with my sisters. That was a fun family sport climbing trip.
Magic Mushroom—the longest time on the wall…11 days, the hardest big wall challenge, the happiest summit, the closest big wall, I almost failed 60m below the top. Happy end standing on the top together with Jacopo:
The Nose—A dream I always wanted to fulfill
Jacopo: we've done sooo many: it's hard to choose one! Let's make a short list.. Siberia, Magic Mushroom, India, our first trip to Indian Creek, Rocklands…
Are you professional climbers? Tell your daily story. How does it actually work?
Babsi: I also work in a hospital part time as a radiographer. Most of the time we are on the road climbing, and after those trips at work in the hospital…
Jacopo: Of course I've the enormous chance of making a living out of my passion, but I don't like to see myself as professional climber, but simply as climber. I also work part time as a route setter, so my daily life changes a lot during the year. When I/we don't have to work, we're normally traveling around pursuing our dream lines. In winter we spend a lot of time at "home", training and (backcountry) skiing.
In general, being a "professional" doesn't mean that you just climb, but there is also a lot of work involved (slide shows, computer work, events, planing, …).
What is your greatest climbing achievement so far? Speed, The Nose? Tribe? La Rambla?
Babsi: Magic Mushroom
Jacopo: Tribe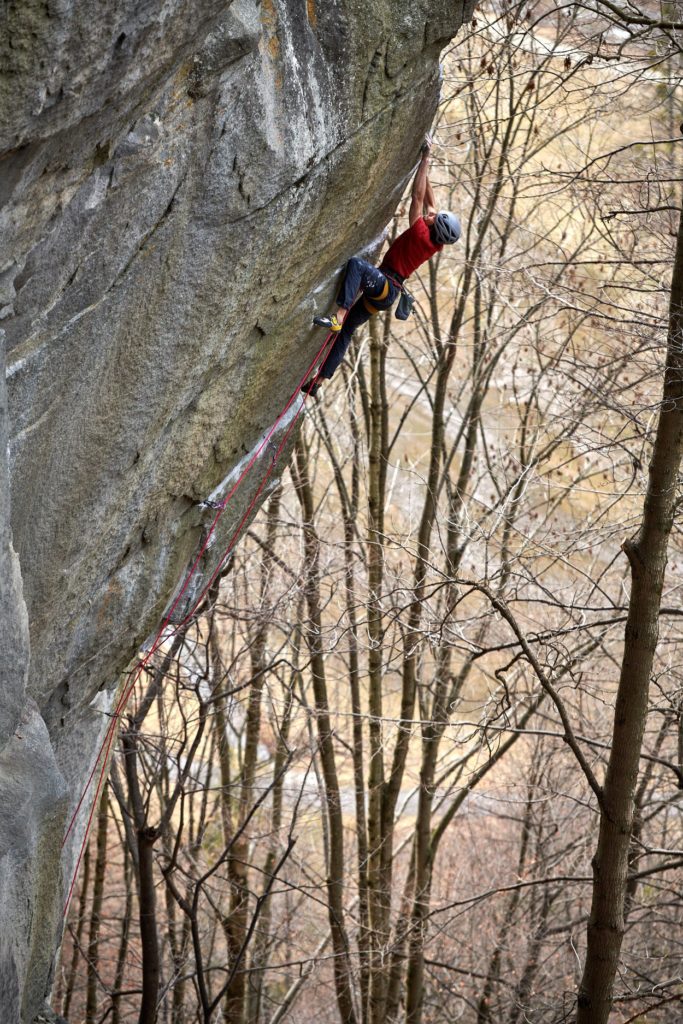 With these 2 new giant camalots, offwidth climbing will be safer. Are you psyched to try hard challenges in this style?
Babsi: Not very psyched. (because really bad in that style) But last time with this big pro's it felt at least safe—not like having to die 🙂
Jacopo: I really suck at off width climbing! I think they would need to invent something which makes it not only safer, but easier… then I would maybe start thinking to try more off width's 😉
Jacopo I know you are sceptical about the importance of grades in climbing. Explain to us you point of view. Babsi is sharing your vision?
Babsi: I think grades are important to have a reference or an orientation. (for example—if you could get to the anchors or if it is possible too hard—for the decision to try something or better leave it). Sometimes the grades can get too important to climbers/to all of us. So, I have the feeling beauty should come first, not the number in front of a route— So that should count if you decide what you want to try. Sometimes it would make sense to grade in a wider range like (5.13, 5.14, 5.15,——or easy, middle, hard, very hard)
Jacopo: I'm definitely not against them. As Babsi said, it's important to have an idea of the difficult of a route, in order to be able to understand if it's in within our reach or not (especially in trad climbing). I simply don't like the fact that for a lot of climbers the grade/number has became the ultimate goal… while the experience, the beauty of the line, the history, … have lost importance. I think this is sad, as at the end of the day we will remember the experience, not the number beside it! It's a little bit like with money… what will you remember at the end of your life? The numbers on your bank account or what you've experienced?
What about your dreamlines?
Babsi: Dreamlines, there are so many places i want to visit. It would be a dream to try eternal flame in Pakistan, or to put up a new route expedition style…visit Patagonia or Madagaskar….and many more….
Jacopo: There are so many places I would like to visit and routes I would like to climb! Eternal Flame, Riders on the storm, Biographie, Tom Egan Memorial Route, Pakistan, Patagonia, Greenland, Australia, South America, … I could go on forever.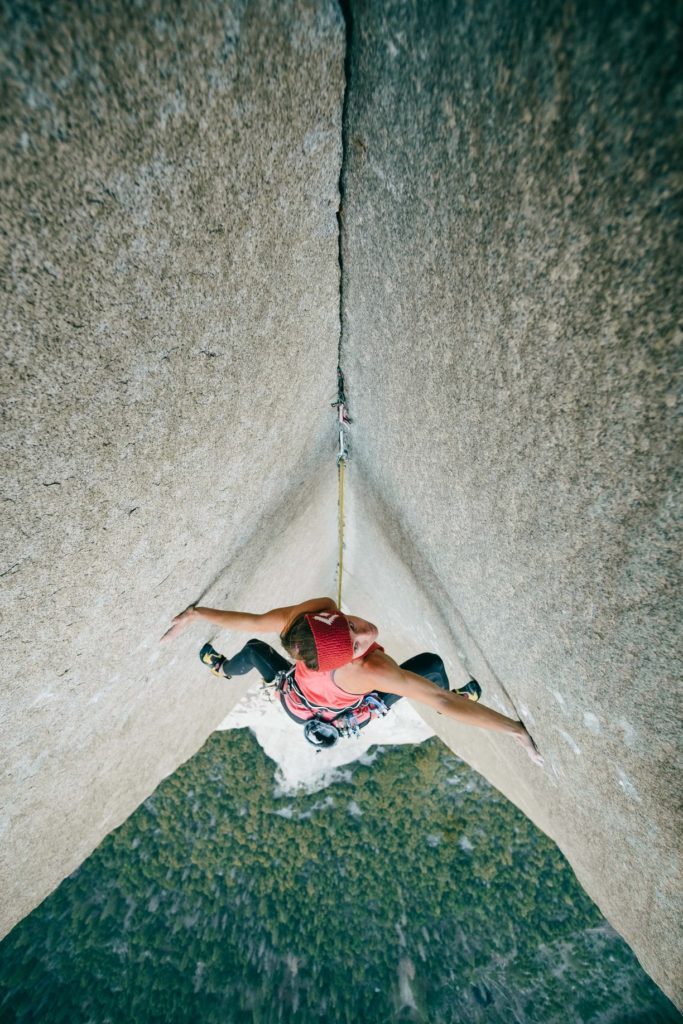 You are not on social media every instant like other top climbers. What is your opinion about this aspect?
Babsi: Social media is part of being a professional climber. But I try to keep it authentic as much as possible. We do a lot of social media…but sometimes we also need some time of. It is easy to stay active on social media if you are on trips….but back home we try to keep it mostly low…
Jacopo: Social Media is (a very big) part of being a professional climbers nowadays. I like to see it as an opportunity to share our adventures with the community, but I believe it doesn't have to become the final goal of an athlete. I'm a climber, not an influencer. For me it's easier to share more during trips, but I have a hard time to post when I'm at home. I wished Social Media had less importance in our (professional) life.
Who are the climbers who influenced you and who still influence you?
Babsi: Lynn Hill and the Nose is for me one of the best climbing achievements ever. Very inspiring. Such a long time ago. Big fan. Tommy Caldwell is a big hero to me too!!
Jacopo: Peter Mair, Sonnie Trotter and Tommy Caldwell.
What are your hobbies outside of climbing?
Babsi: Hiking into the mountains with our dog Olli, watching movies, chilling
Jacopo: Photography, skiing, running, reading, spending a lot of times in the mountains and in my van.
What projects do you want to accomplish in the future. Some things that inspire you?
Babsi: I want to go on a real expedition to a random place…trying to put up a new line together with Jacopo. This is a big dream
Jacopo: I dream of finding my own "Dawn Wall". A challenging line, which combines all the aspects I love about climbing… trad, big walls, remote places, …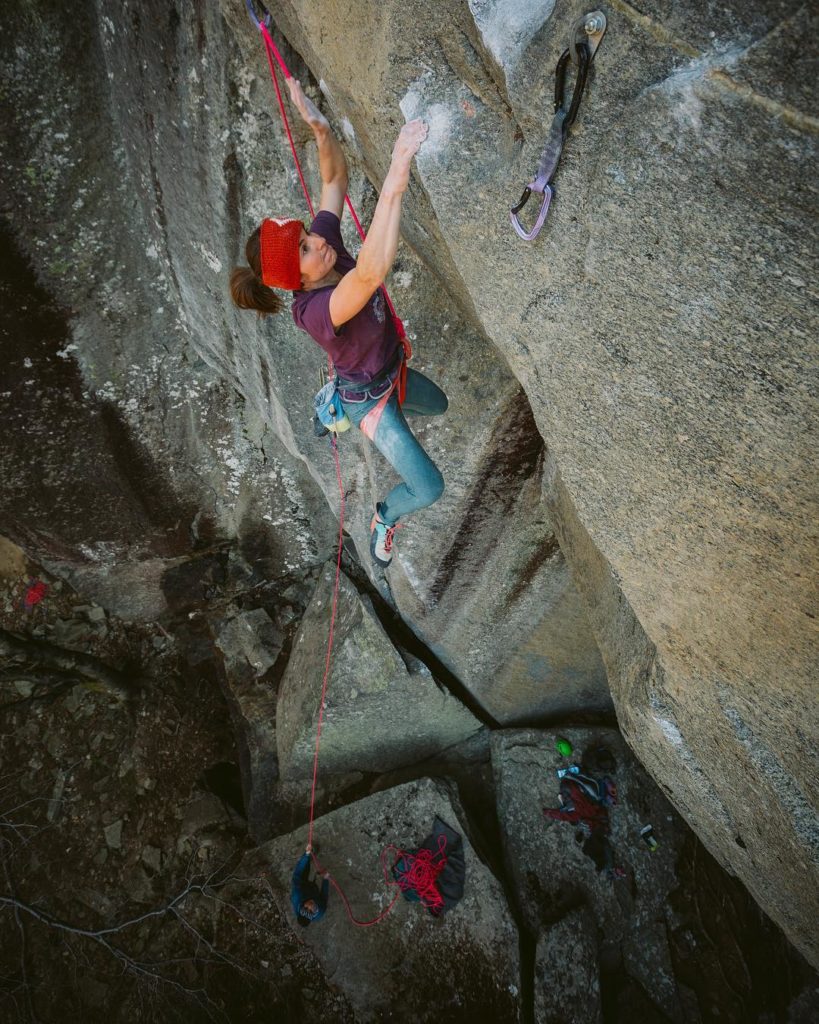 How do you deal with this period of containment at home? Is Babsi working at the hospital soon ?
Babsi: Yes, I have to work in the hospital. But the situation is not really bad in Austria. The work in the hospital is less than normal. We stay at home a lot…and we are pretty lucky in Austria that we can go outdoors doing sports.
Jacopo: I injured my knee skiing just before the beginning of the lockdown, so it has been "easier" for me to deal with the situation. I did a lot of hang boarding, caught up on some computer work, cleaned Olly's mess (our puppy) and planned some future trips. Luckily the situation here in Austria is not too critical and we are allowed to go outdoors, at least for a walk in the forest.
A message you want to share for the end ?
Babsi: Jacopo is baking his first bread…I have to get it out of the oven. So I stop right here 🙂
Jacopo: Stay positive, after every storm the sun comes out again!
Cover Pic: Thomas Senf