(English + video below)
Une semaine après son exceptionnelle performance dans "Eagle-4" à St-Léger, Julia Chanourdie, 3ème fille et première grimpeuse française à réaliser du 9b, revient avec nous sur son exploit.

Comment te sens-tu, comment s'est passée cette folle journée de samedi ?
Aujourd'hui je ne peux que me sentir bien, j'ai du mal à réaliser ce qu'il se passe, tout a été très vite. Je prends petit à petit conscience du truc de fou que je viens de réaliser, quelque chose d'encore inconcevable il y a quelques temps.
Samedi dernier je me suis levée motivée dans mon petit van.
Je sentais que c'était possible d'enchaîner, car j'avais mis un bel essai la veille. J'avais donc hâte, sans trop comprendre que je pouvais réussir mon premier 9b…
Comme d'habitude je commence ma journée de grimpe avec des voies différentes, j'en fais en général 3 avant de mettre un premier essai. J'aime bien me faire plaisir et "clipper des relais" à côté de mon travail de voie dure. J'enchaîne donc "Autant suspend mon vol" 8b, j'avais mis un essai à vue la veille.

Place à "Eagle-4", je mets 3 essais en tombant dans les mouvs de la première section, et j'enchaîne au 4ème essai de la journée à la nuit tombante, au run du "kosovar"… avec même une petite flemme, il a fallu que je me booste pas mal mentalement avant d'y aller (merci à mon compagnon pour ça!), je pensais que j'allais être fatiguée de mes essais précédents. Mais, dès le premier mouvement passé (l'un des plus durs pour moi), tout a suivi assez naturellement, il faisait un peu plus frais que pour les autres essais, j'étais bien énervée, et je me laissais juste avancer, mouv' par mouv' sans rien lâcher.
Une fois au repos de la première partie de la voie (la plus dure, celle qui fait la cotation 9b), il fallait que je récupère à fond pour gérer les pas de bloc de la 2ème partie cotée environ 8b, notamment le bon jeté en plein milieu qui m'inquiétait un peu. J'étais donc très concentrée, j'ai bien géré les phases de relâchement et d'énervement jusqu'au relai. J'ai terminé cette journée, sourire aux lèvres toute la soirée. J'en profite pour remercier encore les différents encouragements pendant cet enchaînement magique !
Décris la voie, les principales difficultés, les mouvements qui t'ont posé problème.
La voie se découpe en 2 parties. La première partie est celle qui donne la cotation 9b, elle est assez courte et très intense ! Elle est représentée par 2 sections très physiques sur pinces mauvaises.
La 2ème partie est assez longue, une sorte de 8b qui voyage, pas évidente à grimper, car c'est une succession de pas de bloc au milieu de sections moins dures. Un pas en particulier me faisait peur dans l'enchaînement, il s'agissait d'un bon jeté où il était encore possible de tomber.

Physiquement il s'agit de la voie la plus dure que j'ai essayé. Pour donner un exemple, "Supercrackinette" était devenue un vrai combat mental.
"Eagle-4" c'est plutôt une grosse bataille physique à biceps, tenue de prise et gainage !

Un mot sur le processus, de la découverte à la réussite ?
Je suis allée voir les mouvements de la voie fin septembre. Dès ma première montée j'ai réussi tous les mouvements de la première partie en 9b. J'ai pris mon temps pour voir la suite de la voie qui était censée être moins dure mais qui m'impressionnait pas mal. Le processus total d'enchaînement de la voie m'aura pris 10 jours. Ça fait peu, c'est d'ailleurs pour ça que j'ai du mal à réaliser ce que je viens de faire. Mais je sais aussi que j'étais particulièrement en forme, ces derniers temps je me sentais très forte à l'entraînement, forte en falaise aussi. De plus le style physique de "Eagle-4" me correspondait beaucoup : force, tenue de prise, rési courte…
Dans cette voie il n'y a pas de hasard, c'est : tu tiens les prises ou tu ne les tiens pas.
Fin octobre j'ai appris que la France ne partait pas aux championnats d'Europe, j'ai donc changé mes plans et décidé de passer du temps du côté de Saint Léger.
En début de semaine quelques prises étaient mouillées, j'ai bien pris le temps de les sécher pour pouvoir mettre des vrais runs, car j'avais du mal à attaquer la voie avec la volonté d'enchaîner. Une fois décidée, et ayant réalisé que j'étais capable de la faire, l'envie de réussir a tout surpassé.

Quelle est la clé de ta réussite dans cette voie ?
Difficile de dire quelle est la clé de la réussite, j'ai progressé petit à petit dedans. Je dirais que c'est à partir du moment où j'ai réellement décidé de mettre des vrais essais d'enchaînement : une fois que c'était enclenché, ce n'était qu'une question de temps et c'est allé très vite.

Réaliser du 9b était clairement un de tes objectifs ?
Après "Supercrackinette", j'avais en tête d'aller voir Eagle-4 un jour, assister à l'enchaînement de Hugo Parmentier m'avait beaucoup motivée. C'était la suite logique après "Supercrackinette" mais de là à m'imaginer réussir un 9b un jour, je n'y étais pas vraiment prête. Après les premières montées, je sentais que ça pouvait avancer assez vite et je me suis mise en confiance petit à petit. Faire un 9b est devenu alors un réel objectif à partir du moment où j'ai découvert les mouvements.
Encore une super croix au secteur Praniania de St-Léger. Qu'est ce qui fait que cet endroit est si spécial pour toi ?
J'aime beaucoup le secteur Praniania à Saint-Léger, d'une part parce que les voies sont très belles, et d'autre part car j'ai passé de nombreux moments très agréables et toujours en bonne compagnie. C'est un lieu où je me sens bien, il y a une certaine familiarité avec la falaise, et il commence à y avoir un paquet de souvenirs qui resteront gravés dans ma mémoire.

Est-ce que voyager pour t'essayer à des voies dures est un truc qui te plairait ou conçois-tu la falaise plutôt comme un support d'entraînement ?
Je rêve de voyager à travers le monde pour essayer des voies dures, mais pour le moment je dois réussir à concilier la compétition et la falaise. Je gère cela assez bien je trouve. J'arrive à aller chercher des voies extrêmes pour mon plaisir et ma passion pour ce type de challenge, et cela fait partie de mon entraînement pour la compétition.

J'ai toujours eu besoin de cet équilibre entre l'entraînement sur résine et la falaise. Aller repousser mes limites en falaise fait partie intégrante de mon entraînement pour la compète. J'aime avoir ces projets de voies dures, j'adore ce type de challenge et me battre pour y arriver. Concernant la compète, c'est pour moi l'une des meilleures façon d'élever mon niveau.
Cette année j'ai donc eu plus de temps à me consacrer au rocher et donc oser aller voir plus dur encore. C'était une année d'adaptation, il fallait gérer les annulations de compétitions et la falaise m'a pas mal sauvée en fait, principalement pour la motivation.

Quelles vont être les grandes lignes de ta préparation pour les JO d'ici cet été ?
Pour ma préparation olympique, je vais m'entraîner plus spécifiquement dans les 3 disciplines tout en continuant à grimper dehors avec peut-être d'autres projets de voies dures !

Quel message aimerais-tu apporter aux gens à travers ta pratique de l'escalade ?
J'aimerais d'abord remercier toutes les personnes qui me suivent et qui me soutiennent à fond dans ma vie de grimpeuse, et j'espère que ma grimpe et mes performances leurs donnent envie de continuer ce qu'ils aiment !

Photo de couverture : Julia Cassou Photography – JuliaCassou.com

A week after her incredible send, talk with Julia Chanourdie, third woman to climb 9b with "Eagle-4" in St-Léger du Ventoux, France.
How do you feel and how did that crazy day go last Saturday?
Today, I feel great, I still have a hard time realizing what's going on, everything went so fast. I'm slowly becoming aware that something insane, something that seemed inconceivable until recently, actually happened. On Saturday I woke up motivated in my little van. Sending felt possible, I knew it because I had given a good try the day before. So, I was really looking forward to trying it again, but without thinking about possibly sending my first 9b.
As usual, I started my day by getting on other climbs. I typically climb three routes before getting on my project. I enjoy clipping some chains besides projecting something hard. That's how I first sent "Autant suspend mon vol" 8b that day, which I had tried to onsight the day before.
And so, I moved on to "Eagle4", I gave it three goes where I fell in the beginning of the route and eventually sent it in a fourth and desperate attempt. I was even feeling lazy to try it again. I had to boost my own motivation before getting back on it (thanks to my partner for that) as I thought I'd be too tired from previous attempts. But as soon I got passed the first move, one of the hardest for me, everything flowed naturally. It was a bit colder than for previous tries, I was determined and simply focused on one move at a time.
When I got to the rest after the first and hardest part, the one which the route gets the grade from, I needed to fully recover to manage linking the second part, which grades about 8b, specifically because of a solid dyno in the middle that made me a little nervous. So, I was super focused and I had to manage my effort well until the chain, alternating between relaxation and try-hard phases.
Could you describe the route, its main difficulties and the moves that were the most challenging to you?
The route can be broken down in two parts. The first part is where the route gets its grade from. It's rather short and intense. It's made of two short powerful sequences on bad pinches. The second part is rather long, it's like an 8b that serpentines. That part is not trivial to climb because it's a succession of bouldery moves amidst easier climbing. One move in particular made me nervous on point; a serious dyno where I could have easily fallen. Physically speaking, It's the hardest climb I have ever tried. For comparison, "Supercrackinette" (editor's note, a 9a+ at the same crag that Julia also sent recently) had become more of a mental battle for me, whereas Eagle4 is more about biceps power, grip strength and core tension.
Can you tell us about the process, from discovery to sending?
I checked out the moves for the first time in September. I was able to do all the moves of the hard bottom part the first time I tried it. So, I took my time and checked out the rest of the climb which was supposedly easier but remained quite intimidating nonetheless. In total, the process took ten days of working on the climb. It seems like little time, which is why it is still hard to realize what I just achieved. But I know that I've been feeling particularly strong these days. I felt good training, and also at the crag. In addition, the style of the climb suited me well as it was all about power, grip strength and short power endurance. In this climb there is no room for tricks, you either pull on the holds, or you don't.
Late October, I learned that the French team would not go to European championships, so I changed my plans and decided to spend some time in Saint Léger.
Early last week, some holds were still wet and I decided to take some time to dry them out to be able to give the route proper tries. Before that, it was difficult for me to get on it with a real intention to send. But once I decided to actually try to send, my desire for success surpassed everything.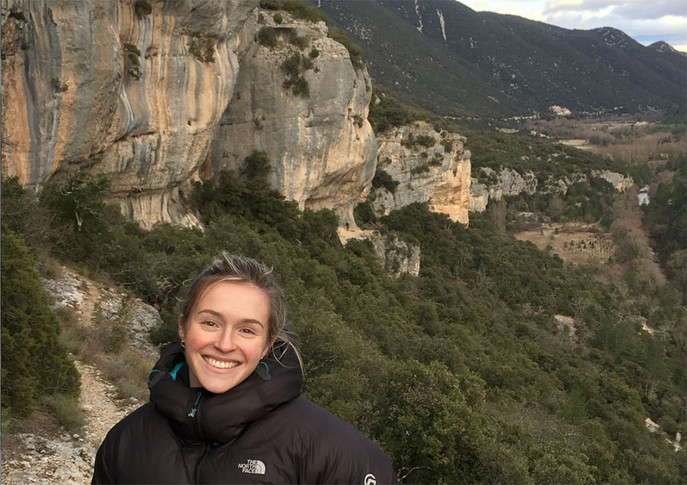 What was the key to success in this climb?
It's hard to tell what was key. I made small incremental progress. I would say that once I decided to give it proper attempts, after that was triggered, it was only a matter time and it went very quickly.
Was climbing 9b specifically one of your goals?
After sending Supercrackinette, I had in mind to go check out Eagle4 someday. Having witnessed Hugo Parmentier's send had really motivated me in this regard. It was the logical follow up, but to think that I would be sending 9b someday, I was not really prepared for that. After the first few tries I felt like the process could move forward quickly and I started gaining confidence. Sending 9b became a goal after I unlocked the movements.
This is another huge send at the Praniania crag in Saint Léger, what makes this place so special for you?
I really like this sector, first because the routes are beautiful and also because I've spent amazing times there, always in great company. It's a place where I feel good. I feel familiar with the crag and I now have lots of cherished memories there.
Would you consider travelling specifically to try hard routes or is it something that's more part of your training?
I dream about travelling around the world to try hard climbs but for now on I have to juggle crag climbing and competitions. I'm happy with the way I'm handling this so far. I manage to enjoy myself trying hard climbs outside, that's my passion and that's also part of my training for comps. I've always needed this balance between indoors and outdoors climbing. Pushing my limits on the rock is an integral part of my training as an athlete. I like having those hard projects, I love the challenge and what it takes to complete them. When it comes to competitions, it's one of the best ways for me to get stronger.
This year, I could dedicate more time on the rock and dared to try even harder routes. It has been all about adapting. We had to deal with cancellations and sport climbing outside saved me actually, particularly when it comes to motivation.
What are the general guidelines of your preparation for the Olympics?
Regarding my olympic preparation, I will work more specifically on each individual discipline all the while continuing to climb outside, maybe with new hard projects!
What message would you like to carry via your climbing? I would first like to thank all the people who help me and support me in my life as a climber. And I hope that my climbing and my performances inspire some people and help them to keep doing what they love!

Cover Pic: Julia Cassou Photography – JuliaCassou.com