Qualifiée pour les JO, Julia Chanourdie n'en délaisse pas pour autant le milieu naturel. La grimpeuse chambérienne a eu un vendredi 13 chanceux en réussissant son premier 9a+,"Supercrackinette", à St-Léger du Ventoux. Cette réalisation marque la première féminine de la voie et le premier 9a+ féminin français. Retour avec Julia sur cette superbe croix.
Comment s'est passée la découverte de ce projet ? Dans quelles circonstances ? Quand était-ce ?
Suite à ma qualification olympique, il était important pour moi de retourner me ressourcer en falaise. C'est mi-janvier que je suis allée à Saint-léger avec mon copain. Et il se trouve que mon ami Baptiste Dherbilly mettait des essais dans "Super Crackinette". Cela m'a donné envie d'aller voir les mouvs avec les explications de Baptiste.
Cela t'a tout de suite plu ? Comment expliques-tu ta focalisation sur cette voie ?
J'ai tout de suite adoré cette voie ! Le style, les différents types de mouvements, ce rocher épuré… En falaise, je recherche toujours des styles de voies qui vont également m'entraîner pour la compétition, c'est-à-dire des styles plutôt résistants et homogènes. C'était bien le cas pour cette voie-là : des sections de rési intenses entrecoupées de pas de bloc et de mouvements assez aléatoires. J'ai rapidement fait tous les mouvs et ça m'a donné envie de revenir.
C'était prémédité de ta part de te concentrer sur une voie très dure en falaise ou cela s'est fait au fil de l'eau ?
Ce n'était pas du tout prémédité, je savais seulement que je voulais consacrer du temps à la falaise en ce début de saison. Puis, comme j'adore travailler des voies dures, ça n'a pas été très difficile de choisir sur quoi je voulais me focaliser ces quelques temps.
Tu es qualifiée pour les JO et là où les autres se focalisent sur l'indoor, toi tu sors. Tu en as besoin pour ton équilibre ?
Effectivement, je suis une grimpeuse polyvalente depuis toujours, et j'ai toujours eu besoin de passer du temps dehors. L'an passé, je n'ai pas pu mettre les doigts sur le rocher : en vue de la qualification olympique, il fallait s'adapter au nouveau format du combiné et se préparer au mieux pour toutes les étapes de coupes du monde, des championnats du monde puis du tournoi de qualification olympique à Toulouse. J'ai alors mis la falaise de côté pour un objectif énorme. Cool ça a marché ! Il était ensuite important pour moi de retrouver cet équilibre, qui me permet d'en être où j'en suis aujourd'hui, et d'accomplir des projets aussi fous en intérieur qu'en extérieur.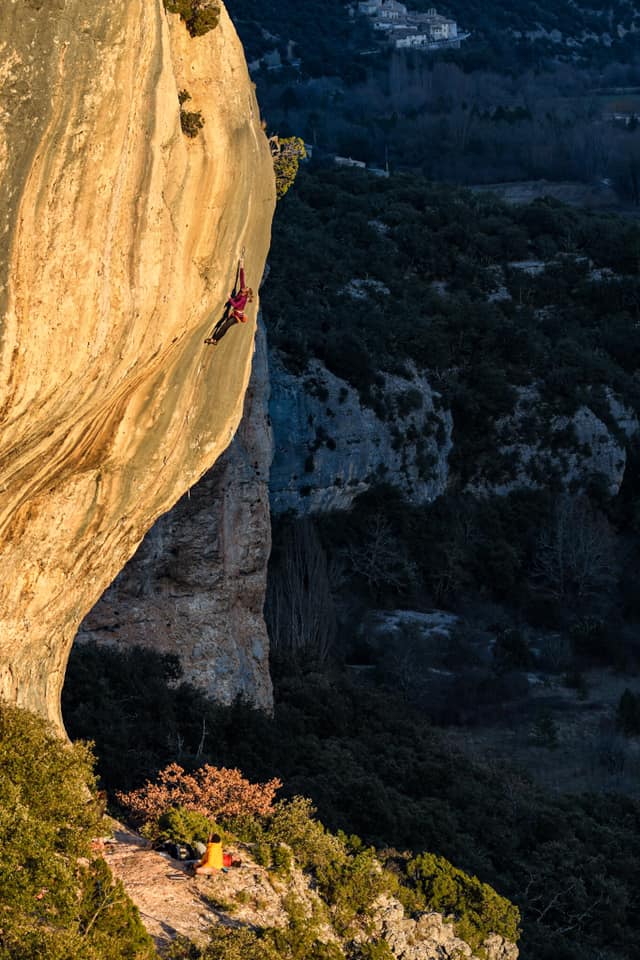 Décris succinctement la voie et les crux qui t'ont posé problème. Pour toi, quelle est sa principale difficulté ?
Cette voie fait 25 mètres de haut de haut et se découpe en 2 parties. La première remonte un bon dévers bien résistant et se termine par un pas de bloc consistant en un gros blocage main droite sur une petite réglette, pour aller chercher un monodoigt main gauche assez bon. Il faut donc optimiser au maximum cette première partie pour arriver le plus frais possible au pas de bloc du mono. La deuxième partie est moins déversante, et se compose de tous types de préhensions (mono, bi doigts, inversées, verrous, réglettes,… ). Cette partie de la voie est très épurée, c'est vraiment beau. Elle se termine par un mouvement vraiment dur pour aller chercher la dernière prise de la section, un mouvement très aléatoire avec la méthode classique, qui demande une vraie coordination du corps. Puis la voie se termine par quelques mouvements beaucoup moins durs pour aller au bout du bombé.
Après la découverte de la voie mi-janvier, je suis revenue quasi tous les weekends pour travailler cette voie. Dès le 2ème weekend, j'allais jusqu'au mouv du mono, ma progression était rapide !
J'ai ensuite eu un bon blocage à ce fameux mouvement pendant pas mal d'essais. Dans un premier temps j'étais très positive car je sentais que ça allait faire vite ! Mais petit à petit, j'ai commencé à passer par toutes les émotions. Après 2 semaines de break, j'ai enfin passé ce mouv, pensant que cette fois c'était sûr, j'allais enchaîner. Mais un nouveau blocage est apparu au dernier mouv pour plusieurs essais. C'était très frustrant de se sentir physiquement capable d'enchaîner, alors que c'étaient d'autres aspects qui bloquaient cette réussite. J'ai persévéré, sachant que j'allais finir par faire cette voie en continuant de venir les weekends. Sébastien Berthe m'a ensuite fait part d'une autre méthode pour le sommet, moins aléatoire mais qui demande une bonne tenue de prise ; elle m'a tout à fait convenue ! Je suis encore tombée 2 fois en haut, puis c'est passé hier (13 mars 2020) en venant à la journée et en matinée à la fraîche. Il m'aura fallu 17 jours d'essais, étalés sur 2 mois.
Penses-tu être à tes limites ?
Je ne pense pas être à mes limites, le fait d'avoir clippé ce relais me donne envie d'aller voir encore plus loin. Cependant, pour le moment, j'ai bien envie de retourner à Saint-léger pour faire toutes les belles voies moins dures du secteur Praniania que j'avais hâte d'essayer.
Quels sont tes projets outdoors les plus fous une fois que l'échéance des JO sera passée ?
Aucune idée pour l'instant pour l'après JO, chaque chose en son temps. Cette année est une année magique, alors je savoure et je me prépare au mieux pour les premiers Jeux d'escalade.
On te souhaite tout le meilleur pour la suite, un mot pour conclure ?
Pour conclure, j'ai juste envie de dire merci à tous ceux qui m'ont accompagnés dans ce projet, de près ou de loin. J'ai été bien entourée pendant ces 2 mois, et c'était vraiment essentiel pour l'accomplissement de cette voie.

Photo de couverture : Mélanie Cannac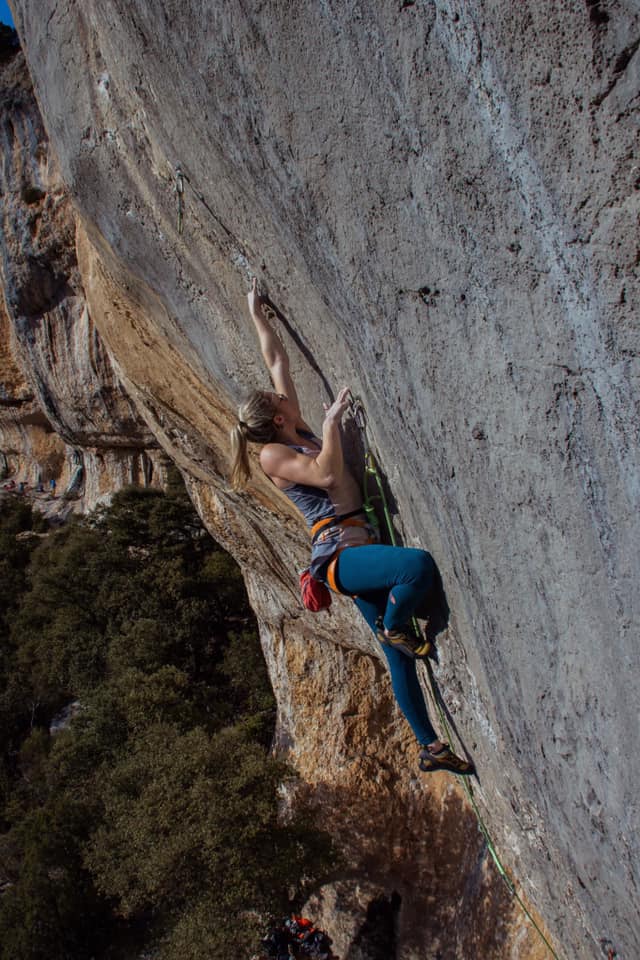 Qualified for Oympics, Julia Chanourdie has not skipped rockclimbing. She lived a lucky Friday 13 (!) by clipping the chain of "Super Crackinette" 9a+ at St-Léger du Ventoux in the South of France. This performance signed the first female in the route and the first French female ascent of a 9a +. Interview.
How did you find this project? In which circumstances ? When was it ?
Following my qualification for the Olympics, it was important to me to go climb outside and recharge. So, mid-January I went to Saint Leger with my boyfriend. We met with my friend Baptiste Dherbilly who happened to be trying Super Crackinette. It made me want to check out the moves while benefiting from his explanations regarding beta.
Did you immediately like it? How do you explain your focus on this route?
I immediately loved that route! The style, the different types of movements, that pure looking rock. When sport climbing outside, I always try to find routes that can also serve as good training for competitions. So that means rather homogeneous in effort and power-endurancy climbs, which really was the case for that one. It has some intense sections intercepted by bouldery and somehow random moves. I was quickly able to do all the moves though, so that motivated me to come back.
Did you plan on focusing on that climb only right from the beginning or did it just happened as your trips there went by?
It wasn't planned at all. I simply wanted to spend some time sport climbing outside for this first half of the season. But since I like to work on hard climbs, the choice to focus on that one became pretty obvious.
You are qualified for the Olympics and where the others focus on the indoor, you are rock climbing. Do you need it for your balance?
I've always been a rather multi-disciplinary climber indeed and I've always needed to keep spending time outdoors. Last year I couldn't even touch any rock at all. I had to dedicate all my time training for world cups, world championships and, last but not least, adapt for the combined Olympic format in order to best prepare for the olympic qualifier in Tournefeuille. So I set outdoor climbing aside for a while to focus on that massive Olympic goal and it worked (awesome!). After that, it was important to me to find this balance again that defines me and that allows me to achieve my craziest challenges both in comps and on real rock.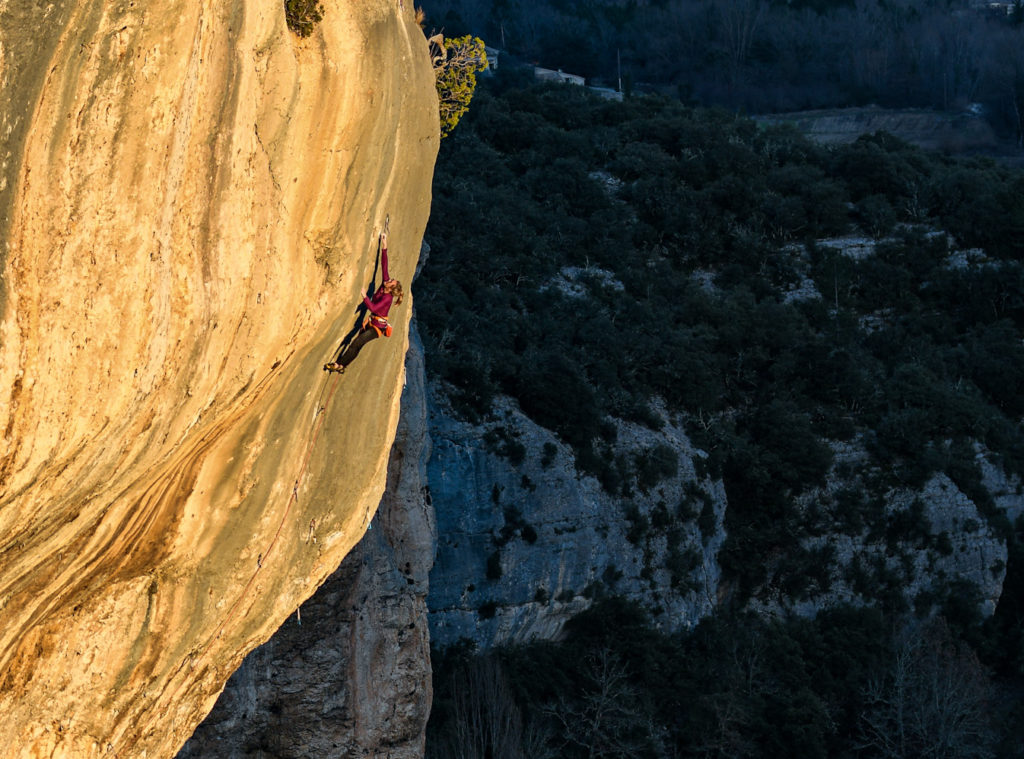 Can you describe the route and the cruxes: For you, what is the main difficulty?
The route is 25 m long and can be broken down in two parts. The first one takes place in rather steep terrain and consists in a power-endurance section that ends with a brutal lock-off from a small crimp in your right hand to reach a decent one-finger pocket with your left hand. So, it is important to optimize your climbing in that first part and save enough energy for the bouldery move to the mono. The second part is not as steep and includes all various kinds of holds (one- and two-finger pockets, underclings, finger lock-offs, crimps and so on). That part of the route follows a very pure line of sparse holds and is extremely aesthetic. It ends with an incredibly hard move, a low percentage movement that requires full body coordination. The route then eases up a belly until the chains.
Do you think you have reached your limits?
No, I don't think this route represents the limit of my abilities. Having successfully clipped these anchors just makes me want to go see further. However, for now, I'm simply itching to go back to Saint Leger and climb all the easier superb routes at the Praniania crag.
What are your outdoor projects after the Olympics ?
I have no idea what will follow the Olympics. One thing at a time. This year is magic for me so I'm just trying to enjoy it as much as possible and prepare for the first Olympic climbing competition ever.
We wish you all the best for the future, a word to conclude?
To conclude, I would simply like to thank everyone who helped me achieve this goal, no matter how involved they were. I was surrounded by great people and that was definitely key for this accomplishment.
Cover Pic: Mélanie Cannac