(English below)
Seb Bouin vient de réussir la première ascension de son chantier de l'hiver à Russan qu'il surnommait le "Chilam Balam" français ! Le falaisiste varois propose "les yeux plus gros que l'antre" 9a+/b , La voie qui propose une extension de départ du projet de la baume équipée par Pierre Rouzo à la fin des 90's "Les yeux plus gros que le ventre". L'ensemble fait 70 mètres de long !  D'abord un 8b+ de 20-25m, un très bon repos. Ensuite il faut faire tomber sa corde pour pouvoir continuer. En se vachant "mou"  à une dégaine avec un cabestan, on peut tirer la corde jusqu'au sol et ainsi repartir sur un dégaine. De ce changement de corde, il y a de suite un pas de bloc sur monodoigt pour atteindre un autre repos. Ce qui fait monter la cotation générale à 8c. Suite à cela, il reste un 9a très résistant à réaliser avec des pas de blocs en haut. On pourrait le décrire ce dernier 9a de cette façon : une approche sur bonnes colonnettes, puis un 7A bloc, un autre 7A bloc, un 7C+/8A bloc, et un 7B bloc. Un challenge les plus difficiles de France avec "Akira", "Eagle 4" et "CRS". Retour avec l'intéressé…
– Fanatic Climbing : Combien de séances as-tu mis ? Et d'essais environ ?
– Seb : Je n'ai pas compté. Mais j'essaye cette voie depuis Décembre par intermittence. Ce qui fait un paquet de séances. Pour avoir une comparaison, j'avais mis en cumulé une semaine et demi à faire « Chilam Balam » (1 semaine lors du premier trip, et 3 jours lors du deuxième).
– Fanatic Climbing : Combien de genoux comporte la voie ? Combiens sont des repos totaux ?
– Seb : Pareil je n'ai pas compté, mais à la louche 17 à 18 genoux obligatoires. Pour les repos totaux, je pars du principe que l'on ne fournit pas d'effort sur un repos total. Dans cette voie il y a deux très bons repos mais qui demandent quand même de pousser sur les jambes. Et au final, je n'y suis pas resté si longtemps. Je dirais que c'est plus les petits repos coupant les sections qui sont la clef de la voie. Il faut pouvoir couper quelques secondes et repartir un peu plus frais.
– Fanatic Climbing : Tu n'as pas attendu les conditions et as grimpé la voie partiellement mouillée, pourquoi ?
– Seb : Pour plusieurs raisons. Tout d'abord cette voie n'est pas loin de la maison, donc je ne perds rien à essayer. Et puis ce plafond résurge souvent. Je n'avais donc pas envie d'attendre des semaines pour essayer. Toutes les prises mouillées sont des colonnettes ou stalactites, et au final c'est un peu plus gênant, mais ça n'empêche pas de grimper dedans. Par chance, toute la section clef de la fin était souvent sèche.
– Fanatic Climbing : Explique-nous quelles ont été les clés de ta réussite pour dompter tous ces pas de bloc en haut de la voie ?
– Seb : Ma tactique était simple. Cette voie est tellement longue que j'ai commencé par bosser la fin. J'ai repris la technique que l'on effectuait en Norvège. J'ai d'abord enchainé la dernière partie estimée à 9a, puis je suis parti du sol. La clef était de maitriser à la perfection cette dernière partie, car en arrivant du sol, je n'étais pas du tout dans le même état de fatigue physique et psychologique.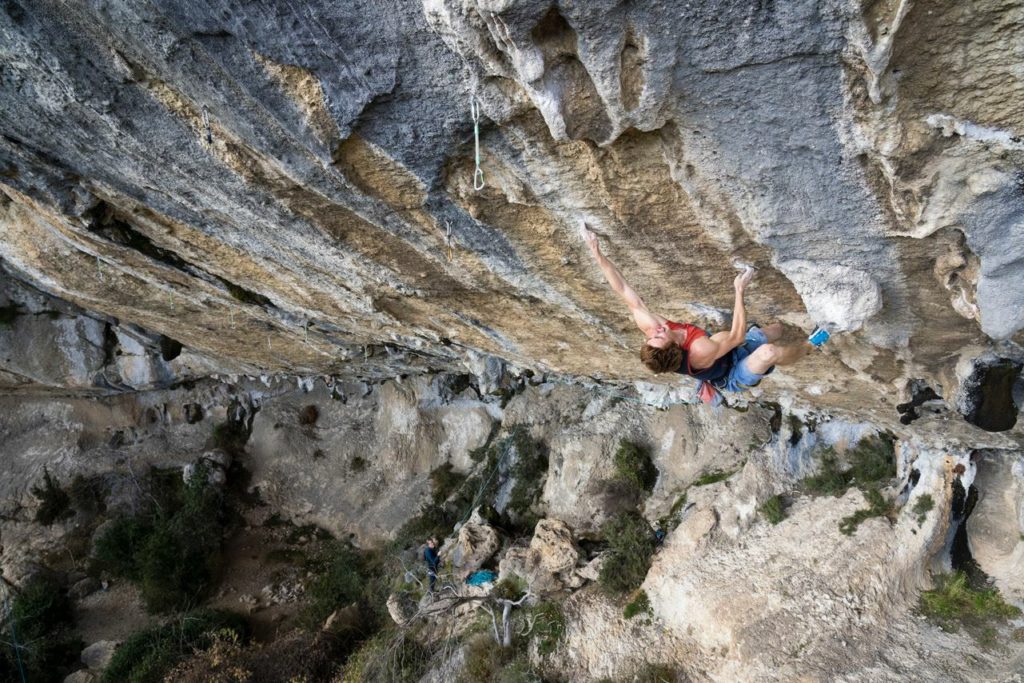 – Fanatic Climbing : Parle nous de ce jeté en 7C+/8A bloc, à part pê dans "Golpe de estado", c'est peu courant !
– Seb : Ce n'est pas le jeté qui est estimé à 7C+/8A bloc, c'est toute la section qui se termine par un jeté. Cette section a été dure à appréhender. En effet, j'ai longtemps pensé qu'il y aurait une autre alternative au jeté. Mais finalement, il s'est avéré que c'était la méthode qui me convenait le mieux. Oui c'est peu courant et surtout après 60 mètres de grimpe. De plus ce jeté se fait sur une colonnette.
– Fanatic Climbing : Explique-nous pourquoi penses-tu que c'est plus dur que Chilam Balam ? Pourquoi ne pas annoncer 9b franchement ?
– Seb : C'est plus dur que « Chilam Balam » car les pas sont plus durs et la configuration différente. La fin est beaucoup plus soutenue dans cette voie. Il y a plusieurs raisons qui expliquent mon choix de cotation. Tout d'abord, je n'ai pas beaucoup d'expérience dans ce niveau. Et dieu sait que c'est toujours compliqué de donner une cotation dans une première. On a passé du temps à défricher, nettoyer, chercher… Je sais qu'il est possible de se tromper, et dans le doute je préfère attendre qu'un répétiteur tranche entre le 9b ou le 9a+. Ensuite c'est une voie extrêmement longue et pas vraiment dans un format classique. Je prends donc aussi mes précautions par rapport à cela. Même si ce style me convient tout à fait. N'ayant pas trop d'expérience dans le 9b, le jour où j'annoncerai une FA dans cette cotation, je voudrais avoir d'autres avis (comme par exemple dans « la rage d'Adam »).
Je me situe souvent plus par rapport au projets que je veux réaliser plutôt que par rapport aux voies que j'ai réalisé.
– Fanatic Climbing : A quand le travail d'un 9b référence dans ton agenda comme "First round first minute", "Fight or flight", "La Capella" (référence car ayant subi pas mal de répétitions et confirmées à ce niveau) ? Ou ça te motive pas ?
– Seb : Ce qui motive avant tout c'est la beauté des lignes et la difficulté. Ainsi, dans les trois voies que tu as cité, il y a seulement Fight or Flight qui a pour moi un intérêt ( mais pas majeur). Pour que je puisse m'investir à fond dans une voie il faut qu'elle me fasse rêver, et ce n'est pas le cas de « la capella » ou « FRFM ». Mais je vais peut être sauter une étape avec « Move » qui sait ! Au moins celle-ci, on est sûr que ce sera au moins un 9b de référence ! Je voulais des projets cool pour l'hiver et qui font sans trop d'entrainement. Il fallait que je sois en réussite avant de retourner dans « Move ».
– Fanatic Climbing : Penses-tu avoir atteint tes limites ou as-tu l'impression que tu peux encore espérer progresser en escalade sportive extrême ?
– Seb : Je pense que je suis au début de ma pratique professionnelle, cette première année consacrée seulement à l'escalade m'a permis d'apprendre beaucoup de choses. A voir si ça fonctionnera !
– Fanatic Climbing : Pour finir, comment fais-tu pour organiser ton travail et être performant dans tes divers projets (Pachamama, Move,…) ? On a l'impression que tu es sur tous les fronts! 
– Seb :On va dire qu'il y a les gros projets qui demandent de l'entrainement comme « Move » et les projets pour s'amuser comme « Pachamama » ou cette voie. Mais des fois s'amuser nous rend plus performant ! Je m'entraine en parallèle des projets d'amusement. Parfois c'est frustrant car on n'est pas au top physiquement, mais j'ai envie de progresser pour les gros objectifs qui arrivent. Donc j'organise souvent mes journées avant les repos de cette façon : travail de projet + séance de bloc ou voie sur mur.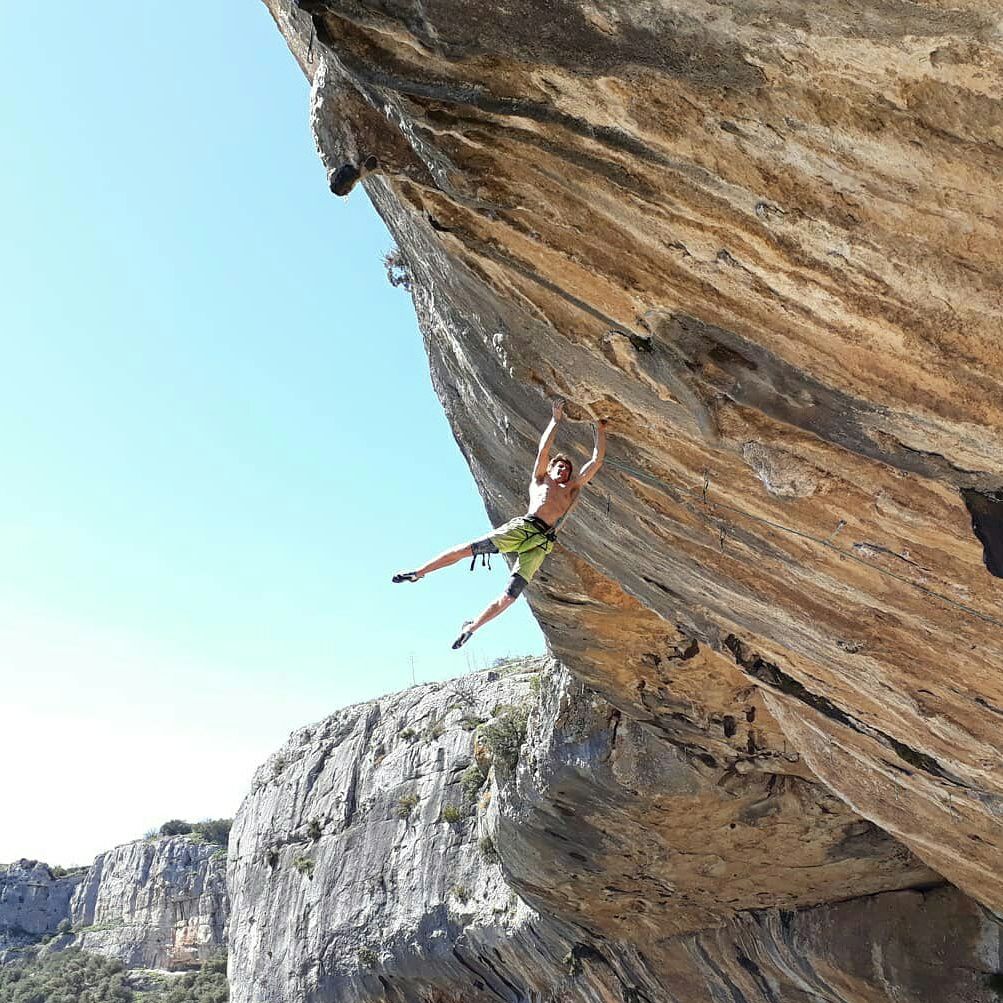 Seb bouin just managed to send his winter project with the first ascent of  what he called the " french Chilam balam" : a stamina roof monster of 70 meters in Russan "Les yeux plus gros que l'antre" 9a+/b. This route is a start extension of an old 90's project bolted by Pierre Rouzo, "Les yeux plus gros que le ventre". First a 8b+ 25 meters roof climbing before a good rest when you need to put the rope off the draws for skip the rope drag, than an hard crux for a mono to another rest. At this point, 8c is done and then start the buisness a very resistant 9a with a lot of cruxes in the top part : 7A boulder, 7A boulder again, a trich 7C+/8A boulder, then again a 7B boulder. One of the most difficult challenge of France with "Akira", "CRS" and "Eagle 4". Interview with Seb. 
– Fanatic Climbing : How many days have you spent in the route? How many tries ?
– Seb : I didn't count. But I have tried the route regularly since December. A lot of sessions ! As comparison  if I had to compare, for sending « Chilam balam » I needed around 10 days, a week on the first trip and only 3 days on the second.
– Fanatic Climbing : How many kneebars in this route ? How many decent rests ?
– Seb : I didn't count, but around 17-18 kneebars you're forced to put. For the complete rests, I think you needn't to force on it. Here, you have very good rests but with a lot of tension on the legs, so finally, you don't stay so long. For me, the key is to deal with the small rests between the boulder sections. You need to stay here few seconds and to get more fresh quickly.
– Fanatic Climbing : You didn't wait for conditions, and you climbed this route mostly wet. Why this choice ?
– Seb : For several reasons. First this route is not so far from my home, so I loose nothing while trying it. Then this roof is often wet, and I didn't want to wait some weeks before attempting it. All the wet holds were tufas or stalactites, so it was awkward but you can deal with it. But luckily all the top section was dry.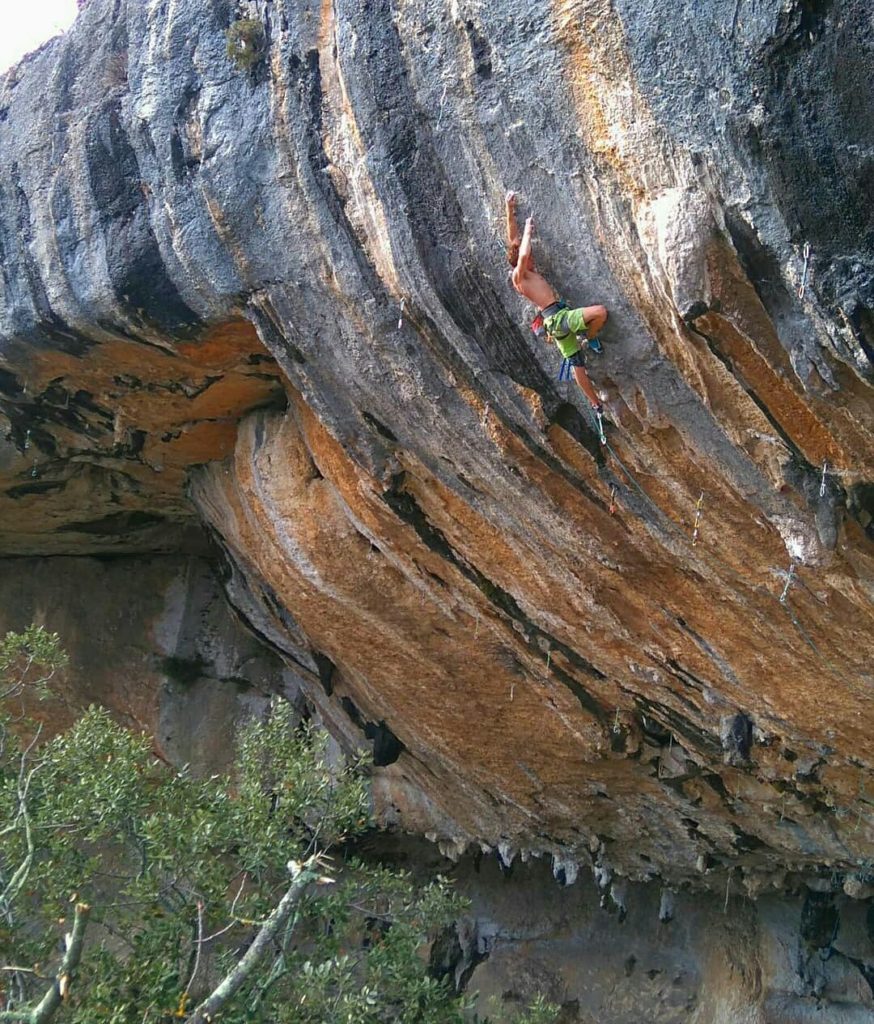 – Fanatic Climbing : Were were the keys of your success for arriving to link all these bouldery sections at the end of the route?
– Seb : My plan was simple. This route is very long, so I decided to work the end. It was the same tactic we use in Norway for working the routes in Flatanger cave. So I first sent the upper part around 9a before attempting from the ground. The key was to climb perfectly this last part, even you ae pumped or mentally tired.
– Fanatic Climbing : Speak about this key section and this dyno around 7C+/8A boulder, except in « Golpe de estado », having an hard dyno like this is unusual!
– Seb : It's not the dyno which is around 7C+/8A boulder for me, it's the key section ending with the dyno. This crux was hard to figure out. During a long time, I was planning another beta instead of the dyno. But finally, i twas the better plan. Yes, it's unusual to jump on a tufa after 60 meters climbing!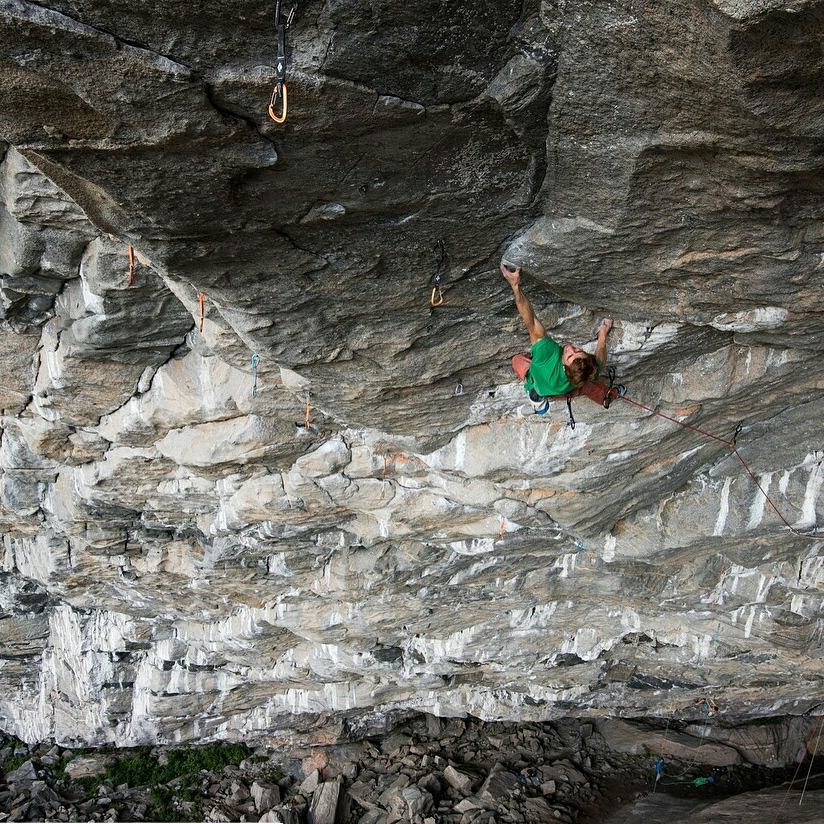 – Fanatic Climbing : Explain us why do you think it's harder than « Chilam balam » ? Why not claiming for an 9b first ascent? 
– Seb : It's harder than « Chilam balam » because the sections are harder and the setting different. The end is quite more sustained. There are several reasons which explain my grade choice. First I have not enough experience in this level, and it's very difficult to grade a first ascent. We spent some time to brush, clean, search… I think it was possible to make mistakes, so I perfer that the next who will repeat will give his opinion about the grade, between 9a+ and 9b. Then it's a very long route so and it's not an usual effort. So I need to take care with this fact. Even the style fits me very well. I have not enough experience, so the day I will claim an 9b first ascent, I would like to get more opinions andfeedbacls on my climbs like for exemple in « La rage d'Adam » (a project in Ramirole cave, Verdon gorge).
– Fanatic Climbing : When will you try a reference 9b which have been repeated several times, like « FRFM », « La capella » or « Fight or flight » ? Or you aren't psyched ?
– Seb : My motivation is guided by beautiful lines and difficulty. In the 3 routes you are quoting, only « Figh or flight » is for me interessant (but not major). For projecting and investing a lot of time in an extreme route, the line should make me dream, it's not the cas of « La capella » or « FRFM ». But maybe I miss a step with working « Move « , who knows…But for sure this one is a solid 9b ! I wanted collest project this winter skipping which needed to train so much. I needed to be in a successful state of mind before coming back in my project in Flatanger.
– Fanatic Climbing : Have you reached your limits or do you think you can improve again in sportclimbing buisiness ?
– Seb : I think I'm jus tat the beginning of my professional carreer. I learned a lot of things during this first year only climbing. We will see how i twill be in the future !
– Fanatic Climbing : For ending, how do you arrive to deal for regularly perform in all your projects ? You are in « a muerte mode » all the time !
– Seb : I will say there are some big projects very demanding with a lot of training like « Move » and others more for the fun like « Pachamama » or this route for example. But sometimes, have fun and don't pay attention permits performance ! I train in parralel of the entertainement projects I have. Somtimes it's frustrting because you are not very strong physically, but I need to improve for the next big goals I have set. So I organize my days before the day rest with working projects and indoor bouldering or lead sessions.
Photo de couverture/cover pic : Charlie Lecocq
Retrouvez une autre interview de Seb – Read another interview of Seb