(English below)
Vous aimez notre site et vous voulez le voir évoluer et se développer dans le futur ?
Soutenez-nous et adhérez ! => c'est ICI <=
Le 1er octobre 2017 nous avons créé le site internet Fanatic-climbing.com, un média web dédié exclusivement à l'information concernant l'escalade outdoor, diffusé en français et en anglais.
Un site volontairement simple et minimaliste uniquement consacré à la grimpe en milieu naturel et ses acteurs. Après trois années de fonctionnement, nous avons décidé de nous appuyer sur une structure légale permettant de nous développer à moyen et long terme.

Nous avons donc créé il y a quelques mois l'association culturelle et d'intérêt général FANATIC Climbing, pour promouvoir la culture et pratique de l'escalade en milieu naturel à travers notre site internet. Derrière FANATIC Climbing, il y a une équipe de passionnés d'escalade que vous pouvez découvrir ici.
Vous aimez ce que nous faisons et vous voulez participer à la pérennisation et à l'évolution du site Fanatic-climbing.com, rejoignez notre association !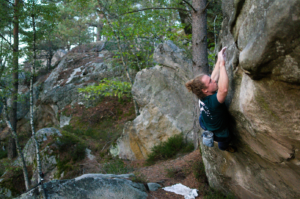 Plusieurs objectifs en vue !
– couvrir les frais relatifs au fonctionnement du site (pour l'instant nous supportons personnellement tous les coûts liés au site : promo, frais de serveur, …) ;
– permettre de continuer à enrichir le contenu bénévole et passionné que nous vous proposons gratuitement depuis 3 ans maintenant ;
– continuer à nous passer de placements de produits dans nos articles, car cela va à l'encontre des valeurs qui nous animent.
Nous ne souhaitons pas rendre une partie de nos articles payante ou bouleverser notre ligne éditoriale. Nous n'avons pas vocation à tirer profit du fonctionnement et de l'audience de FANATIC Climbing, nous avons tous des emplois à côté et donc des revenus pour nos vies personnelles.
Dissocier contenu journalistique et aspects marketing/publicité nous semble primordial. Aussi, les adhésions et dons nous permettront de pouvoir rétribuer ponctuellement des collaborateurs pour des articles, des photos, des traductions, etc… toujours avec le souci permanent d'améliorer la qualité rédactionnelle, ou perfectionner l'architecture ou l'infrastructure du site.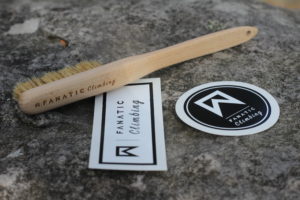 Le recours à l'e-publicité sera d'autant plus limité que notre association sera forte ! Il s'agit d'envisager une évolution future de notre site internet permettant à FANATIC Climbing de pouvoir innover à l'avenir !

Vous aimez ce que nous faisons et vous voulez participer à la pérennisation et à l'évolution du site Fanatic-climbing.com, rejoignez notre association !

Nous avons créé 2 niveaux d'adhésions annuelles :
– adhésion « Grès de Fontainebleau» (10 euros) : vous devenez membre et vous recevrez également une brosse gravée FANATIC Climbing  ;
– adhésion « Calcaire à colo » (20 euros) : vous devenez membre et vous recevrez une brosse gravée FANATIC Climbing ainsi qu'un beau t-shirt aux couleurs du site.
Vous êtes à l'étranger et vous voulez aussi nous soutenir et adhérer ? Pas de panique, c'est possible ! Nous appliquons simplement un supplément de 5 euros pour compenser les frais de port plus élevés.
Vous voulez nous aider sans devenir membre de l'association : vous avez également la possibilité de réaliser des dons à l'association (à noter : pas de réduction d'impôts).
Merci de votre lecture et d'avance merci à nos futurs adhérents !

Le Conseil d'administration de l'Association FANATIC Climbing
Pierre Délas , Président
Marie Couliou, Vice-présidente
Antoine Evrard, Secrétaire
Julien Gasc, Trésorier
Sonia Corvaisier, Trésorière adjointe
Lesley Ladlad, Secrétaire adjointe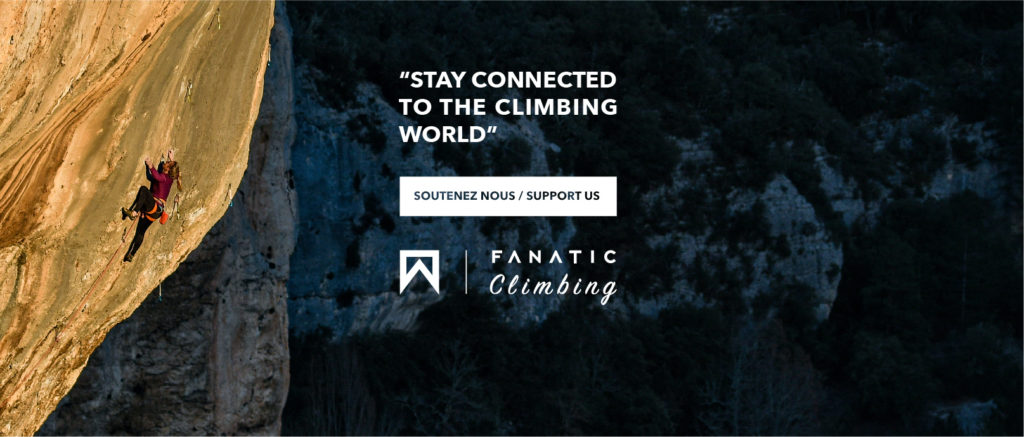 Help us and subscribe ! => it is HERE <=
On October 1st 2017, we created the Fanatic-climbing.com website, a media dedicated exclusively to rock climbing, published both in French and English.
The website was designed to be simple and sober, with a content that is only about outdoors climbing and its community.
The FANATIC Climbing non-profit was created a few months ago, and has the status of an "organization of cultural and general interest for the public". Its official goal is to promote the culture and practice of outdoors rock climbing via its website. Behind Fanatic is a small team of passionate climbing enthusiasts.

If you like FANATIC Climbing website, you can help the website thrive by becoming a member of our non-profit organization.

Here are several goals we have in mind with the membership fees:
– Cover expenses directly related to maintaining the website. At the moment, we still personally take care of charges related to the host server and advertising.
– Continue to enrich the website with various articles, as well as keep up to date with the most recent news, which has been done on a volunteering base thus far.
– Avoid having to rely on product advertising as much as possible, as it goes against our values; we have no ties to any company at the moment and would like to keep it that way.
We would like the entirety of our content to stay free, as well as keep our current editorial guidelines. We do not aim at profiting from FANATIC Climbing and its readers. All of us at FC have jobs besides this organization, which we therefore contribute to voluntarily. It is important to keep our journalistic content free from any marketing and advertising. Therefore, all funds generated by memberships will be used for specific expenses that may be related–but not exclusive–to invited articles, photos, translations and so on. This will always be done in the optics of improving the website's content and architecture.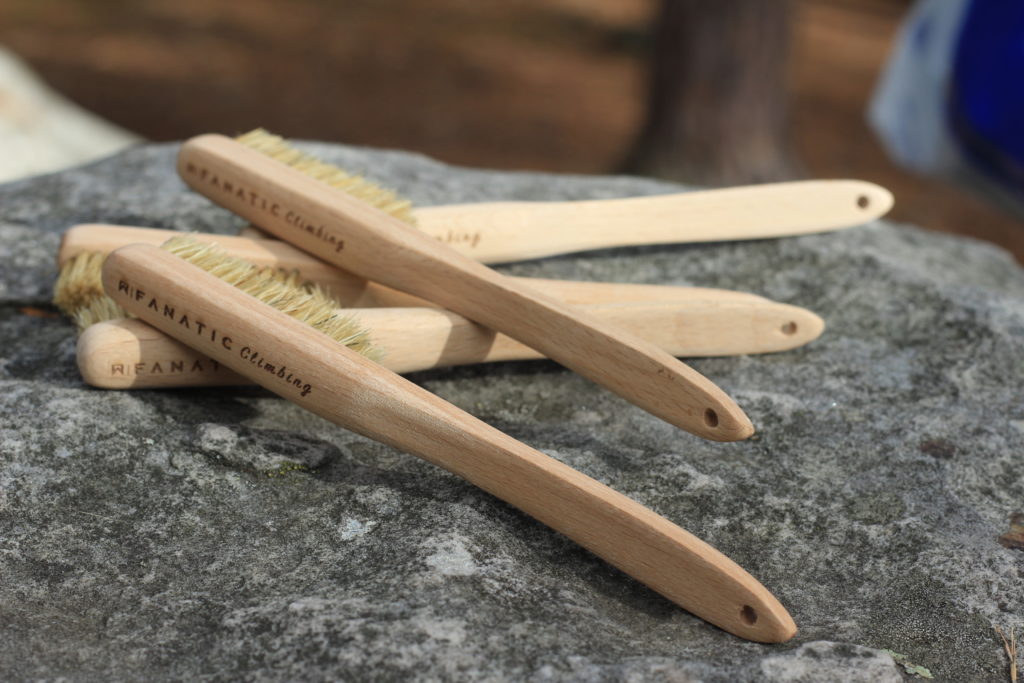 The bigger our member's base will be, the sparser the use of ads within the website will be. Hopefully, the growth of our community will allow our website to evolve and innovate.
We've created two yearly membership levels:
– Font Sandstone membership (10 €): become a member and get a FANATIC Climbing brush
– Tufa Limestone membership (20 €): become a member, get a FANATIC Climbing brush as well as a rad looking T-shirt displaying the website's colors.
If you reside abroad from France and would like to become a member (and get your goodies), no worries! We'll only add an extra 5 € to cover international shipping costs. If you'd like to contribute without becoming a member you can also simply make a donation.
Thanks for reading us and welcome to our new and future members!
On behalf of the whole FANATIC Climbing board
Credit photo: Sam Bié, Mélanie Cannac, Julien Gasc et Marie Couliou