Un des plus plus renommé et expérimenté équipeur européen, le Suisse Michel Piola, attire notre vigilance sur l'état de l'équipement du site grec à la mode, Leonidio, situé sur la côte est du Péloponnèse. En effet, comme au secteur Panagia cave où il l'a personnellement constaté, certains types de points posés en inox normal semblent s'oxyder et se détériorer de manière très rapide en milieu salin. Un comble quand on sait que le développement de ce site est très récent ! Des cas similaires sont aussi répertoriés tout autour de la Méditerrannée, que ce soit en Sicile, Sardaigne, Majorque ou Kalymnos… Est préconisé pour ces sites côtiers un équipement chimique avec des scellements de type inox A4 ou en titane qui résistent à l'oxydation.
Ceci nous permet de digresser sur un rappel à la vigilance sur la qualité des ancrages quand vous grimpez en milieu extérieur. Que ce soit pour l'oxydation liée à l'air marin ou la proximité d'une résurgence, mais aussi l'aspect général des ancrages (certains points dans un alliage douteux en provenance de Chine aperçus sur certaines falaises catalanes, ou les célèbres cornières de clôture de jardin de certaines anciennes voies de Saint-Antonin Noble Val par exemple). Attention aussi sur les spits, où les boulons qui maintiennent la plaquette peuvent se desserrer avec le vent et les forces de choc encaissées. Resserrez-les à la main s'ils tournent et revenez avec une clé ! Bref, gardez les yeux ouverts quand vous grimpez dehors !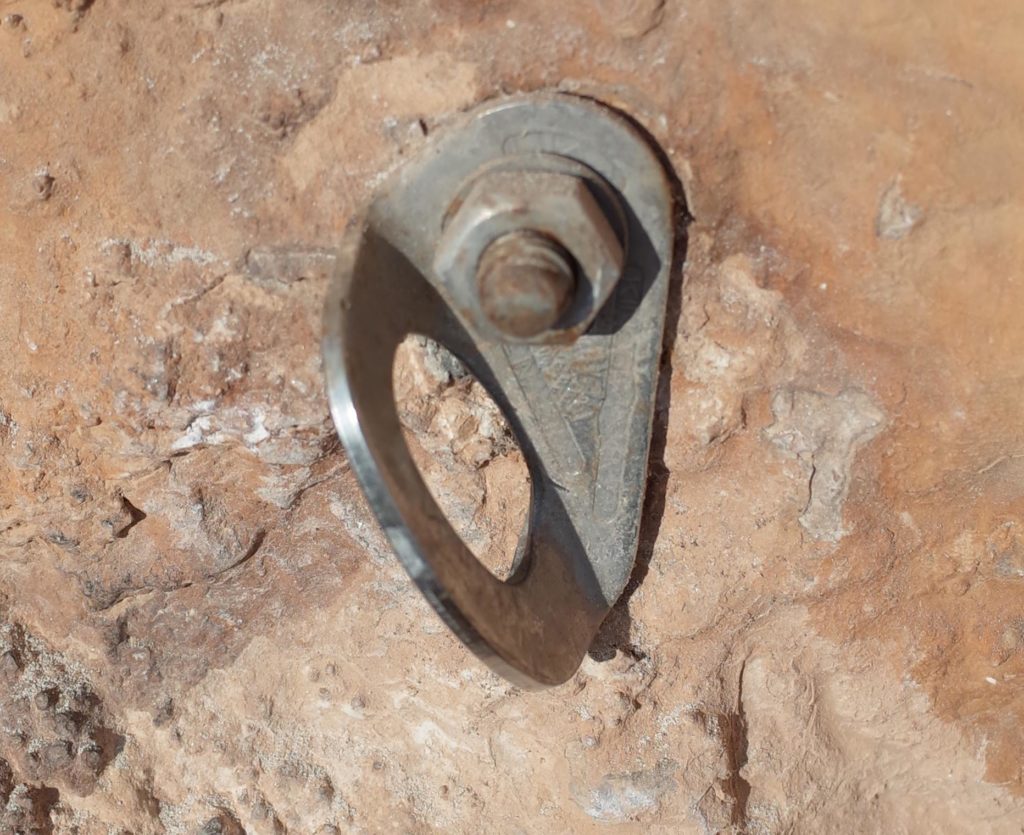 One of the most renowned and experienced European bolter, Swiss Michel Piola draws our attention on the state of the equipment in the trendy Greek area of Leonidio, located on the Eastern coast of Peloponnese. In fact, as in the Panagia cave sector where he has personally noticed, certain types of bolts put in normal stainless steel seem to oxidize and deteriorate very quickly in saline environment. A shame when we know that the development of this site is very recent! Similar cases are also listed all around the Mediterranean sea, whether in Sicily, Sardinia, Mallorca or Kalymnos…It is recommended for these sea crags to use a chemical equipment with seals type A4 stainless steel or titanium which are resistant to the marine air oxidation.
This allows us to digress on a reminder to the vigilance on the quality of the bolts and anchors when you go climbing ouside. Whether on the oxidation due to the saline air or the proximity of a wet part of rock, but also the general appearance of the bolts (some points in a dubious alloy from China whitnessed in Catalunya, or the famous angles garden fence of some ancient routes of St. Antonin Noble Val France for example). Beware also when the bolts are rolling, due to strong wind conditions and the shock forces collected. Tighten them by hand if they turn and come back with a key! In short, keep your eyes open when you climb outside!