*** Premier 9a pour Pierre Trolliet :
Le falaisiste toulousain vient de réussir la 3ème ascension de "Descente en terre inconnue" 9a à la grotte de Sabart en Ariège. Une ligne qui lui a demandé d'innombrables séances de travail. La première ascension avait été réalisée par Lucien Martinez et la seconde par le local Josef Savarino. La ligne remonte un plafond sur près de 25 mètres. Retrouvez une interview de Pierre sur Grimper Magazine

*** Première ascension en 9a pour Pierre Le Cerf :
Le jeune falaisiste niçois continue sa moisson de voies dures à la maison. Après "Just two fix" en juin, c'est cette fois "Alone" 9a qui est libérée, toujours dans les gorges du Loup. La voie demande une conti de titan : 45 mètres de long, 85 mouvements, avec une longue approche en 8b+/c avant 20 mouvements intenses jusqu'au relais. Plus d'infos
*** Mathieu Bouyoud en forme :
Le mutant chambérien a réalisé début juillet une rare répétition du très résistant "La guerre des nerfs" 8c+/9a à la Verrière (Dourbie). Cette semaine au Supermarché (Lubéron), Mathieu réalise la seconde ascension de "Dur sexe et le grand moutchyki" 9a. C'est Loïc Zehani qui avait réalisé la première ascension de cette connexion quelques jours plus tôt.

Photo: Loic Athenon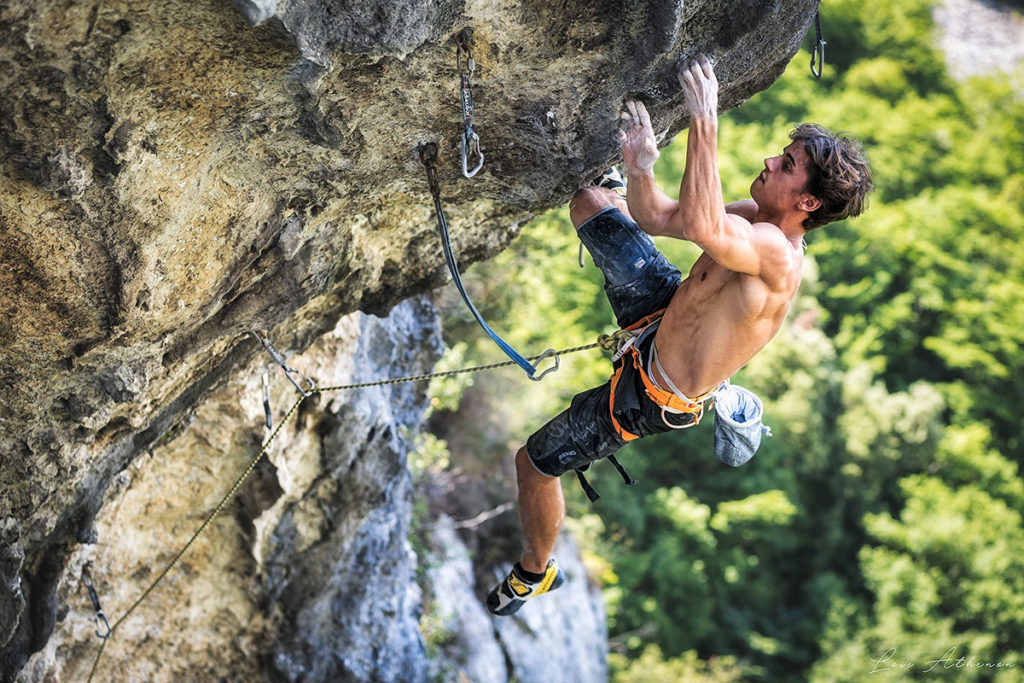 *** First 9a by Pierre Trolliet:
Pierre is a rockclimber from Toulouse. He just did the 3rd ascent of his super project "Descente en terre inconnue" 9a in Sabart cave, Ariège, France. This line took him numerous sessions. The first ascent of this 25-meter roof line was done by Lucien Martinez and the second ascent by local Josef Savarino. More details in French with an interview on Grimper Magazine

*** 9a first ascent by Pierre Le Cerf:
The young talented rockclimber from Nice continues to strike at home. After "Just two fix" last June, Pierre proposes a new first ascent, "Alone" in gorges du Loup, France. A monster stamina line : 45 meters, 85 moves, an 8b+/c approach into an intense 20-move section at the top. More informations

*** Mathieu Bouyoud in shape:
The strong rockclimber from Chambéry, France, did at the beginning of this month a rare repeat of "La guerre des nerfs" 8c+/9a in la Verrière (Dourbie). This week Mathieu just claimed the second ascent of "Dur sexe et le grand moutchyki" 9a in Supermarché (Lubéron). It's Loic Zehani who freed this link some days ago.
Photo: Loic Athenon