Nous sommes allés à la rencontre de l'expérimentée championne belge Muriel Sarkany afin de décrypter ses tours de main lui permettant d'être performante en escalade sportive malgré sa petite taille. Dans les voies dures, l'éloignement entre les prises combiné souvent au manque d'intermédiaires est souvent très rebutant et rédhibitoire pour les petits. Voyons comment Muriel envisage les choses et arrive à s'organiser, elle, qui en compétition ou en falaise a toujours réussi à être très efficace malgré son déficit d'allonge.
– Quelle taille mesures-tu ?
1 m 53,5 (le demi étant très important dans mon cas ;-)).
– Est-ce pour toi un atout ou un inconvénient ?
Cela dépend, mais c'est vrai qu'en général c'est plutôt un désavantage surtout en salle car il n'y a pas d'autres options (intermédiaires, pieds…). Et faire comprendre aux ouvreurs qu'il n'est pas nécessaire d'ouvrir grand pour ouvrir dur, est une lutte sans fin. Par contre en falaise, j'ai déjà à plein de reprises pu m'en sortir avec des méthodes bizarres ou plus dures en tenant des intermédiaires et du coup faisables par rapport à mon gabarit.
– Tu as grimpé énormément de voies dures dans ta carrière, et tu es régulièrement confrontée à la longueur des mouvements. As-tu déjà abandonné un projet en raison d'un mouvement trop morpho ?
Quand j'essaye une voie, si je sais faire tout les mouvements, ça devient un projet 🙂 Je ne vais pas m'acharner dans une voie dans laquelle je sais pertinemment qu'il y a des mouvements qui ne passeront pas et en plus qui seront trauma. Il y a des voies qui m'ont tentée mais qui ne me conviennent absolument pas (vraiment impossible),et je n'ai pas de solution de rechange, même parfois des 8a ou d'autres faisables mais en faisant des mouvements beaucoup trop durs voir tordus pour la cotation. Souvent, je dois m'adapter comme dans "Era Vella", "Punt'x" ou "La Rubia" où je ne peux pas faire les méthodes initiales « de grands » et où je dois faire des mouvements plus durs mais pour moi tant que ça passe, je suis heureuse peu importe l'effort donné 🙂 Ce qui est dur c'est quand j'entends qu'on décote une voie comme "Era Vella" alors que pour moi c'est un vrai 9a.
– Tu choisis souvent comme projet des voies athlétiques avec des mouvements sur prises éloignées, comme dans "Punt X" ou "Era Vella" par exemple. Explique-nous ce choix.
-Je ne choisis pas mes projets en fonction de la longueur des mouvements ;-). Si j'ai essayé "Punt-x", c'était vraiment un hasard, les locaux m'avaient confirmés justement que les mouvements étaient très durs mais pas forcément morpho. A ce moment là je venais de faire mon premier 8c+ et je sentais que je pouvais clairement essayer quelque chose de plus dur. Donc comme j'adore les challenges 😉 j'ai fait une petite montée. Ca avançait pas mal, j'ai pas fait tous les mouvements mais je sentais que c'était possible."Era Vella" c'était complètement différent, j'ai vu une vidéo de cette KING line dans ce magnifique cadre avec un dévers impressionnant et à partir de ce moment, l'idée de l'essayer ne m'a plus quitté ;-).
– Comment arrives-tu généralement à surmonter un passage marqué par un mouvement loin que tu ne peux pas faire intrinsèquement en raison de l'éloignement des prises ?
Je n'ai malheureusement pas 36 solutions, Soit je laisse tomber car je peux pas agrandir mes jambes ou mes bras ou les deux. Soit il y a des inters comme par exemple pour "Rollito Sharma Extension" (ndlr : un 8c à Santa Linya), le mouvement qui m'a donné le plus de fil à retordre est la section finale où la méthode est normalement de tenir une inversée main gauche pour envoyer sur le plat final avec une inter en main droite mais en ce qui me concerne, impossible pour moi de faire ça, donc j'ai travaillé la tenue de l'intermédiaire main droite pour envoyer de toutes mes forces sur le gros plat main gauche et finalement, ça a passé. Dans ces moments là, le plus dur à gérer n'est pas la difficulté du mouvement ni l'effort fournit (car le challenge et le dépassement de soi c'est exactement ce que j'aime dans l'escalade) mais bien le côté mental et psychologique. Car souvent d'autres personnes, parfois moins fortes, essayent la voie en même temps et les voir passer avec les méthodes de « grands », dans des passages « faciles » de la voie ou moi j'en chie est parfois difficile. Comme par exemple dans la fin de "La Rubia" où il y a une série de genoux (repos total) impossible à prendre pour ma taille ce qui change radicalement l'intensité de la voie ou dans "Era Vella" quand je ne peux pas clipper du repos sur la vire mais obligée de clipper dans enchaînement….Mais je pense qu'au final au lieu d'être négatif, tout ceci est positif car ça m'a permis d'avoir une plus grande force mentale, ce qui est je pense une de mes plus grandes forces dans l'escalade.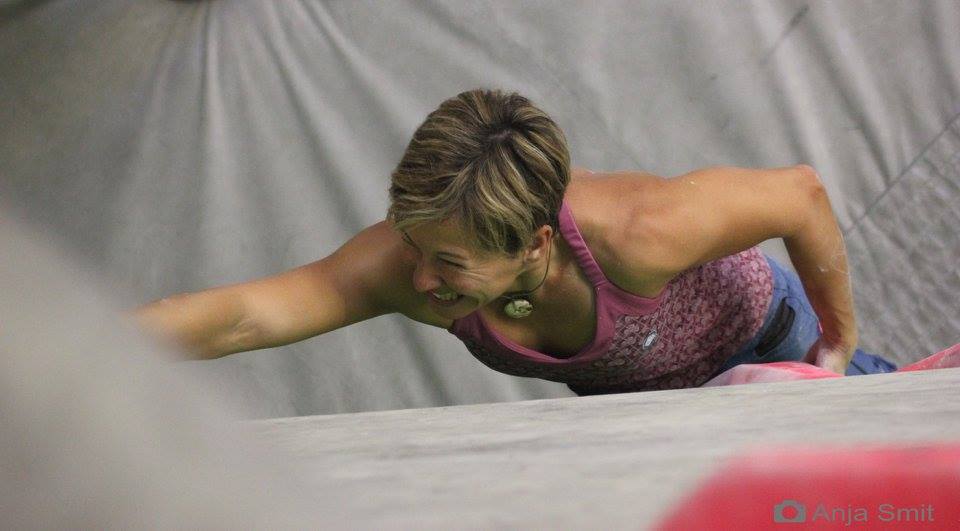 – Travailles-tu spécifiquement à l'entraînement sur une recherche de méthode alternative ?
Non, je ne pense pas, il faut juste plus chercher de nouvelles méthodes dans les voies et oser aborder les mouvements sous un autre angle que celui fait pas tout le monde. Il y a un côté très gratifiant d'ailleurs à trouver une solution là où depuis des années tout le monde passe de la même manière. Et je sais que dans "Punt'X", à Nice, les locaux donnent maintenant aussi "la méthode de Muriel" pour passer le crux différemment 🙂
– Comment travailles-tu spécifiquement ton blocage de bras en escalade ?
En début d'année, je me concocte une petite prépa physique avec divers exercices sur machines mais ma force spécifique se fait en travaillant les voies et c'est souvent ça qui me donne la pêche.
– Travailles-tu régulièrement et spécifiquement d'autres aspects permettant d'être performante dans des mouvements aux prises éloignées ?
Je travaille pas mal mon gainage et j'essaye d'être régulière dans mes séances. Sinon, je ne travaille rien spécifiquement. Pour moi perso, ce qui me fait le plus progresser c'est de grimper.
– Comment analyses-tu la perf d'Angela Eiter dans "La Planta de shiva",sachant qu'Angela est aussi petite (1,54 m) ?
C'est juste incroyable, quand je travaillais "La Rubia", j'ai eu l'occasion de la voir grimper dans "La Planta", et avec sa taille elle a trouvé des méthodes pour éviter les mouvements amples en tenant des micros pinces, c'était hyper impressionnant. Angela a également un très gros mental et une volonté de fer. Mais la taille sur papier ne veut pas tout dire, l'allonge est aussi importante, il y a des grimpeurs de petite taille avec une allonge positive (plus grande que leur taille). Moi malheureusement je n'ai pas de très grands bras et mon allonge est négative. Je suis une vraie petite 🙂
– Quelle sont pour toi les bases à intégrer dans tout entraînement en escalade?
La régularité, l'envie, le mental et Grimper 😉 Non plus sérieusement, l'important est de faire une bonne planification, personnelle à chacun, en fonction de ses objectifs et de ses points forts et faiblesses. C'est ce que j'essaye de transmettre dans mes coachings.
– Et le mental dans tout cela ?
Le mental est vraiment primordial, sans mental mieux vaut ne pas se lancer dans le travail de voie dure ;-). Il faut non seulement gérer l'effort mais tous ce qu'il y a à côté comme les condis, l'environnement, le temps que tu as sur place, la récupération physique et mentale pour chaque essai. Il faut de la patience et de la persévérance, je vois souvent les gens se décourager dans des projets car ils ne les font pas assez rapidement pour eux, mais c'est ça qui fait la différence, c'est la force mentale de continuer même quand on se décourage et prendre en compte et valoriser tout progrès dans la voie. Pour ça, l'entourage est aussi primordial, avoir un entourage positif, un soutien moral à toutes épreuves pour ne pas rentrer dans une spirale négative. Il n'y a pas de bons grimpeurs sans bon entourage.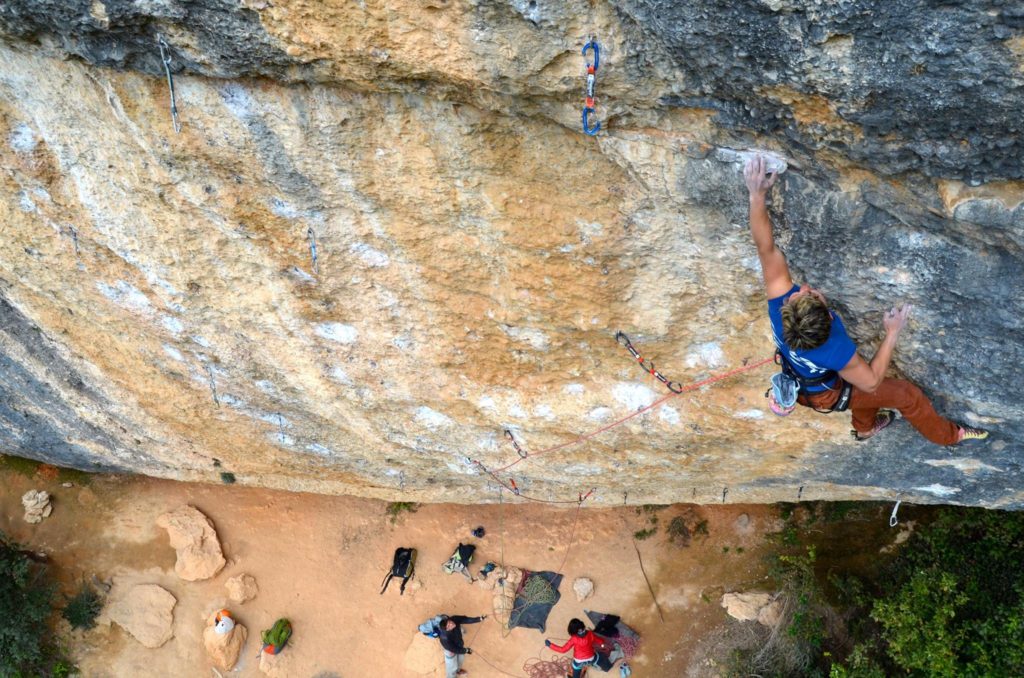 – Tu reviens d'une blessure à l'épaule. raconte-nous le trauma et la guérison.
Fin de l'année passée, j'ai fait "Era Vella", j'étais en super forme et après avoir passé du temps dans une voie très longue (50 m) j'avais envie de refaire un peu plus de bloc 😉 j'ai donc participé à plusieurs petits events en Belgique. Et petit à petit j'ai eu une gène à l'épaule qui était en fait une tendinite qui n'est d'ailleurs pas encore tout à fait finie à l'heure actuelle. Je continue à grimper mais doucement.
– Quels conseils ou exercices conseillerais-tu pour aider les petits grimpeurs ?
« Manger de la soupe » mais pour moi ça n'a pas marché 😉 Alors bien travailler la force du corps et le travail des blocages. Et surtout bien choisir ses projets.
– Quels sont tes projets pour cet été et la suite de l'année ?
Mon objectif principal pour l'instant est de guérir de ma tendinite. Donc je fais de la kiné et je grimpe tranquille. Je me fais plaisir en retournant dans des falaises où je n'allais plus car il n'y avait pas de projets pour moi. Et je refais de belles voies comme à Céuse ou Berdorf où je suis allée ces derniers jours. J'aimerai retourner à Céuse dans le courant du mois de septembre où j'ai vu quelques belles lignes qui m'attirent. Une fois guérie, j'ai quelques idées en tête mais pour l'instant ce n'est qu'au stade d'idées …Je n'ai pas encore de nom de voies précis.
We met experimented Belgian star Muriel Sarkany for trying to understand her tips about how to be efficient in sportclimbing despite a small size. In hard routes, the length between the holds, often combined with no intermediar often a very big problem for small people. How Muriel is doing and dealing with this point to be efficient in rockclimbing or competitition? That's what we want to discover…
– How tall are you?
I'm 1 meter 53 and a half, and the half is very important in my case.
– For you, is your size an advantage or an inconvenient?
It's depends, but in general it's most an inconvenient, even in indoor because there is often no other option like intermediar holds or feet. And to make mentalities change in the routesetting game for making understood that you can set some hard things without long moves is an unending battle. But climbing outdoors, I could succeed with awkward or harder betas which are doable with my size.
– You climb a lot of hard routes during your carreer and you was regularly confronted to problems with long moves. Have you ever given up because it was morpho?
When I try a route, if I'm able to do all the moves, it's becoming a project. I'm will not struggle in the route a long time if I know that some moves are impossible for me because of the length between holds, which could be also traumatic. Some routes pleased me but suited me not well (quite impossible for me) and I have no other option to give up, even in 8a's or other routes which requires to me to do some painful or contorsionist moves quite harder and horrible. I often must reorganize my climb like in "Era vella", "Punt'X" or "La Rubia" where I couldn't do the former betas like the talls. My plans were harder but if it's doable for me, I'm happy, whatever the effort. One thing is sure, when I hear that some people downgrade "Era vella" I'm surprised, for me it's a real 9a.
– You often choose some athletic routes with long moves. Explain to us this choice.
I'm not etablishing my projects for the length of the moves 😉 If I tried "Punt'X", it was because locals confirmed to me that the moves were hard but not morpho at all. At this moment, I just sent y first 8c+ and I was feeling that I could try something harder. So, as I like challenges…I did a little go for checking. It was doing well, I did not stick all the moves but I felt it possible. "Era vella" was completely different. I watched a video of this route with this overhang, this beautiful place, and after this moment, the idea of trying it was all the time in my head.
– How do you manage to climb a problem with a long move that you don't arrive to do at the beginning?
I haven't 36 options. Even I give up because I couldn't make grow my legs or arms. Or there are intermediar holds like for example in "Rollito Sharma extension" the move which causes me the most problems was the final section where the beta is to hold an undercling left hand for going to the final sloper right hand, helped by an intermediar. In my case, it was impossible for me to do that way, so I worked on how to hold the intermediar with the right hand for dynoing in the sloper left hand, and it finally worked ! In these moments, the harder wasn't to deal with the difficulty of the move, whether the power for doing the move (because I love challenging and to push my limits further in climbing) but the mental and psychological game. Often other climbers, less strong than me tried the route with me, and whitnessing them climbing with betas for tall people in easy parts of the route while I'm struggling in the same section is hard to accept. Like for example in "La rubia" where there were several kneebar rests impossible to take with my leg size, which changed completely the intensity of the route. In "Era Vella", I couldn't clip from the rest on the ledge before the beginning of the hard section. Forced to clip during the climb. But finally despite to be quite negative, all of this is good because its requires to get more mental strenght and I think it's one of my biggest skills now.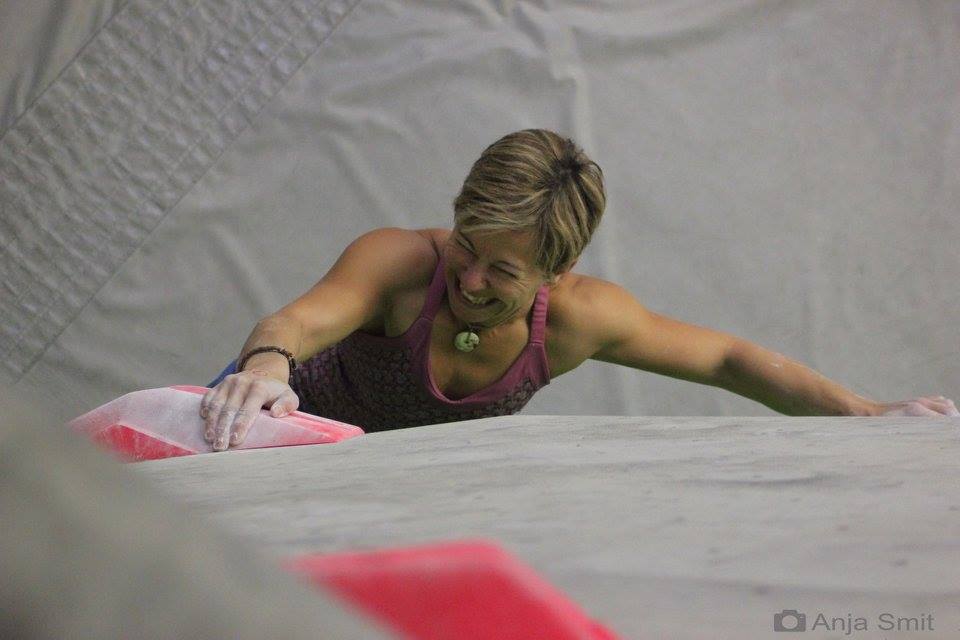 – Are you training specifically on alternativ betas for long moves?
Not at all. I just search news betas in the routes and feel the moves in a different approach compared to usual betas. It's very exciting to find new solutions where during some years all the climbers did the same way. In "Punt'X", locals give now Muriel's betas for climb the crux differently!
– Are you working on your arm strenght training?
At the beginning of the year, I'm doing a physical work with different exercices but my specific strenght is improved while working the routes. It's often this way which gives me more power.
– Are you working other sides for being more efficient on long moves?
I'm working my body tension and I try to be regular in my training sessions. For me, I need to climb for improving my level.
– How do you analyse Angie Eiter's send of "La planta de shiva" 9b, knowing she is small too (154cm)?
It's just incredible. When I was working "La rubia", I watched her trying "La planta", with her size she fund new betas for skipping the long moves, holding micro pinches, it was impressive. Angela has laso a very strong mental and an iron will. But size is not the only thing, the ape is also very important. Unfortunately I haven't long arms and my ape is negative. I'm a true small person!
– What are the basis to put in every training in climbing for you?
Being regular, having fun, mental and climbing…No, seriously, the best is to do a good training schedule, personal, with the goals you want to reach, your key strengths and weaknesses. It's that I tried to teach during my coaching times.
– And the mental aspects?
Mental is very important. Without mental it's better not to project on hard routes ! You need to deal with the effort, the conditions, the time you have, the resting periods. It's a patience game and you need to be focus. I often whitness some climbers who loose their hopes in their projects because progression is not as fast as they expected. What his making the difference is the faith to continue, even if you are disapointed by the result. You need to consider every progression in the route. For that, the surround is very important and needs to be friendly and welcoming, with a mental support for all the steps of the process. It's important not to switch in a negative spiral.It's not possible to grow as good climber without a good environment.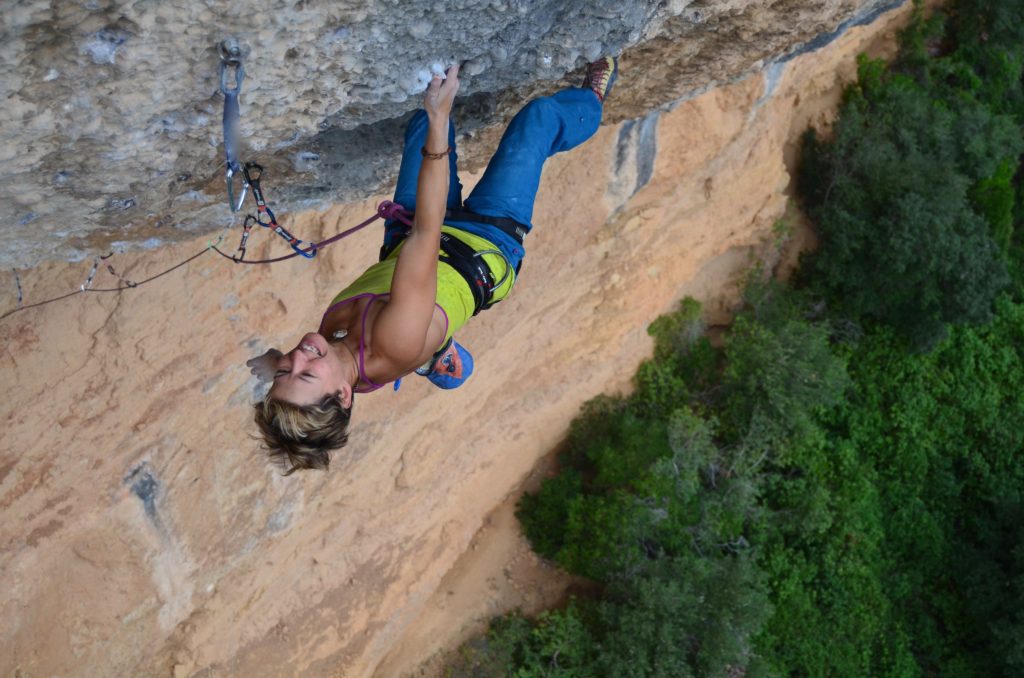 – Which advices should you give to small climbers?
« Eat some soap ! » but for me, it didn't work ! No, seriously a good body strenght is important and the good armlock too. And also the choice of projects is the key.
– You are coming back from a shoulder injury, explain to us the process.
At the end of last year, I did « Era vella » and I was in a very good shape. After having spent time in a long route (50 meters), I wanted to go bouldering. I did several bouldering events in Belgium. And slowly a pain in my shoulder came. It was a tendinitis and it's not completely finished yet. I continue to climb but slowly.
– What your projects for the end of the year ?
To be back in shape after my tendinitis. I do some physio and I climb easy routes. I try to take fun, going back in crags I did'nt visit for a while because there were no many projects for me. And I reclimbed some nice routes like in Céüse or in Berdorf where I was recently. I would like to go back in Céüse in September where I checked some lines which pleased to me. My injury finished, I have some ideas but it's not very precise.I have no route names in my mind now.