« Sortir de sa zone de confort et se déplacer pour promouvoir l'escalade dans des zones de conflits », voilà l'initiative prise par la grimpeuse pro suisse Nina Caprez qui s'est rendue au Liban la semaine dernière. Le but de son voyage : rejoindre l'équipe des membres et bénévoles du projet ClimbAID qui travaille avec des groupes de jeunes libanais et propose aussi des cours d'escalade de bloc dans les camps de réfugiés de l'Est du pays, situés proches de la frontière syrienne dans la plaine de Beqaa grâce à un camion transformé en mur de bloc mobile. La découverte de l'escalade pour les ados des camps permet aussi de renforcer les liens entre les réfugiés syriens et le peuple libanais. L'objectif et de promouvoir la mixité, puis de la faire perdurer dans d'autres domaines . Et puis la grimpe pour oublier le temps d'une soirée la misère et la morosité, en voilà une idée géniale ! Le concept fonctionne très bien, « l'effet grimpe » marchant à merveille, toutes les générations tapant rapidement des essais ensemble et essayant d'apprendre les BA-BA gestuels de notre activité en s'entraidant. « Je suis vraiment ravie de participer à cette opération, de donner de l'énergie pour les réfugiés et de leur apporter un peu de bonheur. Cela fait relativiser sur nos vies et nos problèmes, et d'aller au fond des valeurs que je recherche avec la grimpe, le dépassement de soi dans des situations pas forcément très confortables.»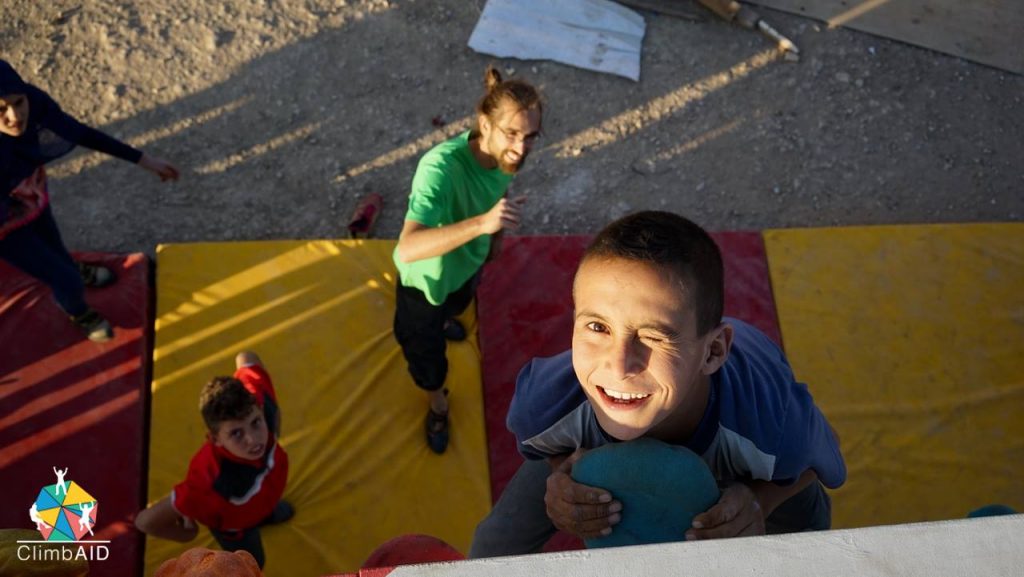 Nina en a aussi profité pour aller faire un tour en falaise à Tannourine où se trouve non loin de là l'incroyable gouffre des 3 ponts où David Lama avait libéré l'incroyable voie « Magical Sinkhole ». Du caillou 5 étoiles avec un potentiel de fou. « Le Liban est vraiment un pays très accueillant où les gens sont chaleureux, tournés vers le partage. J'espère revenir bientôt pour équiper ! » Voilà, rendez-vous est pris !
Plus d'infos sur le site de ClimbAID où vous pouvez effectuer des dons, aidons-les !
Transfert banquaire:  Postfinance / CH02 0900 0000 6172 4147 1 / ClimbAID, Neugasse 85, 8005 Zurich
PayPal / Stripe: Donations@ClimbAID.org
Adresse courriel: Info@ClimbAID.org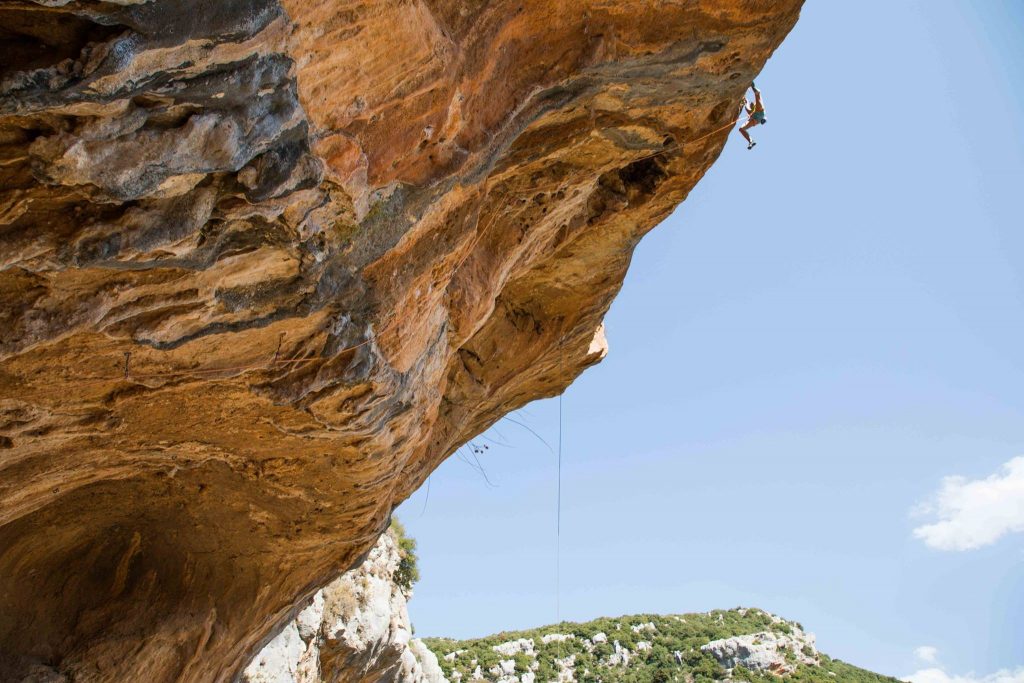 "Getting out of her comfort zone and moving around to promote climbing in conflict zones" is the initiative taken by Swiss pro climber Nina Caprez who traveled to Lebanon last week. The aim of the trip is to join the team of members and volunteers of the ClimbAID project, which works with young lebanese groups and offers bouldering lessons in the refugee settlements in the East of the country near the Syrian border in the Beqaa plain thanks to a truck transformed into a moving bouldering wall. The discovery of climbing for the teenagers of the camps also helps to strengthen and keep the links between the Syrian refugees and the Lebanese people. The time of an evening, climbing enables to forget the misery and gloom, what a great idea! The concept works very well, "the climbing effect" works perfectly, all generations are quickly making tries in the boulders together and trying to learn the BA-BA gestures of our activity by helping each other. "I am very pleased to be part of this operation, to give energy to the refugees and to bring them some happiness. And then it makes relativize about our lives and our problems and to go to the deepness of the values that I want to share with climbing, the surpassing oneself in situations not necessarily very comfortable."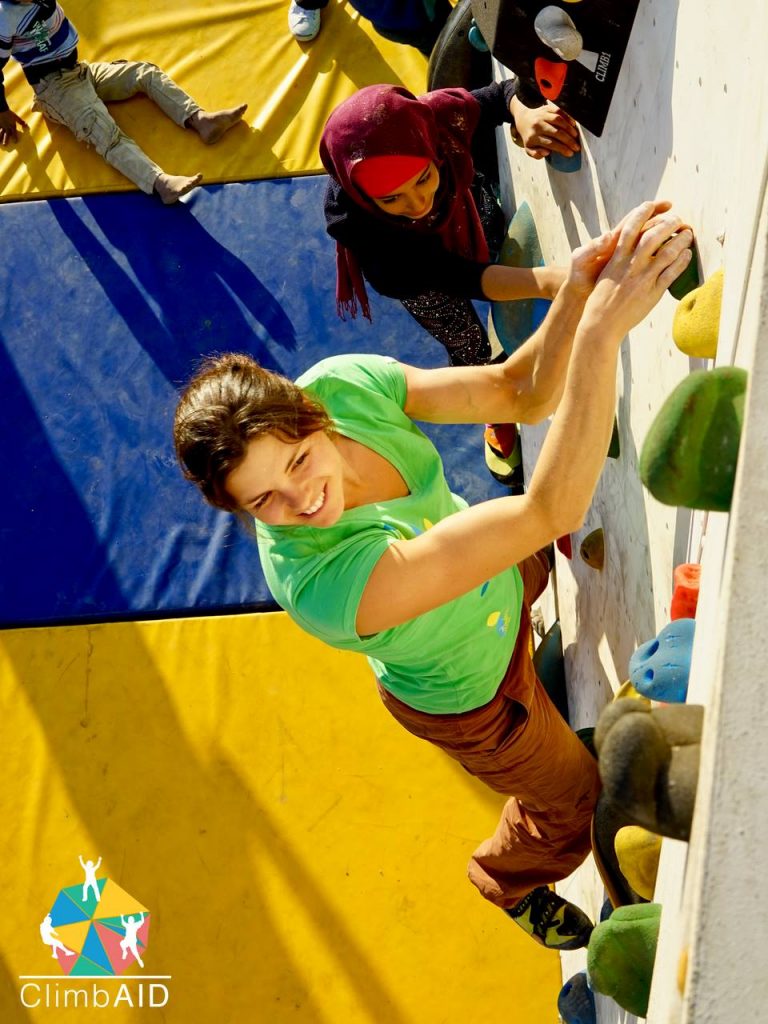 Nina also took the opportunity to go rockclimbing at the crag of Tannourine where is not far from the incredible abyss of the 3 bridges where David Lama had released the incredible way "Magical Sinkhole". 5-star rock with crazy potential. "Lebanon is truly a very welcoming country where people are very friendly and turned on sharing. I hope to return soon for bolting! RDV is taken!
More info on the ClimbAID website where you can make donations, help them!
Transfert banquaire:  Postfinance / CH02 0900 0000 6172 4147 1 / ClimbAID, Neugasse 85, 8005 Zurich
PayPal / Stripe: Donations@ClimbAID.org
Adresse courriel: Info@ClimbAID.org
Photos : Climb Aid – Jan Bakker