Description : Oliana est une ville de la vallée pyrénéenne du rio Segre située dans le Nord de la Catalogne. La célèbre falaise qui la surplombe, appelée Contrafort de Rumbau et située exactement à côté du village de Peramola se compose d'une barre orientée sud-est offrant un calcaire très sculpté de superbe qualité. Départs athlétiques voire résistants, finals souvent techniques à doigts et sur les pieds, les voies sont souvent très complètes. En revanche si vous n'aimez pas la continuité, passez votre chemin car le standard moyen propose pas moins de 40 à 50 mètres d'escalade ! Un endroit magnifique où nichent beaucoup de joyaux de la péninsule ibérique. Et la réputation n'est vraiment pas surfaite. Malheureusement, le ticket d'entrée est assez élevé : hormis quelques voies en 6ème et 7ème degré, il faudra grimper dans le 7c/8a pour commencer à se faire plaisir. La falaise idéale pour se mettre un chantier après-travail, bénéficier d'une ambiance fanatique et dépasser ses limites !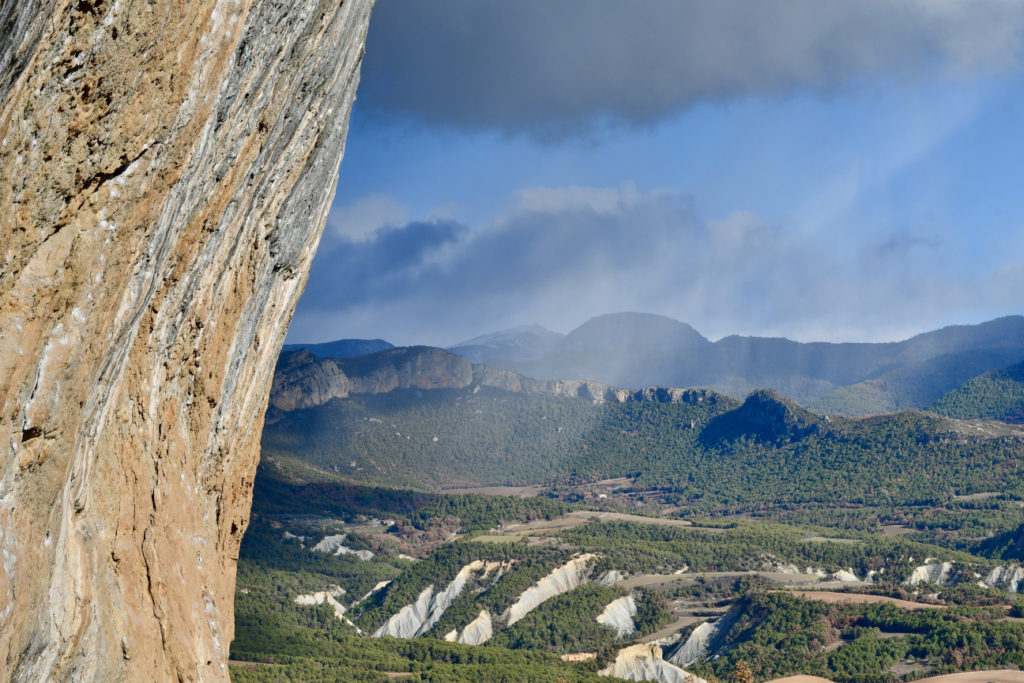 Saison : La meilleure saison reste l'hiver ou les intersaisons quand la falaise passe à l'ombre en milieu d'après-midi. Il faut qu'il fasse froid pour ne pas transpirer et serrer les prises dans des itinéraires très longs, mais quand il fait trop froid c'est aussi très dur de s'y réchauffer.
Sélection de voies :
– "Flautas", 6b, technique
– "Pitos" 6c, technique avec de beaux tous
– "Marroncita" L1 7a de chauffe, mais commence à patiner, attention à la fragilité de certaines prises du socle
– "Pastellon" 7b, bel enchaînement de trous
– "Macedonia" 7c+ : de la rési sur prises moyennes
– "Mishi" 8a de la conti avec des styles variés, superbe
– "Humildes pa harriba" 8a+ la plus faciles des voies de 50 mètres avec des colos puis un final épicé et à méthodes
– "Marroncita" 8b classique, magnifique caillou sur la partie du haut
– "Picos pardos" 8b, bloc un poil morpho puis magnifique résistance sur du joli calcaire gris scuplté
– "Paper Mullat" 8b+, un beau pas de bloc puis un rail de colo exceptionnel qui nécessite une bonne gestion
– "Humildes pa casa" 8b+ un double rail de colo aussi esthétique que majeur à remonter
– "El Gran blau" 8b+ une superbe coulée grise athlétique avec un enchaînement de prises parfait. Attention au pas final dans le vertical…
– "T1 full equip", 8b+/c le test de rési à doigts sur un mur parfait
– "Fish eye 8c", dont le crux sommital sur des croûtes et pieds minuscules à 45 mètres de haut en a rendu fou plus d'un
– "Mind control" 8c, une pure merveille de qualité de prises, de mouvements magnifiques et d'effort de continuité démoniaque
– "Joe blau" 8c+, un poil patiné mais super cool à grimper. Des bonnes méthodes aident…
– "Papi chulo" 9a+, une ligne pure qui n'a rien à envier à "Biographie".
Y aller : Aéroport de Barcelone puis louer une voiture. Par la France, si vous devez traverser les Pyrénées, le plus rapide est par le tunnel de Porte-Puymorens puis la Cerdagne. Attention à l'enneigement en période hivernale.
Dormir : La ville plus sympa à proximité est sans conteste Organya, située 20 kilomètres plus haut dans la vallée, un endroit où convergent différents pratiquants de sports outdoor (grimpe, parapente, vtt, trail, canyoning,…). On vous recommande Cal Rafelo, un village d'appartements pour 4 personnes avec un bon rapport qualité prix, situé en face du site de grimpe de Figols. Si vous voulez rayonner et grimper sur d'autres spots plus abordables, le gîte de Nicolas Durand situé à Abella de la Conca est à 45 minutes ; de là vous pouvez aussi grimper à Collegats, Santa Linya, Terradets et Abella.
Topo : La base reste le topo de Dani Andrada et de Pete O'Donovan, Lleida climbs 
Manger et boire un coup : Le restaurant La Vall de l'hôtel Dom à la sortie d'Organya en direction de Coll de Nargo. Pour les bars, les meilleurs endroits sont dans le centre d'Organya et de Coll de Nargo avec souvent une ambiance authentique ! Pour les courses vous avez deux mini-supermarché à Oliana, le mieux achalandé est le Condis dans le bas du village.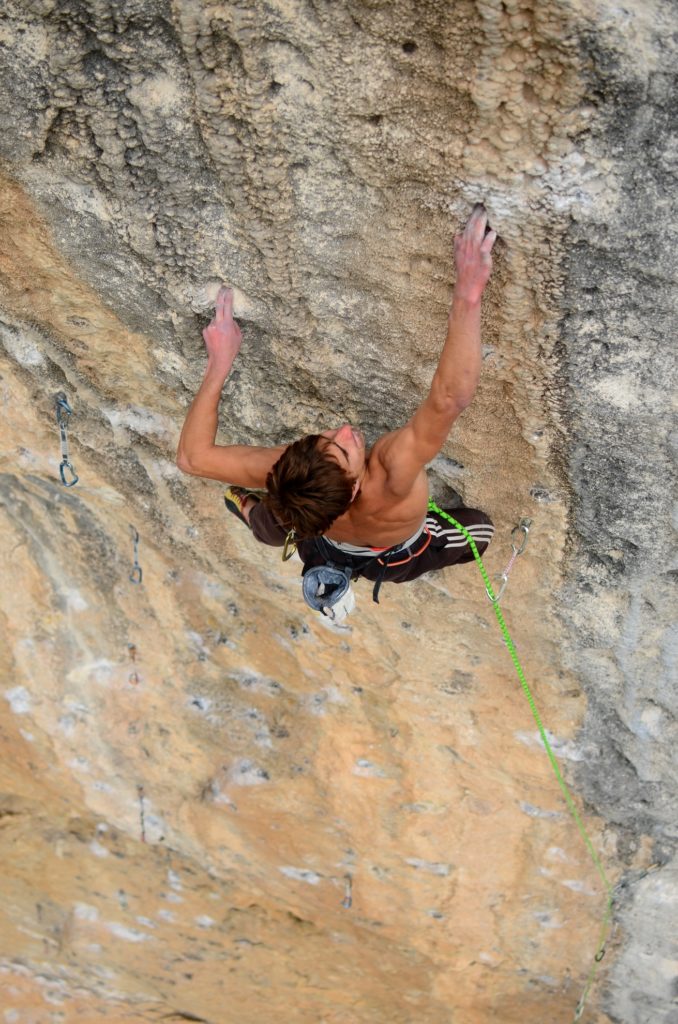 A côté de la grimpe :
Le musée du Turron (gratuit) et le magasin dédié à Agramunt.
Le ski en Andorre.
Nombreuses balades dans la campagne environnante.
Grimper à Figols, Perles ou Tres Ponts (ce dernier site est pour l'intersaison) pour profiter des autres spots de grimpe sympas de la vallée.
A éviter :
Les vacances de Noël surpeuplées. Ce n'est vraiment pas l'idéal de faire la queue dans des voies de conti de 40-50 mètres proposant souvent des départs communs alors que les journées sont courtes.
La « Dura dura », cette ligne dont le bas sur du caillou tristounet comporte beaucoup de prises renforcées au sika. On a vu mieux pour un standard de la haute difficulté du 21ème siècle. Cela demeure néanmoins le pèlerinage des japonais qui viennent se prendre en photo en bas comme au pied de la Sagrada.
Les voies plus faciles situées à droite de la falaise, courtes et bloc, sont assez moches.
Grimper sur des paires en place sans en vérifier l'état. Ici certaines dégaines sont mortes et les gens continuent à grimper et tomber dessus… Gardez les yeux ouverts et n'hésitez pas à enlever du matos dans un état lamentable.
Se garer n'importe comment dans les renfoncements la piste en bas de la falaise. Les agriculteurs doivent pouvoir accéder à leurs champs. De plus la piste est un accès à la chapelle Mare de Dèu de Castell-Llebre.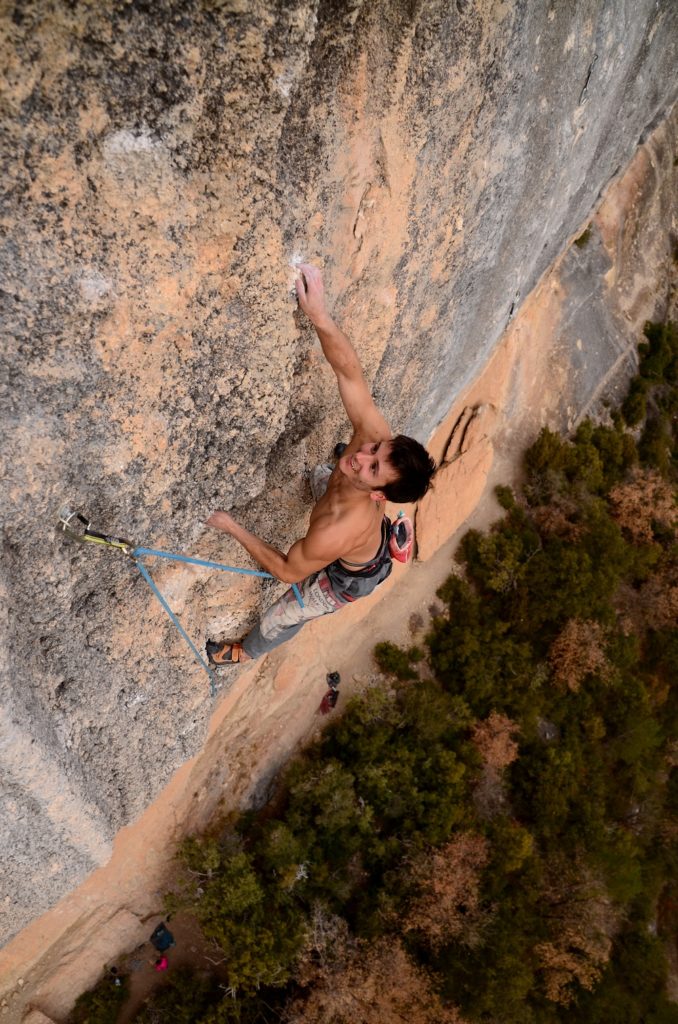 General Description: Oliana is a Pyrenean town located in Segre river valley, North of Catalunya, Spain. The famous crag named Contrafort de Rumbau is located precisely in Peramola village. It's a South-East wall offering shaped and high quality limestone. The starting sections are often athletic and the ending parts technical and fingery. So the routes are very complete, but if you don't like stamina, don't visit this crag! The main standard route here is 40-50 meters long. A very nice place where you can find some of the climbing gems of Spain. Unfortunately, the level to start to have fun here is quite high, other than a few routes in the 6th and 7th grade, you need to climb in the 7c/8a range to have great routes to climb. It's the ideal crag for a long term after-work project. Here you can take advantage of the ambiance of fanatics to push your limits!
Season: The best season is winter or mid season when the shade arrives in mid afternoon. You need a cold atmosphere to keep from sweating in the long routes, but if it's too cold it's hard to stay warm.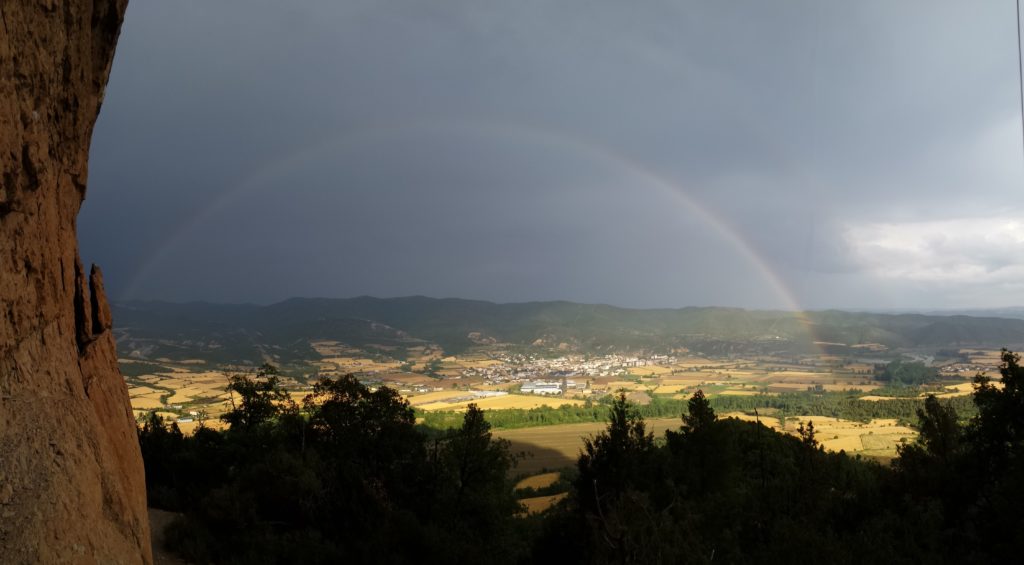 Ticklist:
– "Flautas", 6b, technical
– "Pitos" 6c, technical with nice holes
– "Marroncita" L1 7a classic warm-up but polished, and beware of loose rock in the beginning
– "Pastellon" 7b, nice pocket climbing
– "Macedonia" 7c+ resistance style
– "Mishi" 8a stamina with different styles, superb
– "Humildes pa harriba" 8a+ the easier of the 50-meter climbing routes with tufas then a spicy final
– "Marroncita" 8b classical, superb rock in the top part
– "Picos pardos" 8b, bouldery, may be a bit morpho but a genius resistant second part on grey carved limestone rock
– "Paper Mullat" 8b+, a nice bouldery entrance than a unique tufa rail for a stamina part
– "Humildes pa casa" 8b+ famous tufas, superb and aesthetic climb
– "El Gran blau" 8b+ a nice grey wall with a perfect continuation of holds. Beware of the slabby vertical crux…
– "T1 full equip", 8b+/c crimpy resistance test on a perfect wall
– "Fish eye 8c", the 45-meter crux with this slopy hole, crimps and tiny foot holds is awkward
– "Mind control" 8c, a pure wonder with high quality holds, superb moves and an insane stamina effort
– "Joe blau" 8c+, a bit polished but very cool to climb. You need good betas
– "Papi chulo" 9a+, a pure King Line, holds its own even compared to "Biographie".
To get there: Barcelona aiport then rent a car. If you are driving from France across the Pyrenées the fastest is by Porté-Puymorens tunnel then Cerdagne. Beware of the snow in winter.
Where to sleep: For us, the coolest town close to the crag is Organya, 20 kilometers higher in the valley. It's a cross point of different outdoor activities (like paragliding, mountain biking, trail runs, canyoning, kayaking,…) We advise Cal Rafelo 4-person apartments for good value across from Figols crag. If you want to visit other climbing places, the eco gite located in Abella De la Conca (a 45-minute drive from Oliana) offers different options: Collegats, Santa Linya, Terradets, Abella,…)
Guidebook: The best is the guidebook made by Dani Andrada and Pete O'Donovan, Lleida Climbs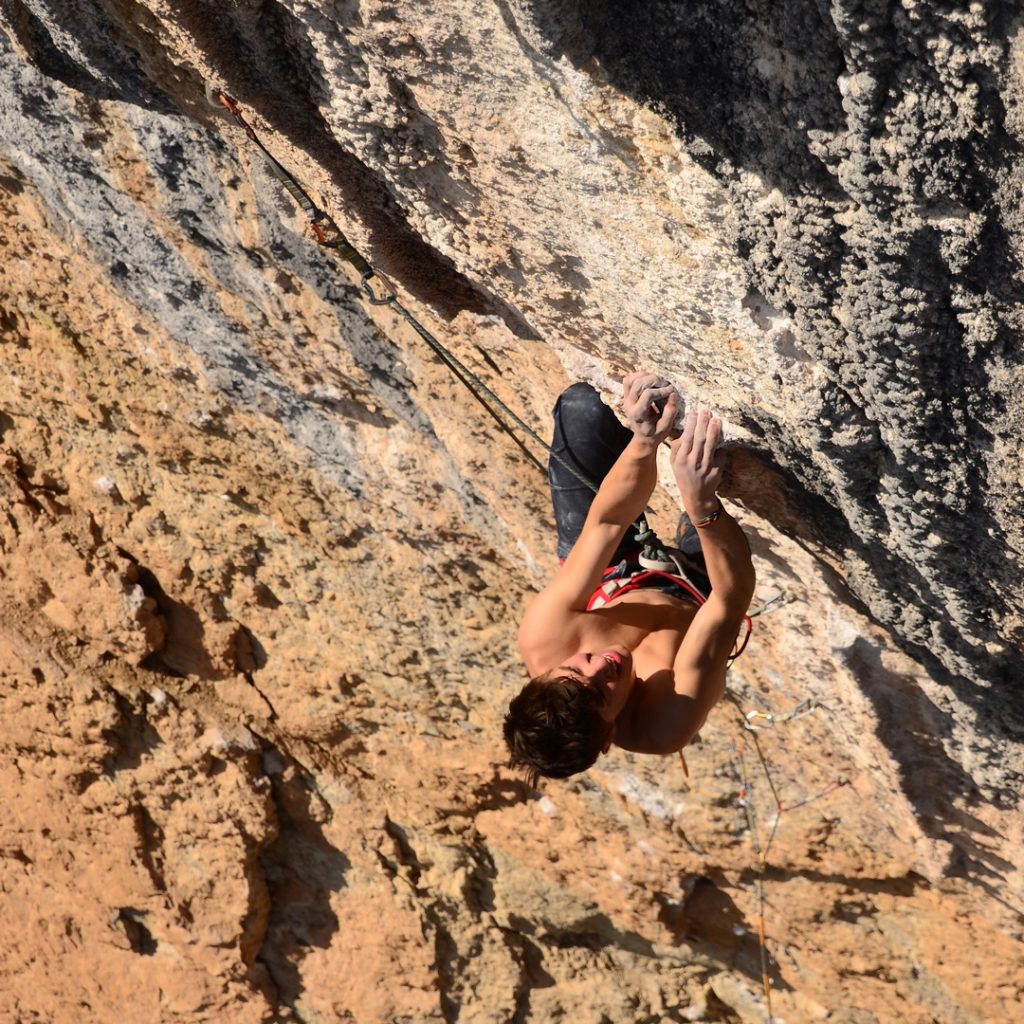 To get food and drink: La Vall restaurant, Hotel Dom at the end of Organya in the direction of Coll de Nargo. For bars, the best are in Organya and Coll de Nargo village centers with an authentic atmosphere.  For shopping, you can go to 2 small supermarkets in Oliana. The best in our opinion is Condis, in the lower part of the village.
Aside from climbing:
Free entrance to Turron museum and shop located in Agramunt
Skiing in Andorra
Numerous walks in the valley
Climbing in Figols, Perles or Tresponts (this last is more for mid season) to have fun in other nice places of the valley
To avoid:
Christmas vacations: Overcrowded, days are short and you need to queue for long routes often with common starts. Not the best.
La « Dura dura »: This line with a lot of sika in the lower part and not the best rock of the crag. We have seen better for a high difficult test piece of 21st century. It's a Japanese pilgrimage; they sometimes take pictures below like for the Sagrada Familia.
The easier routes located at the right of the crag, oftern bouldery and not very friendly.
Climbing on permadraws without checking the state of the gear. Here some draws are in very poor condition and people continue to climb and to fall on it… Keep your eyes open and don't hesitate to put off some dangerous draws.
Parking everywhere on the track down to the cliff. Farmers should continue to have access to their fields. Besides, it's an access to the Mare de Deu chapel of Castell-Llebre.