Après une dizaine de jours sur place sur ce voyage, le polonais Piotr Schab vient de réussir son premier 9b avec "Fight or flight" à Oliana. La voie se décompose en un 8c de résistance courte ponctué par un crux autour du 8A bloc, un semi-repos et un autre 8c de résistance courte qui se termine avec un esthétique jeté. Piotr essayait la voie depuis deux hivers consécutifs avec une ribambelle d'essais déjà au compteur. C'est un nouveau pallier franchi pour lui qui comptait pas mal de 9a+ en guise de carte de visite ("Papi Chulo", "Biographie", "La Rambla", …). C'est aussi le premier 9b réalisé par un grimpeur polonais. Avec 6 ascensions, "Fight or flight demeure le 9b le plus répété au monde devant "Stoking the fire" et "First round first minute" (4 ascensions).
Nous sommes allés à la rencontre de Piotr après cette belle réalisation.
Qu'est ce qui t'a motivé à essayer ce projet ?
Les gens. Je suis une personne qui n'aime pas faire des choses tout seul. "Fight or Flight" est un 9b assez connu. J'ai eu le plaisir de l'essayer avec Matty Hong, Jorg Verhoeven, Lucien Martinez et le processus lui-même était vraiment motivant. On ne rivalisait pas entre nous. On échangeait des méthodes et cherchait les solutions ensemble.
Qu'est ce qui t'as posé le plus de problèmes ?
C'est le rythme de la grimpe qui était le plus grand défi. Jusque là aucune voie n'exigeait une telle vitesse de grimpe et une prise de risque pareilles. Il m'a fallu un bon moment pour m'adapter au fait que tout se passe très vite, mais ça valait le coup !
Le travail de la voie ?
L'année dernière j'ai décidé de me consacrer au travail de la voie, je l'ai essayée pendant 15 jours, mais je tombais toujours au même endroit. Et j'ai subi, la stagnation m'a fait changer d'objectif pour des voies moins exigeantes. Cet hiver j'ai beaucoup travaillé mes points faibles – l'ouverture du bassin et les techniques de pieds dans des placements inconfortables. La kiné de MotionLab m'a énormément aidé là-dedans. Cette année j'ai senti les progrès dès le premier essai.
Quand est-ce que tu as compris que tu étais proche ?
Après quelques jours j'ai réalisé un bon essai, c'était inattendu – je suis arrive au fameux jeté et ce soir-là j'ai compris que c'était faisable et que c'était une question du temps. J'ai été étonné et très heureux.
La suite de l'année en termes de projets ?
J'ai encore deux semaines en Catalogne et je veux en profiter au maximum, aussi pour choisir mes projets pour les trips et les années a venir… En septembre j'aimerais aller en Andalousie pour essayer un autre 9b. On verra. J'aimerai remercier l'équipe de Motionlab – mes entraîneurs Maciej Oczko et Magda Terlecka pour leur aide et leur confiance.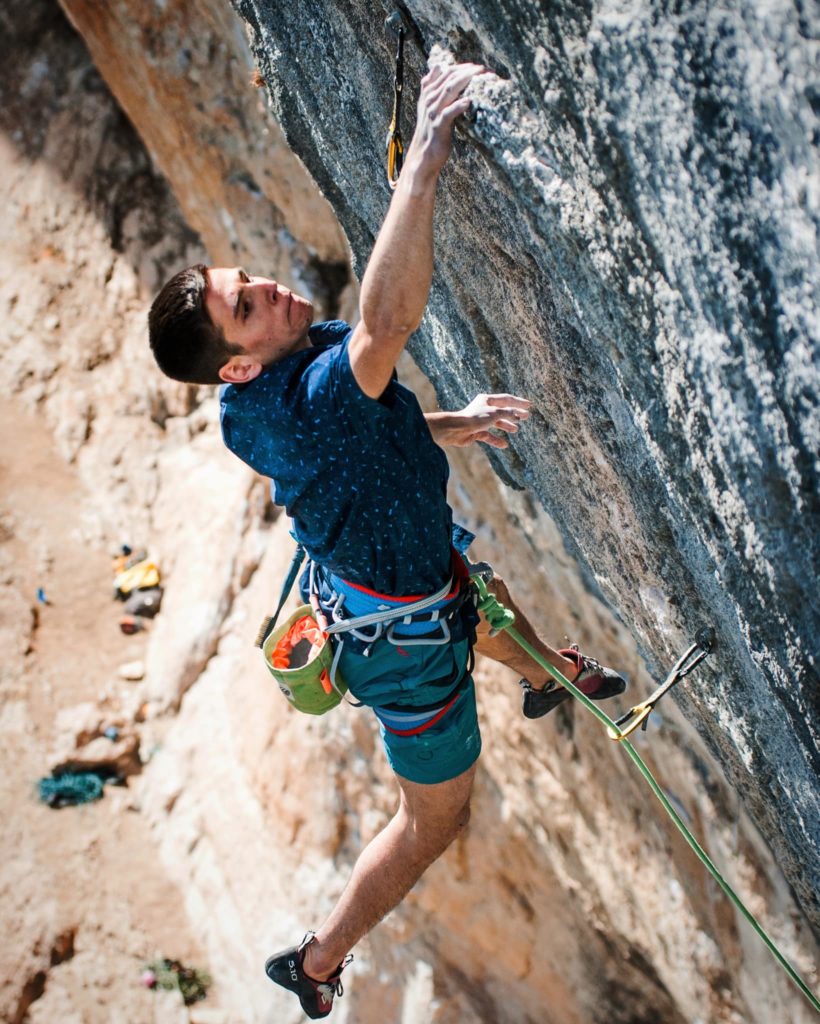 After 10 days this trip on the route, Piotr Schab finally climbed his long time project with a repeat of "Fight or flight" 9b in Oliana. The route can be described as a short resistance 8c into a 8A boulder followed by a small rest and again a short resistance 8c ended by an aesthetic dyno. Piotr was atempting the route since 2 winters, with a lot of tries… It's a new step or him who has ever sent a lot of 9a+'s ("La Rambla", "Biographie", Papi chulo",…). It's the first 9b climbed by a Polish climber. With 6 ascents, "Fight or flight" stays the most repeated 9b before "Stoking the fire" and "First round first minute" (4 ascents).
Why did you choose this route?
Because some other people tried it. I'm a person who dosen't like to do the things alone. "Fight or flight" is a famous 9b. I took some pleasure to try with Matty Hong, Jorg Verhoeven, Lucien Martinez and the process was very motivating. We no competed, we helped together and shared the betas together.
What was the main difficulty for you?
It's the rythm you must put in your climb. Until this route, no routes for me required to climb so fast and take some risks. I need a good moment for adapt myself to climb fast, it was interesting!
What about the process?
Last year I decided to work this route, I tried it during 15 days and I was all the time falling at the same move. I failed and decided to change my goals for some easier routes. This winter I decided to work on my weaknesses : pelvis flexibility and foot work during uncomfortable moments – the physio from motionLab helped me a lot. This year, I felt some improvements since my first go!
When have you understood you were close?
After few days this year I did a good try and fell in the dyno. It was unexpected, and at this moment I understood it was doable and a time question. I was surprised and very happy!
What will follow for you?
I have again 2 weeks in Catalunya for finding some projects for next years… In September I would like to come in Andalusia and try another 9b. At the end I want to thank the MotionLab team for their support: my coachs Maciej Oczko and Magda Terlecka.