Le grimpeur lyonnais Romaric Geffroy, 21 ans, s'offre aujourd'hui son premier 9a avec la première répétition de "Mollasse'son" à Mollans. Cette voie équipée par Antonin Rhodes était la voie ultime hommes de la première édition de la fête du Spit organisée par Greenspits en septembre 2016. Elle avait été libérée par Gérome Pouvreau ce printemps. Une King Line présentant pas moins de 25 mètres de développé !
"La voie commence sur un pilier avec un pas de bloc dès le début bien énervé sur petites prises : une section hyper soutenue de 5/6 mouvements en 7C/C+ bloc sur petites pinces. Puis tu pars dans du gros dévers avec des sections rési sur prises moyennes et grands mouvs mais entrecoupés de bons repos. Y a pas un mouv' à jeter, c'est vraiment une pure ligne où ça envoie ! J'avais commencé à travailler la voie à la même époque l'année dernière avec une pause forcée pour cause des condis à partir d'avril où j'étais tombé tout en haut. J'y ai vraiment passé beaucoup de temps mais je m'en suis jamais lassé, c'est vraiment trop classe ! La voie correspond vraiment bien à mon style, c'est très conti avec des sections rési à mouvements dynamiques. Tu peux quand même bien camper aux repos.
Aujourd'hui, la séance était bien démente, les condis étaient parfaites et il y avait pas mal de monde ce qui est pas si courant à Mollans, il y avait vraiment une bonne ambiance. Je travaille la voie depuis le début avec Romain Noulette qui est pas loin de faire, et y avait pas mal d'autres potes autour donc bonne émulation ! Je me suis échauffé à Classe croute, secteur que je trouve vraiment dément et j'ai fait la croix au premier essai de la journée, quand j'étais bien frais."
French climber from Lyon, Romaric Geffroy, 21, did his first 9a today in Mollans with the second ascent of "Mollasse'son". This route was bolted by Antonin Rhodes and was the male ultimate route of the first edition of "Fête du Spit" organized by Greenspits association in September 2016. The King line, 25 meters long has been first ascended by Gerome Pouvreau this spring. 
"The route begins with a pillar and a boulder problem very complicated on tiny holds : 5-6 very sustained moves around 7C/C+ boulder with little pinchs. Then it follows in a very big overhang with long moves and resistance parts between good rests. It's a gem with nothing to throw out. I started to work the line a year ago and I was close to send it last April, falling at the top before the summer hit. I took a lot of time to work on this line, but the route is so good ! It fits exactly my style, stamina with dynamic moves and good rests. 
Today the session went perfectly with good conditions, nice atmosphere with a unusual crows at the crag. I'm working the route since the beginning with Romain Noulette and he is close to send it too,, a nice emulation ! I did it at my first go of the day", fresh after a quick warm-up in the Classe croute sector, also very good."
Photo: Jan Novak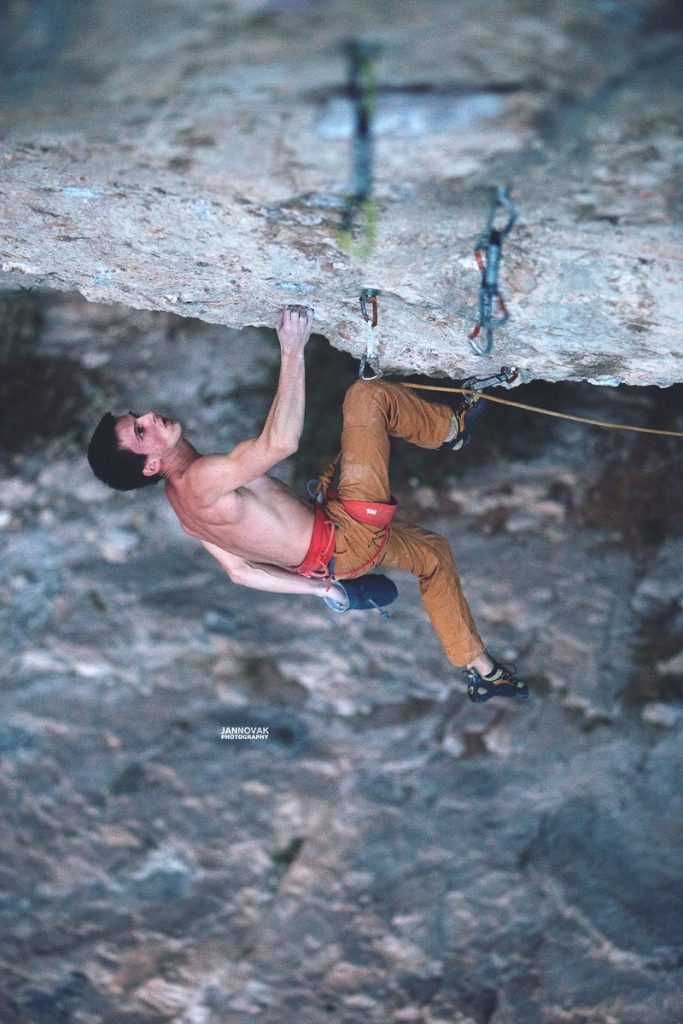 Photo : Jan Novak