Les voies extrêmes de Fred Rouhling dans le 9ème degré proposées à la fin des années 1990 et au début des années 2000 demeuraient très peu souvent essayées et répétées. Seule exception à la règle, "Hugh" 9a aux Eaux Claires répétée par Alessandro Lamberti, Pierre Bollinger et Dai Koyamada mais "De l'autre côté du ciel", "Akira", "Mandallaz drive" "Empreintes" et "Salamandre demeuraient jusqu'alors non-répétées. Depuis quelques semaines, Baptiste Dherbilly, falaisiste haut-savoyard de 24 ans s'est récemment collé le chantier et vient de répéter "Salamandre" (aka "Attendez piétons") cette semaine sur la falaise de Double Cache (Haute-Savoie), une voie libérée par Fred Rouhling en 2007 et proposée à environ 9a+. Voici en exclusivité son ressenti sur cette belle coche :
 "J'y suis allé 17 fois en l'espace d'un peu plus de deux mois. Cela doit faire environ une cinquantaine de montées. Pour la cotation je ne veux pas me prononcer car je n'ai pas l'expérience pour donner mon avis là dessus. Fred avait annoncé 9a/b , et après avoir discuté avec lui il pensait 9a+.  Jusqu'alors en voies dures j'avais répété "Ordalie" un 8c+ de Fred également. et j'ai réalisé deux premières  "XV station" au Jourdy et "Entre rêve et réalité" à La Forclaz donc cotation à confirmer qui, je pense, valent 8c/8c+ !. Donc pas vraiment de référence dans le niveau. Voilà pourquoi je ne me prononce pas. Tout ce que je sais c'est que c'est la voie la plus difficile que j'ai grimpée."
"Pour la voie à proprement parler, c'est une voie de 27 mètres ouverte par François Ducastel qu'il faut remercier car il a été très visionnaire de l'avoir laissé naturelle. Libéré en 2007 par Fred, "Salamandre" se décompose dans une approche d'une quinzaine de mètres qui tourne autour des 8a. Puis on arrive à un violent pas de bloc autour de 8A+/B. Déjà la mise en place est complexe et intense. On arrive sur un mono très petit et il faut jeter sur un bi en épaule. Il s'en suit 7/8 mouvements ( autour de 8b+) avec des tout petits pieds et très exigeants aussi bien physiquement que techniquement."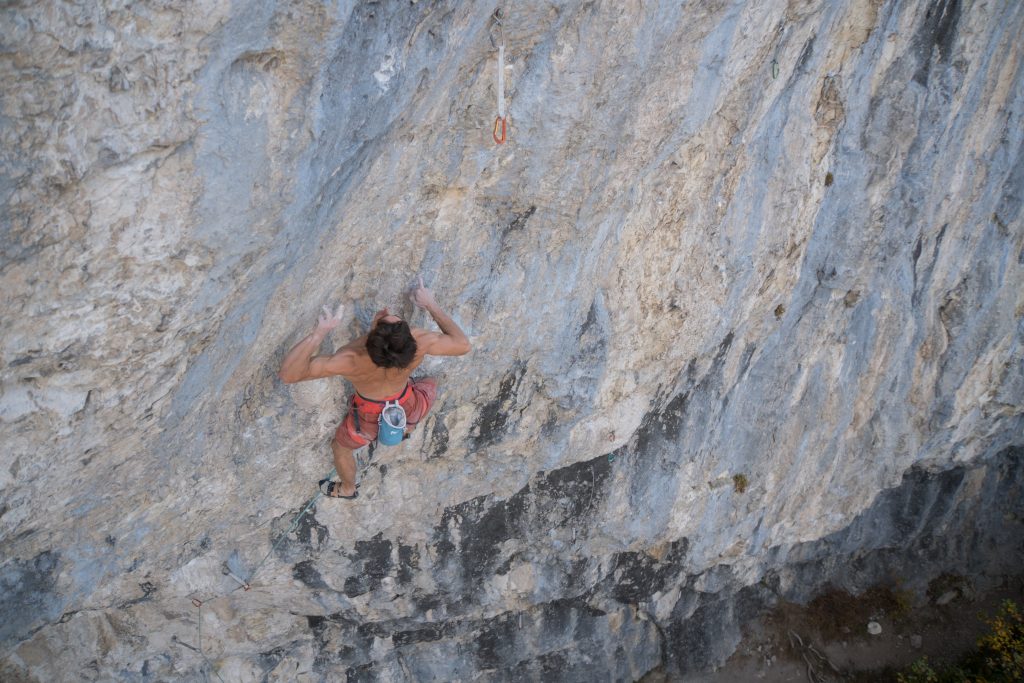 "Pour la petite anecdote, quand j'ai commencé l'escalade, le poster de Fred dans cette voie à été mon premier poster d'escalade. Donc pour moi cette voie c'était un mythe. J'habitais Paris à l'époque , ce n'est que quelques années après que je me suis installé dans la région. Autre petite anecdote , je ne suis pas fan des monos. Mais cette voie m'a vraiment attiré de part l'idée que je m'en faisait avec ce poster que je voyais tout les jours. C'est une coulée bleue vraiment très compacte au milieu d'une falaise ou le rocher est quand même moyen dans l'ensemble. Pour moi, j'ai connu plusieurs difficultés et la première c'est de trouver les assureurs. Heureusement un ami à moi ( Jacques Cohendet ) était motivé par un 8a juste à côté. On a donc (au-delà de nos projets perso) vécu une vraie aventure collective. On a fait des analyses vidéos notamment car il a fallu démystifier ce mouvement extrême. Je l'ai réussi au bout de cinq séances. Et encore au début j'y arrivais une fois toute les deux séances… L'autre difficulté a été les condis : si il faisait trop chaud je glissais et si trop froid et bien le mono était trop petit et du coup aucune sensation et impossible de tirer dessus. Le run était donc à 13h30 ! Le caillou froid mais le dos au soleil !"
"Cela n'a pas toujours été facile car je suis tombé plusieurs fois après le crux et la séance d'après je n'y arrivais plus dans l'enchaînement. Je suis même tombé deux fois au dernier mouvement de la section ! Cela s'est avéré parfois frustrant de tomber alors que j'étais vraiment bien dans "l'approche" et que le crux est vraiment aléatoire car il faut jeter en épaule et il faut que les doigts rentrent parfaitement dans la prise. Je me suis même recréé le mouvement dans la salle dans laquelle je travaille, Cortigrimpe à Annecy ! Il a aussi fallu allier les séances avec mon travail : je suis responsable de l'ouverture donc j'ouvre entre 10 et 20 blocs par semaine. Donc il a fallu gérer la fatigue, la peau et l'influx !"
"J'insiste vraiment sur le partage et l'aventure collective car c'est notamment pour cela que je fais de l'escalade. Sans les assureurs et sans les heures à discuter cela n'aurait pas été possible ! J'insiste également sur le moment présent, c'est ce qui me pousse à aller dans des voies à ma limite car ce sont des sensation uniques. Des sensations. où on est obligé d'être millimétré et à 200 % dans ce que l'on fait , un mouvement après l'autre et rien d'autre ne compte. C'est un état que je retrouve dans ces essais. Un état à la fois de concentration ultime et de lâcher prise sur tout le reste."
Bientôt un film sur cette belle réalisation !
The extreme routes in the ninth grade of Fred Rouhling in the late 90's and the beginning of the new century have known very few attempts and repeats. Only "Hugh" 9a in Eaux Claires, Charentes, France got some repeats by Alessandro Lamberti, Pierre Bollinger and Dai Koyamada. But "De l'autre côté du ciel", "Akira", "Mandallaz drive" "Empreintes" et "Salamandre" stayed unrepeated.  Since few weeks, Baptiste Dherbilly, rockclimber from Annecy, 24, was seriously trying « Salamandre » (aka « Attendez piétons ») and just di dit this week ! The route is located on the Double Cache crag, Haute-Savoie, Alps. It was first ascended bu Rouhling in 2007 with a grade around 9a+. Here are Baptiste's thoughts :
"I have been there 17 times in the last two months which represents around 50 tries. For the grade I don't want to talk about it because I haven't the experience to give my opinion on it. Fred had announced 9a/b, and after talking with him he thought 9a +. Until now, I had repeated as hard routes  "Ordalie" a route from Fred 8c + and I did two first ascent which need to be confirmed. Both are around 8c/8c+ , one is "XV station" in Jourdy and the other one is "Entre rêve et réalité" in La Forclaz. So I have not really references in this level. That's why I do not pronounce myself. All I know is the most difficult route I climbed."
"The route is 27 meters long, opened by François Ducastel that I thank because it was a pionneer to keep it all natural. It has been freed in 2007 by Fred. « Salamandre » proposes an 8a approach before a big crux in the 8A+/B boulder range, a dyno from a thin mono to a two-finger pocket gaston. This is really an intense and complex section. Then it's followed by 7/8 moves in the 8b+ range with small feet holds which is physically and technically difficult."
"For the story, when I started climbing, my first poster was a poster of Fred on the route. So this route remained mythical for me. I leaved in Paris during this period. An other thing is that I don't especially like monos. But this route attracted me with this blue line straight up in this crag. I have faced some difficulties as finding a belayer. Fortunately, a friend, Jacques Cohendet, was motiveted by the neighbouring 8a route and we made a great team together. A true collective story. We made some video analyzis for finding the way to resolve this extreme move. I succeed on this move after 5 sessions. Then ,I was able to send it  at one session but not at the following one … The last difficulty was to find good conditions. It was sometimes too hot and it was slippery or on the shade so it was too cold and I wasn't able to feel the good pressure on the little mono. I finally send it at 1.30 pm with the rock cold and the sun coming in the back !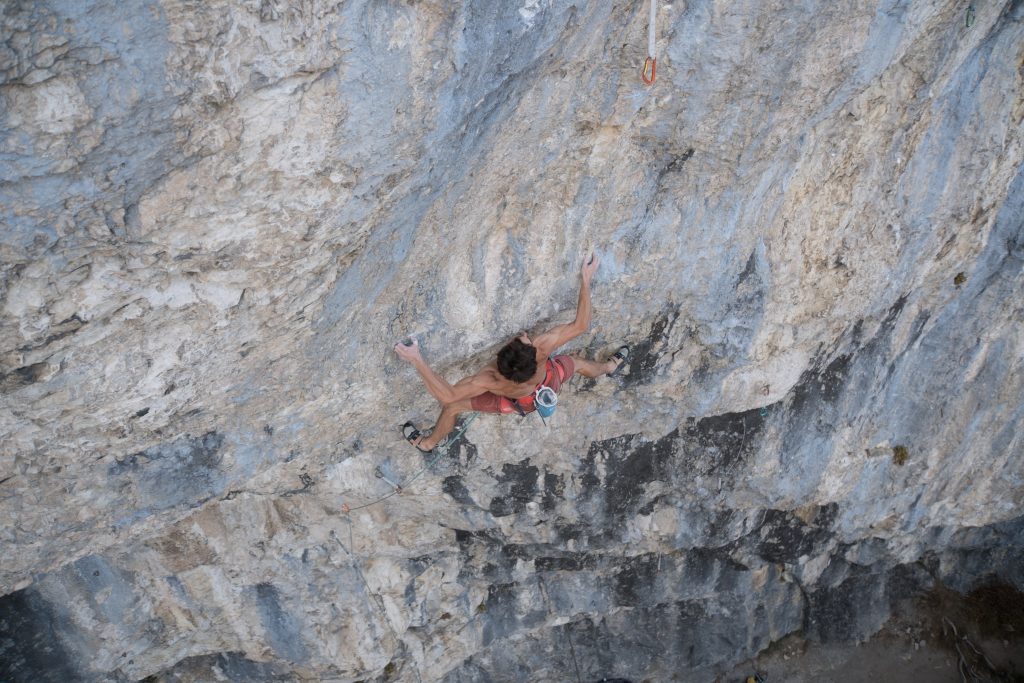 "It was not been always an easy process because I fell several times in the crux and the session after, when I was able to do the crux I couldn't manage to climb the all route. I fell twice at the last move of the section. It was very frustrating because I has felt really good in the approach and the crux is very tricky because of the dyno you need to put very precisely in the 2 fingers in pocket and stay on it. I have created the same move in the gym I'm working, Cortigrimpe in Annecy. It was also hard to try the routes during the period of work, because I'm routesetter in the gym. So I need to compose with sore skin, power and tiredness."
"I would like to insist on the fact it was really a sharing and collective adventure and this is the reason  why I'm climbing. Without belayers and without the hours of discussion it would not have been possible! I would also insist on the importance of the present moment. This is what pushes me toclimb routes at my limit because they give unique feelings. It is very great sensation to feel where we have to be very millimetric and 200% in what we do, to focus one movement after another and nothing else matters. This is a state that I find trying this route: a state of both ultimate concentration and letting go on everything else."
A longer video is coming !
Photos and video : Etienne Seppecher