*** Double ascension féminine de "Tigris sit" à Magic Wood :
Alex Puccio et Michaela Kiersch rajoutent un nouveau bloc extrême à leur collection en empochant le long plafond de "Tigris sit" 8B+ à Magic Wood. Retrouvez ici la vidéo d'Alex dans le passage en attendant une vidéo complète de leur séjour. C'est déjà le 7ème 8B+ d'Alex et le 3ème de Michaela !

*** Nacho Sanchez libère son super projet en 8C+ à Fortuna (Murcia) en Espagne :
Il était dessus depuis quelques années, Nacho Sanchez libère "Daños con-laterales" et propose 8C+, un bloc où la principale difficulté consiste à réaliser et empiler les 3 premiers mouvements, qui lui ont demandé beaucoup d'investissement. A coup sûr un des blocs les plus durs d'Espagne est né, avec "La Teoria del todo" à Albarracin, désormais décoté. On rappelle que Nacho avait déjà ouvert "Crisis" 8C/+ à Crevillente. Ci-dessous la vidéo de la réalisation.
*** Dave Graham annonce un nouveau 8C+ en Suisse ce printemps :
Le vétéran du bloc US (40 ans) annonce cette semaine la première ascension de "Euclase" en avril à Val Bavona en Suisse. Un passage complexe en 8C+ (19 mouvements de main, 21 de pied et 4 coincements de genoux) qu'il avait repéré en 2005 et qui lui a demandé un investissement colossal : 10 séances pour réaliser tous les mouvements, 10 autres pour imprimer les transitions entre les mouvements de main et 10 autres pour être proche de la réussite. Un aboutissement pour Dave, qui signe ici son second 8C+ après la recotation de "Hypnotized minds".

*** Brooke Raboutou ouvre la saison à RMNP (Colorado):
La grimpeuse franco-américaine n'a eu besoin que d'une session du soir pour se défaire du classique de Lincoln Lake, le toit à compression et talons de "Evil Backwards" 8B. Voici la vidéo de la réalisation.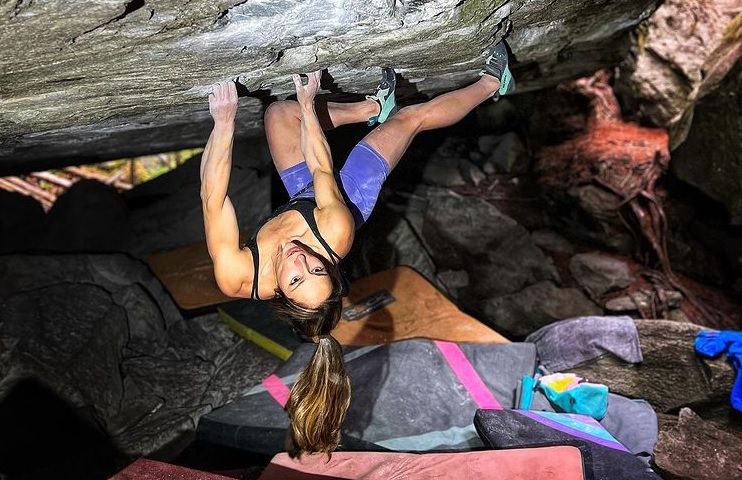 *** "Tigris Sit" 8B+ in Magic Wood repeated twice by women:
ALex Pucio and Michaela Kiersch recently added another hard boulder to her ticklist with the long roof problem named "Tigris sit", Magic Wood, Switerland. Waiting a full video about their stay. It's Alex's 7th 8B+ and Michaela's 3rd.

*** Nacho Sanchez frees one of Spain's hardest boulder:
He was trying this problem since years, Nacho Sanchez just freed "Danos con-laterales" and gave 8C+ to his first ascent. The main difficulty is to link the first 3 moves. One of the hardest boulder in Spain with "La teoria del todo" in ALbarracin, now downgraded. Remeber Nacho opened some years ago "Crisis" 8C/+ in Crevillente. You can watch the video above.

*** Dave Graham announces a new 8C+ in Switerland this Spring:
US bouldering veteran (40 years old) claimed this week having done the first ascent of "Euclase" 8C+ in APril. This boulder looks technical with 19 moves, 21 feet moves and 4 kneebars… He checked it in 2005 and spent 10 sessions to do all the moves, and 10 more to find the good betas… After 10 more sessions, he was close to the send. A new achievement for Dave, and his second 8C+ after "Hypnotized minds".

*** Brooke Raboutou opens summer season in RMNP (Colorado):
Brooke just needed one evening session to send Lincoln Lake's classic "Evil Backwards" a compression roof problem (8B). The video of her climb on her Instagram.