English below
Description générale : Située en contrebas du tunnel du Fayet en rive gauche du Verdon, quelques kilomètres après l'auberge des Cavaliers en direction de Comps sur Artuby, la baume de la Ramirole offre une escalade déversante des plus pures sur concrétions. Des grandes voies dantesques et des couennes sportives exigeantes. Attention ça broute et ça penche très fort ! La marche d'approche n'est pas très longue (20 minutes) mais est très raide et le pied des voies n'est pas vraiment confort, sortie en famille ou avec chien très compliquée. Un secteur assez élitiste mais sans nul doute comptant parmi les plus beaux de France…
Essentiels : ramasser ses déchets, son papier toilette, enterrer ses déjections, nettoyer les prises et ne pas laisser de tickets.
Sélection de voies :
– L'arnoldisable 7c
– Kiss kiss Gang Bang 8a
– Et Dieu créa la flamme et La Ramirole 8a+
– Mr Benjoin et la coccinelle trompe l'œil 8b
– Le feu occulte 8b+
– Spanish Caravane 8c
– La flûte en chantier 8c+
– A muerte bilou 9a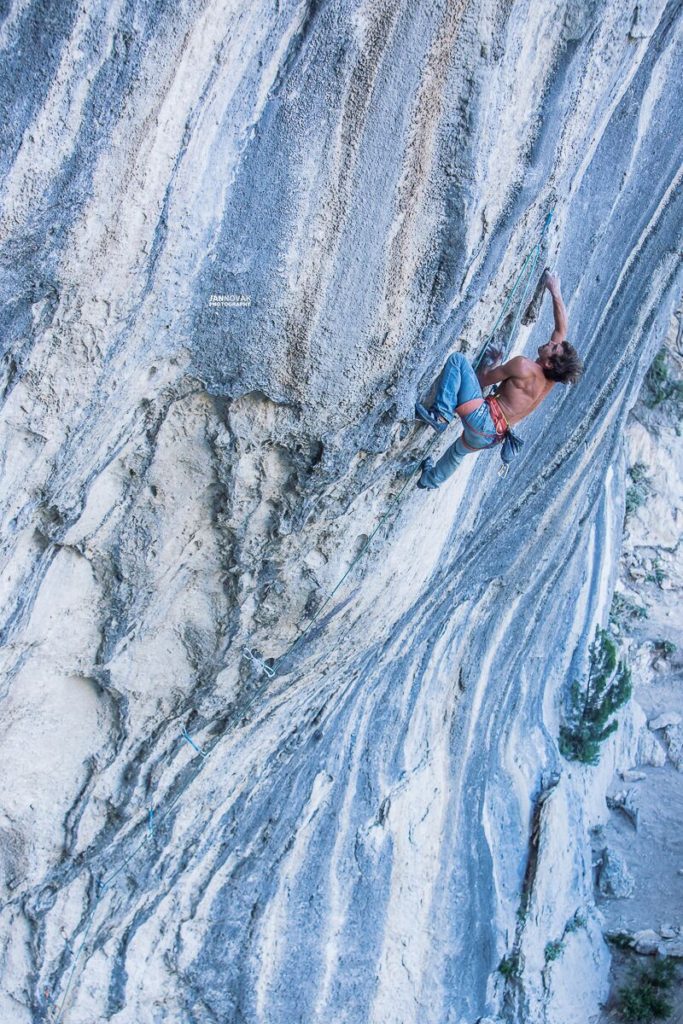 Saison : la meilleure saison est la fin de l'été, notamment septembre pour profiter des journées un peu plus fraîches et des colos sèches. L'été, cela grimpe aussi pas mal, notamment pendant les périodes de mistral où vous pouvez descendre avec la doudoune !
Topo : cela se passe chez Greenspits  merci à Antonin pour ce beau travail. N'oubliez pas d'adhérer et de faire un don !
Où dormir :
– Le camping municipal de Comps sur Artuby est pas cher,sinon de nombreux campings au pont de Galletas et autour d'Aiguines proche du lac mais ambiance beauf garantie et mauvais rapport qualité prix.
– Auberge des Cavaliers si vous avez les moyens et que vous voulez rester sur place. Cependant le service est déplorable. Un attrape touriste.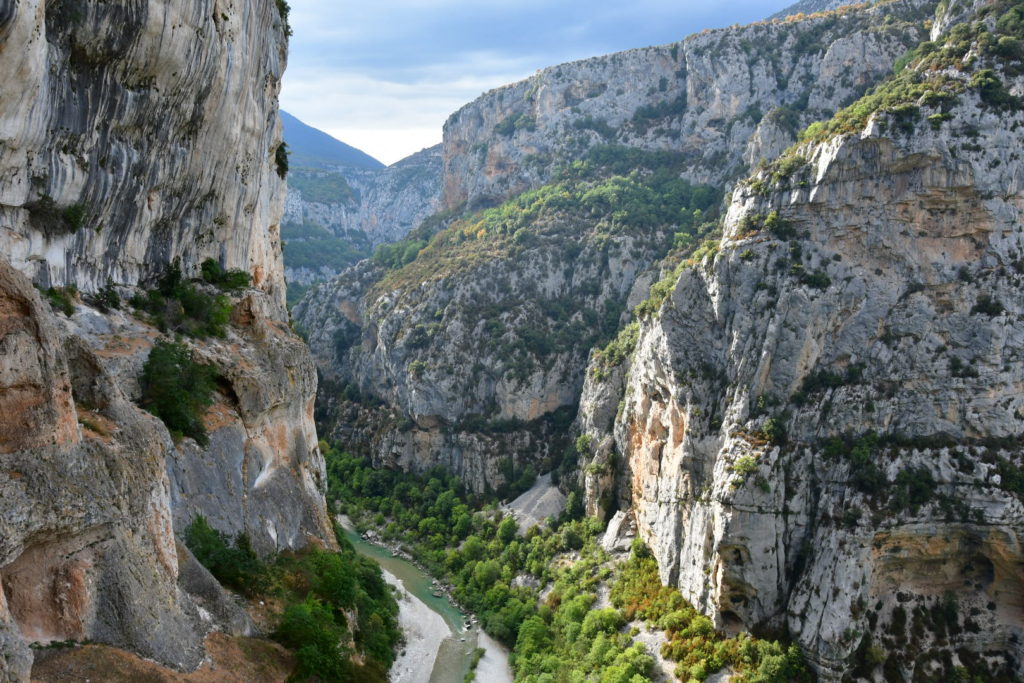 Célébrer les croix : le bar à tapas Le Barda à Aiguines où l'accueil est toujours sympa, Pour les amateurs de bonnes boissons, les jus de fruit naturels et la bière artisanale de "Saveur et Nature" à Moustiers Sainte-Marie. Le bistrot de pays à Comps sur Artuby est aussi unique niveau bonne ambiance.
Manger :
– Les pizzas de la baraque en face du bar Lou Cafetié à La Palud sont une valeur sûre !
– On vous recommande aussi la boulangerie à l'ancienne située dans le centre du magnifique village de Trigance. Un délice ! Plus bas, la boulangerie biscuiterie Maison de Soleils est aussi très bien.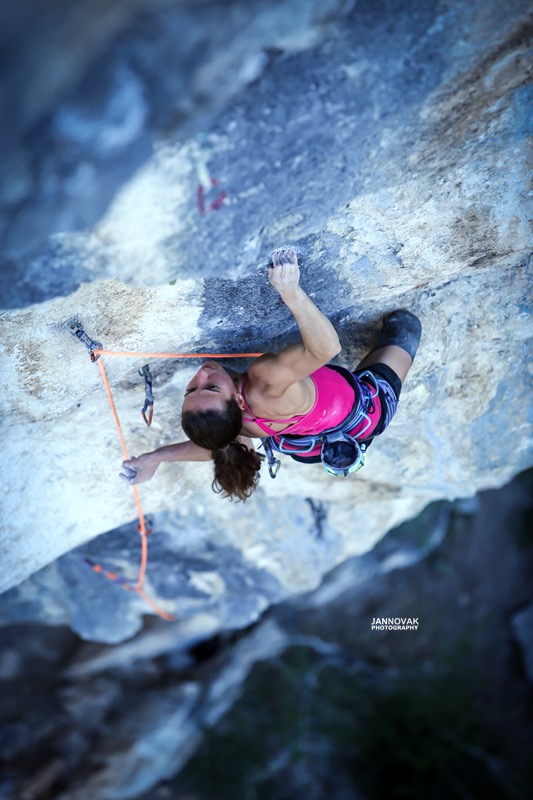 Eau : source d'eau naturelle de Vaumale au bord de la route à mi-chemin entre le Bauchet et Aiguines. Très bonne eau malgré le petit débit. Sinon il y a aussi une fontaine à eau à la sortie d'Aiguines sur la gauche au niveau des parkings en montant sur Comps.
En dehors de la grimpe : nombreux GR et balades, notamment le sentier de l'Imbut en partant de l'auberge des Cavaliers pour rejoindre le sentier Martel. Possibilité de faire de belles balades aussi en restant sur le plateau. Baignade au lac de Sainte-Croix ou dans les gorges, saut à l'élastique au Pont de l'Artuby le samedi. Musée des tourneurs de bois à Aiguines. Pour les énervés, équiper, purger et brosser des nouvelles lignes avec Antonin Rhodes ou Christophe Louis, ou encore assurer la machine Seb Bouin dans ses projets !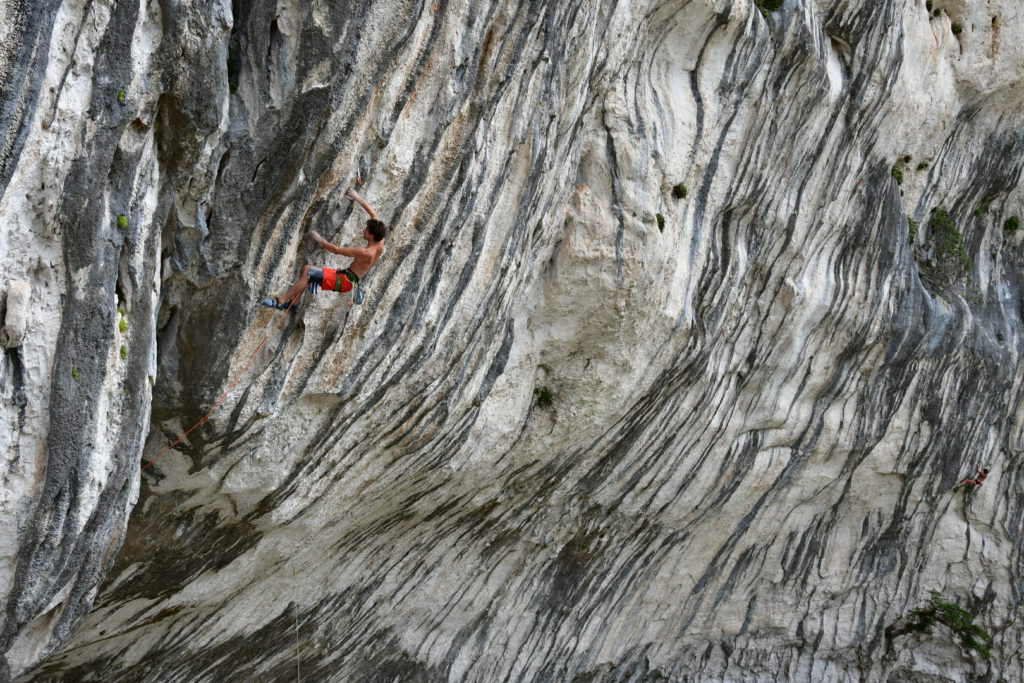 A éviter :
– La première connerie à faire, c'est de s'aventurer sur le terrain militaire de Canjuers sur le plateau juste derrière. Interdit, zone militaire !
– Descendre la marche d'approche de manière rapprochée, on a vite tendance à faire partir des cailloux sur les autres. Attention aux touristes qui jettent parfois des pierres du tunnel. Cela arrive assez régulièrement… Descendre au grigri est fortement conseillé pour les premières mains courantes, puis de se longer pour les autres.
– Le bar Lou Cafetié de La Palud, jadis le repère des grimpeurs. A chaque fois qu'on y a été, l'accueil a été déplorable, maintenant davantage un bar de touristes où seul le tiroir caisse semble compter. Cependant on y trouve des produits du terroir ce qui n'est pas le cas de tout le monde. A vous de voir…
– Le point sublime, un point de vue noir de monde où il n'y a rien d'exceptionnel à voir !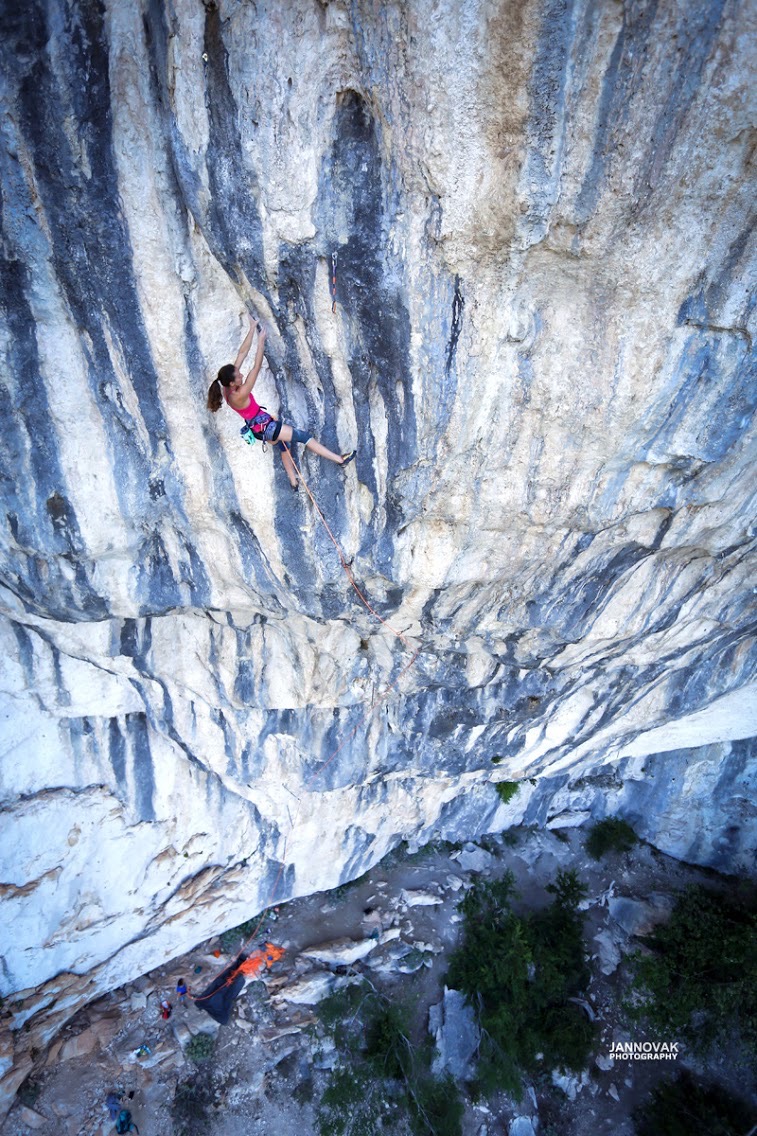 General description : Located down to Fayet tunnel, Verdon's left bank, few kilometers after Cavaliers hostel in direction of Comps sur Artuby, Ramirole cave offers a very orverhanging climbing on beautiful tufas. Some amazing multi-pitch climbs and some very demanding sport routes are there. The approach walk is not very long (20 minutes) but is on very steep terrain. The ground is not very friendly with a lot of ledges or steep path, don't go there with family or dogs. An elite climbing sector, for sure one of the most beautiful of France!
Essentials: bring back your waste, and toilet paper, dig yout pooh and please brush the holds and please leave your tickmarcks after climbing.
Ticklist
– L'arnoldisable 7c
– Kiss kiss Gang Bang 8a
– Et Dieu créa la flamme 8a+
– Mr Benjoin et la coccinelle trompe l'œil 8b
– Le feu occulte 8b+
– Spanish Caravane 8c
– La flûte en chantier 8c+
– A muerte bilou 9a
Season: The best season is the end of summer, September for having cold and dry conditions. In summer you can climb but it can be hot. Check the forecast and if there is Mistral wind (from the North) you can go down with your jacket !
Guidebook: you can find an online guidebook on Greenspits website but please become member and/or make a donation for this association working on crags developement.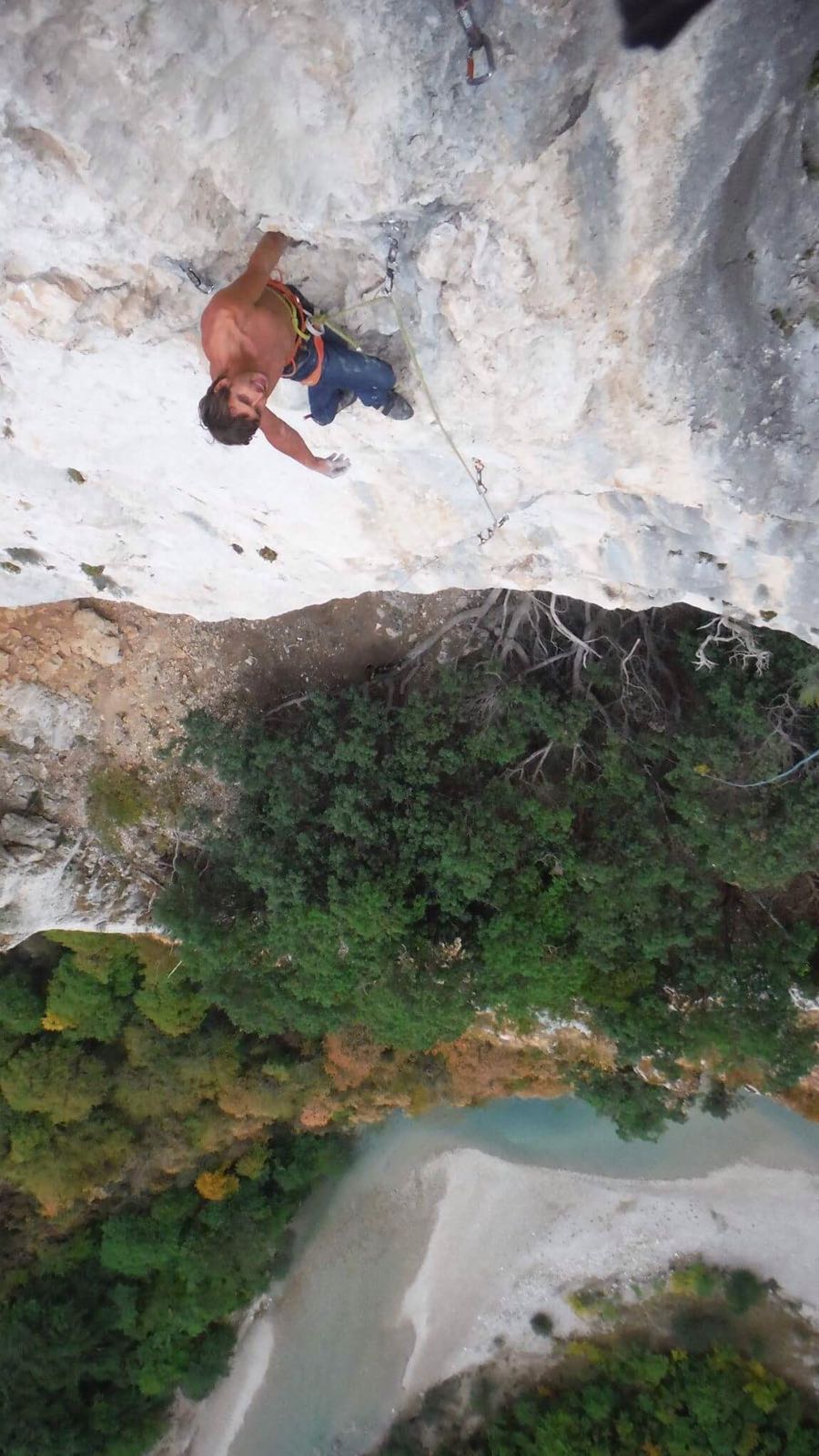 Where to sleep:
– The best and the chepest is the municipal camping in Comps sur Artuby. A quiet one. Also numerous camping places located around Galletas bridge or Aiguines, but very noisy and crowded. 
– Cavaliers Hostel if you want to stay close to the crag but it's expensive and not friendly. 
Celebrating the sends: Barda bar in Aiguines, very friendly welcoming. natural fruit juices and artisanal beer located in "Saveur et Nature", Moustiers Sainte-Marie, typical French bistrot in Comps sur Artuby. 
Food:
– pizzas from the wood house in front of Lou cafetié bar in La Palud
– Trigance center village old bakery, and also Maison de Soleils down of Trigance bakery is also very good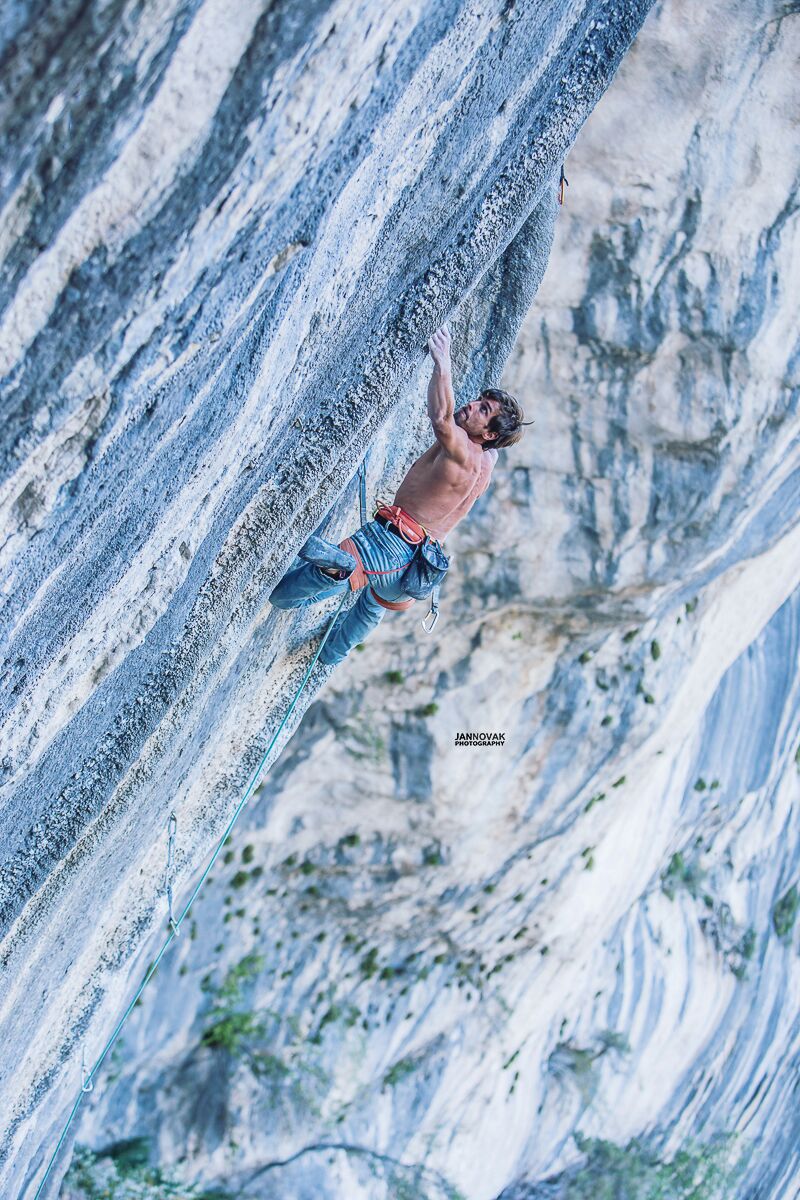 Water: Natural Vaumale's mountain source located on the road middle way between Bauchet crag ans Aiguines village. Very good fresh mountain water. Another fontain left of parking at the end of Aiguines, driving to Cavaliers hostel.
Aside from climbing: a lot of walk paths beginning from Cavaliers hostel, goind down to the gorge joining sentier Martel path, or staying up to the gorge. Take a swin in Sainte-Croix lake or in the gorge. Bungee jumping from the Artuby bridge on Satursday. Wood workers museum in Aiguines. For real fanatics, bolting, cleaning, brushing some routes with Antonin Rhodes or Christophe Louis, or belaying Seb Bouin in his current projects there.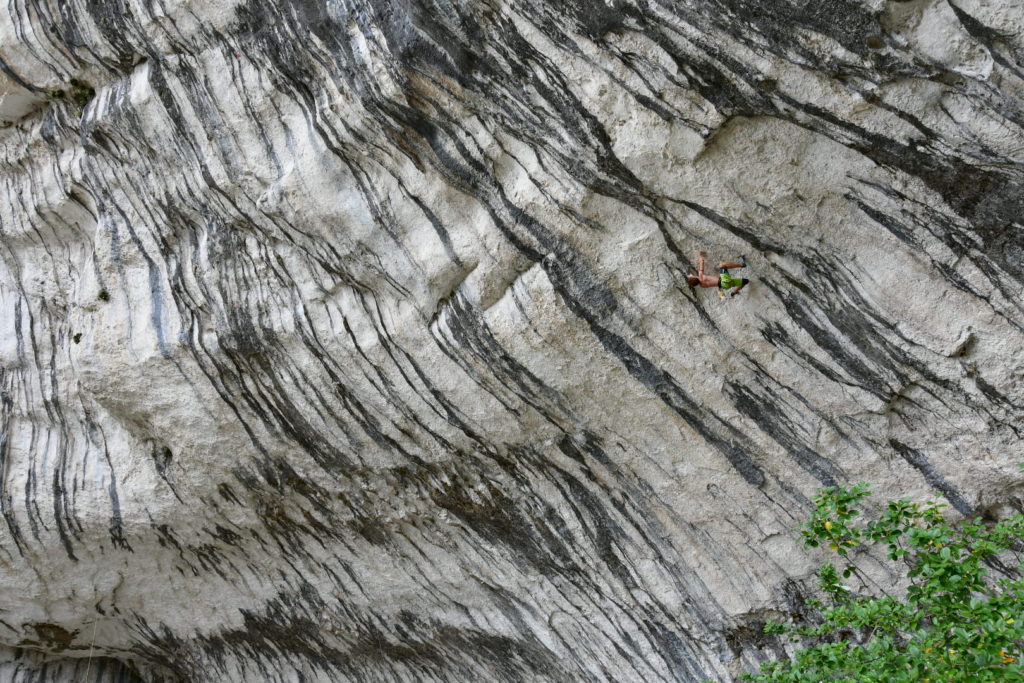 To avoid:
– The first mistake to do is to enter in the Canjuers big military zone. It's forbidden !
– Making the approach to the crag close from the others. Not a good idea, rocks are rolling easily. Beware to tourists up in the tunnel, they sometimes throw some rocks in your direction. It's better to rappel down for the first fixed dropes, then to be in direct on the orthers.
– Lou Cafetié bar in La Palud, very crap welcoming. In the past it was climber's bar, now it looks like a tourist money pump. But they propose local products compared to many others places. Go and see by yourself. 
– Point sublime point of view, very crowded place and nothing amazing to scope…
Photo de couverture : Jan Novak