Killian Chabrier est un jeune compétiteur qui, en plus de ses entraînements sur résine, prend le temps de sortir et du plaisir à s'exprimer en milieu naturel. Et cela semble marcher pour lui ! Killian accumule ce printemps les ascensions extrêmes en un temps record à Fontainebleau. Après "The Big Island" en guise de premier 8C en février, Kilian est en feu. Il a notamment fait une répétition éclair de "La force" la combi en 9a du toit d'Orsay, et vient de réaliser une première ascension sur le bloc de l'autre toit au Cul de Chien avec "Jack under the box" 8B+ qui n'est autre que le départ du fond de "Jack in the box", 8A+ puissant sur un seul mouvement dans ce gros plaf'. Nous sommes allés à sa rencontre.

– Peux tu te présenter rapidement pour les gens (comme nous ! ) qui te connaissent mal ?
Je m'appelle Killian Chabrier, j'ai 21 ans, je suis au club Block'out à Paris et ça fait environ 12 ans que je grimpe. Je suis compétiteur et en même temps je grimpe beaucoup en extérieur.
– Peux tu revenir sur ta répétition de "la force" en quelques mots ?
Alors pour "la Force" il faut savoir que j'ai beaucoup essayé les différentes sections de ce passage il y a 2 ans, (environ une dizaine de séances) mais juste l'enchainement de "Quoi de Neuf" me paraissait encore loin. Début 2020 je me suis un peu déchiré le biceps dans le twist de l'acte 2, donc j'ai pas mal été réticent à y retourner. Puis début de cette année je me suis remotivé a essayer "Quoi de Neuf" qui était mon projet en 2019, je l'ai enchainé en 2 séances assez facilement. Donc pour moi la suite logique était "la Force". Il m'a fallu 3 séances de plus pour caler la fin en 7C et enchainer la Force !


– Et "Jack under the box" ?
Le départ debout "Jack in the Box" est un bloc qui avait un peu disparu, on ne savait pas trop où il commençait et finissait dans ce toit. Très récemment une vidéo est sortie de ce bloc et il ma vraiment motivé. C'est un bloc vraiment dans mon style, un 8A+ qui démarre en compression sur deux inversées et où il faut exploser dans une arquée loin, puis finir dans un réta en 6C un peu désagréable où il faut ramper. Camille Coudert est allé voir le bloc avant moi, il m'a dit qu'un départ bas était possible et qu'il avait réussi à faire intrinsèquement tout les mouvements pour rejoindre le debout, donc je me suis dit pourquoi pas aller voir la ligne. Le bas est constitué d'une section de 4 mouvements en compression très physique avec un coincement de genou possible seulement avec une genouillère. Ces 4 mouvements valent un bon 8A bloc bien physique selon moi.
Lors de ma première séance j'ai réussi a enchainer le debout en quelques essais, donc j'ai commencé à travailler le départ bas.
– Tu sembles avoir franchi un cap et progresser dernièrement, à quoi est-ce que tu l'attribues ?
Oui effectivement, je sens que j'ai passé un cap dans ma grimpe. Je pense que je dois vraiment cela à Pierre Brebion mon nouvel entraineur.
Ce changement d'entraîneur m'a fait le plus grand bien, une vision nouvelle de l'entraînement basée d'avantage sur de la grimpe pure et moins d'agrès m'ont permis de faire une transition rapide entre mes séances de force et ma grimpe en forêt ou en salle. Et j'ai énormément progressé physiquement ! En effet, mes anciens projets d'il y a un ou 2 ans, tels que "Gecko assis", "Kheops assis" ou "l'insoutenable légèreté de l'être" sont tombés en très peu de séances cette année !
– Des projets bellifontains qui te tiendraient à cœur à court ou long terme ?
Oui, beaucoup de projet me motivent comme "Soudain Seul", "le pilier du désert assis" et "Délire onirique assis" ! Et bien sûr aussi essayer de trouver de nouvelles lignes bien dures pour développer encore plus la forêt !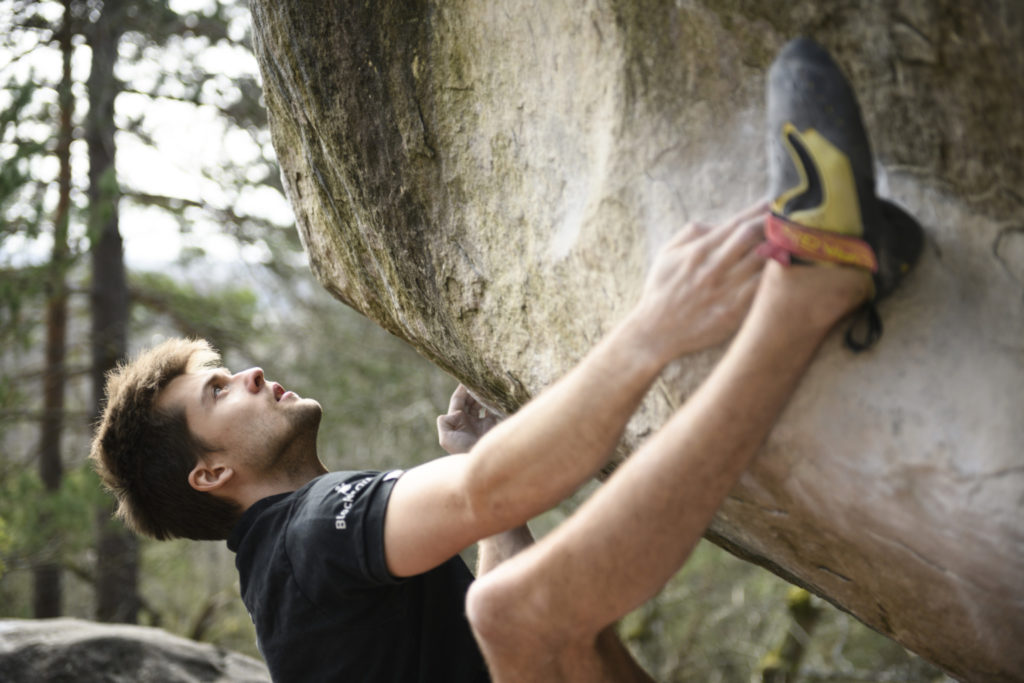 Killian Chabrier is a young competitor who is also having fun climbing outside in Font. And by the looks of it, it works for him! Killian has been crushing hard Font classics this Spring since his first 8C "The big island" in February. On fire! He bagged a quick repeat of "La force" 9a, a power resistance problem located in Orsay roof, and recently did the first ascent of "Jack under the box", an insane 8B+ at Autre toît, Cul de Chien. We asked him a few questions.
– Can you introduce yourself?
I'm Killian Chabrier, 21-years old and from the Block'Out gym in Paris. I've been climbing since I'm 12, I compete and at the same time climb outdoors a lot.

– What about your repeat of "La force"?
I tried the different parts of this problem a lot 2 years ago (around 10 sessions) but the send of "Quoi de neuf" remained a distant proposition… At the beginning of 2020 I injured my biceps on the one arm hang and 360° spin of "Acte 2", so I was scared to try again. At the beginning of this year I returned to the problem and quickly sent "Quoi de neuf" (the easier exit) in 2 sessions. So it was logical to finish "La force". I needed 3 more sessions to stay strong in the final 7C boulder and to send it.

And "Jack under the box"?
The stand start "Jack in the box" was unknown, we didn't know how to start or finish. Recently a video appeared and gave me the motivation to try. It's my style big time, an 8A+ starting in compression mode on 2 underclings followed by a deadpoint move into a far crimp before an awkward 6C mantle. Camille Coudert checked the boulder and told me it was possible to start deeper. The beginning of the boulder is very physical, a 4-move compression problem with a kneebar that is doable only with a pad. It's around 8A boulder. On my first session I managed to stick the move of the stand, so I decided to try the whole thing.

It seems you recently made massive leaps in your climbing…
Yes, sure! I feel that I have passed a new milestones in my climbing. I think I really owe this to Pierre Brebion, my new coach.
This change of trainer suited me well, Pierre showed me a new vision of training based more on pure climbing and less training on specific exercices. It allowed me to quickly transition between my strength sessions and my climbing sessions in the forest or indoors. And I made enormous physical progress! Indeed, my old projects of one or 2 years ago, such as "Gecko assis", "Kheops assis" or "L'insoutenable légèreté de l'être" went down in a very few sessions this year!

– Some projects you want to try in Font in the future?
Yes, a lot of boulders like "Soudain seul" or "Pilier du désert assis", "Délire onirique assis". And also trying to find new hard lines to help developing the foret!