Les falaisistes exilés à Fontainebleau Nico Pelorson et Lucien Martinez (respectivement grenoblois et montalbanais) ont rangé les crash-pads et ressorti la corde ce week-end pour revisiter les classiques dures du mythique spot du Saussois en Bourgogne.

Samedi direction le rocher du Parc pour s'essayer au mythique "Festin de pierre" établi par Jean-Pierre Bouvier en 1994, annoncé à 8c+/9a et ayant reçu peu de répétitions (Brice Lefèvre et Rosta Stefanek). Cette voie surnaturelle sur cailloux collés et relimés dans une conque lisse d'une douzaine de mètres n'est pas une beauté mais fait partie de l'histoire de France, réputée être un des musts de la haute-difficulté du milieu des années 90 avec d'autre morceaux comme "Hugh", "Le Bronx" ou "Superplafond". La voie pliera dans la journée pour les deux compères. qui se sont jurés de ne pas parler de la difficulté de la voie tant qu'ils l'essayaient. L'itinéraire propose une approche de 8 mouvements basiques gauche-droite sur des galets en petits bacs arqués autour du 7c+ avant un 7B bloc de sortie. Deux méthodes ont été réalisées : avec un bidoigt fuyant pour Nicolas Pelorson et un plat main gauche pour Lucien. Nicolas pliera la voie en 3 montées et Lucien en 5 montées, pour au final pencher pour un 8b+ standard ! Les deux compères ont été doublement déçus : premièrement car la ligne n'est pas très belle et que cela aurait peut-être pu passer naturellement. Deuxièmement car le challenge n'était pas du niveau annoncé. En guise d'épilogue, Nicolas a réalisé aussi en fin de journée une répétition d'"Apostrophe" un 8c surnaturel de 8 mètres, toujours au rocher du Parc, une voie qu'il décote aussi à 8b.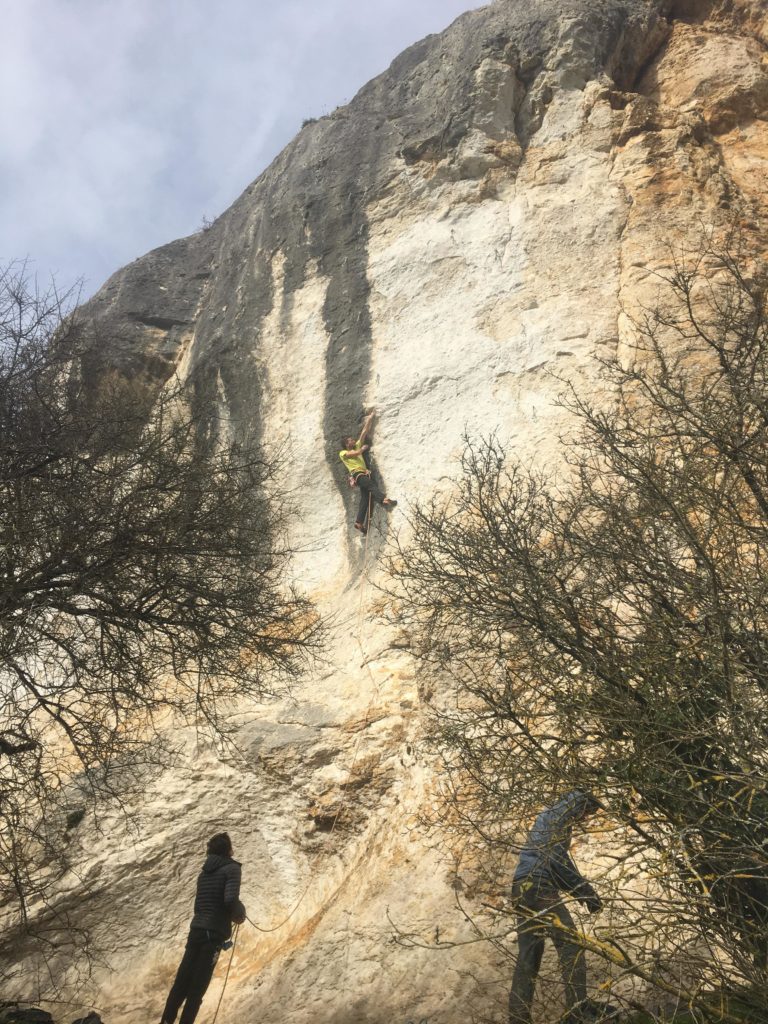 Dimanche, c'est au tour du mur Moreau de subir les assauts des acharnés, avec le 8c+ complètement naturel de "Tigre Bleu" en point de mire, une des King Line des lieux. Cette voie de 30 mètres équipée en 1990 par Lucien Berardini dans une belle traînée bleue a été l'objet d'un pari : une mise en jeu de 2000 francs pour celui qui réussirait le challenge sans bricoler le rocher contrairement à sa voisine "Insoumission" (8c). Jean-Pierre Bouvier s'était chargé de la première ascension (l'histoire ne dit pas s'il avait empoché la somme au passage), et Christian Roumégoux pour la seconde ascension quelques années plus tard, à la fin des 90's. Et puis, plus rien depuis plus de deux décennies, avec la rumeur que des prises avaient cassé pour un challenge rendu plus difficile (?!). La voie peut-être décomposée en un pas de bloc de départ à doigts dans un 8b de résistance longue d'une vingtaine de mouvements. Lucien et Nicolas l'avaient déjà redéfriché une journée en novembre. Après un run de recalage, Nicolas expédiera l'affaire assez facilement. Au final pour Nico, "Tigre Bleu" propose un enchaînement homogène et très résistant pour une magnifique voie naturelle de "renommée nationale". Le niveau 8c+ est confirmé.

Un week-end bien rempli donc, et nul doute que la cordée va sévir de nouveau dans d'autres voies extrêmes oubliées de l'hexagone dans le futur, "Blaoum" et "Hugh" étant déjà par exemple sur le grill…

Plus d'infos sur l'histoire du Saussois

Le récit de Lucien chez Grimper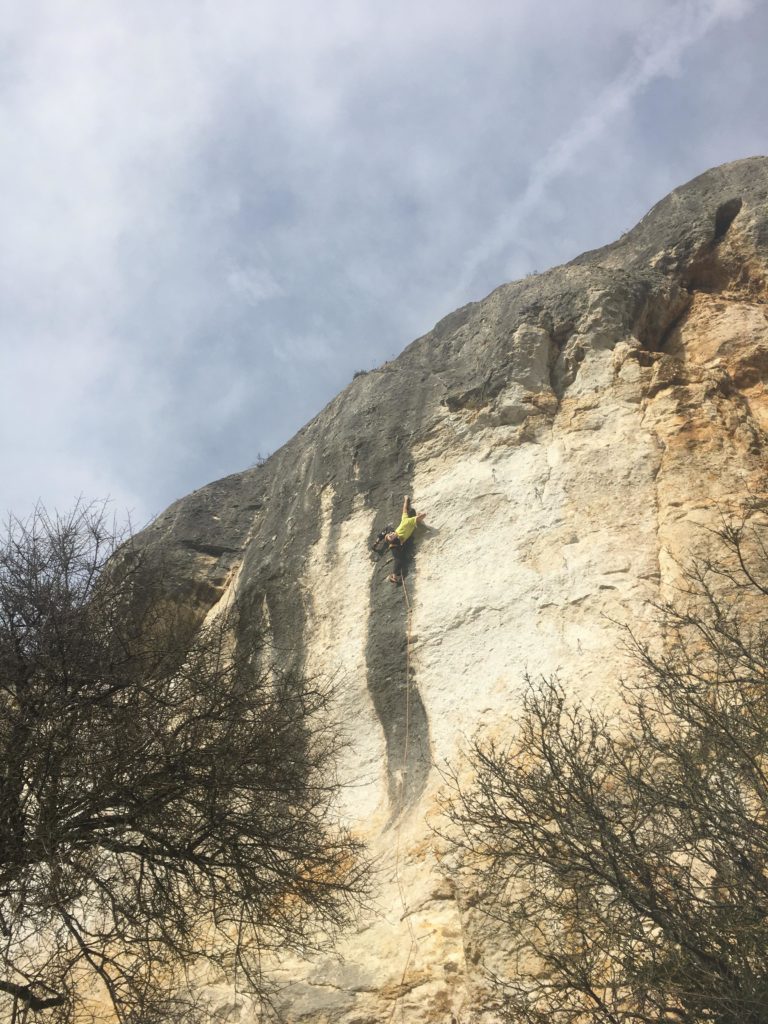 French rockclimbers based in Paris Nico Pelorson and Lucien Martinez have spent the week-end in the mythical area of Saussois, Burgundy, France, cradle of French climbing history in the 80's and 90's.

On Saturday, the target was "Festin de pierres" 8c+/9a in Rocher du Parc. The first ascent was done by Jean-Pierre Bouvier in 1994 and the route has been only climbed twice since (by Brice Lefèvre and Rosta Stefanek). This ugly 12 meters cave offers an 8 moves 7c+ climbing on glued holds before a 7B boulder. The line was considered at the middle of the 90's like one of the hardest sportclimbing route of France with "Hugh", "Superplafond" or "Bronx". Nico repeated the line 3rd go using a twofingerpocket beta, Lucien 5th go with a sloper beta and both were disappointed. First the line could be doable without the artificial holds, and the grade given to the route is not right. Both were agree to give 8b+ for this one.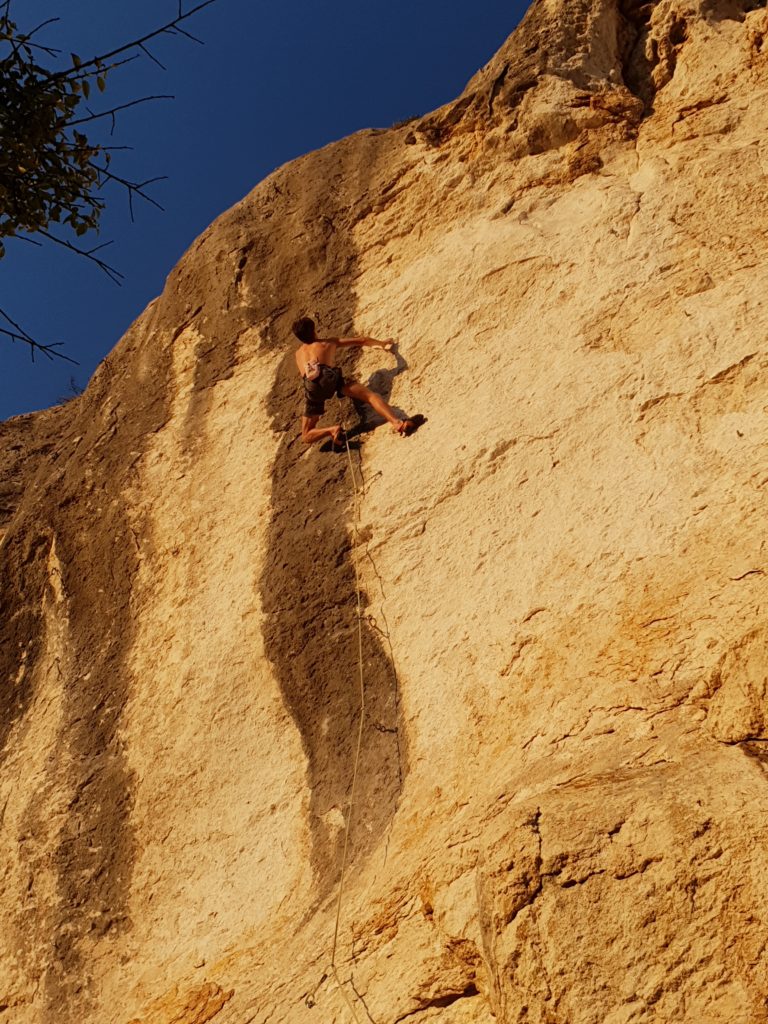 On Sunday the target was "Le tigre bleu" 8c+ in Moreau wall, 2 ascents (Bouvier and Roumégoux) since the middle of 90's. This line is a natural one, 30 meters long and homogene, with a resistance effort in a grey wave. After a scoping session in November, Nico Pelorson could repeat this one first go of his second day on it, confirming the grade.

Two of Saussois historical classic routes have been crushed and downgraded in a week-end, 2 decades after! sick!