Après avoir répété le "No Kpote only" de Charles Albert au rocher Brûlé, le virtuose nippon continue son séjour bellifontain et réalise un nouveau bloc extrême en un rien de temps avec la seconde ascension du toit de "La Révolutionnaire" 8C+ aux Gros Sablons. Ce bloc d'une dizaine de mouvements avait été aussi ouvert par Charles fin 2017. Retour avec l'intéressé.
– Quelle est la principale difficulté du bloc pour toi ? A quoi ressemble le crux ?
– Ce bloc est sur petites arquées et plats, j'ai surtout galéré à trouver la résistance nécessaire pour tout empiler. Pour moi, aller chercher le plat éloigné à la sortie est le crux, un mouvement très puissant.
– Combien de séances ? Un mot sur le niveau ?
– Je l'ai essayé 4 séances. Je pense que "La Révolutionnaire" est plus difficile que "The Big Island", donc probablement 8C+.
– Tu parlais t'être entraîné 2 ans entre tes 2 voyages à Bleau. Quelle est la clé de ton entraînement ?
– Je pense que la clé de mon entraînement est le pan Güllich, j'en fait très souvent et c'est très simple, des montées et des descentes. J'essaie d'en faite le plus vite que je peux et le plus longtemps. Cela me permet de gagner en endurance et agilité, et aussi en force doigts.
Le séjour de Ryohei n'est pas encore fini, il lui reste une semaine sur place, et il projette de remettre les doigts dans un bloc qu'il avait essayé il y a deux ans sans succès, "Trip hop" à Boissy aux Cailles. A suivre !
Photo de couverture : Ryosuke Hibino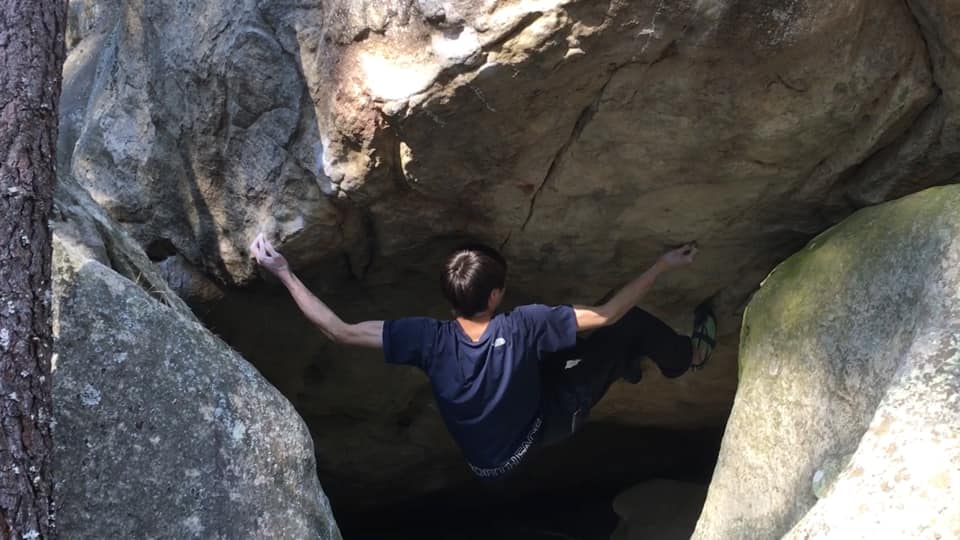 After his repeat of "No Kpote only" in Rocher Brûlé, the strong Japanese continues his Font trip with another quick repeat of "La Révolutionnaire" 8C+. It's the second ascent of this roof opened by Charles Albert at the end of 2017. Talk with Ryohei.
– What's the main difficulty of the boulder for you ? How is the crux?
– This boulder has small crimps and slopers, so I struggled to maintain my endurance. I felt to catch the remote sloper is the hardest move (watch the photo just up) It's really powerful move.
– How many days trying ? A word about why do you think can compare as grade?
– I tried it 4 days. I feel "La revolutionnaire" more difficult than "The big island" , so it's grade is probably V16.
– You spoke about 2 years training between your 2 Font trips. What was the key of your training?
– I feel my training key is campus board training. I often do ladder training. ladder training is simple. climb up and down. but , I perform it as fast as possible and long time. It train endurance and agility, finger strength.
Again one week for Roohei in Font, with the goal to climb "Trip hop" in Boissy aux Cailles, a boulder he has ever tried 2 years ago. To be followed…
Cover Pic : Ryosuke Hibino