Seb Berthe continue de jongler entre les disciplines en Catalogne. Le talentueux et polyvalent grimpeur belge a délaissé Oliana pour rendre visite à "Tarrago" une grande voie dure de Montserrat de 5 longueurs (240 mètres, 8b+) qu'il a réussi en libre dans la journée ! Une première visite de courtoisie sûrement avant de tenter la première répétition de la variante difficile, "Arco iris" libérée par Edu Marin cet automne. Voici son commentaire laissé sur son compte Instagram :

"Un nouvelle super longue journée en grande-voie en mode combat, finissant pété à la frontale !
"Tarrago" est une voie déversante spectaculaire qui consiste à enchaîner 5 longueurs dures et soutenues cotées 6b, 8b, 8a, 8b+, 8a. La voie a été équipée au début des années 2000 et libérée par iker Pou en 2013 et plus récemment par Edu Marin. merci les gars de mettre en lumière une telle ligne !
Le processus de découverte et de tentative d'enchanement en libre en une journée amène toujours sur un terrain aventureux et peut être harassant. Et cette fois ci je n'y ai pas coupé : des plombs monstrueux, des prises cassées…
Malgré des cotations très gentilles de mon point de vue j'ai du batailler dur pour enchainer la longueur clé qui est longue et technique. J'y ai mis quelques essais et j'ai cru ne pas y arriver, un peu à court d'énergie. mais j'ai finalement réussi à clipper le relais en me battant comme jamais contre le pump.
Je ne peux attendre de retourner essayer la grande soeur!"

Photo: Julia Cassou – JuliaCassou.com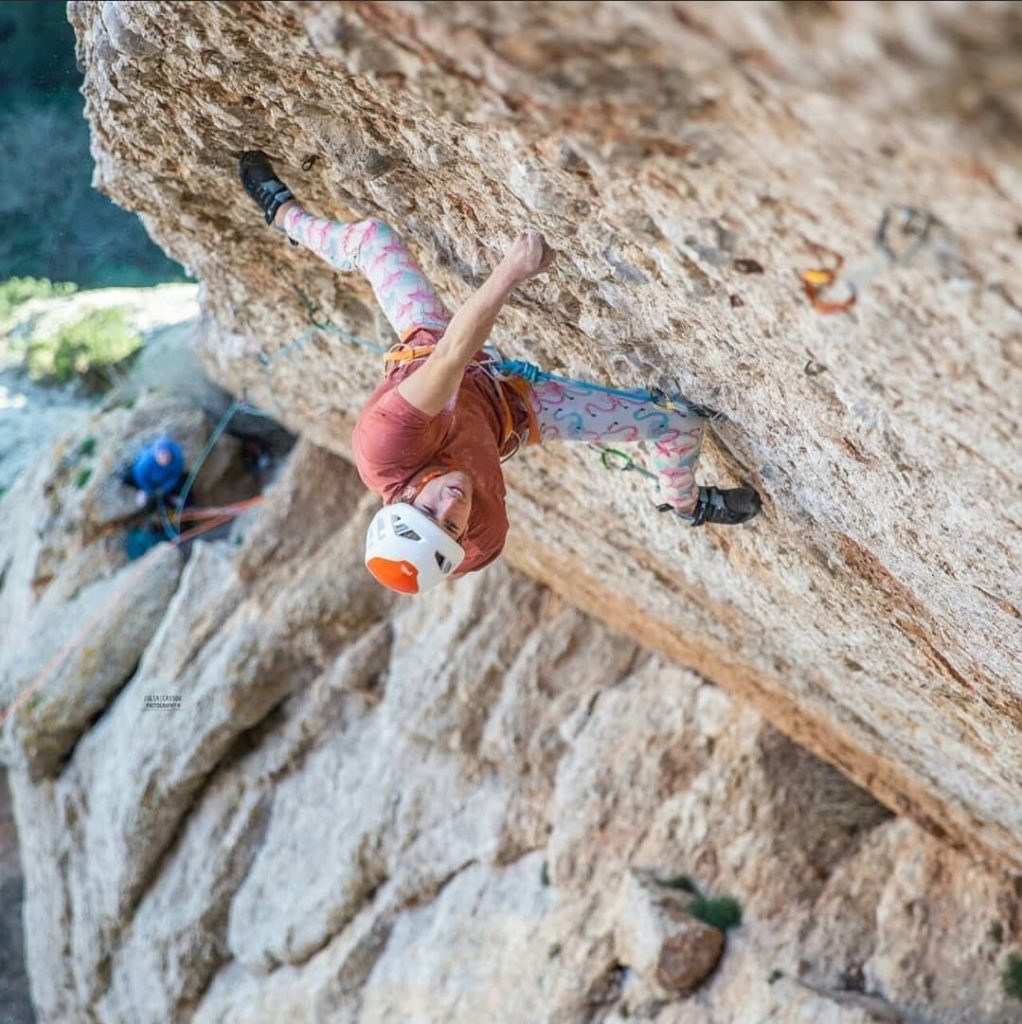 Seb Berthe continues to mix all kinds of climbing disciplines in Catalunya. The Belgian talent left Oliana for a visit to "Tarrago", an extreme multipitch route located in Montserrat (5 pitches, 240m, 8b+) and was able to free climb it in just a day! A first look before making real attempts on the difficult variant "Arco Iris", freed by Edu Marin last fall. Here is Seb's comment taken from his Instagram account:

"Another great and long multipitch fighting day, finishing pumped with a headlamp! "Tarrago" is a spectacular overhanging line that consists in 5 hard and sustained pitches graded 6b, 8b, 8a, 8b+, 8a. The route was bolted by Tarrago in early 20′ and freed by Iker Pou in 2013 and then more recently by Edu Marin. Thanks guys for putting up such a climb!
The process of discovering and trying to send a hard multipitch route in one day always brings a lot of adventurous stories and can be exhausting. And it happened this time again: heart breaking falls, broken holds,…
Despite pretty soft grades to my opinion I had to fight really hard to send the crux pitch, which is long and technical. Gave it few tries and thought it would not go this time, energy wise. But found my way to anchor battling against the pump. Can't wait to go back for the bigger sister…"

Pic: Julia Cassou – JuliaCassou.com