C'est au Portugal que Seb Bouin a décidé de débuter l'année, à la découverte des falaises côtières de Cabo Espichel, à 45 minutes en voiture de Lisbonne. Après 3 semaines sur place, Seb a pu comme à son habitude remplir son carnet à croix avec la première répétition de "Filipinos" 9a (photo de couverture), puis les premières ascensions de "Mar de Bering" 9a/+ et de sa directe de départ plus difficile "Rei de Bering" 9a+/b, signant ici l'ouverture de la voie la plus difficile du pays.
"Un de mes meilleurs trips, sur un calcaire de qualité ! Après avoir enchaîné Mar de Bering, je cherchais quelque chose de plus dur. Il y a un départ à gauche, venant du fond de la grotte. Ce début rajoute beaucoup avant de rejoindre le début de Mar de Bering (comme jumbo love direct) : cette endurance supplémentaire fatigue pas mal et j'arrivais au crux à chaque fois assez fatigué. Le rocher est incroyable et cet itinéraire est une véritable king line. Après avoir croité ce nouvel itinéraire (Rei de Bering, 9a+/b), il me restait deux jours de trip, j'en ai profité pour trouver une grotte et équiper une voie au milieu. La qualité des prises est incroyable, on se croirait à Flatanger mais sur calcaire. J'ai essayé lors de mon dernier jour, fatigué et j'ai réalisé plus ou moins tous les mouvements. Je suis motivé pour revenir." commente-t-il.
Le carnet de croix du séjour de Seb :
9a+/b FA, Rei de Bering
9a/+ FA Mar de Bering
9a première répétition de la voie d'André Neres 'Filipinos'
8b FA à vue
8c FA au premier essai
8a+ à vue
BOA : Équipement d'un projet "super dur"


Photos : Clarisse Bompard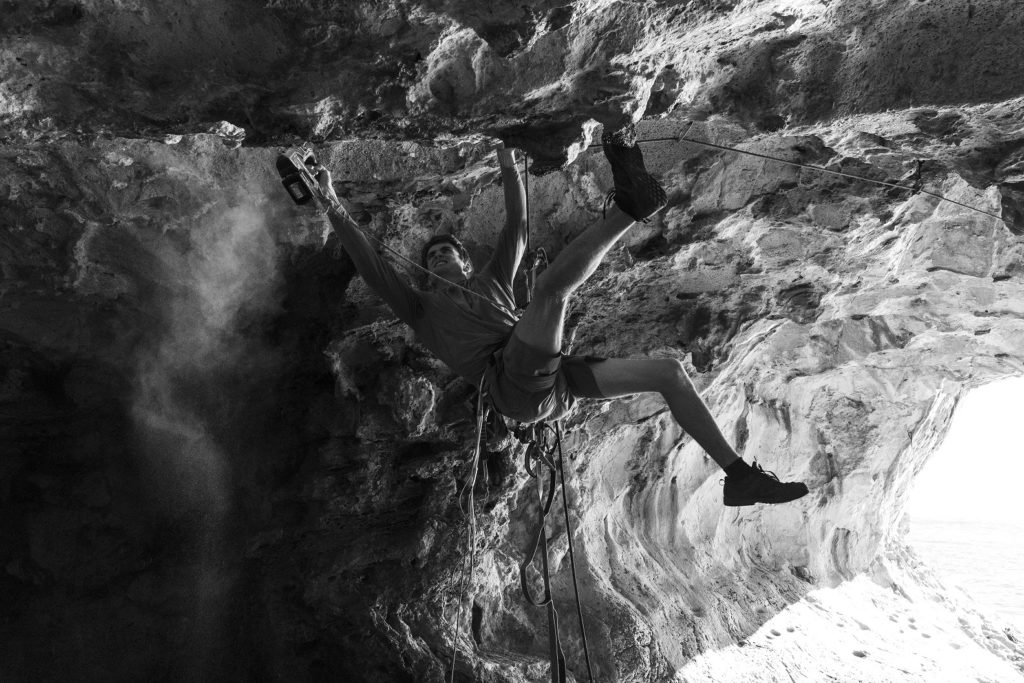 During the month of January, Seb Bouin's passion for exploring the hidden gems of climbing took him to Portugal.
Seb travelled to the region of Cabo Espichel – 45 mins drive outside of Lisbon – where he spent 3 weeks, discovering some of the most beautiful limestone crags he's ever seen.
He managed to climb Portugal's 'current' hardest rock climb – 'Filipino' 9a, as well as establishing two harder, brand new routes: 'Mar de Bering' 9a/+ and 'Rei de Bering' 9a+/b, the latter of which is now the country's hardest sport climb.
Further info from Seb:
"Ones of my favourite trips for sure and the rock is really good, some of the best limestone I've seen.
After sending Mar de Bering, I was searching for something harder.
There is a left start, coming from the very end of the cave. This start added a lot before joining the actual Mar de Bering (like jumbo love direct). It adds a lot of endurance before and I was coming on the crux quite tired everytime. The rock is amazing and this route is a true kingline.
After sending this new route (Rei de Berin, 9a+/b), I had two more days. I decided to find an even more futuristic line for my next trip. I found a cave with a good potential and bolted a line straight through it. The quality of the holds is amazing. It looks a bit like Flatanger rock, but it's limestone. I tried the route briefly during my last day. I was tired, but I figured out almost all of the moves. I am really psyched to come back here again soon!"
Seb's Portugal ticklist :
9a+/b FA, Rei de Bering
9a/+ FA Mar de Bering
9a first repetition after the André Neres's 'Filipinos'
8b onsight FA
8c first go FA
8a+ onsight
BOA : Bolting a super hard project