C'est à Rodellar (Aragon, Espagne) que Seb Bouin a sévi dernièrement, réalisant la première ascension d'un vieux projet de la Piscineta, "Detectives" 9a, au premier essai de sa première journée de séjour et ce juste avant l'épisode pluvieux du week-end dernier ! Une belle vengeance après l'avoir essayée sans succès il y a 4 ans. Cette voie équipée par Chris Sharma et Dani Andrada, au cœur de l'impressionnant dévers de la Piscineta n'avait toujours pas été libérée.
Si tu peux décrire brièvement cette voie de la Piscineta ?
Cette voie est assez longue (50 mètres) et se situe dans une planche déversante assez hallucinante du secteur de la Piscineta. Il y a plein de patates qui permettent de remonter cette énorme devers. "Detectives" est la voisine de droite de "Cosi Fan Tutte", une classique du secteur en 8c+. Il y a une longue marche d'approche en 8b+ suivie d'une section rési/bloc aux alentours de 7C bloc. Pour finir il y a un 8a à réaliser en conti. C'est une voie vraiment belle et dure, qui fait rêver. Il faut se battre, sauter des dégaines à 40 mètres du sol dans un cadre somptueux, quoi d'autre ? A recommander.
Qu'est-ce qui te résistait il y a 4 ans quand tu as essayé ?
Je pense que c'est un contexte global qui me résistait il y a 4 ans. J'étais tombé deux fois dans le bac final. Mais je n'avais jamais réussi à le tenir. C'est une escalade qui épuise, je pense que je n'avais pas bien géré mon trip à l'époque. C'est tellement conti que le corps s'épuise jour après jour. Cette fois-ci je l'ai faite directement le premier jour, donc pas de problème. Je pense que j'ai aussi pas mal progressé depuis 4 ans.

Qu'est-ce qui a fait la différence ce séjour ?
Je pense que je suis globalement plus en forme qu'il y a 4 ans. Je n'étais pas ultra calé lors de cet essai, mais je tenais mieux les prises.
Tu disais que c'est une des plus belles voies de Rodellar, "king line", pourquoi ?
Pour le lieu, l'ambiance, les mouvements, l'effort, le style. Une King Line équipée par le King et Dani, une voie qui fait rêver, rien d'autre.

Photos de Alleta Bunger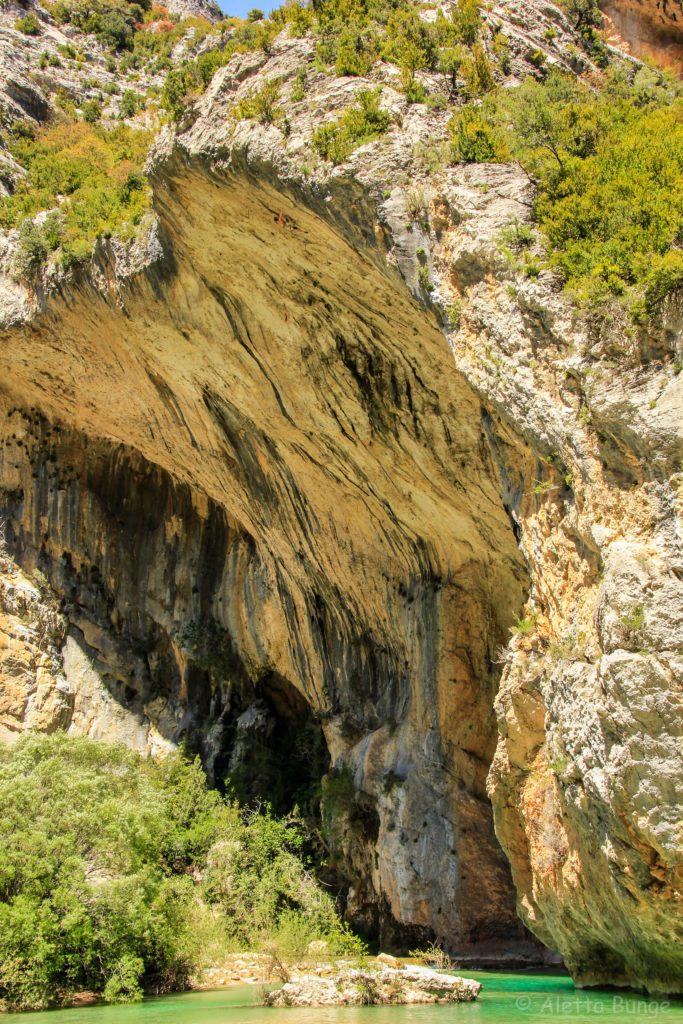 It's in Rodellar (Spain) that Seb Bouin striked again, freeing an old project of Piscineta, "Detectives" 9a at his first try this trip. A nice revenge after an unsuccessful travl 4 years ago. This line bolted by Chris Sharma and Dani Andrada in the center of Piscineta's impressive cave remained unclimbed since years. 
Can you describe this route?
It's quite long, 50 meters and located in the massive overhang of Piscineta sector. It's hopefully full of bowls and some holds so climbing in this wall is possible. It's the route just right of mega classical 8c+ "Cosi fan tutte". You have an approach in the 8b+ range followed by a short resistance/bouldery section around 7C. Then you have a stamina 8a as finish. It's a very nice line, you have to fight, to skip some draws in the upper part, and the landscape is magic. What else? I advice this line.
Can you describe your problem 4 years ago when you didn't succeed?
I think it was quite a global thing. I was falling 2 times with the final jug in the hand. I couldn't hold it. It's a very demanding climbing, and I think I didn't manage my trip in a good way last time. It's a huge stamina so the body is more and more tired day after day. This time I did it at my first go the first day, so no problem. I think I did improvements in my climbing since 4 years.
Which thing makes the difference this year?
My current shape. I hadn't really good betas during my successful try but I was stronger on the holds.

You said it's one of the best line of Rodellar, a "King line", why?
The location, the atmosphere, the style, the effort, the moves. A King line bolted by Dani and Chris, a dream route, nothing else to add.

Photos : Aletta Bunger