Cap sur El Cap, l'expédition se poursuit. Accompagnée du talentueux grimpeur belge Seb Berthe qui a renoncé au Dawn Wall pour cette saison après un long siège ce printemps, la grimpeuse française Soline Kentzel vient de réaliser une bel exploit sur El Cap (Yosemite) avec une répétition en libre de "Golden Gate" (1000 m, 7c+/8a, 36 longueurs) après 9 jours en paroi !
Concernant l'ascension, Soline précise : "Nous avons grimpé en réversible tout le long (dans les longueurs plus faciles en 5.11) et enchainé les longueurs crux en tête tous les deux (au dessus du 5.12)."
Seb Berthe décrit : "On a mis deux jours à arriver à la longueur en désescalade, la longueur 17. Soline est tombée dans quelques longueurs en 5.11 mais les a réalisées ensuite à l'essai suivant. Le 3ème jour fut un jour de repos sous la neige. Le 4ème jour, nous étions à la "Move pitch". Le 5ème jour, elle a essayé la voie mais ne l'a pas enchainé. Le 6ème jour, nous avons effectué un jour de repos sous la pluie. Au 7ème jour, Soline a enchainé "Move pitch" à son 3ème essai, et on a bougé rapidement à the Tower. Elle a pu enchainer "Golden desert" durant la soirée à son premier essai. Le 8ème jour fut un nouveau repos forcé en raison de la pluie. Le 9ème jour fut consacré à la "A5 traverse" que Soline a pu réaliser en deux essais, dans un combat avec les bouteilles, et nous avons terminé au sommet pendant l'après-midi".
Pendant ces jours de repos forcés, nous avons dû nous serrer sur la toute petite vire où nous squattions en essayant constamment d'éviter d'être mouillés d'abord puis gelés ensuite… Un de nos sacs de couchage est même devenu totalement gelé et figé. Mais nous avons pu garder la motivation élevée et reprendre l'escalade dès que le mur était sec ! Pendant les journées d'escalade les plus ensoleillées, la glace fondait du haut du mur et d'impressionnants morceaux de glace tombaient. Toutes les 5min, le tirage au sort était lancé : il fallait arrêter de grimper, se coller contre le mur en attendant que ces morceaux de glace tombent tout autour de nous." Ambiance !

Soline devient la 6ème grimpeuse à réaliser Golden Gate en libre — après Hazel Findlay, Florence Pinet, Emily Harrington (dans la journée !), la canadienne Bronwyn Hodgins et Amity Warme — et une des plus jeunes, à seulement 21 ans !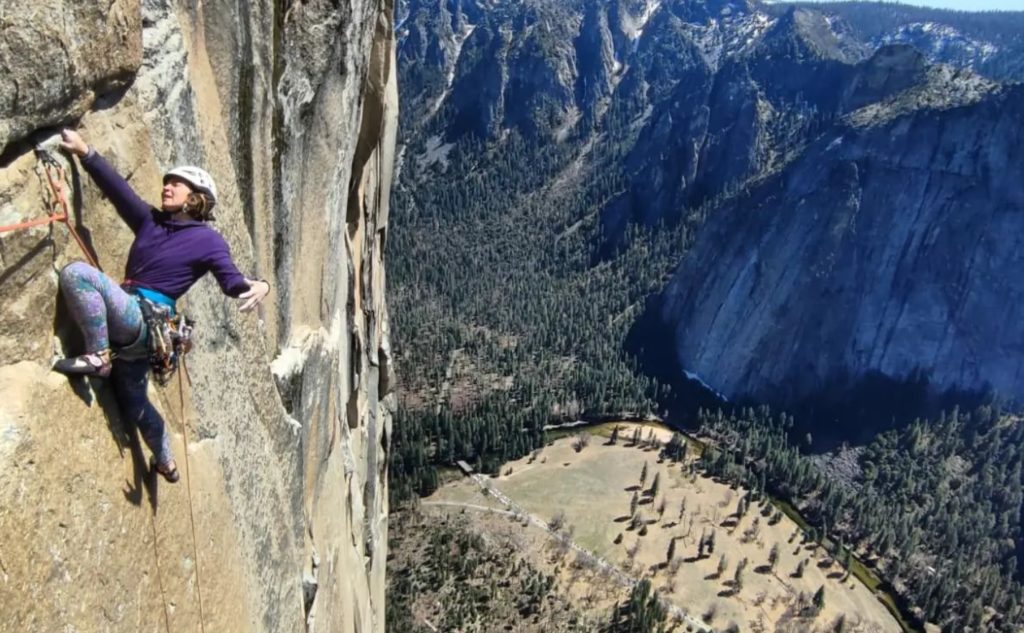 Cap sur El Cap expedition continues. Joined by talented Belgian climber Seb Berthe who gave up in his attempt to free climb the Dawn Wall, French woman Soline Kentzel (21 years old) could do a real feat on El Cap with a free ascent of classic "Golden Gate" (5.13a/b, 1000m) after 9 days spent on the wall!
According to Soline, "We swapped the lead on easier pitches (5.11) and we both lead all the difficult pitches (up to 5.12)."
Seb Berthe describes:
"We took two days to reach the downclimb, pitch 17. She had a few falls on some 5.11 pitches of the first half but always sent them on her second try. Day 3 was a snowy restday. On day 4, we were at the "move pitch". Day 5, she worked the pitch but could not send. Day 6, rainy restday. On day 7, she sent the Move pitch in her third try and we quickly moved to Tower to the people. She could even send the Golden desert pitch on her first try that evening. Day 8 was a forced rainy restday. On day 9, she worked the A5 traverse and then sent it 2tries after in a pumpy battle, we ran to the summit the same afternoon!
We went through some epic snow storm and rain showers wich made surviving on this wall a true challenge. During these forced restdays we had to squeeze in the really small ledge we brought constantly trying to avoid being wet first and frozen after… One of our sleeping bag even became totally stiff and icy. But we could keep the motivation really high and got back to climbing as soon as the wall was dry! During the sunnier climbing days, the ice was melting from the top of the wall throwing on us impressive ice chunks. Every 5min, lottery was on: we had to stop climbing, stick ourselves against the wall waiting for these pieces of ice to fall all around us."

Soline becomes the 6th woman to free climb "Golden Gate" (after Hazel Findlay, Florence Pinet, Emily Harrington (in a day!), Canadian Bronwyn Hodgins and Amity Warme) and one of the youngest at 21 years old!