Après "Lucifer" (8c+) à Red River Gorge en 2019, la grimpeuse allemande Solveig Korherr refait une nouvelle belle coche ! Solveig vient de réaliser son projet de l'année avec "La cabane au Canada" sur le site du Rawyl en Suisse. Cette voie proposée 9a avait été réalisée à vue par Adam Ondra en juillet 2013, devenant le second grimpeur à réaliser une telle perf' après Alex Megos et "Estado critico". C'est la 3ème ascension féminine de la voie après Julia Chanourdie et Kathy Choong, un dévers long de 30 mètres très déversant qui a été pas mal enchainé ces dernières années et dont certains répétiteurs pensent qu'elle pourrait valoir plutôt 8c+.
Voici la traduction du commentaire de Solveig sur son compte instagram suite à sa croix.

"Je n'aurai pas souhaité un meilleur endroit et une plus belle voie pour accomplir mon rêve à long terme ! Depuis que j'ai passé un peu de temps à Rawyl l'année dernière et que j'ai déjà gravi la voie "La cabane au Paradis" qui est la voisine de "La cabane au Canada", partageant la même partie inférieure, j'ai su instantanément que je voulais revenir et grimper cette ligne parfaite !
Après être tombée plusieurs fois dans la partie supérieure l'année dernière et avoir pas mal lutté avec un mouvement qui était à faible pourcentage de réussite et loin pour moi, je doutais de moi-même sur ma capacité à réaliser cette partie depuis le sol après avoir déjà 25 mètres d'escalade difficiles dans mes bras.
Quand je suis revenue cette année, je voulais être bien préparée et j'ai réalisé un cycle d'entraînement plus long. La différence que j'ai ressentie était presque insensée – pouvoir récupérer beaucoup mieux dans la partie inférieure et trouver une nouvelle méthode dans le crux du haut. J'ai été totalement surprise que je puisse tenir la petite intermédiaire que j'ai utilisé pour le grand mouvement et atteindre la prise suivante d'une manière beaucoup plus statique et sûre.
Cela m'a donné beaucoup de confiance et je savais qu'avec un bon esprit que c'était totalement dans mes capacités et au final, je pense que cette voie n'aurait pas pu mieux me convenir !"
Photos : Hannes Tell – HannesTell.de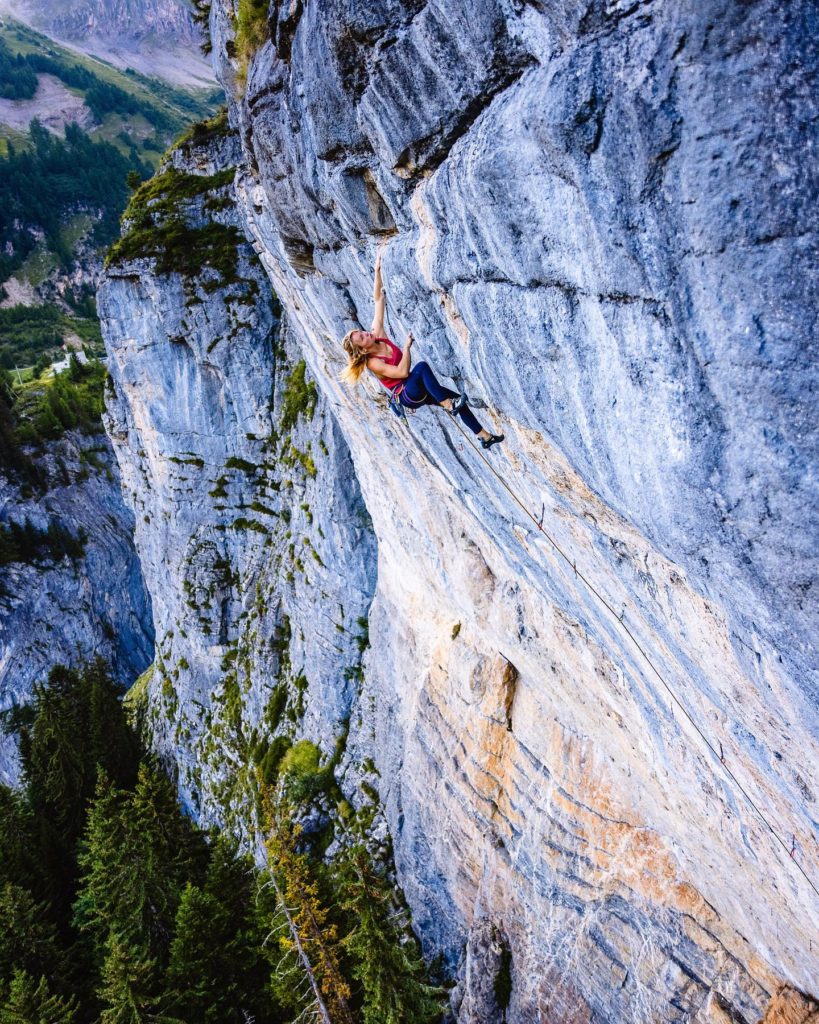 After her repeat of "Lucifer" (8c+), Red River Gorge in 2019, the German climber Solveig Korherr has struck again! She just completed her project of the year with "La cabane au Canada" at the Rawyl crag in Switzerland. This route, proposed at 9a, had been onsighted by Adam Ondra in July 2013, who then became the second climber to achieve such a feat, after Alex Megos and "Estado critico". This is the 3rd female ascent of the route after Julia Chanourdie and Kathy Choong, a very steep 30m long overhang which has received a lot of repeats this last year, and which some repeaters think tends towards 8c+.
Here is the translation of Solveig's comment on her Instagram account following her send.
"I couldn't have wished for a better route and place to fulfill a longterm dream of mine!
Since I spent a bit of time in Rawyl last year and already climbed the route "La cabane au Paradis" which is the neighbour of "La cabane au Canada" and shares the same lower part, I knew instantly that I wanted to come back and climb this impeccable line!
After falling a few times in the upper part of Cabane au Canada last year and struggling quite a bit with one move which was very low-percentage and big for me, I was doubting myself if I could do this part from the ground after having already 25 meters of harder climbing in my arms.
When I came back this year I wanted to be well prepared and came straight out of a longer training cycle. The difference I felt was almost insane – being able to recover much better in the lower part and finding a new beta for the upper crux. I was totally surprised that the tiny intermediate I used for the big move I could now lock off and reach the next hold in a much more static and safe way.
That gave me a lot of confidence and I knew with a good mindest it's totally in my ability and in the end, I think this route couldn't have fit me better!"

Photos : Hannes Tell – HanneTell.de